What a gorgeous Super Bowl Eve we have had here in South Florida! (Our apologies to just about everyone else in the country buried under inches of snow.) 😛
My Sunshiny World
The day has been absolutely perfect for some patio dining and refreshing drinks. Tonight, the husband and I are headed over to our friends' house to watch the Gator Men's Basketball team take on Kentucky, and have been put in charge of bringing... a veggie tray.
I'm confident that you DON'T need a recipe for that, so I thought I'd share an easy recipe for a thirst-quenching Sangria instead! This is a great shortcut recipe for a cocktail that's good for all occasions and can be made in large batches, which makes it perfect for this particular Sunday since many will be hosting game watching parties for the big game. It's so delicious, you'll be glad it makes a lot!
Told you I love that citrus press!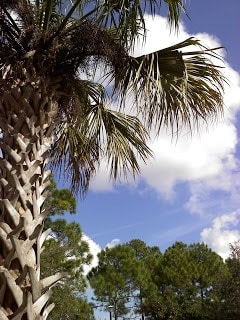 Super Sangria
Ingredients
1

bottle Yago Sant'gria

1

bottle your favorite red wine

we used 3 Wishes Merlot - $2.99 at Whole Foods... can't beat that!

1

orange - ½ juiced

½ sliced into half wheels

2

limes - 1 juiced

1 sliced into wheels

1

peach - sliced into wedges

1

McIntosh apple - sliced into wedges
Instructions
Squeeze the juice of 1 lime and ½ an orange into a large pitcher. Drop in remainder of fruit pieces. (P.S. You can cut them however you'd like, I just think the shapes above look pretty.)

Pour in 1 bottle of Yago Sant'gria (we bought the larger size and used about half the bottle).

Pour in 1 bottle of wine.

Stir to combine juices & wine.

Refrigerate until thoroughly chilled, or overnight if possible for flavors to marry.
Doesn't get much easier (or tastier) than that! Drink responsibly! 🙂