Strawberry & Champagne Granita! Serving strawberries with champagne is a classic pairing; this sweet, tart, icy concoction is perfect to serve up as a refreshing celebratory or romantic treat!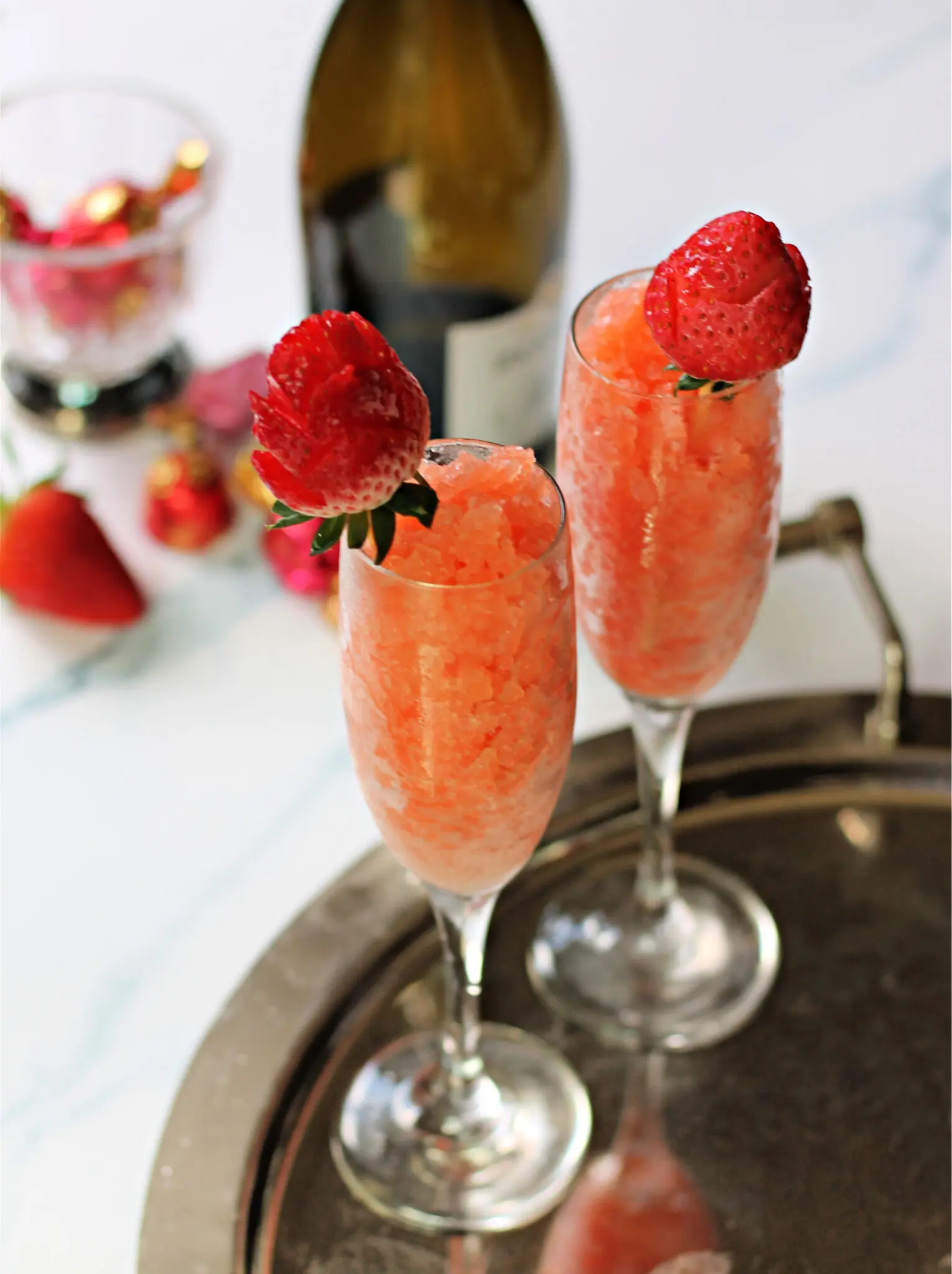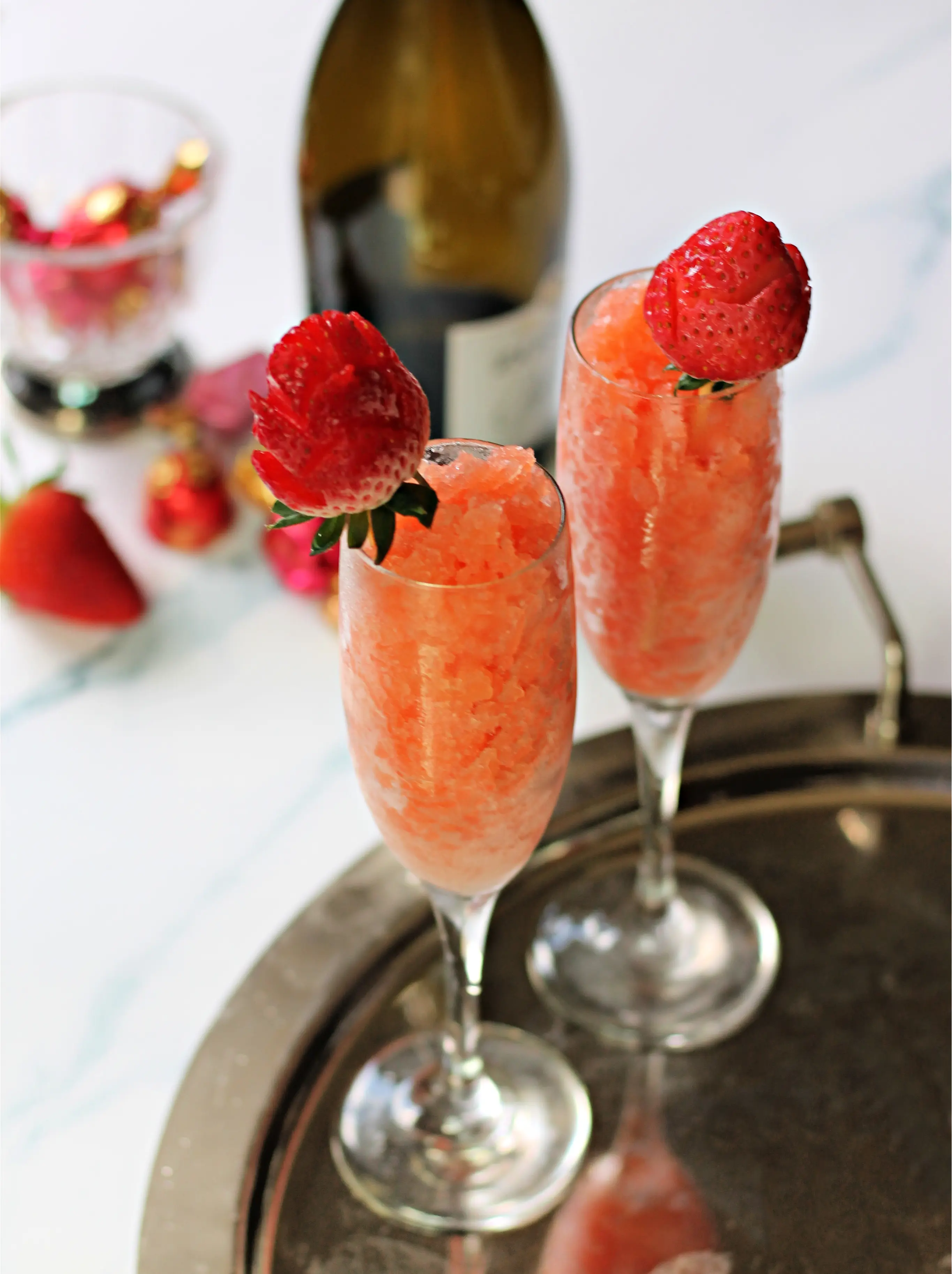 What is a granita?
A granita is a semi-frozen dessert that is usually made from simple syrup (the combination of equal parts of sugar and water boiled into a syrup and used for desserts and cocktails) and fruit or other flavorings. Similar to sorbet and Italian ice, this icy treat of Sicilian origin is a bit more crystalline. The ice crystals are usually made by scraping the frozen mixture with a fork in order to create the proper texture.
Ingredients
Though "granita" might sound slightly fancy, it's really just an easy version of a slushy or a sno-cone. You can make granitas with pretty much any flavor you'd like, but the base of this particular version contains the following ingredients:
Water
Sugar
Fresh strawberries
Lemon juice
Orange juice
Dry champagne or prosecco
Grand Marnier orange liqueur
These ingredients are blitzed together in a food processor and blender until completely smooth, then frozen and periodically whisked to create the signature icy texture of the granita.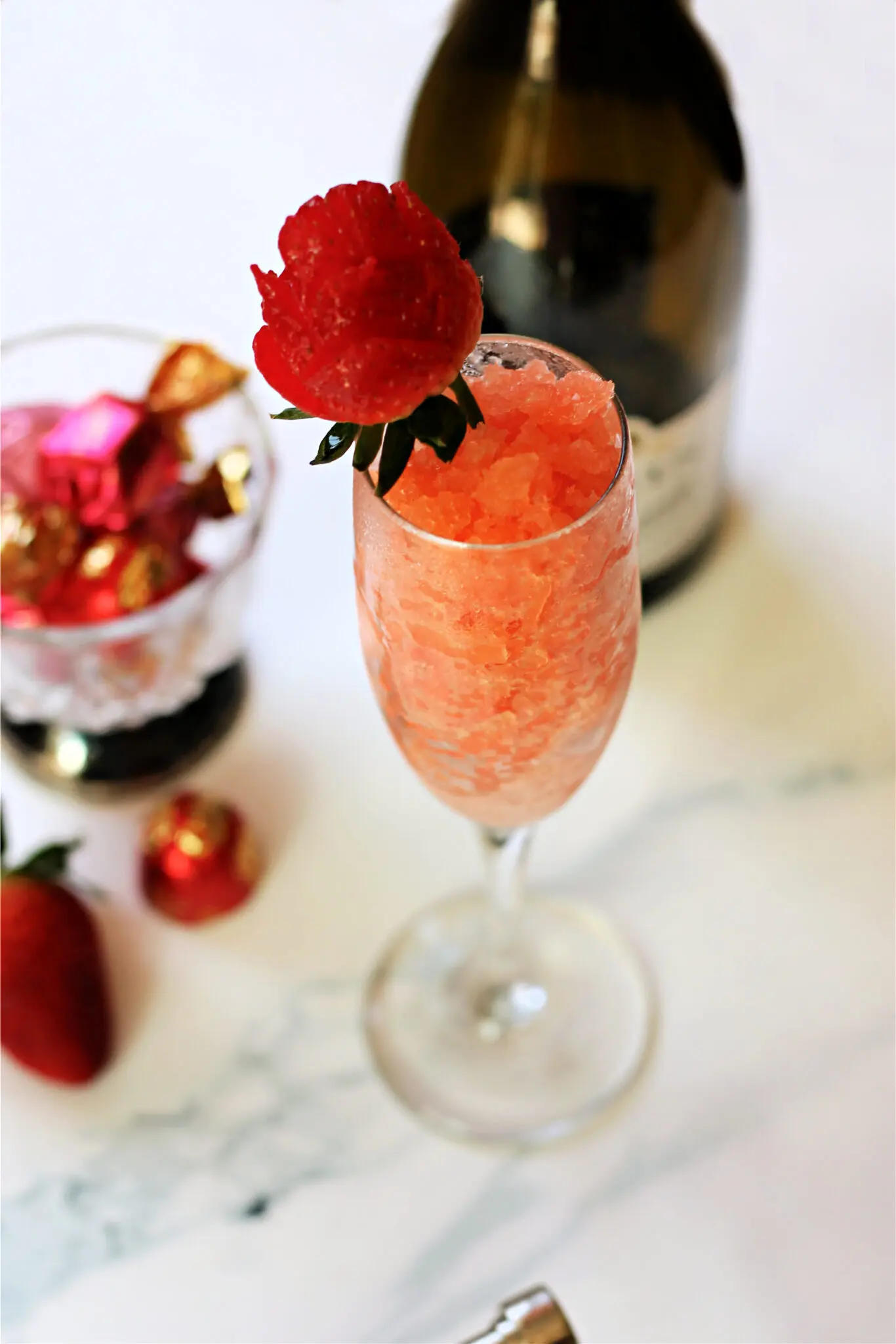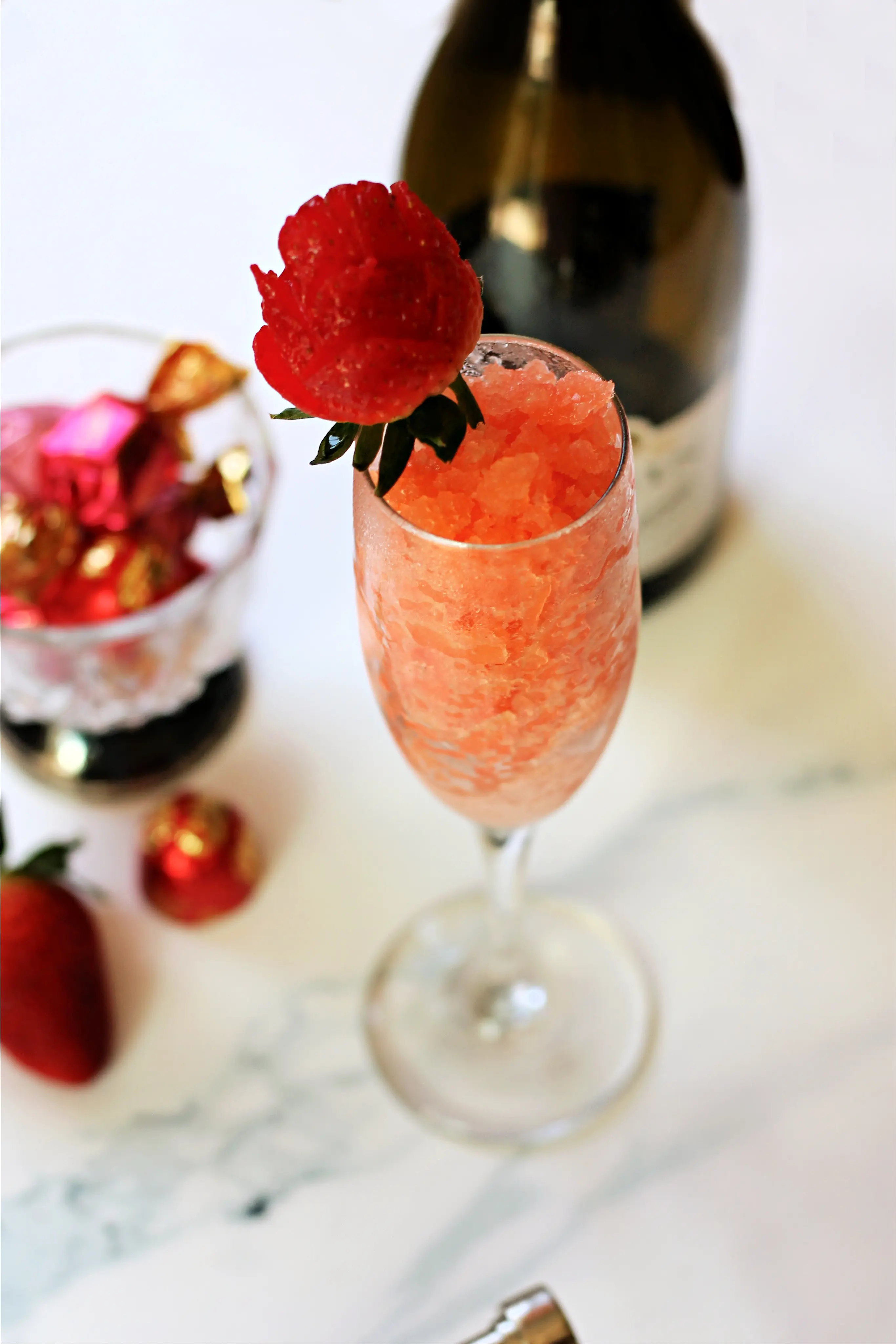 How to Make a Granita
Granitas are quite simple to make, no matter what flavor you choose. It's as easy as blending or processing your ingredients together -- fresh fruit, juices, or even coffee work great! You'll want to gauge how much simple syrup to add by the natural sweetness of your ingredients; add more for tart fruits and less for naturally sweet ones.
Once all the ingredients are blended until smooth, the mixture is poured into a shallow pan. Why shallow? Well, the thinner the layer, the faster it will freeze and the quicker you'll be enjoying a frozen treat! I like to use a glass baking dish, but you can really use any container.
Place the mixture in the freezer and allow it to freeze for just under an hour or until it forms ice crystals around the perimeter of the dish or pan. Use a whisk to stir the mixture and distribute the icy bits, then freeze for about another hour and repeat the process.
This will keep the mixture from freezing into a solid mass and will create that icy, slushy texture that you want in a granita. Finally, freeze the mixture for 3-4 hours until it's fully frozen. To serve, drag the tines of a fork along the top to scrape up icy bits and create the "fluffy", snow-like texture for your finished product.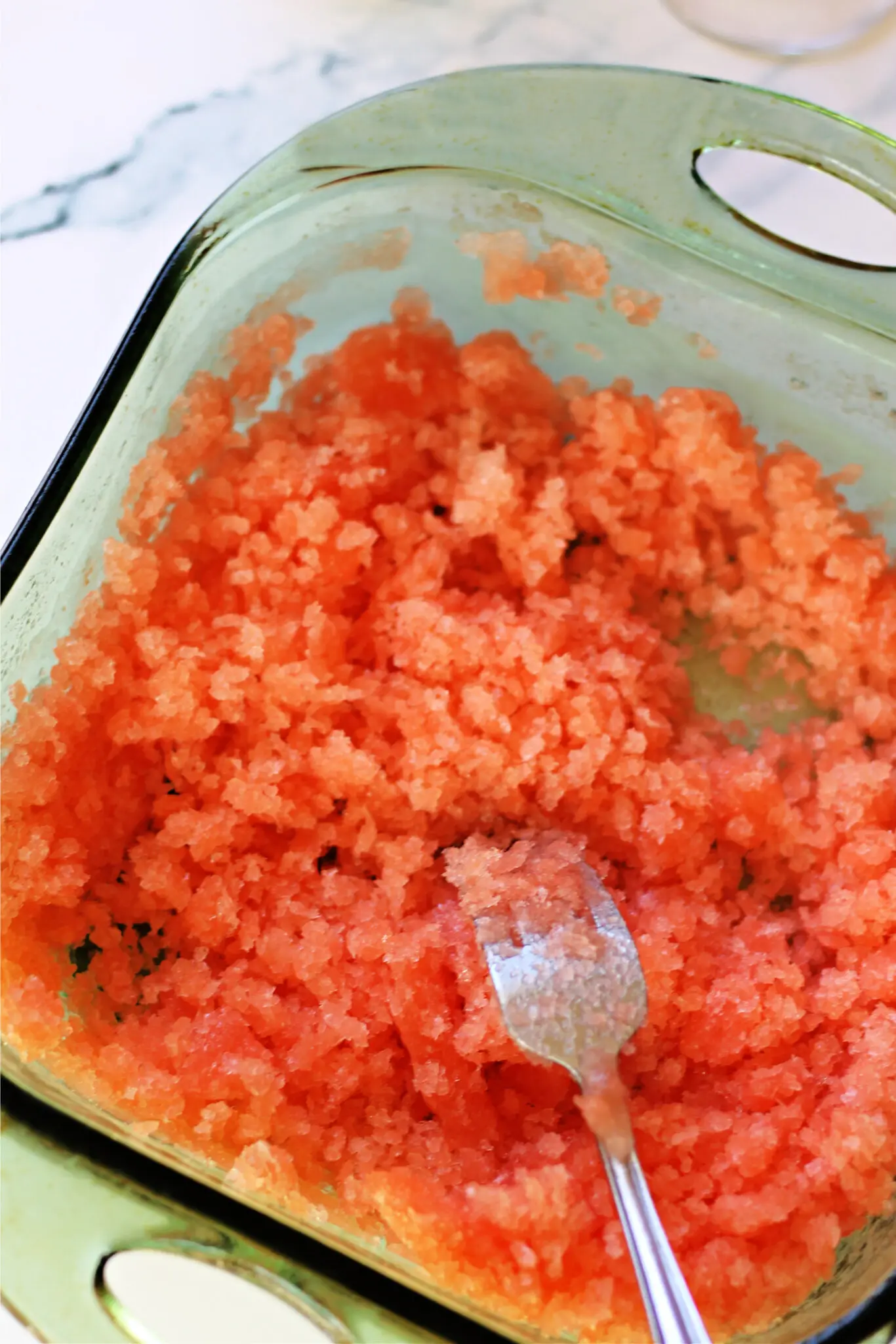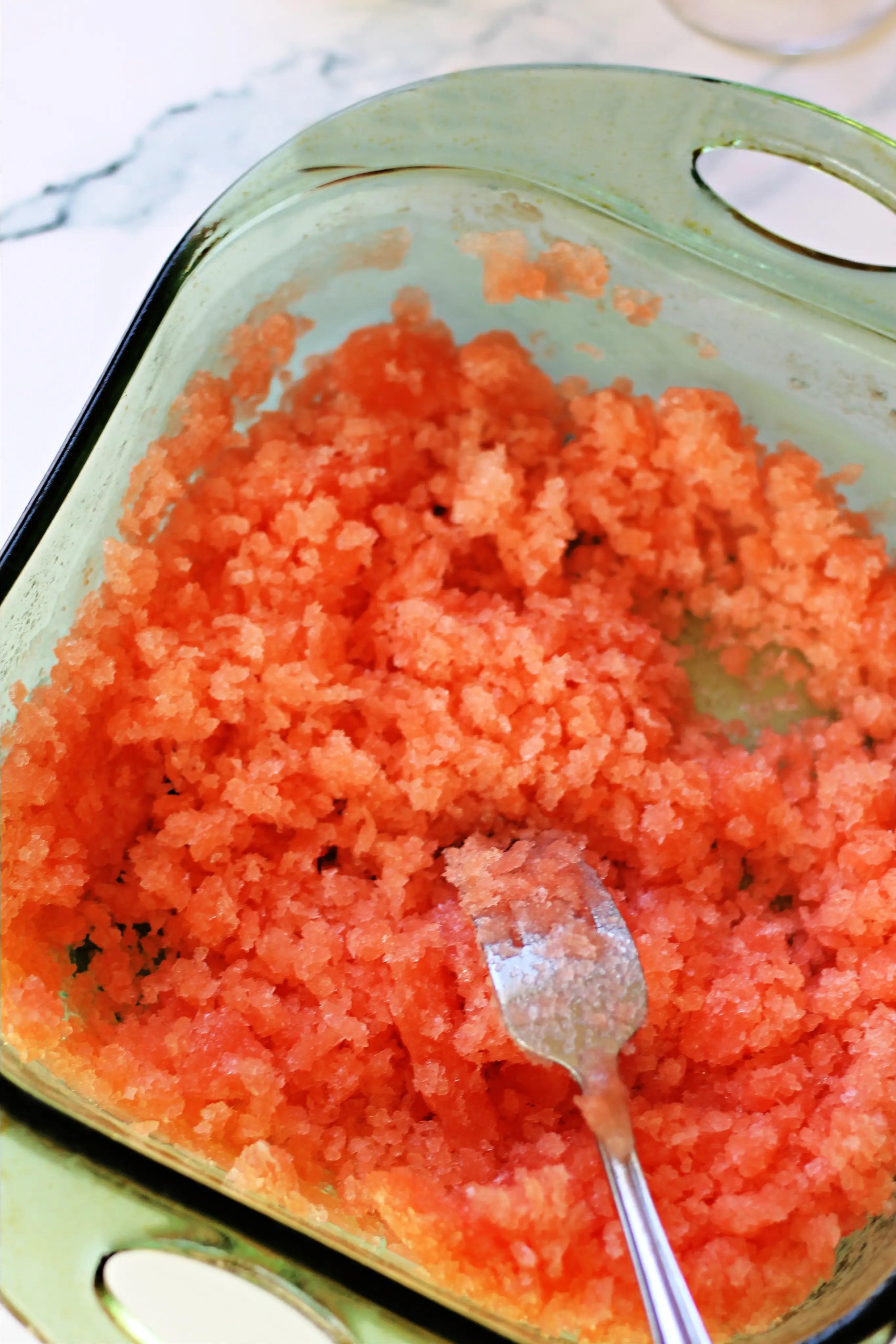 Total freeze time will depend upon a few factors: ingredients, shallowness of the mixture in the container, etc. Just a note: This granita contains alcohol and freezes just fine, but using a higher proof spirit may inhibit freezing, so make sure there's enough juice or liquid to allow ice crystals to form.
Strawberries with Champagne
Have you ever wondered why so many people serve or pair strawberries with champagne? The classic combo is often showcased, especially around Valentine's Day, as the ultimate romantic pairing.
However, it's important to note that strawberries should be paired with a champagne or sparkling wine with a similar level of acidity and/or sweetness or the pairing could actually make the berries taste bitter. A demi-sec champagne or a sweeter prosecco is a good option.
In this recipe, I used a dry sparkling wine because the entire mixture is sweetened with simple syrup. The addition of orange juice and lemon juice also balance the flavors by adding a nice tart note, keeping it from tasting too sweet.
More Strawberry Desserts
Whether you're looking to woo a sweetheart or just love those ruby-red berries, I've got lots more strawberry desserts to try out for Valentine's Day and beyond: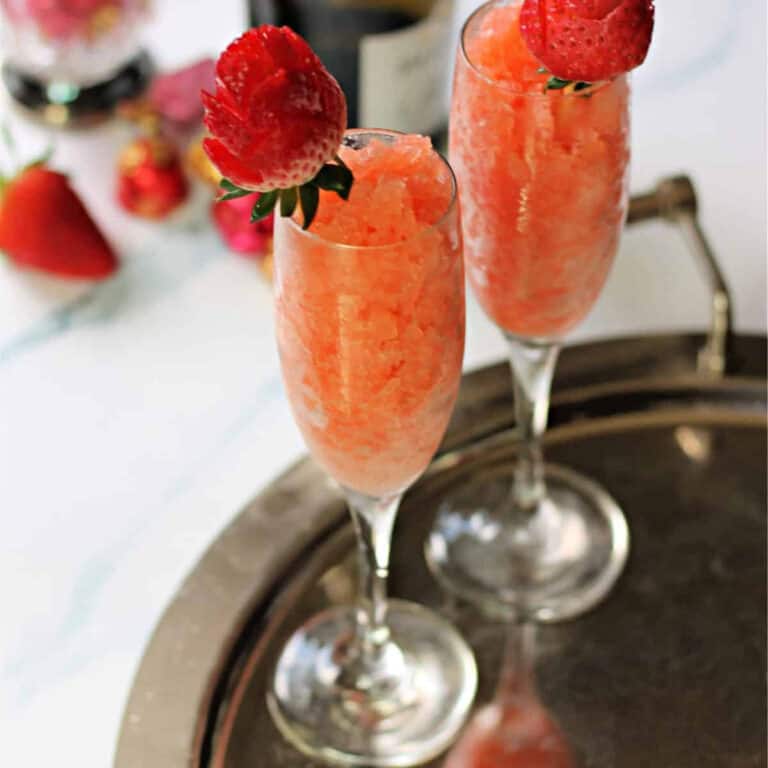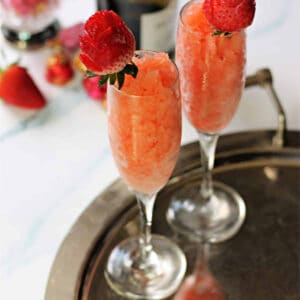 Strawberry & Champagne Granita
Strawberries with champagne combine in this refreshing adult slushie! A pop of citrus gives an extra hint of tart, zesty flavor.
Ingredients
⅓

cup

sugar

⅓

cup

water

½

pound

strawberries

rinsed, dried & hulled

¼

cup

fresh lemon juice

¾

cup

orange juice

¾

cup

dry Champagne or Prosecco

1

tablespoon

Grand Marnier orange liqueur
Instructions
Make Simple Syrup
In a saucepan, stir together water and sugar until combined. Bring to a boil over medium-high heat, then allow to simmer for about 1 minute or until the sugar is completely dissolved and the mixture is slightly thickened. Set aside to cool for 15 minutes.

In the bowl of a food processor or blender, add strawberries, lemon juice, orange juice, champagne and cooled simple syrup. Blend until completely smooth.

Pour the mixture into an 8x8 inch baking pan* and place in the freezer for about 55 minutes.

Once ice crystals have formed around the edge of the pan, whisk the mixture to distribute the crystals. Return the pan to the freezer and allow to freeze for another 40 minutes. When the mixture is icy/slushy, give in another whisk. Cover the pan and freeze until the mixture is solid -- this should take about 2½ -3 hours.

When ready to serve, scrape the mixture with a fork to create icy flakes. Scoop the granita into serving glasses or dishes. Garnish with a strawberry rose if desired.
Notes
This recipe was adapted from Epicurious.
*I like using a glass baking dish for this because I find that it freezes a bit faster.