Cranberry Jalapeno Dip! This quick, festive appetizer recipe made with fresh cranberries and spicy jalapeno peppers served over rich cream cheese will certainly add a kick to your holiday parties!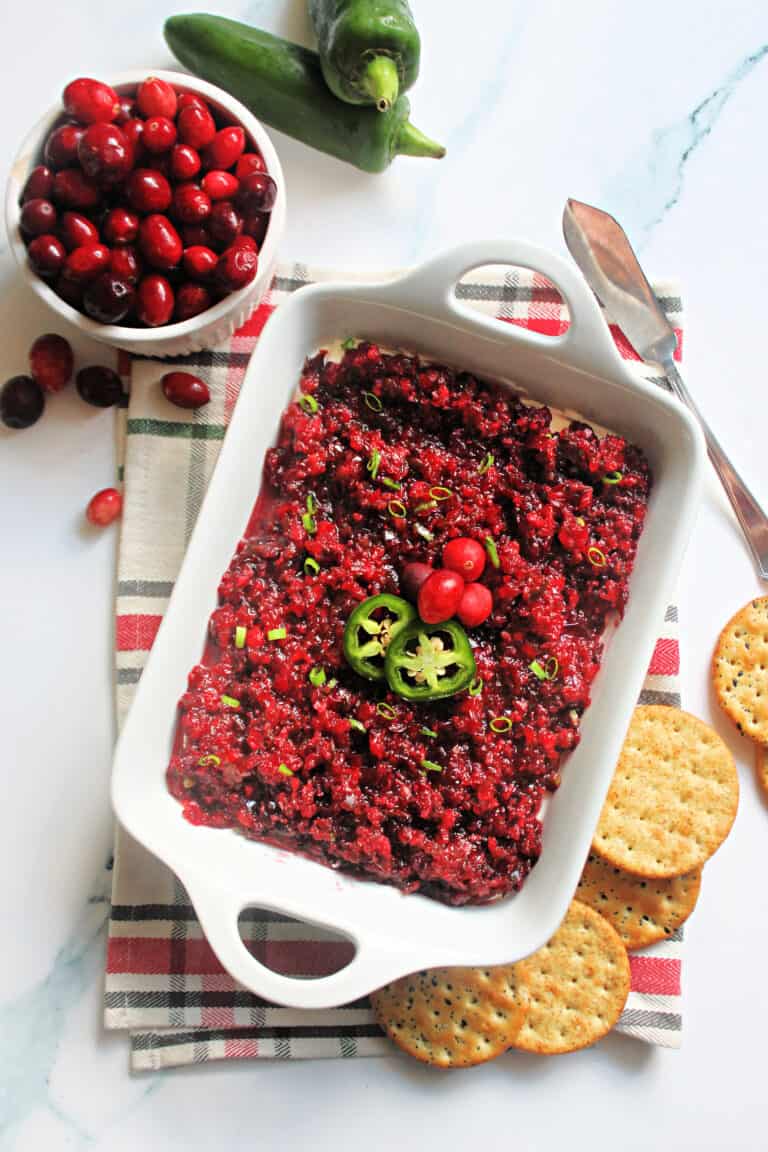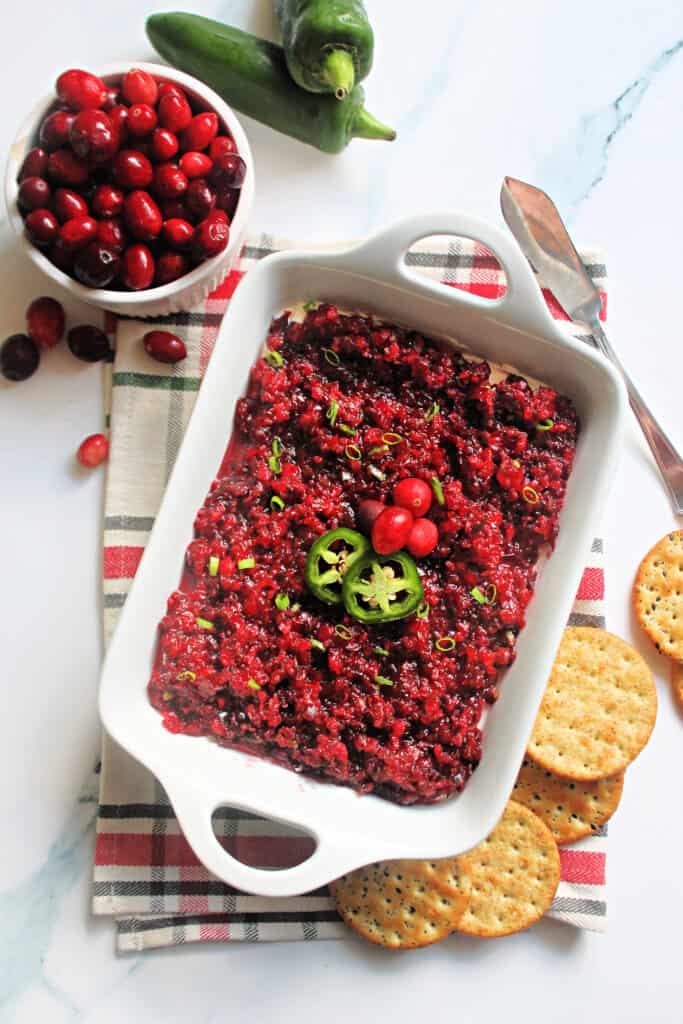 Disclosure: This post may contain affiliate links, which means that, at no extra cost to you, I may earn a small commission if you click a link and purchase an item I've recommended. Thanks for your support in running this blog!
Tried and true holiday appetizers are always nice, but sometimes it's fun to spice things up! This ridiculously easy Cranberry Jalapeno Dip is exactly what you need to liven things up at your holiday party.
Tart & spicy cranberry and jalapeno relish is served atop rich cream cheese for a balanced bite that is hard to resist! The combination of festive red and green make it a perfect Christmas appetizer.
Looking for more festive holiday appetizer recipes? Check out my Italian Cheese Puffs, Gingerbread Crusted Baked Brie with Pinot Noir Cranberry Topping, or Butternut Squash Fritters!
This recipe is naturally gluten-free and vegetarian and can be made vegan. (See Variations and Substitutions section below.)
Jump to:
Ingredients
One of the best parts about classic sugar cookies is that they require very few ingredients!
Fresh Cranberries. They're tart and slightly bitter, but when combined with the rest of the ingredients, magical things happen!
Jalapeno Peppers. If you prefer milder recipes, remove the seeds and ribs or start with just one jalapeno pepper. For more heat, use whole jalapenos.
Scallions. Scallions give a nice onion flavor without overpowering. In a pinch, feel free to use white onion; soaking onion slices in cold water for 30 minutes before using will mellow the bite.
Granulated Sugar. Sugar helps to balance the tartness of the cranberries, and also creates a syrupy liquid in the relish.
Lime Juice. Cranberries and limes (and jalapenos!) are a fabulous match! The acidity helps cut through the creaminess of the appetizer.
Cream cheese. I use full fat, regular cream cheese, but reduced fat or dairy-free may be used.
Sour cream or Greek yogurt. Tangy sour cream or yogurt helps to soften the cream cheese mixture and make it easier for dipping.
Asiago cheese. Shredded Asiago adds a salty bite. If you don't have Asiago, you can use white cheddar or even Parmesan. (Or omit, if desired.)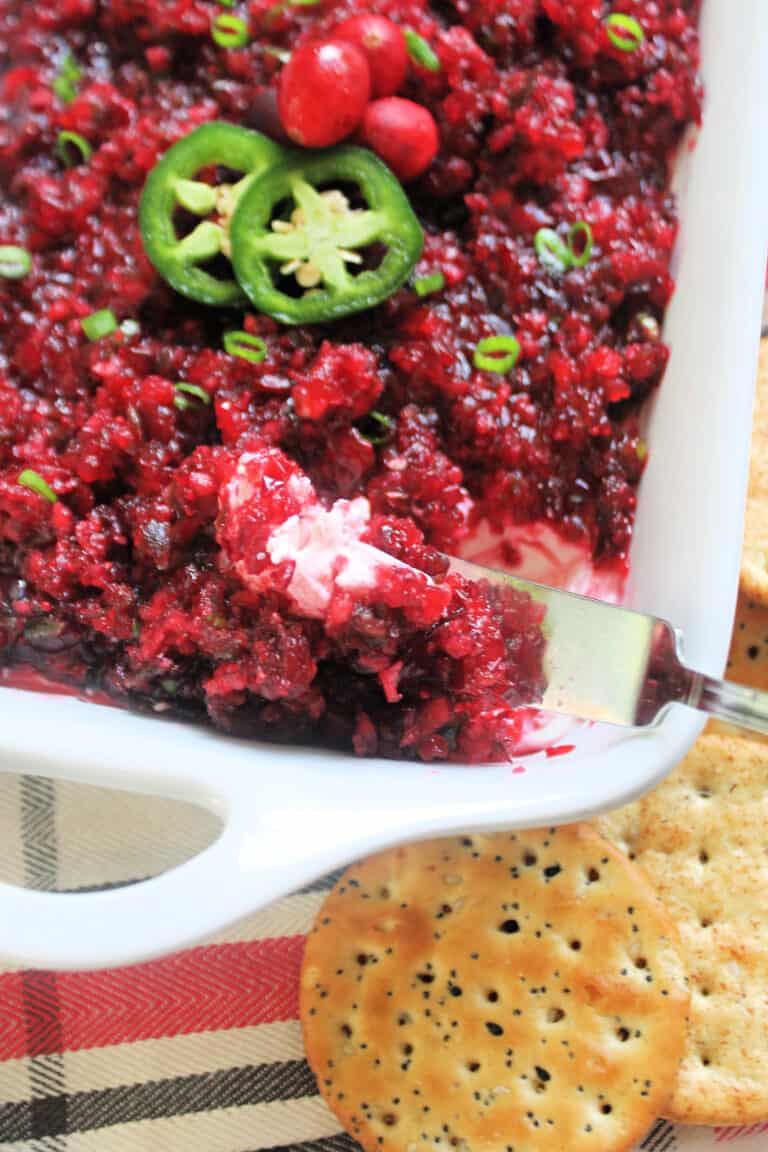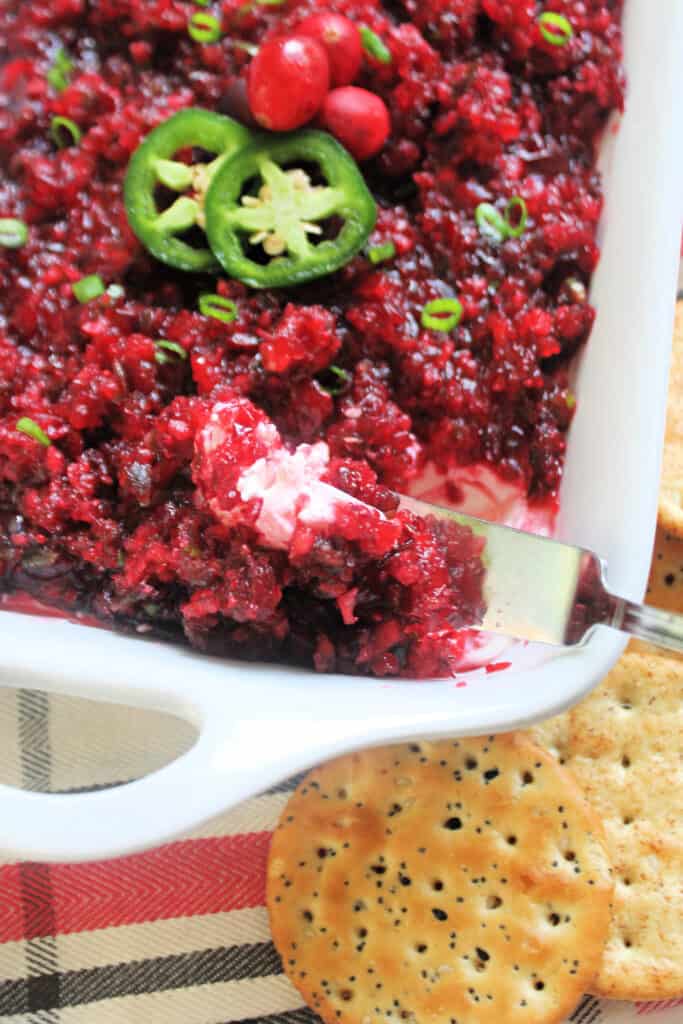 Instructions
The beauty of this Cranberry Jalapeno Dip is how easy it is to make! It's the perfect make-ahead appetizer for the holidays (see tips if planning on making ahead) and a fantastic, no-cook dish to bring along to a potluck. Here's how I make it: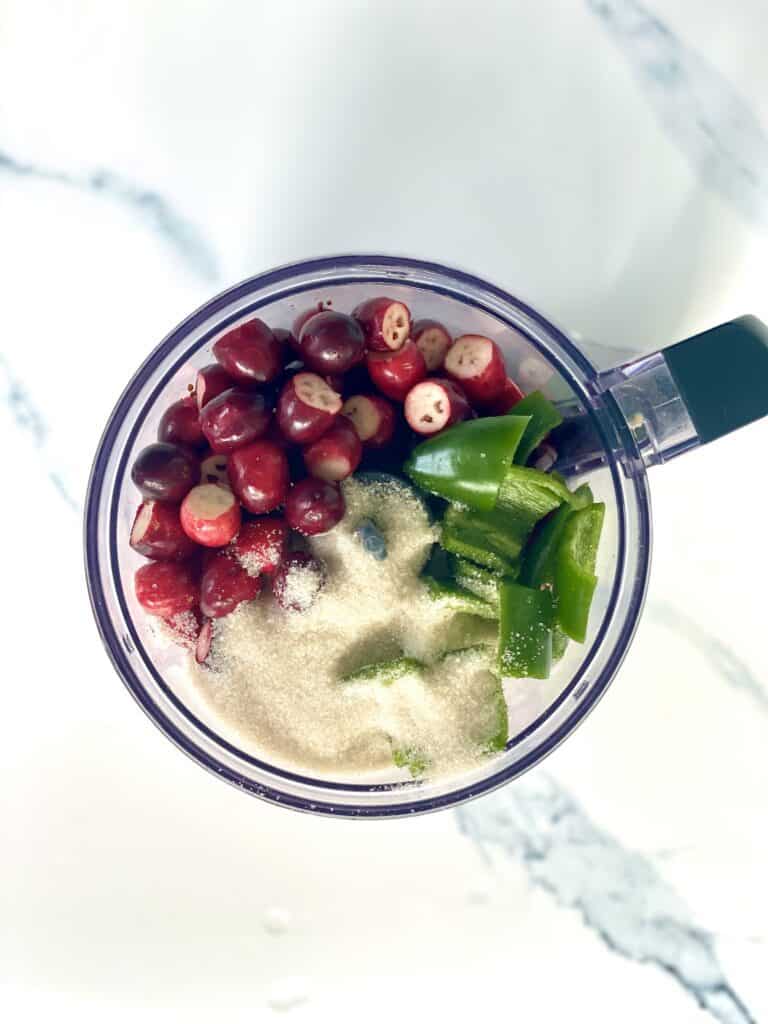 Place fresh cranberries, roughly chopped jalapeno peppers, scallions, sugar and lime juice in the bowl of a food processor. Pulse until the mixture is chopped but still has texture -- think restaurant salsa.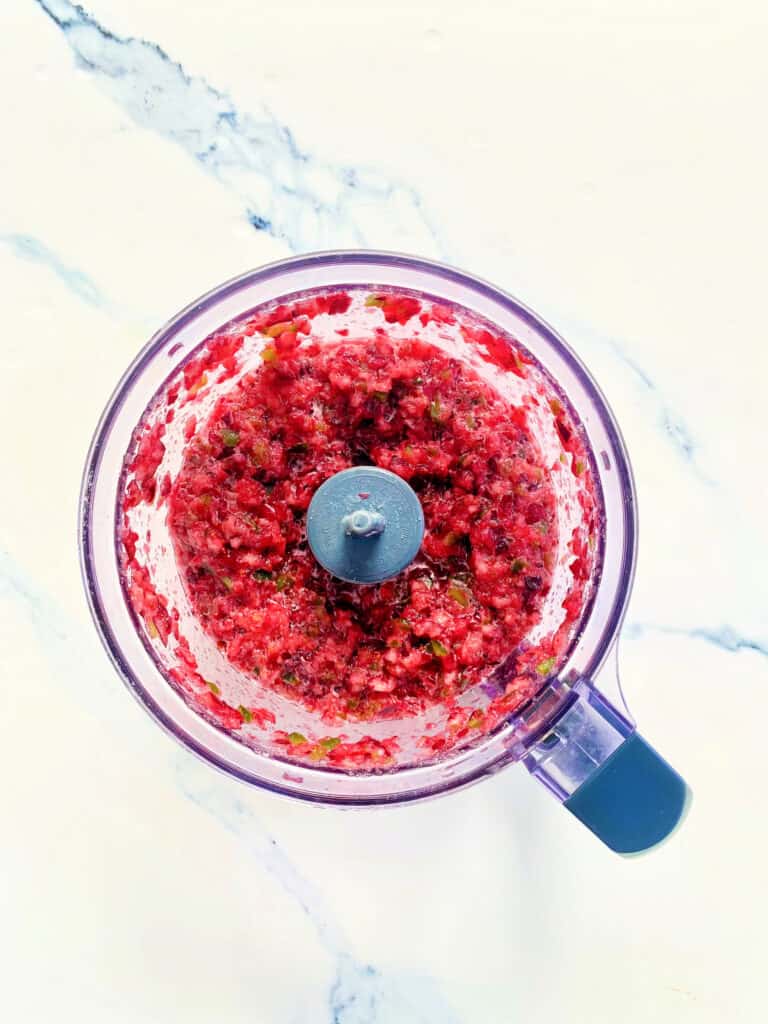 Transfer the mixture into an airtight container with a lid or a bowl covered in plastic wrap. Refrigerate for 2-3 hours or until chilled.
Note: This mixture is even better when the flavors get a chance to marry overnight. As the mixture sits, the sugar and juice from the cranberries will form a syrupy liquid. You may want to pour off some of the liquid before using the relish.
Meanwhile, in a medium bowl, cream together the cream cheese, sour cream or Greek yogurt and shredded Asiago cheese. (I like to do this with a hand mixer, but you can also just use a spatula if the cream cheese is soft enough.)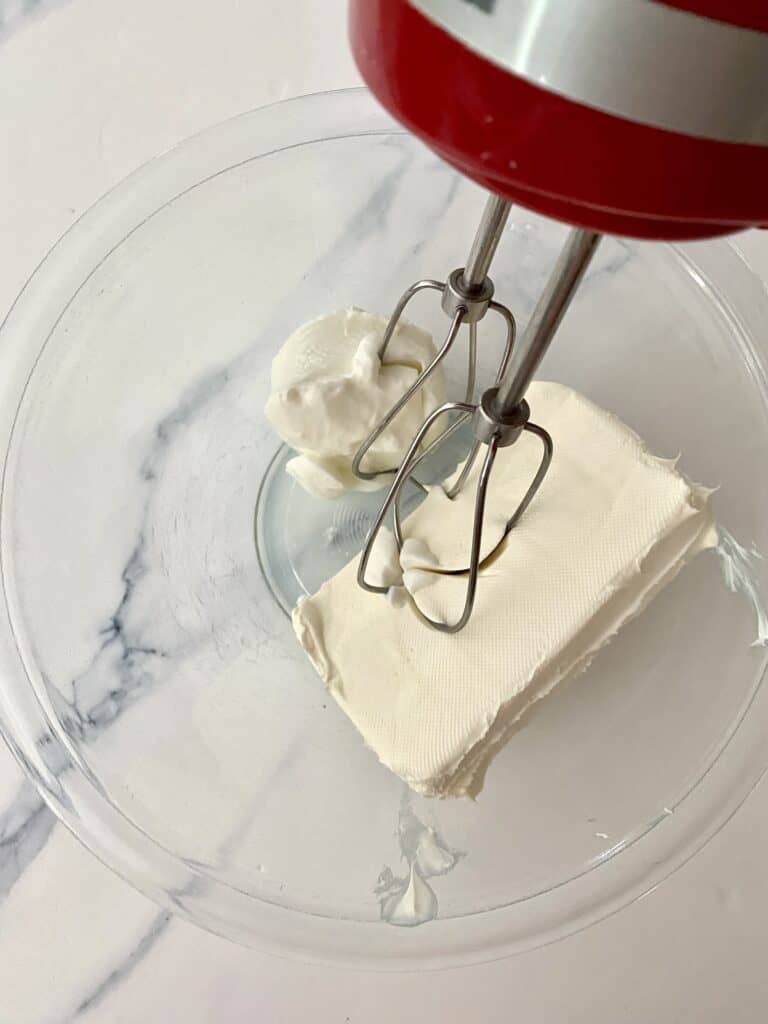 Spread the cream cheese mixture in a serving dish and smooth the top. Cover and refrigerate until ready to serve.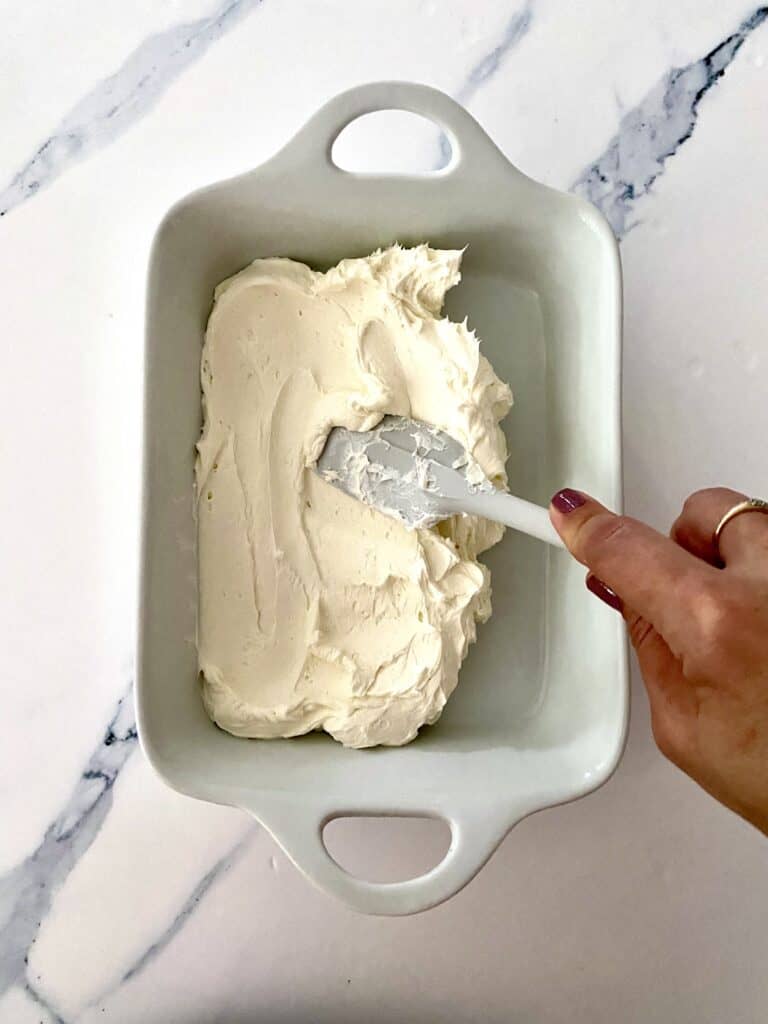 When you're ready to serve the Cranberry Jalapeno Dip, uncover the cream cheese mixture and spoon the cranberry jalapeno relish over the top. (You can strain or pour off the excess liquid or simply use a slotted spoon to scoop the mixture on top.)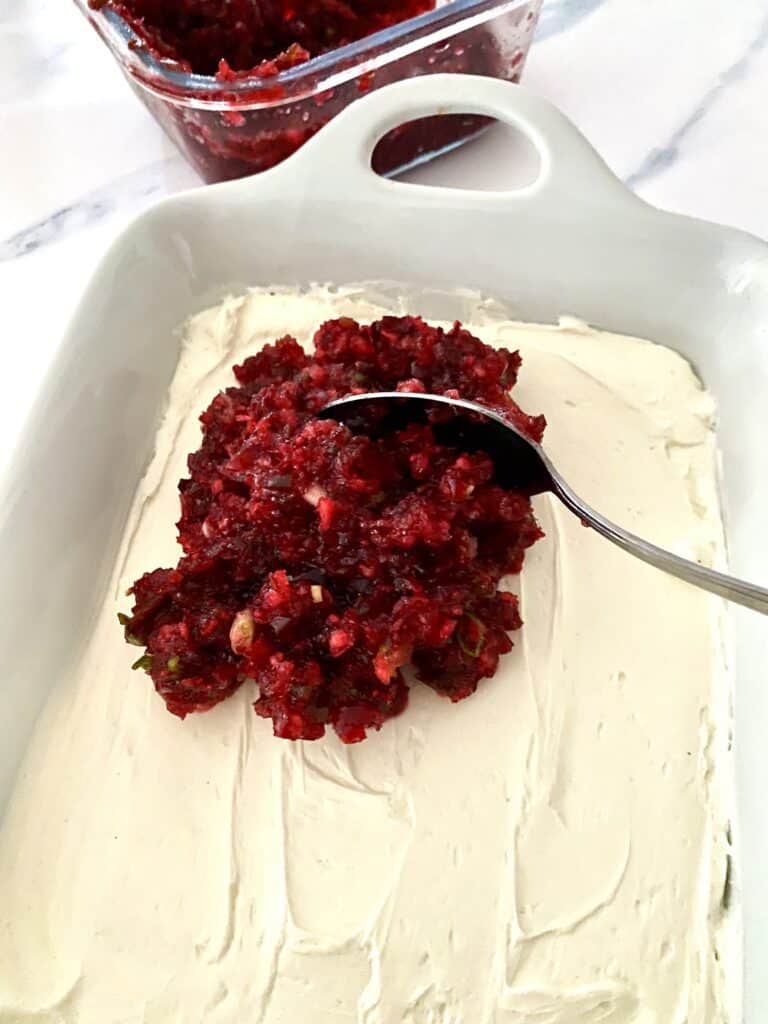 Serve with various crackers such as butter crackers, Townhouse crackers, pretzel thins or Triscuits.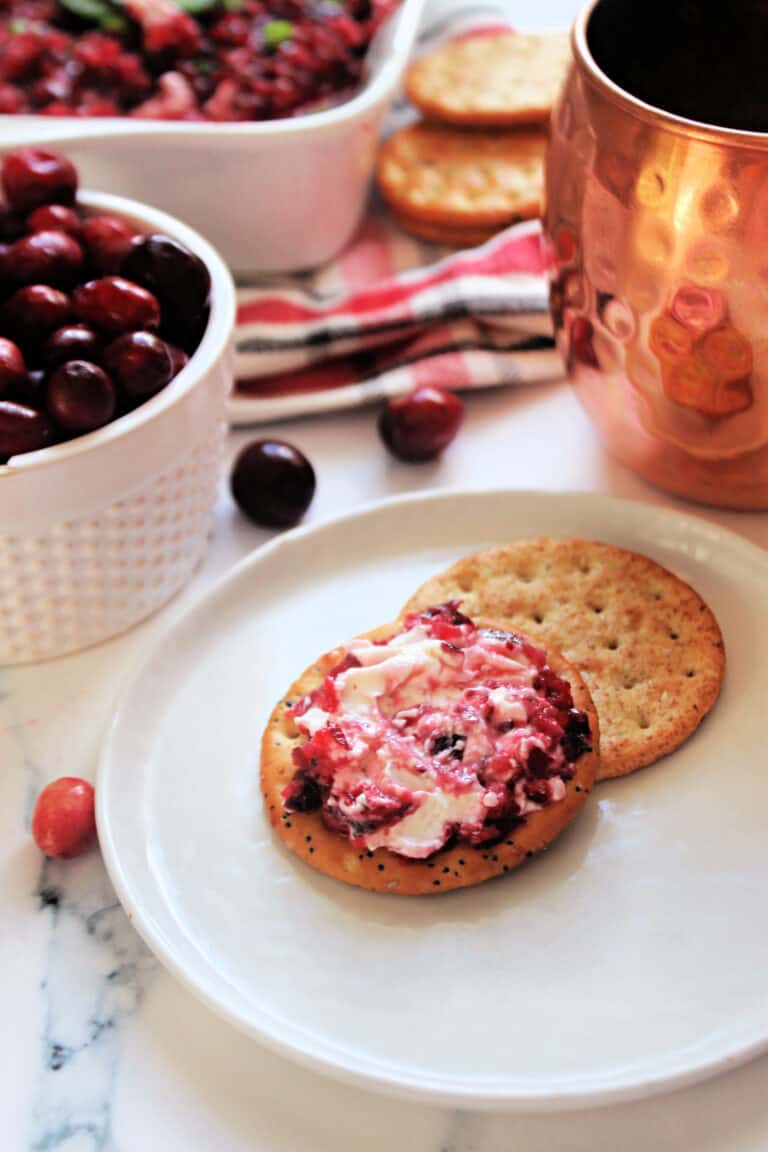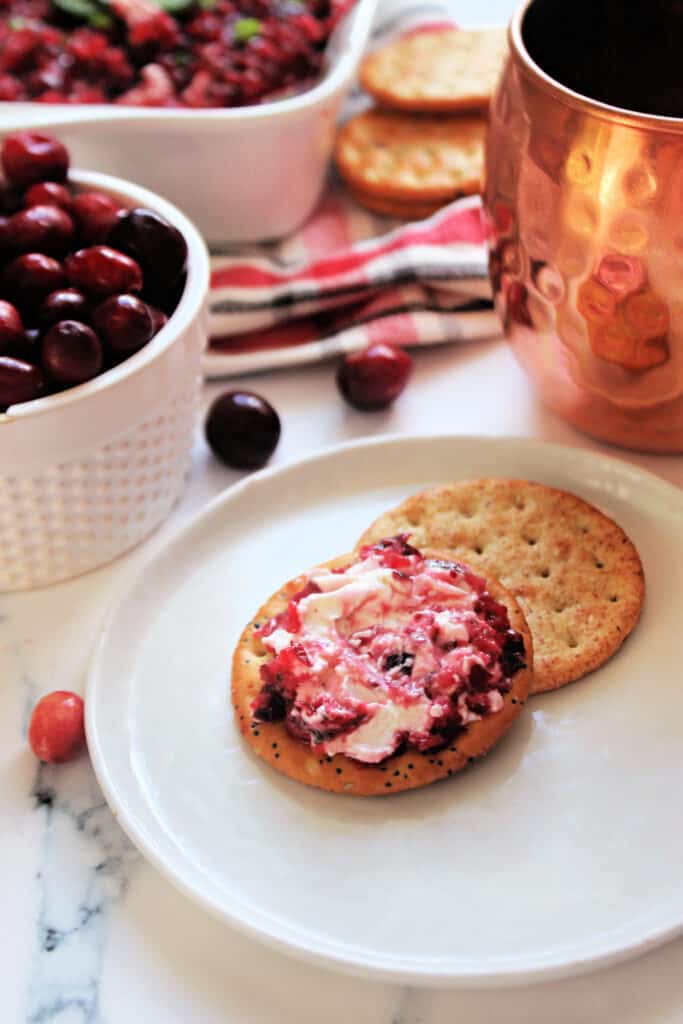 FAQ's
Can I make Cranberry Jalapeno Dip less spicy?
Yes. To reduce the spiciness in any jalapeno recipe, try removing the seeds and white ribs from the inside of the pepper. (Wash your hands well after handling and be careful not to touch any sensitive areas such as your eyes or nose.) You may also reduce the amount of jalapenos in the recipe.
Can I use frozen cranberries?
I have never used frozen cranberries for this recipe, but I imagine it would work. However, the relish mixture may create more liquid, so be aware before spooning on top of cream cheese.
What is a good substitute for Asiago cheese?
If you don't have or can't find Asiago cheese, you may use grated Parmesan or Grana Padano cheese in its place. I think finely shredded white cheddar would also make a good substitute in this recipe.
How do I store Cranberry Jalapeno Dip?
Refrigerate the relish and cream cheese mixture separately in air-tight containers if making ahead and assemble just before serving. To store any leftovers, cover the dish with plastic wrap and refrigerate, however, be aware that the relish will continue to create liquid as it sits.
How long does Cranberry Jalapeno Dip keep?
Cranberry Jalapeno Dip should keep 2-3 days in the refrigerator when stored properly in an air-tight container.
Variations & Substitutions
Try adding these ingredients for a twist on Cranberry Jalapeno Dip!
Add ¼ cup cilantro to cranberry mixture.
Toss in ½ cup shredded apple for extra crunch.
Give things a zesty kick by adding a teaspoon of lime or orange zest.
Replace half of the sugar with honey.
You can also make a creamy dip by combining all of the ingredients in the food processor instead of layering them!
Diet Specific Substitutions
Dairy-Free or Vegan: Use your favorite plant-based cream cheese and plant based yogurt or sour cream in place of regular.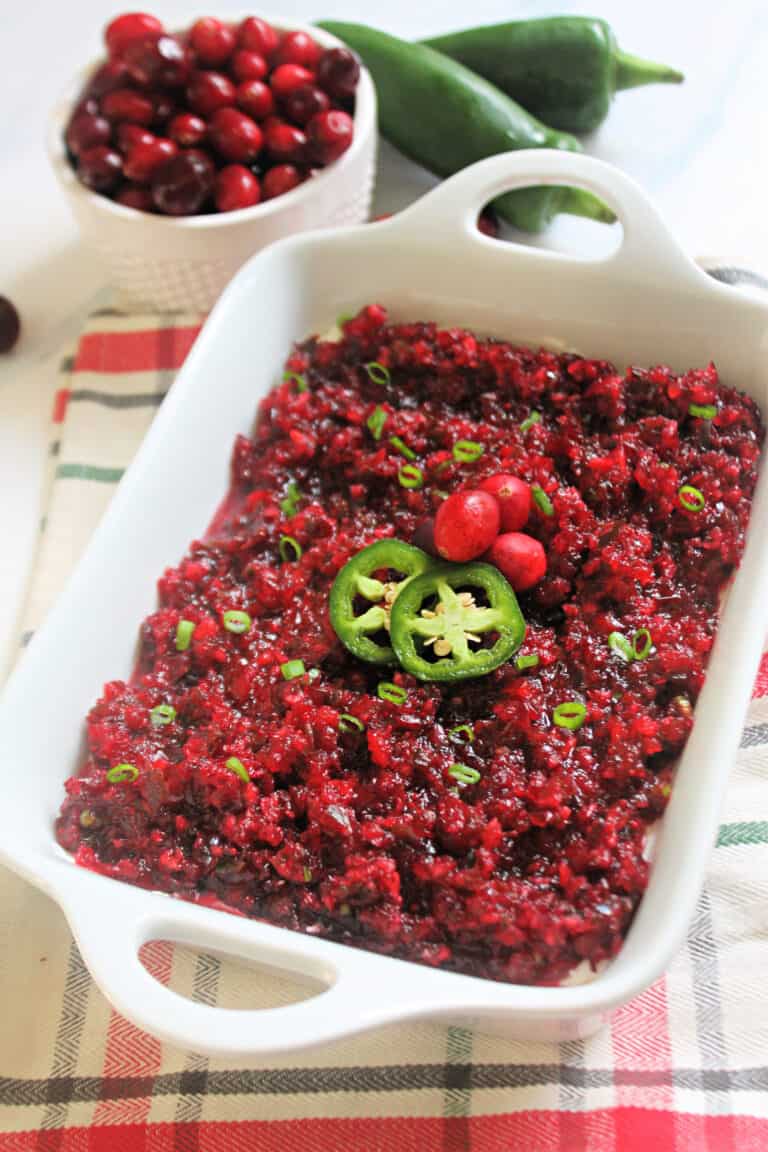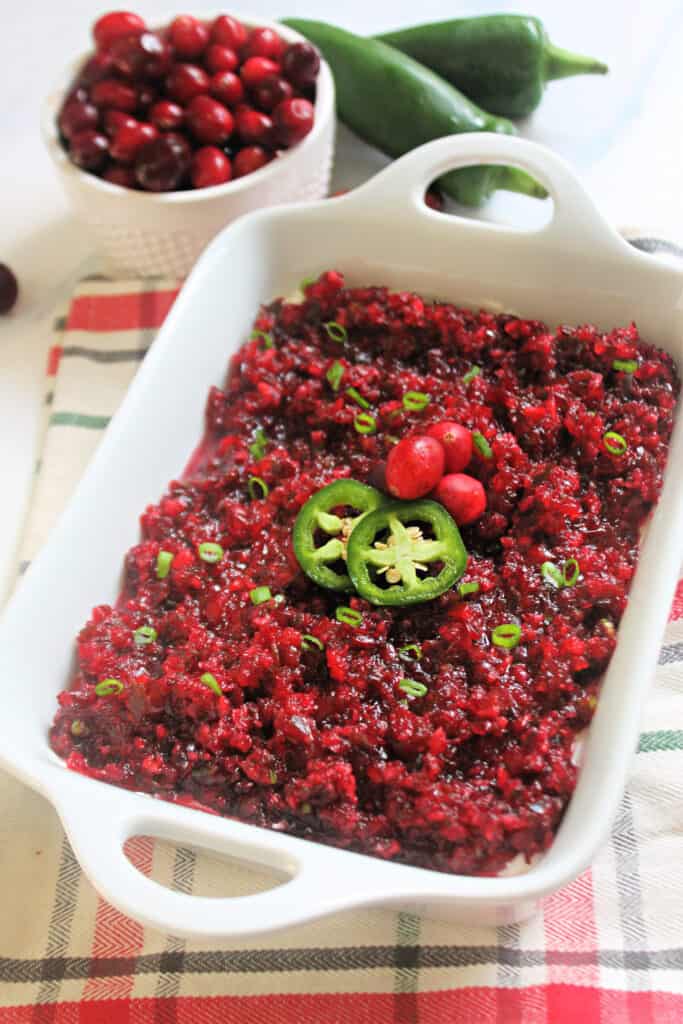 Did you try this recipe? Leave a rating and comment, or tag me on Facebook or Instagram at @thekitchenprep!
Blueberry-Ginger Cobbler Smoothie
Blueberry Ginger Cobbler Smoothie! This filling, blueberry spinach smoothie gives of dessert vibes while delivering a serious dose of nutrients!
Ingredients
¼

cup

rolled oats

2

tablespoons

walnuts

2

pitted dates

soaked to soften

1

teaspoon

fresh grated ginger

1

cup

blueberries

fresh or frozen

1

handful

spinach

1

cup

coconut milk

or milk of choice

½

teaspoon

cinnamon

½

cup

ice
Instructions
Place all ingredients in a high speed blender in the order listed.

Blend until smooth. Pour into a glass and enjoy!
Notes
Variations:
Add a dash of vanilla extract for an extra hint of cobbler-eque flavor.
Throw in a little lemon zest. Lemon and blueberry are a great pair!
Blend in a scoop of your favorite protein powder for an added protein boost.
Use your favorite collagen peptides for a dose of hair, nail, skin, join & ligament support. (Note: Collagen peptides are an animal product, so the smoothie will not be vegan unless you use a plant-based version.)
Diet-specific Substitutions:
Gluten-Free: While oats are naturally gluten-free, you may want to make sure to purchase a brand that is certified gluten-free if you have celiac or other gluten allergies.