Whether you're hitting the road for spring break or starting to think about summer travels, don't forget to pack up the car with road trip snacks! I'm sharing the best healthy road trip snacks (both store bought and homemade) that will keep your family fueled out on the open road!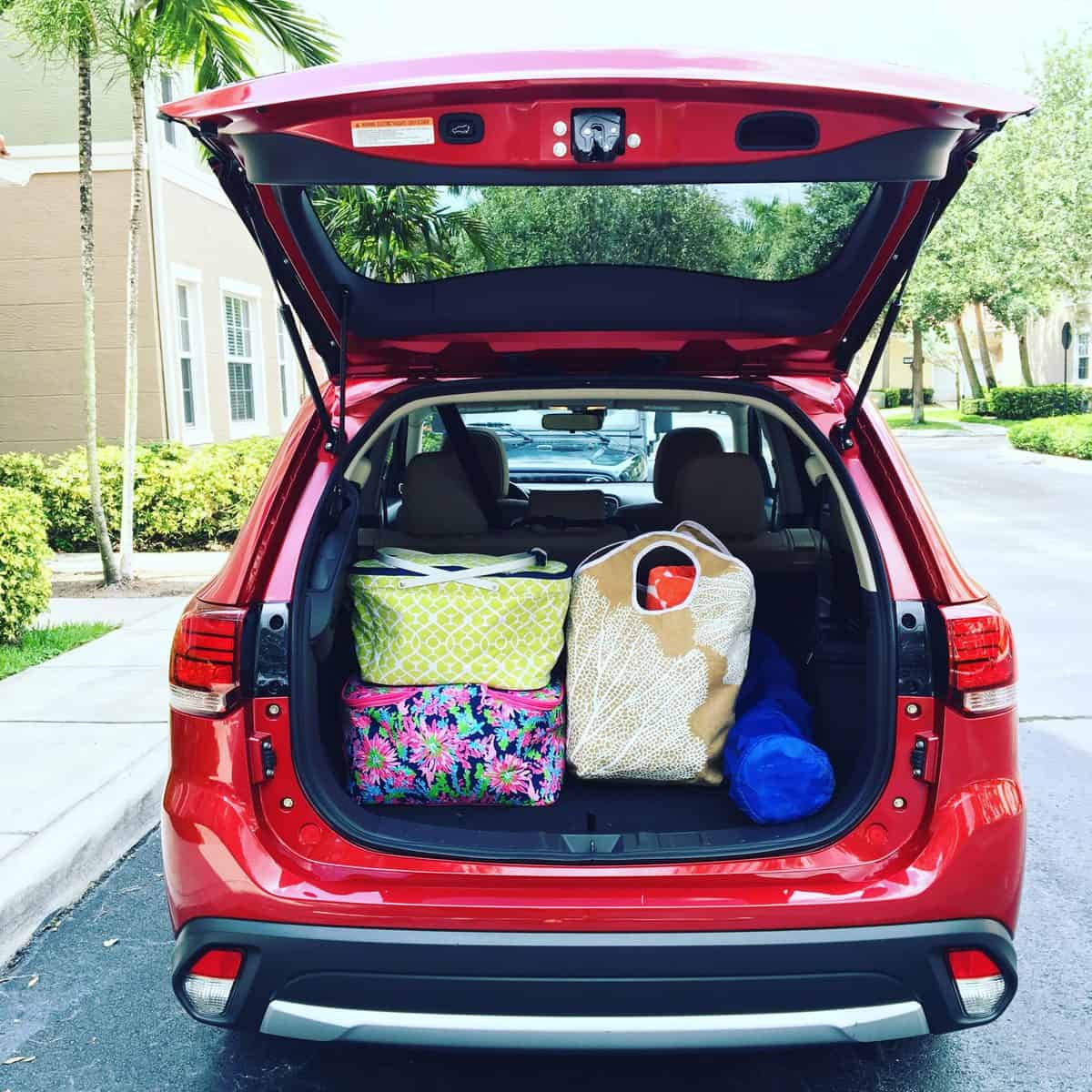 Note: This post was originally published on July 18, 2016 and updated on March 3, 2021.
I love to travel. Whether it's playing tourist in my own city, road tripping just a few hours away or hopping a plane and crossing the country, I'm always down to see the sites. But, if you're anything like me, you understand the need for a well-packed snack bag for any and all modes of travel.
A thoughtfully planned snack strategy can truly make or break travel, if you ask me. There's nothing wrong with "junk food" or nostalgic favorites, but when it comes to a creating a car full of happy campers, there are certain foods that top the list in terms of both convenience and nutrients! Here are some of my absolute favorite snacks for curbing hangry meltdowns and keeping blood sugar in check for all involved!
Dried or Freeze-Dried Fruits
As a toddler, my son was smitten with these and I always felt good about giving them to him because there is only one ingredient on the label: Fruit. As always, portion-watching is important because fruit packs a punch when it comes to sugar, but dried fruit can help satisfy a sweet tooth without involving refined sugars and artificial sweeteners.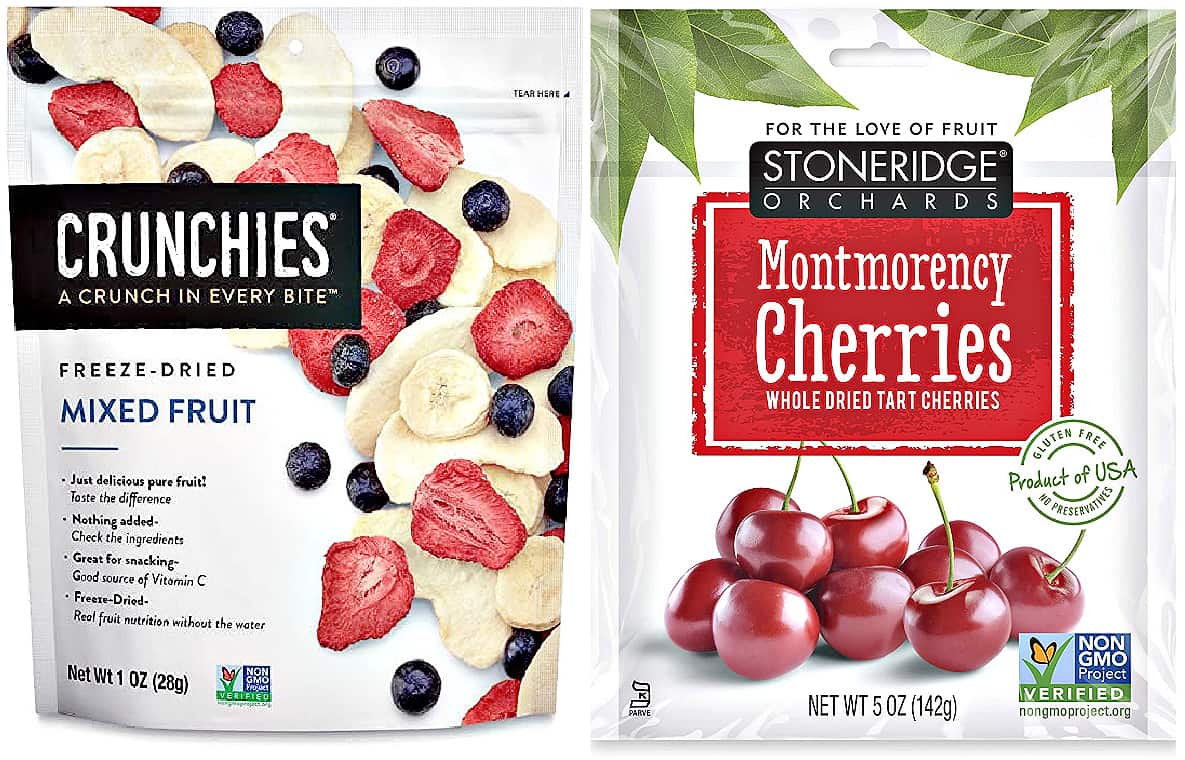 Dried mango and freeze-dried bananas were two of his favorites. Dried apples, freeze-dried strawberries, chewy dried cherries and pineapple slices are also great options! Bonus points for being minimally messy.
Granola & Granola Bars
Granola can be a great on-the-go snack food, but if you're looking to keep things on the more nutritionally dense side, you'll need to do some label reading as as many brands are closer to a dessert than a healthy snack. Luckily, these days there are tons of great, low-sugar and all-natural versions on the market.
If you're not opposed to making your own so you can control the ingredients added, whip up some homemade granola! These are some of my favorite homemade granola recipes: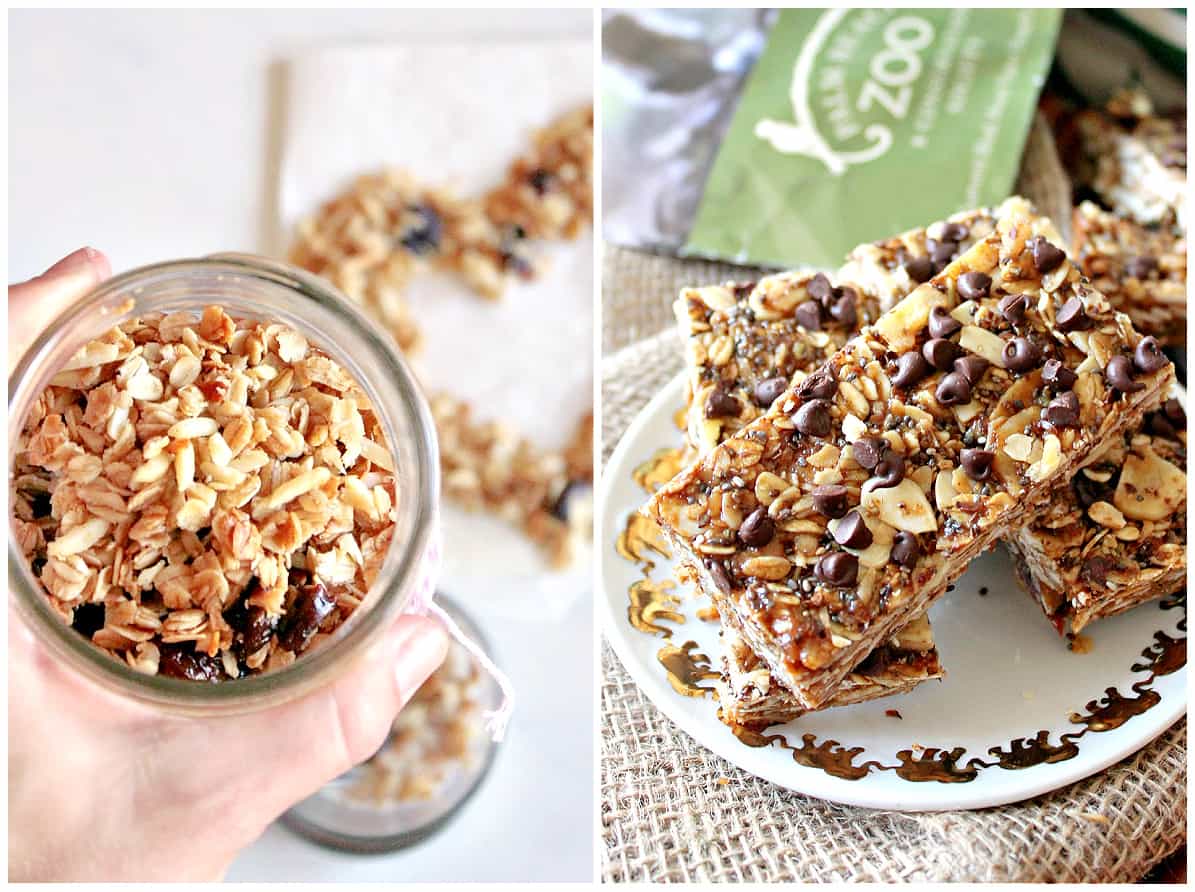 Apple Sauce & Yogurt Pouches
I almost always have a pouch of banana applesauce in my purse in case of "hangry" meltdowns. (Both my child's and my own.) There are lots of varieties on the market featuring fruit blends; some even sneak in some vegetables! Applesauce pouches are great because they don't have to be refrigerated, but if you happen to be packing a cooler, yogurt pouches are an equally good choice. No need for a spoon, just uncap and slurp -- the ideal toddler snack, but not one that I'm opposed to enjoying as an adult!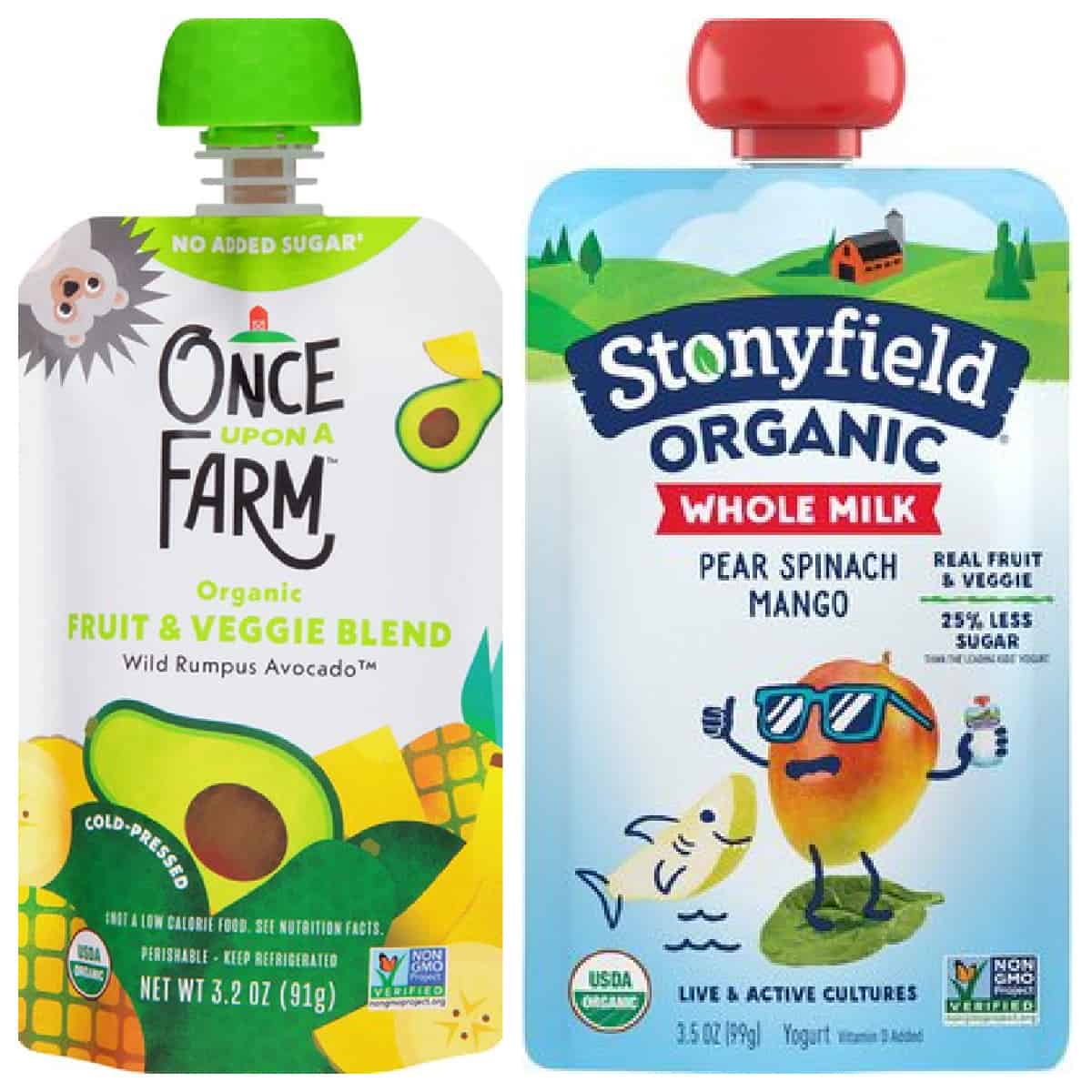 Nuts & Trail Mix
Filled with healthy fats, nuts make a great on-the-road snack! Buy shelled peanuts and pistachios to keep messes at bay, or enjoy cashews, almonds, pecans or macadamia nuts. For a little extra flavor, try out premium mixes, seasoned or coated varieties. I can't keep my hands out of the bags of chocolate dusted almonds and spiced cashews when I'm noshy in the passenger seat!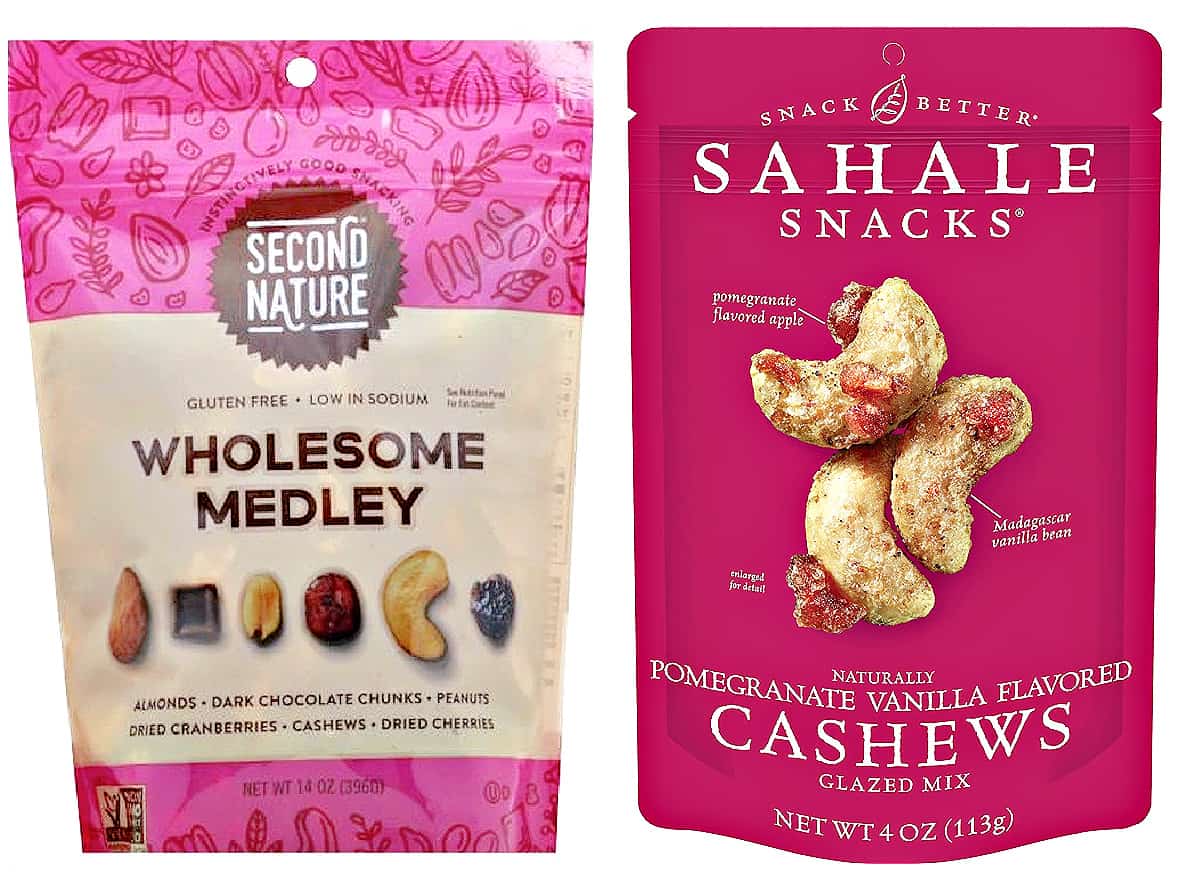 Trail mix is also an ideal snack that combines sweet and savory bits to appeal to all cravings. Make your own blend using your favorite crunchy snacks or pick up a pack or two from the store -- just beware of mixes that contain more candy and pretzels than fruit and nuts. Individually sized packs are a smart choice if you prefer portion controlled offerings.
Jerky
A quick, easy protein boost, jerky is a savory road trip snack worth packing! Whether you prefer traditional meat jerky (there are so many kinds out there -- beef, pork, chicken, bison, etc.) or are more inclined to enjoy a plant-based jerky (yes, it exists!), there are hundreds of chewy and satisfying meat snacks available for purchase in most health food grocers.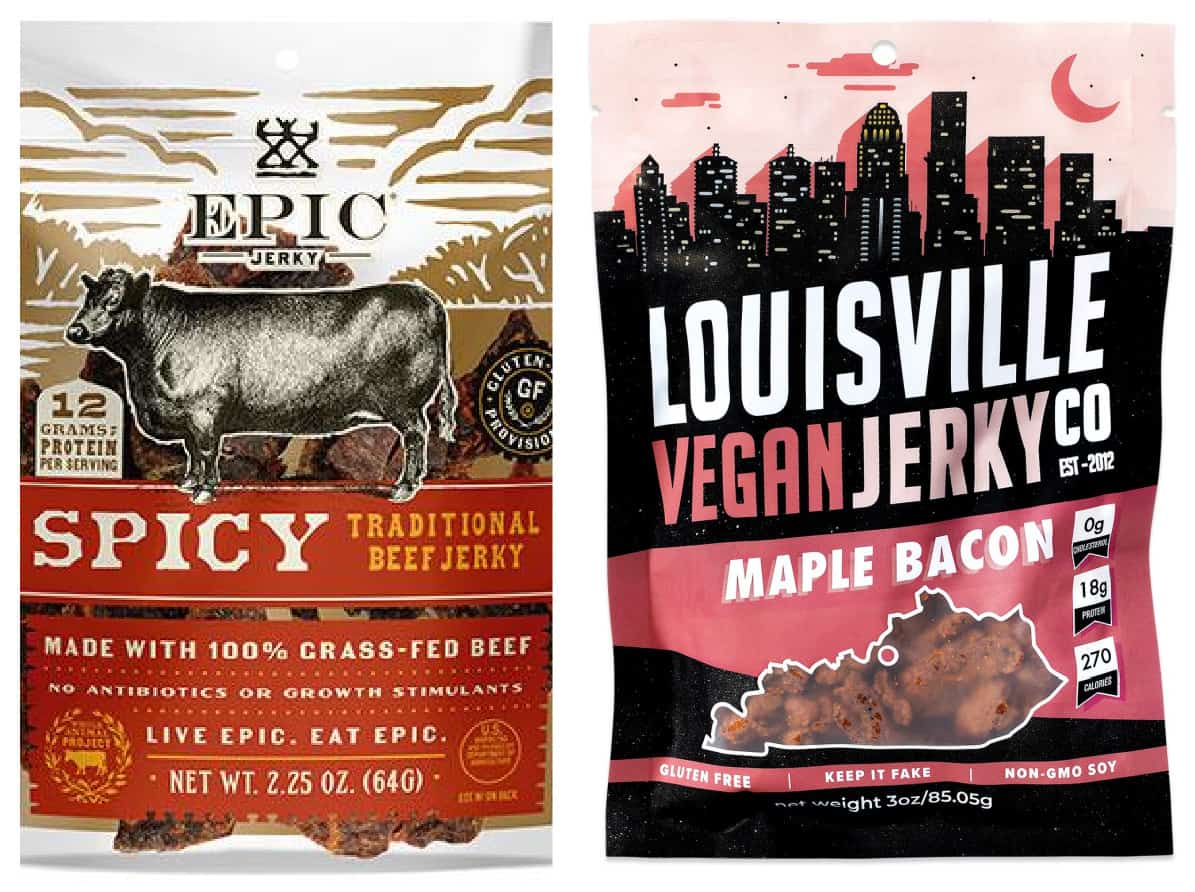 Veggies & Hummus or Guacamole
I love the ease of packing up raw veggies and store bought hummus or guacamole for trips. The fiber from the beans and raw vegetables, and the healthy fat from avocados helps to keep you full and satisfied between meals without diving head first into less-nutritious snacks.
We use reusable sealable bags like Stasher bags or other BPA-free, eco-friendly options, or Sistema food storage containers that are sectioned off to keep dip separate from veggies. You can also use small mason jars and package both dip and veggies together, as I did here in my Artichoke White Bean Veggie Dip!
Popcorn & Chips
There is nothing quite as convenient as grab-and-go bags of popcorn or chips! Again, there are many better-for-you options on the market, but if the pull for brightly colored, artificially flavored varieties is strong, then I say go right ahead and enjoy your old favorites!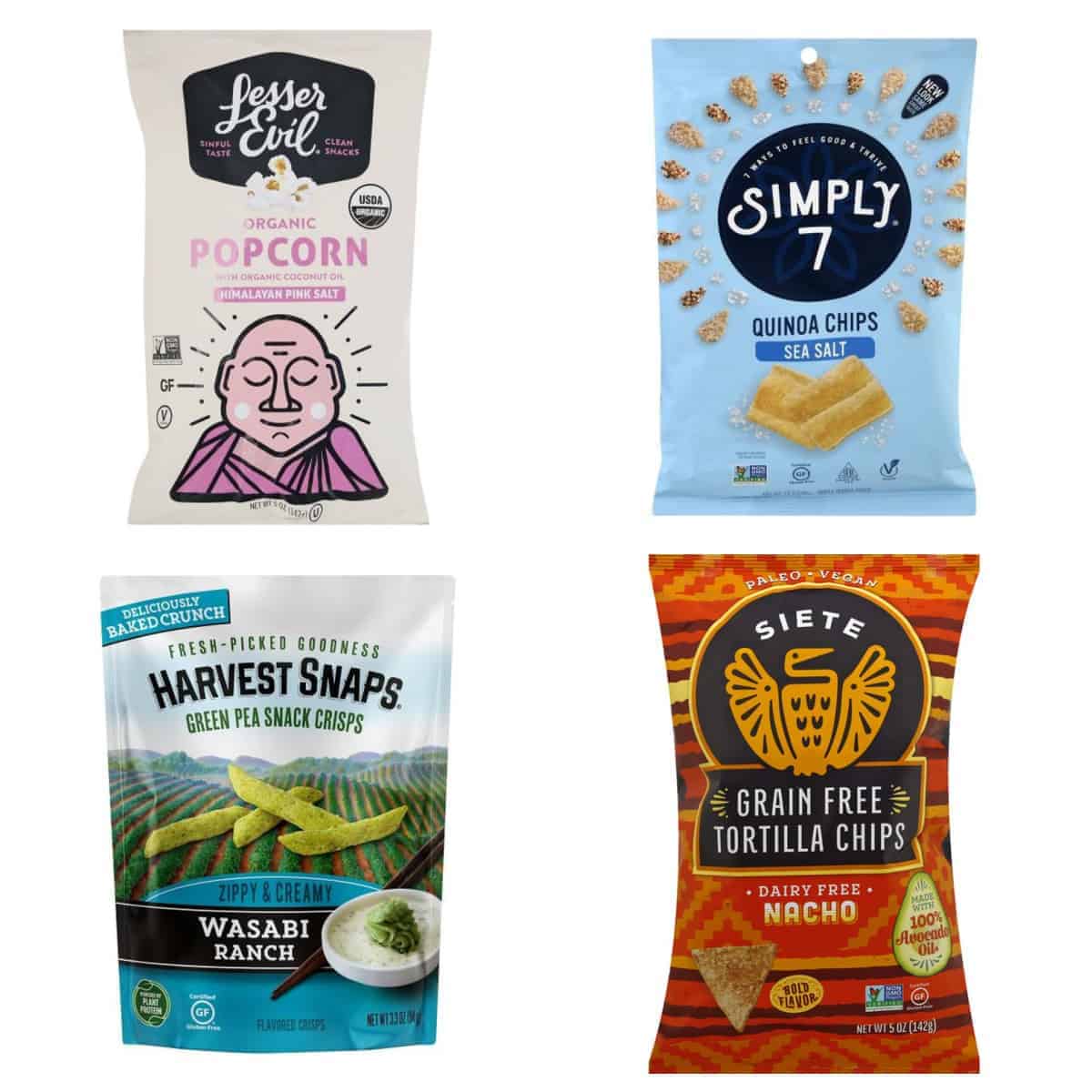 If you prefer more natural options, air-popped (or microwave-popped) kernels flavored with your favorite seasonings are a great treat with endless flavor combinations (even sweet ones like Tiramisu Popcorn)!. There are also fantastic store-bought grain-free tortilla chips, plantain chips, green pea puffs, quinoa puffs, crunchy chickpeas and an assortment of other naturally nutrient-rich choices that are easily found both regular and natural grocery stores.
Energy Balls & Bites
These easy, no-bake, pint-sized powerhouses can be made with just about anything you have in your pantry -- oats, flax, chia, dried fruit, nut butters, protein powder, etc. -- so the flavor possibilities are endless!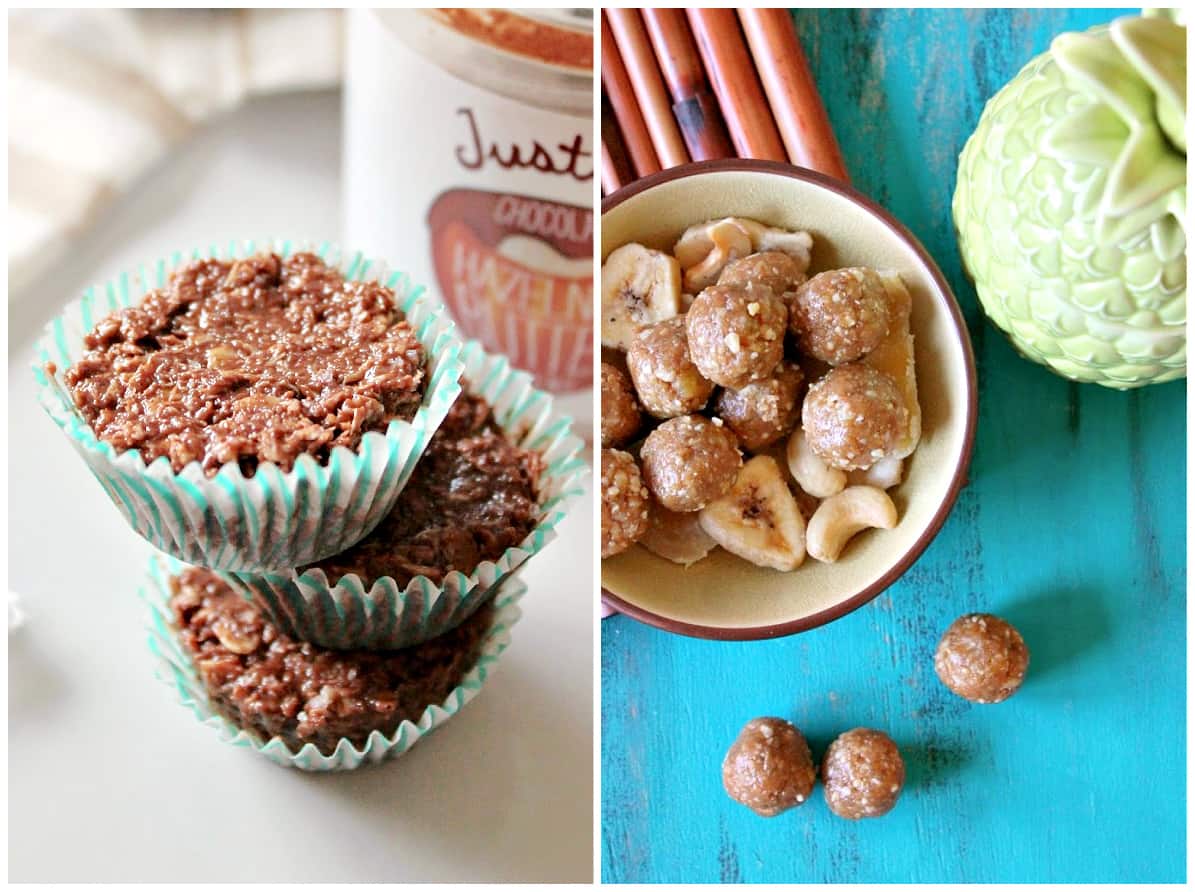 Here are a few of my favorite energy ball recipes:
Hydration
I am the worst about drinking enough water throughout the day. On a road trip, you can easily forget to hydrate unless you keep your water bottle right next to you in the cup holder and maybe add something that will entice you to take more sips. Personally, I enjoy adding a splash of detoxifying apple cider vinegar for a kick -- like a DIY version of Bragg's Apple Cider Vinegar Drinks. If you're not into ACV, you can add fruit or herbs to your water to give it a pleasant fruity flavor that will make hydrating fun!
What kinds of snacks do you pack for the road? Comment below on your favorites!