Southern Cheese Straws! This easy cheese straw recipe is a crowd favorite. Tender, buttery and cheesy bites make the perfect party food with just enough kick!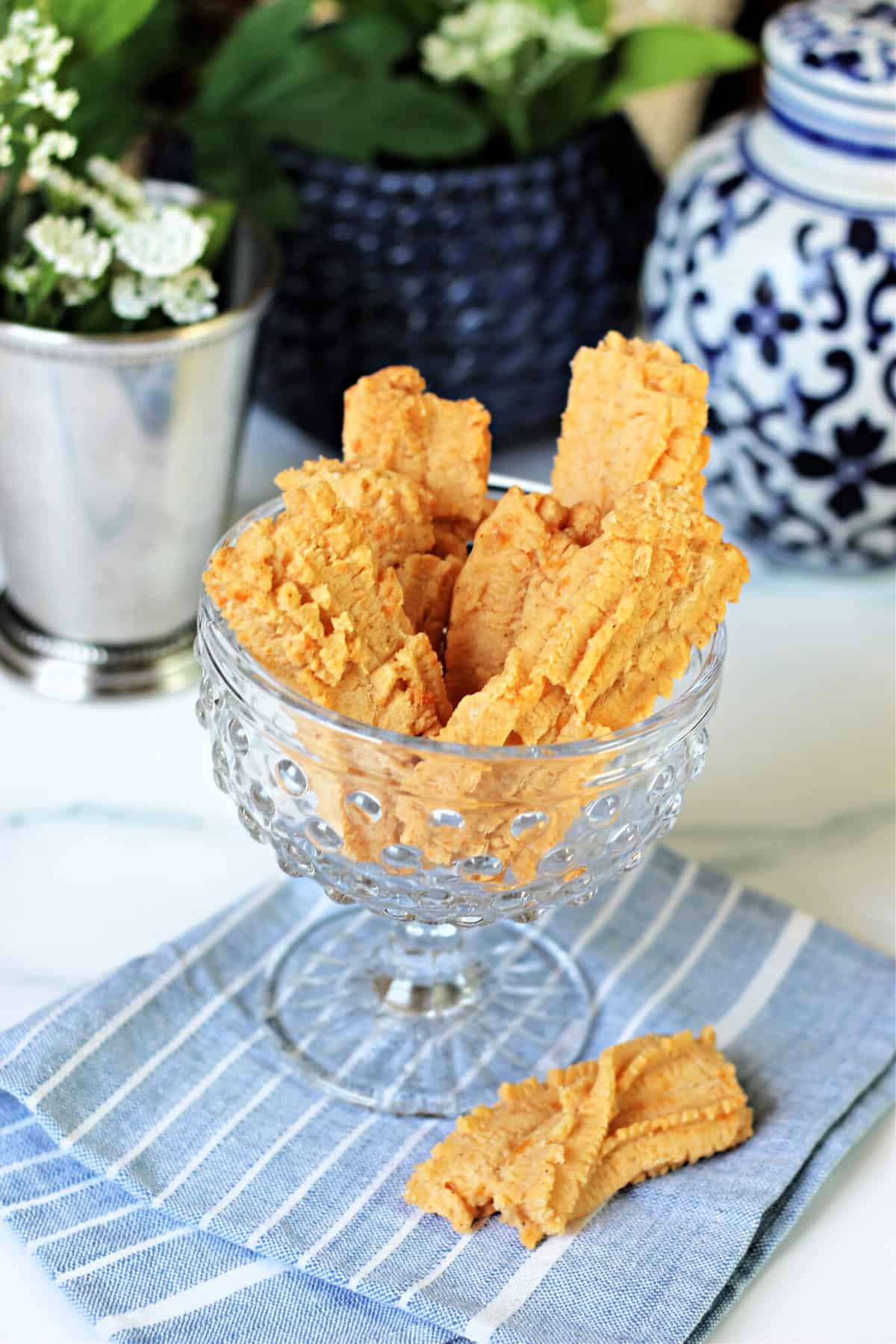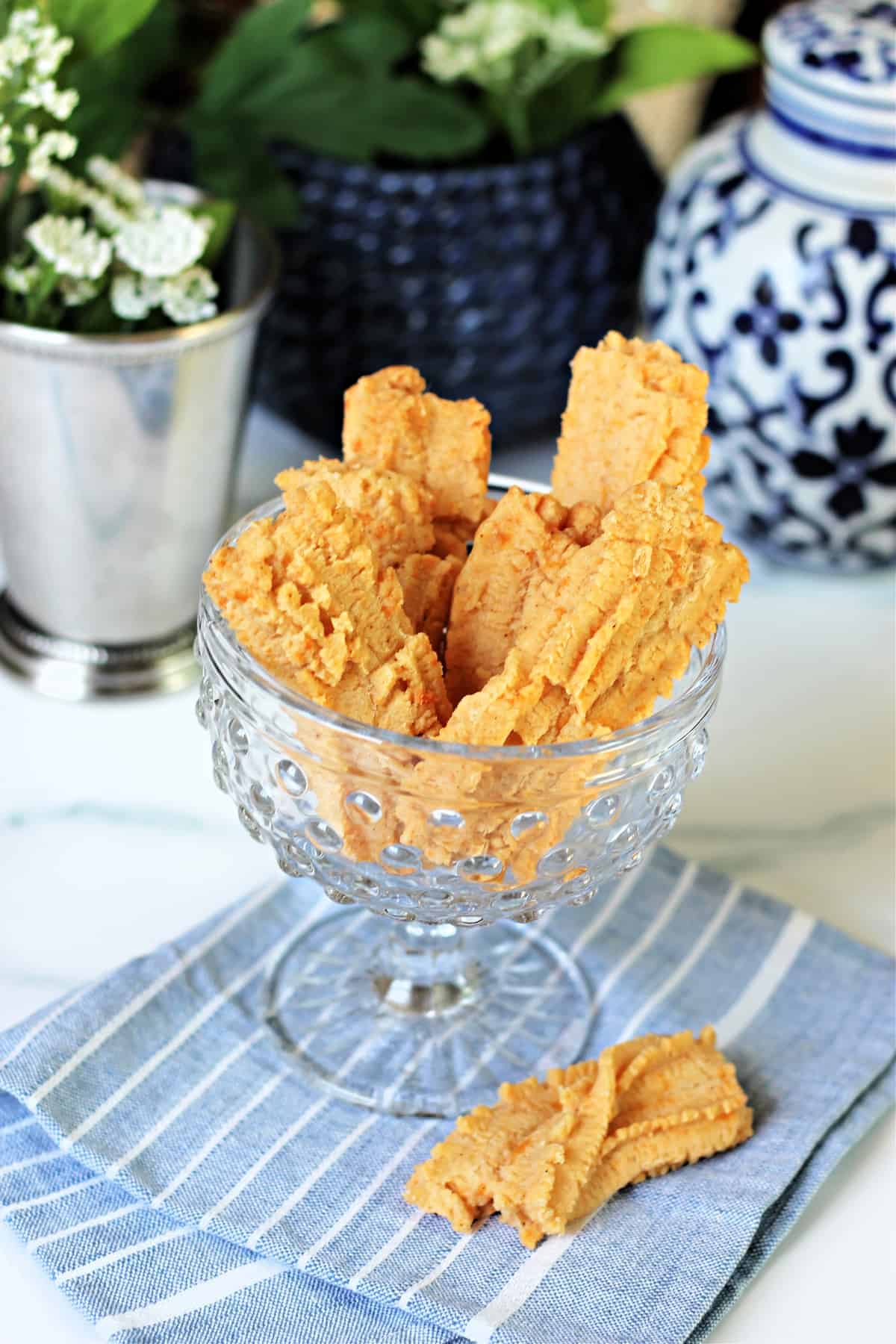 This post may contain affiliate links, which means that, at no extra cost to you, I may earn a small commission if you click a link and purchase an item I've recommended. Thanks for your support in running this blog!
If you've never had homemade cheese straws, now is the time to remedy that problem! Cheese straws are the ultimate Southern party appetizer. These melt-in-your-mouth, buttery, flaky savory cheese crackers are served at all kinds of events, from birthday parties to bridal and baby showers, to special occasions like Mother's Day and the Kentucky Derby.
They are rich and addictive, with just a hint of spice from cayenne and they're wonderful served with cocktails or sweet tea. Try your hand at this easy cheese straw recipe and let me know what you think!
What are cheese straws?
Cheese straws are a baked savory appetizer or snack made from a cheesy, buttery dough. Their traditional long, grooved shape is created by extruding the dough through a cookie press fitted with a star-shaped disc.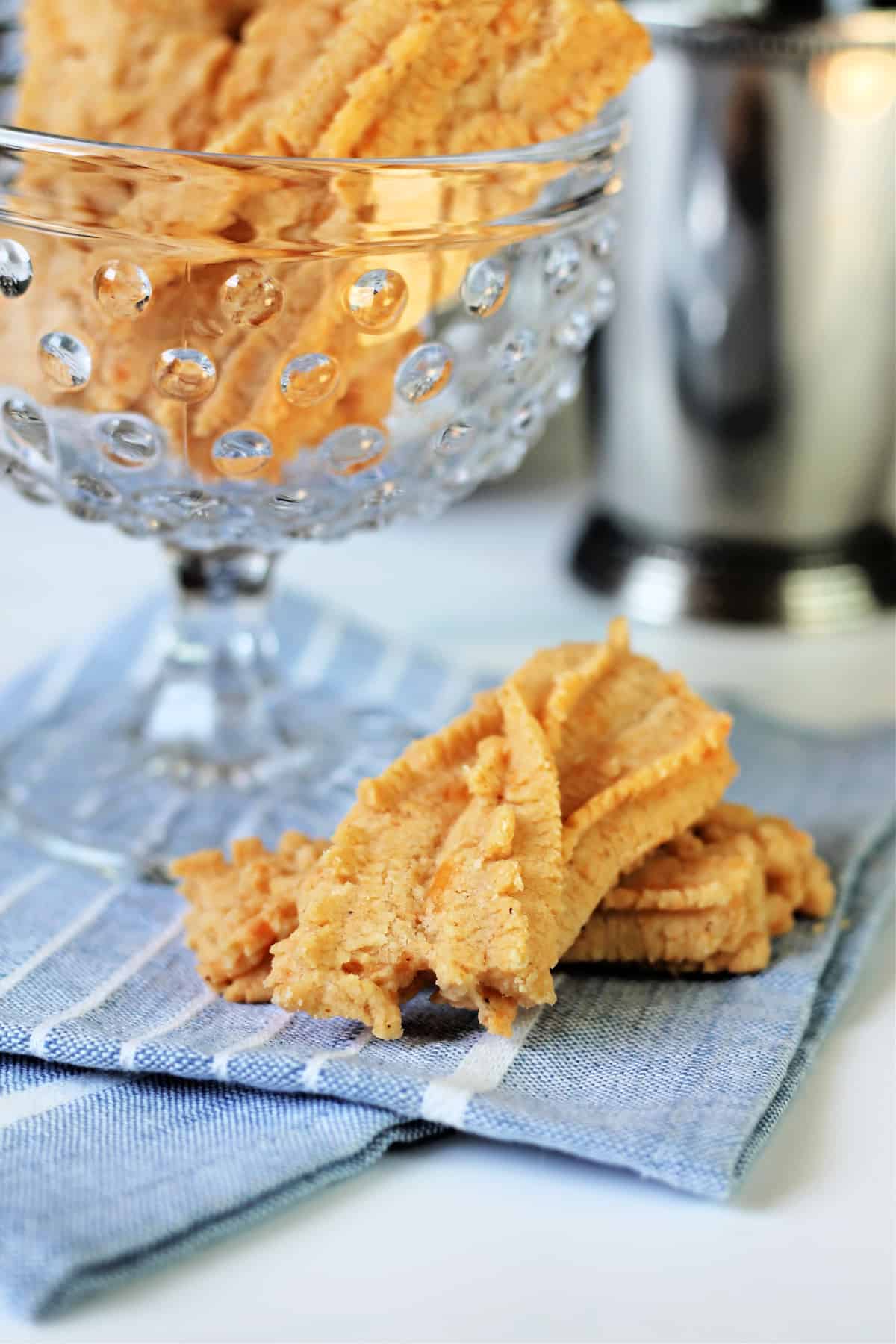 Homemade cheese straws make a great party food as they can be made ahead and the recipe can be easily doubled.
Ingredients
This homemade cheese straw recipe only takes a handful of ingredients:
Butter
Sharp cheddar cheese
Sea Salt
Paprika
Cayenne pepper
Flour
The dough, which is very much like a savory shortbread cookie dough, comes together very quickly in the bowl of a stand mixer.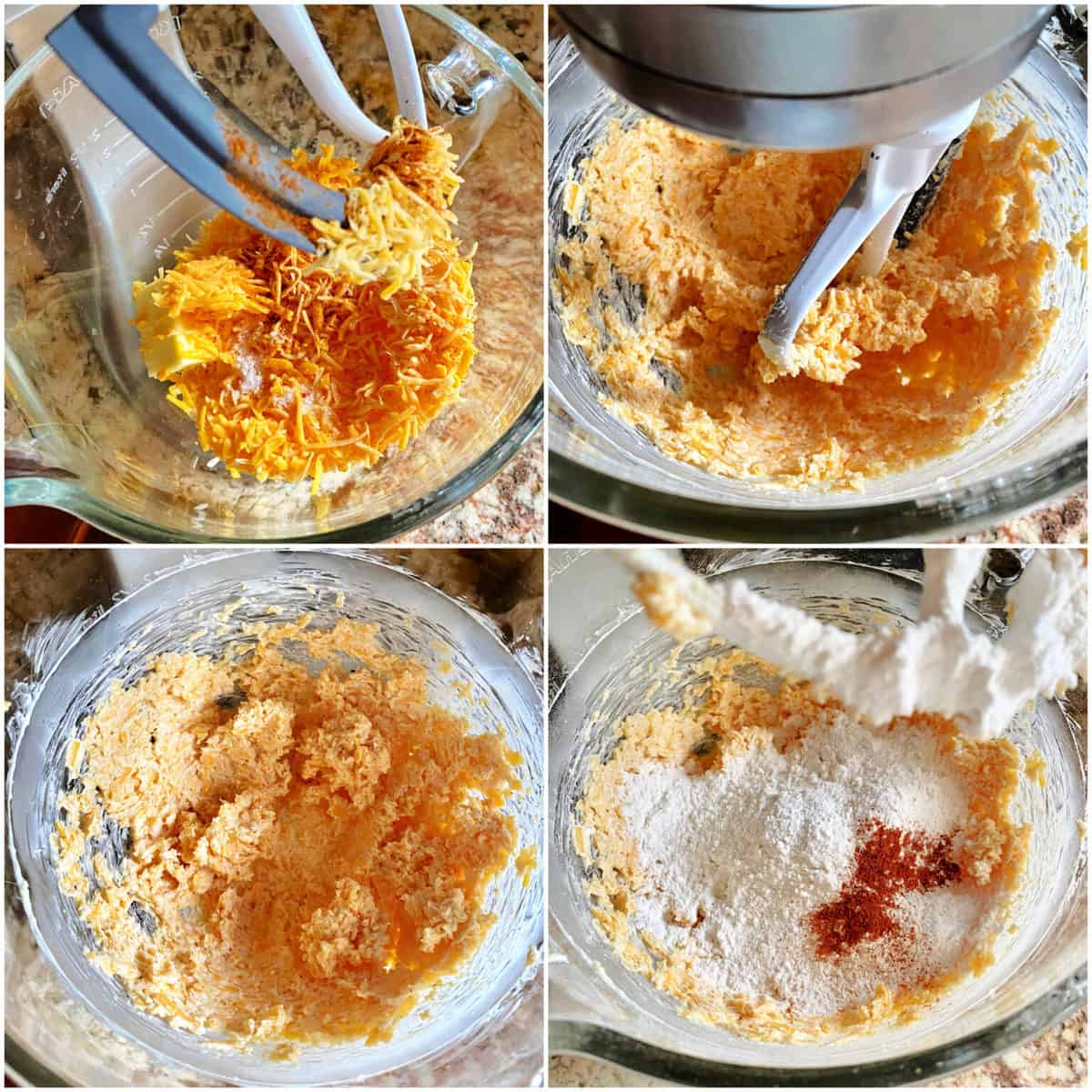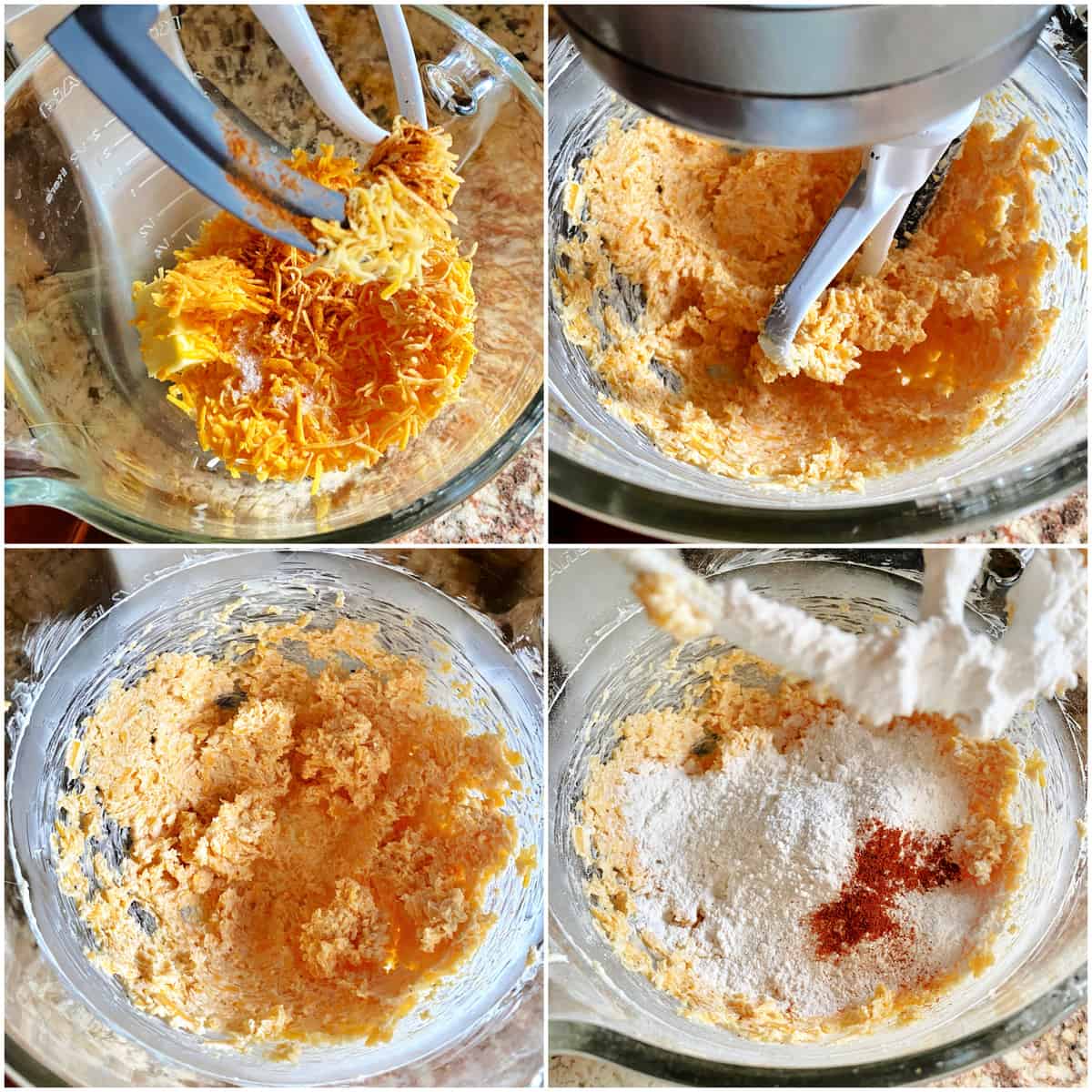 Frequently Asked Questions
Can I use pre-shredded cheese?
If possible, I recommend shredding your own cheese from the block. Here's why: Pre-shredded cheese contains additional anti-caking ingredients that can affect the way your cheese straws bake up. I will say, I have used pre-shredded cheese in a pinch and they turned out ok flavor-wise, but I think it's worth taking the time to grate the cheese yourself for the best possible outcome.
How are cheese straws shaped?
Cheese straws come in many shapes and sized, but their signature, grooved, log-shape is typically achieved by using a cookie press with a star-shaped decorative disc. You simply load the dough into the barrel of the cookie press and then pump or click to push it through the star, creating a long piece of dough that can be cut into bite-sized pieces.

This is the cookie press I use. Since I didn't have a regular star shaped disc, I used a snowflake-shaped disc, hence the slightly haphazard grooves on mine. Luckily, they don't have to look perfect to taste delicious! 

If you don't have a cookie press (or can't find a traditional star-shaped disc, like me!), don't fret. Cheese straw dough can also be rolled into a log and chilled, then cut into "coins." I'm fairly certain you can also carefully roll out the chilled dough and cut into other shapes with either a sharp knife or cookie cutters, if desired; just try not to overwork the dough or it can become tough.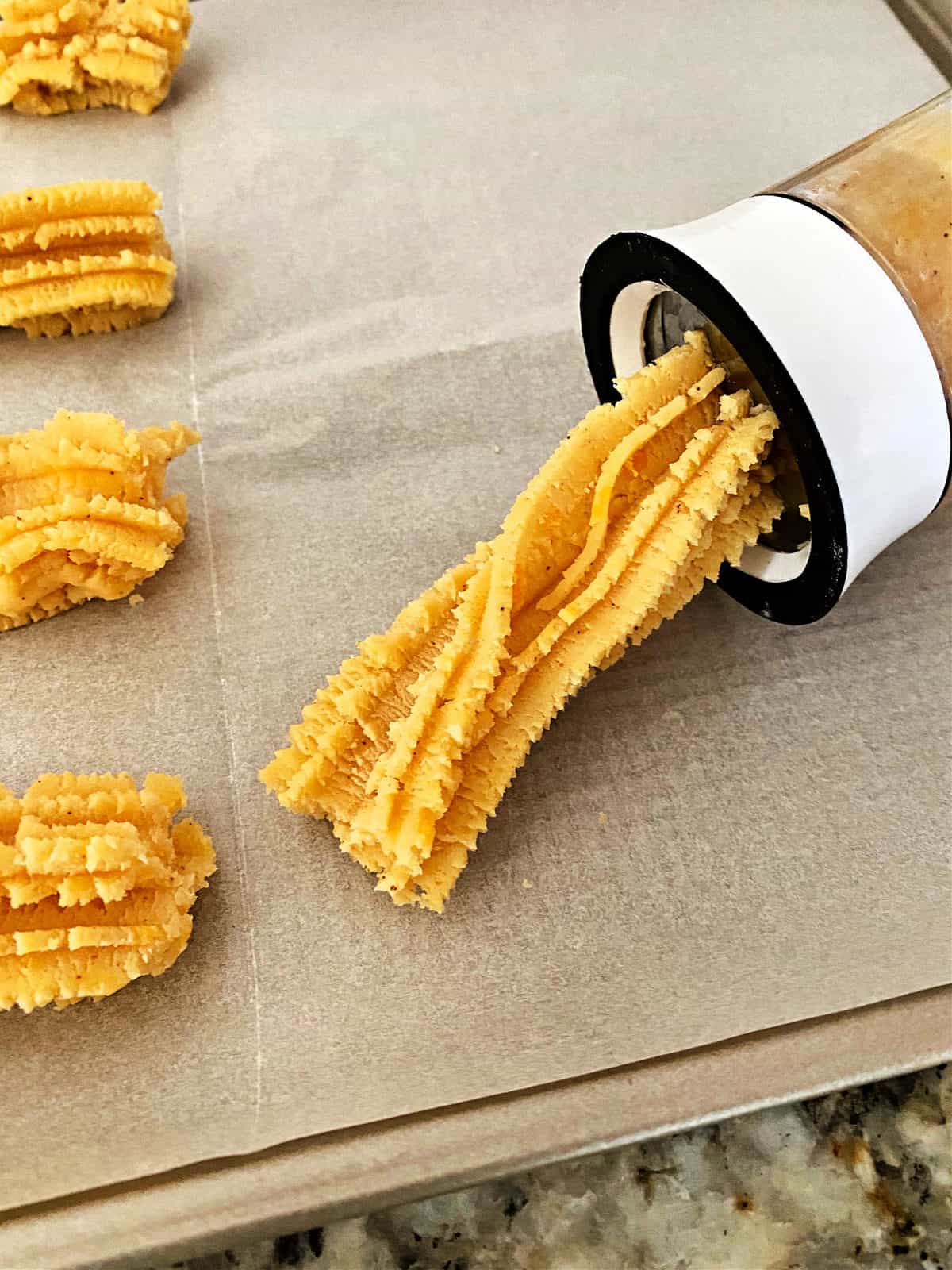 Can cheese straws be made with puff pastry?
Yes! While this is a different type of cheese straw recipe, it is just as tasty. This article shows how to make cheese straws using puff pastry.
How long will homemade cheese straws keep?
Stored in an airtight container, baked cheese straws will last up to 1 week. Unbaked dough can be stored in the fridge for 1 week or frozen for up to 1 month.

To crisp up stored cheese straws that have gone slightly stale, bake them in a 350° oven for 3 to 4 minutes, keeping an eye on them to make sure they don't burn. They will be most crisp after cooling.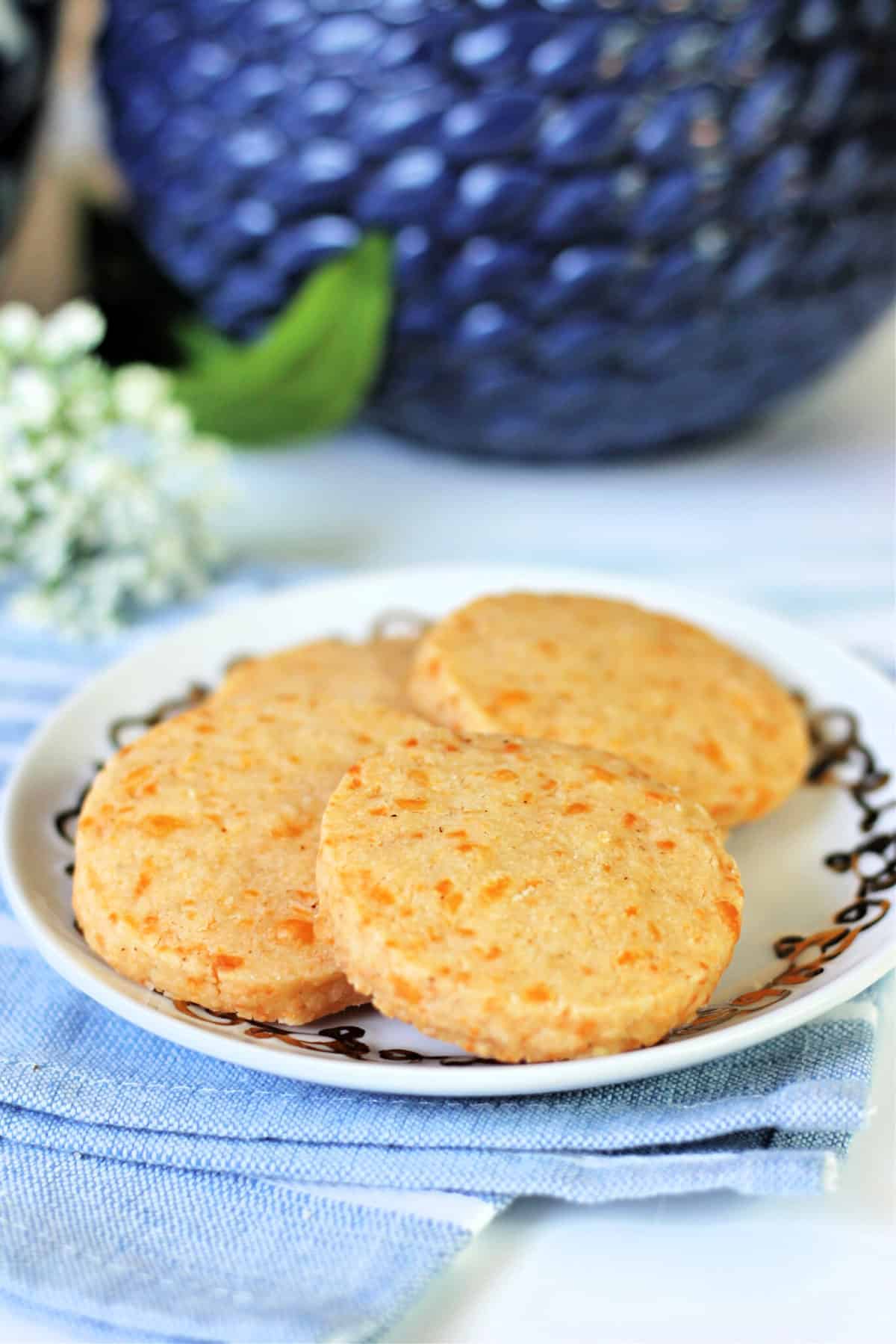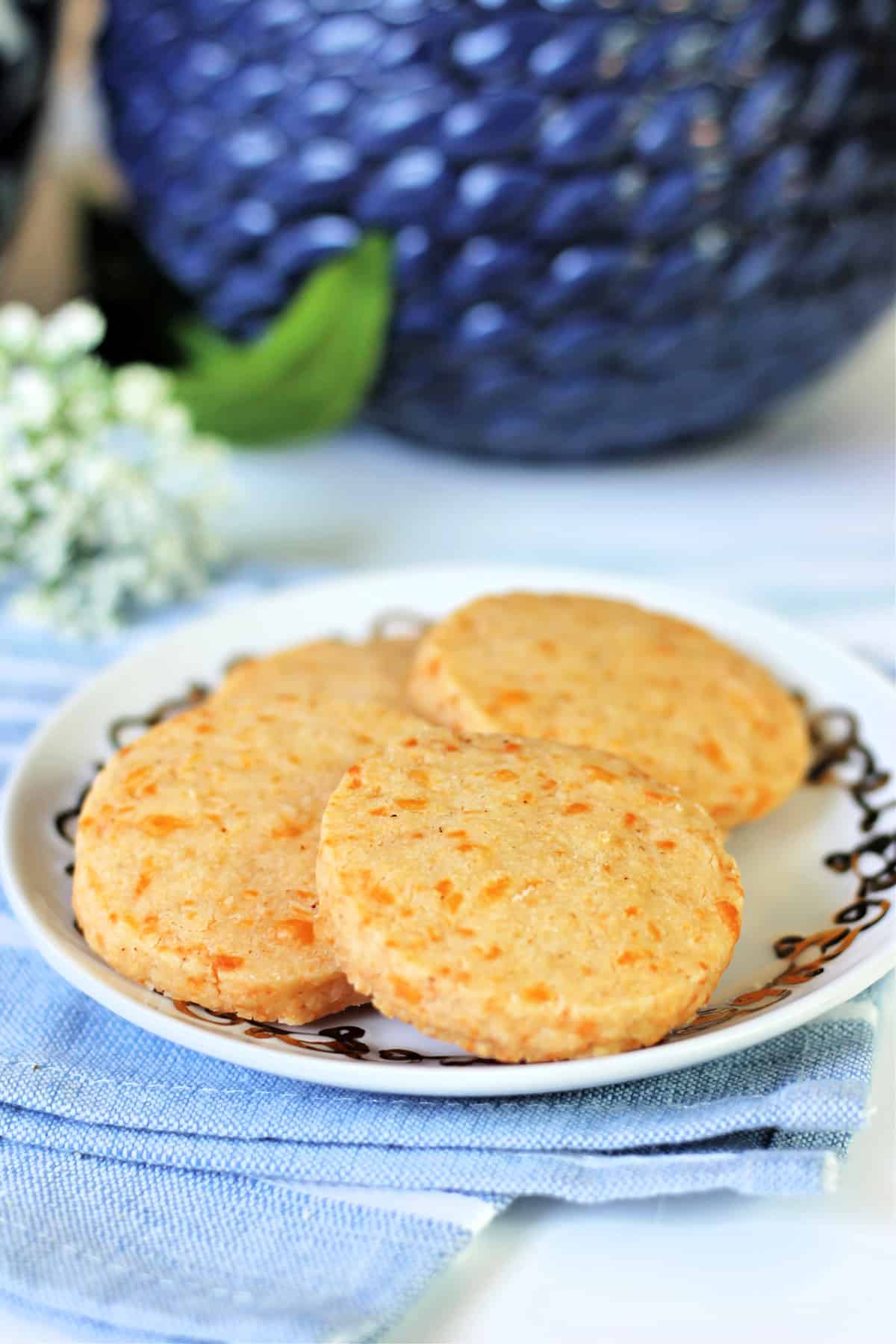 More Southern Party Recipes
Do you feel inspired to try out some more Southern-inspired recipes for our Kentucky Derby party and more? Check out a few of my favorites; they pair perfectly with these cheese straws!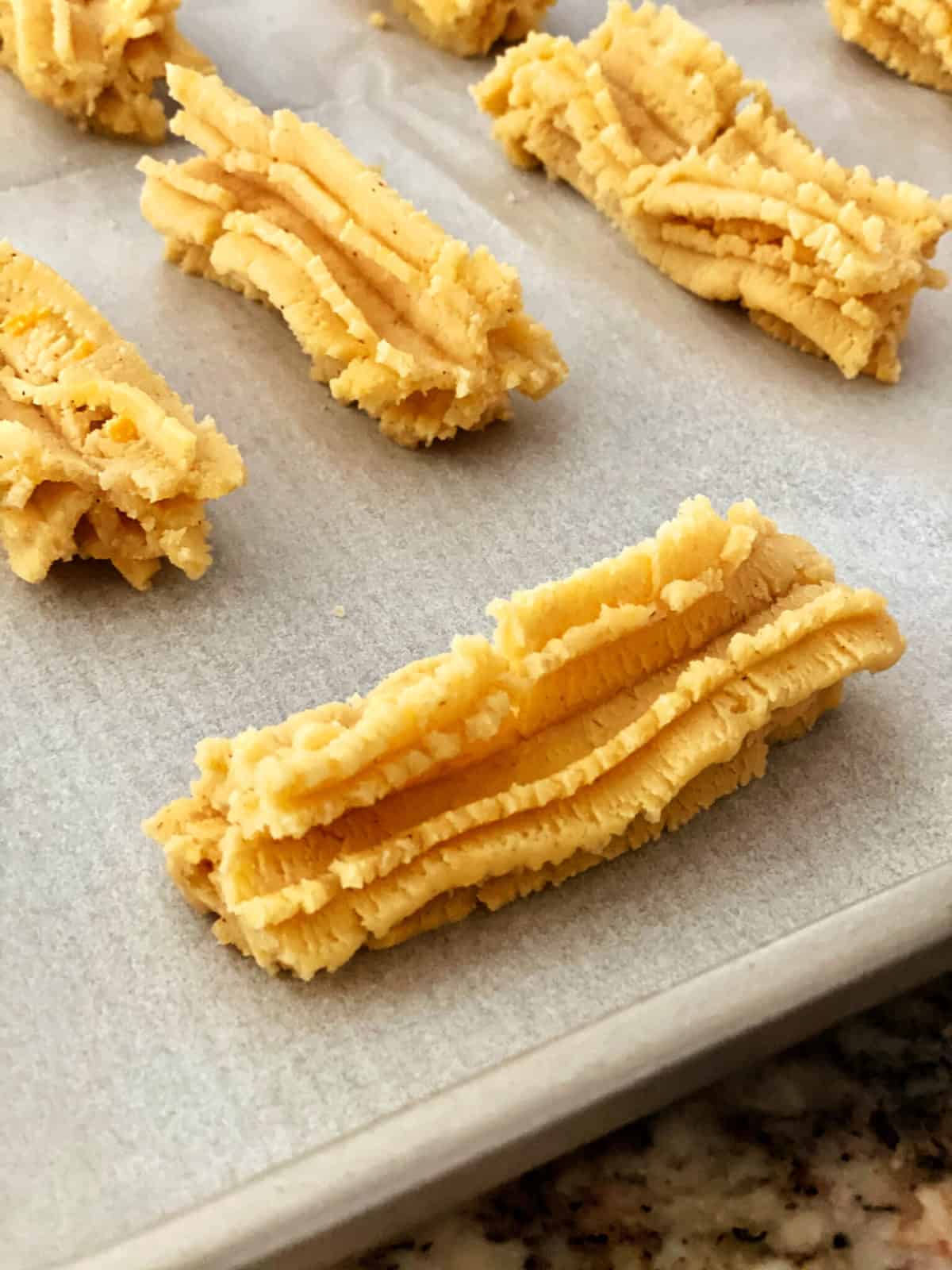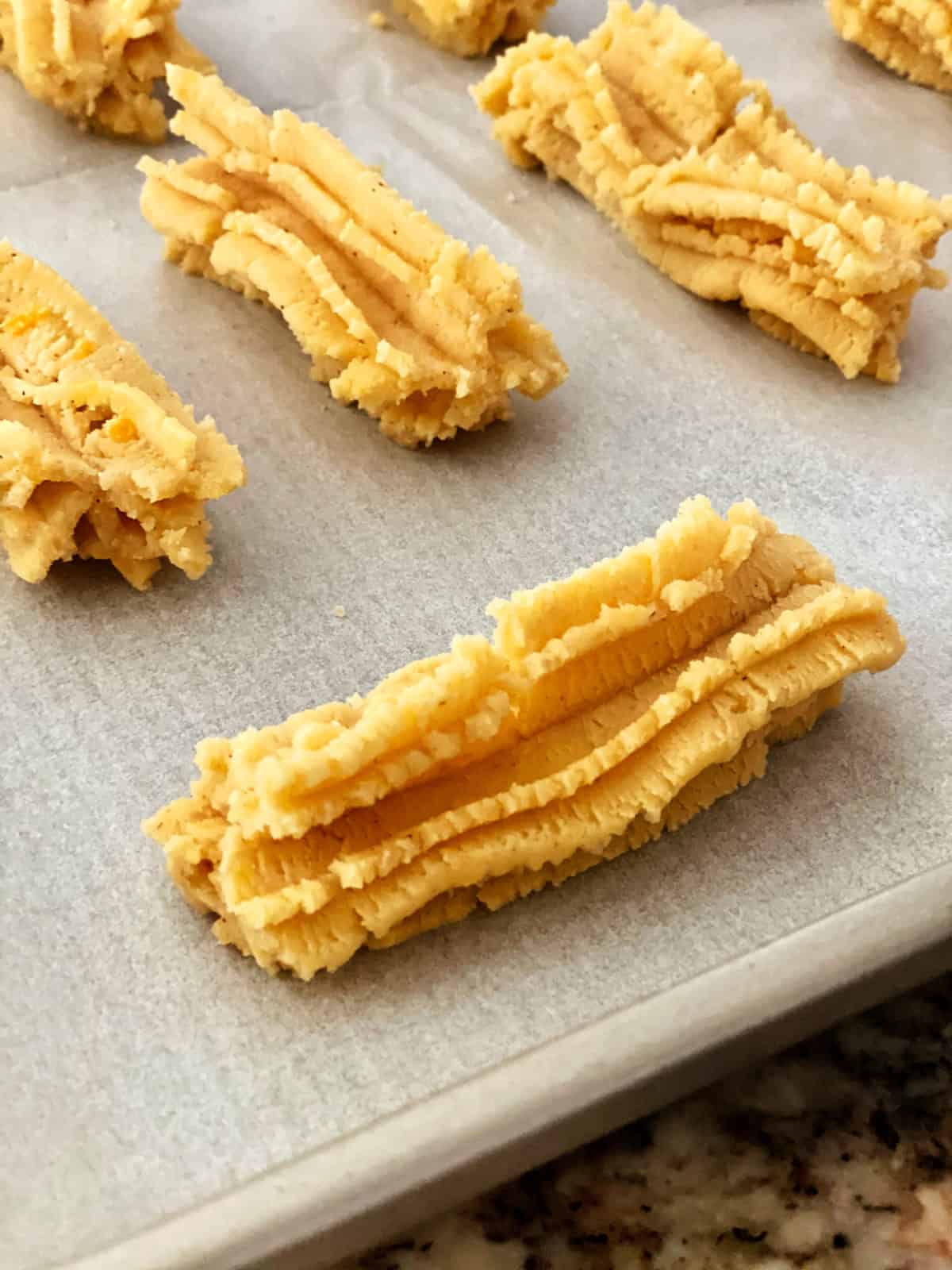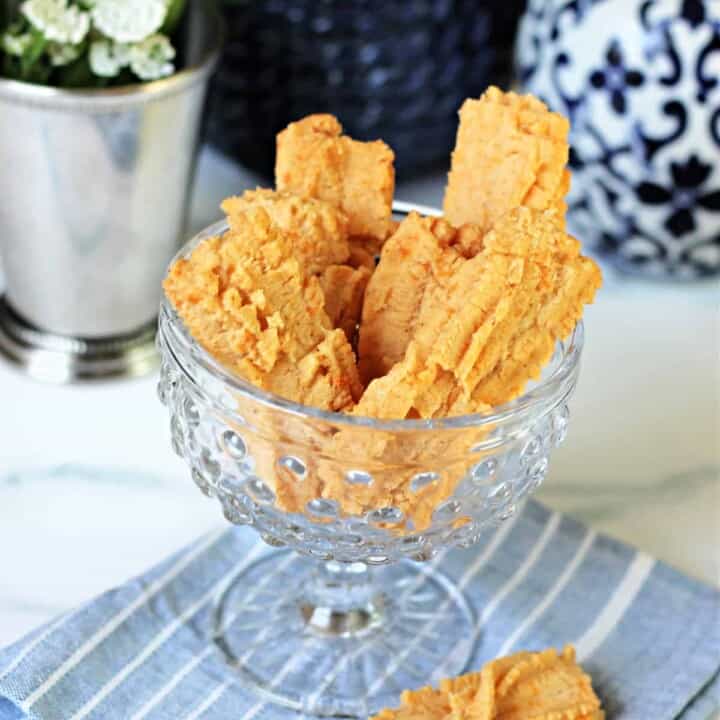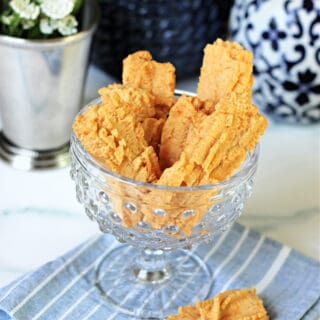 Southern Cheese Straws
Southern Cheese Straws! This easy cheese straw recipe is a crowd favorite. Tender, buttery and cheesy bites make the perfect party food with just enough kick! 
Equipment
Stand Mixer or Hand Mixer

Large baking Pan

Parchment paper

Cookie Press

Star-shaped cookie press disk or similar shape
Ingredients
¾

cups

butter

room temperature

8

ounce

block sharp cheddar cheese

grated

½

teaspoon

sea salt

¼

teaspoon

ground cayenne pepper*¼

¼

teaspoon

paprika

2

cups

all-purpose flour
Instructions
Preheat the oven to 350°F. Prepare a large baking pan by lining with parchment paper. Set aside.

In the bowl of a stand mixer, or using a hand mixer, beat together butter, cheese, sea salt, cayenne and paprika until fully incorporated. Scrape down the bowl and beat for another 10 seconds.

With the mixer on low, mix in the flour slowly until just incorpoated. You should have a soft, crumbly dough.

Load the dough into the cookie press (according to manufacturer's directions) fitted with a star-shaped disc. Hold the cookie press over the prepared baking pan and click the repeatedly to extrude long ropes of dough. Cut the ropes into desired size (about 2 inch bites are a good size) and carefully arrange on baking pan, leaving an inch or two between pieces.

Bake for about 12 minutes or until the dough has set and is lightly browning around the bottom.

Remove from oven and allow to cool (they will harden and crisp up as they cool). Serve or store once cooled.
Notes
If you would like to roll out the dough or create cheese coins instead of cheese straws, place the dough on a piece of parchment paper or plastic wrap and shape into a log. Refrigerate for about an hour to allow the dough to harden, then when ready to bake, use a sharp knife to cut coins from the dough log (the same method as slice and bake cookies). 
Place coins on baking pan and bake as directed, keeping an eye out for burning depending on thickness of coins.
*For spicier cheese straws, feel free to increase the amount of cayenne pepper.