Pimento Cheese! This Southern staple is a must at picnics, holidays and special occasions like The Masters and The Kentucky Derby. This pimento cheese recipe comes together quickly and can be served on a sandwich, with crackers or on a vegetable platter.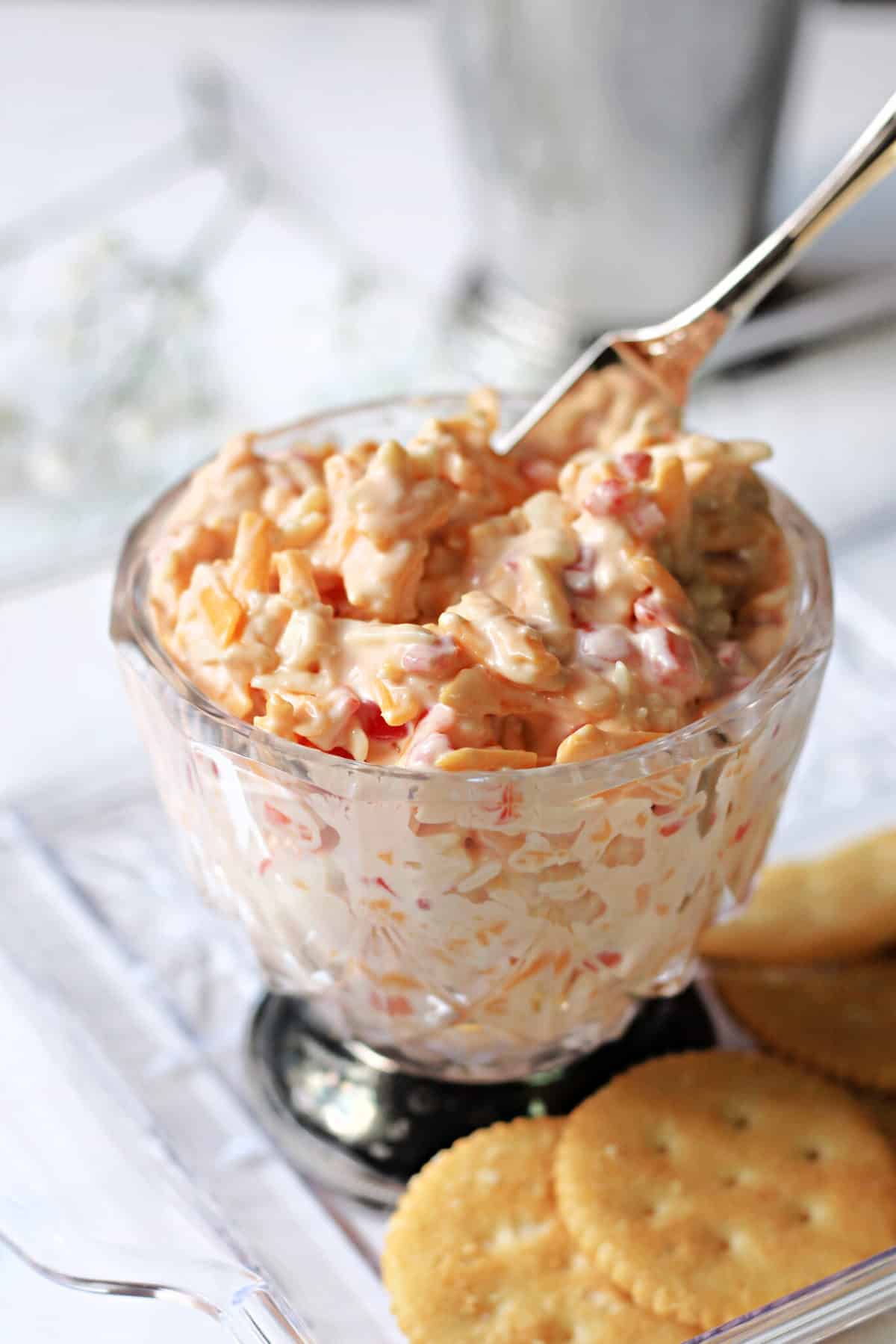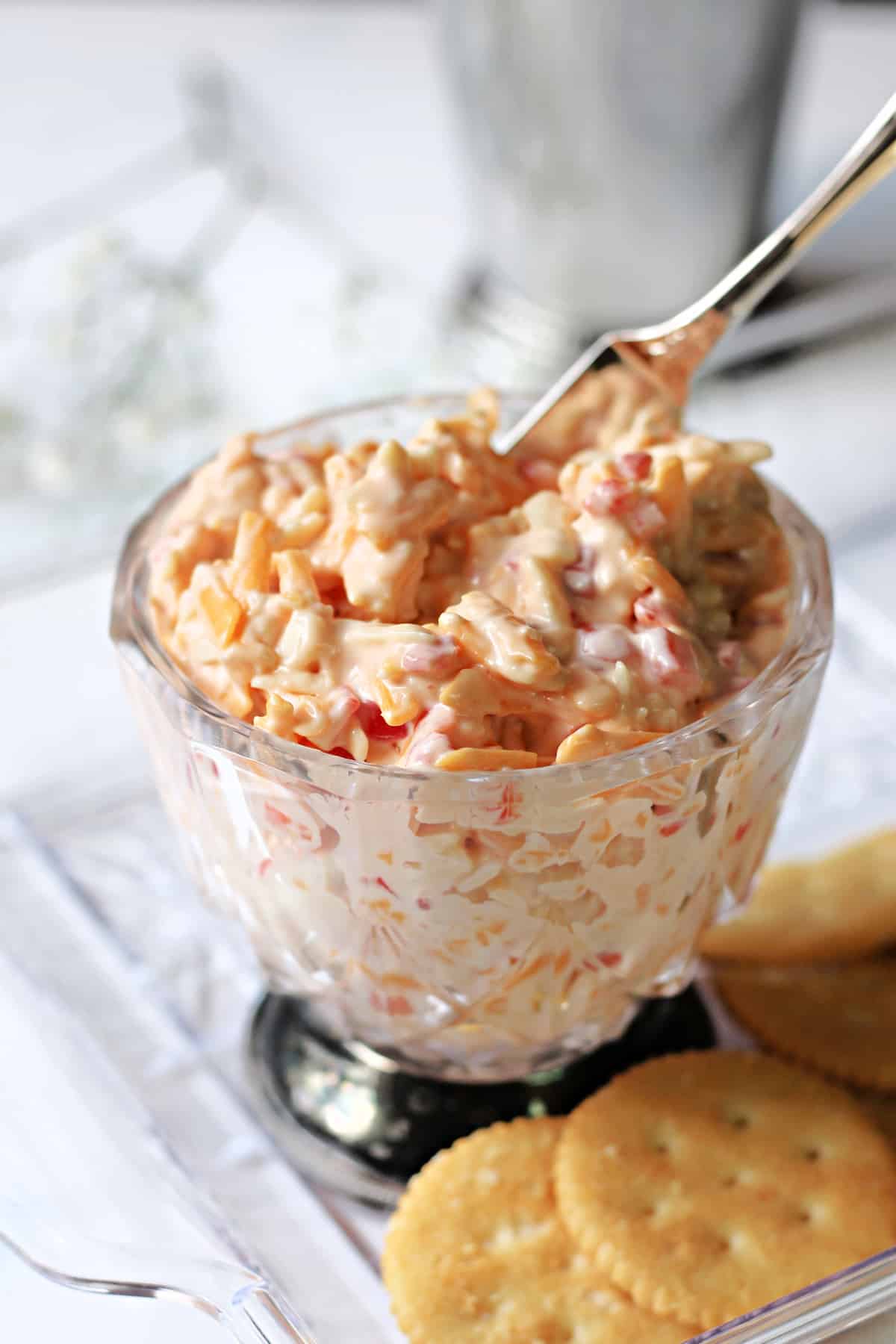 This post may contain affiliate links, which means that, at no extra cost to you, I may earn a small commission if you click a link and purchase an item I've recommended. Thanks for your support in running this blog!
What is Pimento Cheese?
Pimento cheese is a popular Southern spread made from shredded cheese, mayonnaise and pimentos (a mild type of sweet red pepper). It can be served as a spread with crackers, raw vegetables or in sandwich form.
Though it is often associated with the South, you might be surprised to discover that Pimento Cheese was actually created in New York! (Check out this post about its interesting history.)
These days, the savory spread is a common household snack in the Southeast United States for all occasions and is often served in celebration of sporting events such as The Kentucky Derby and The Masters.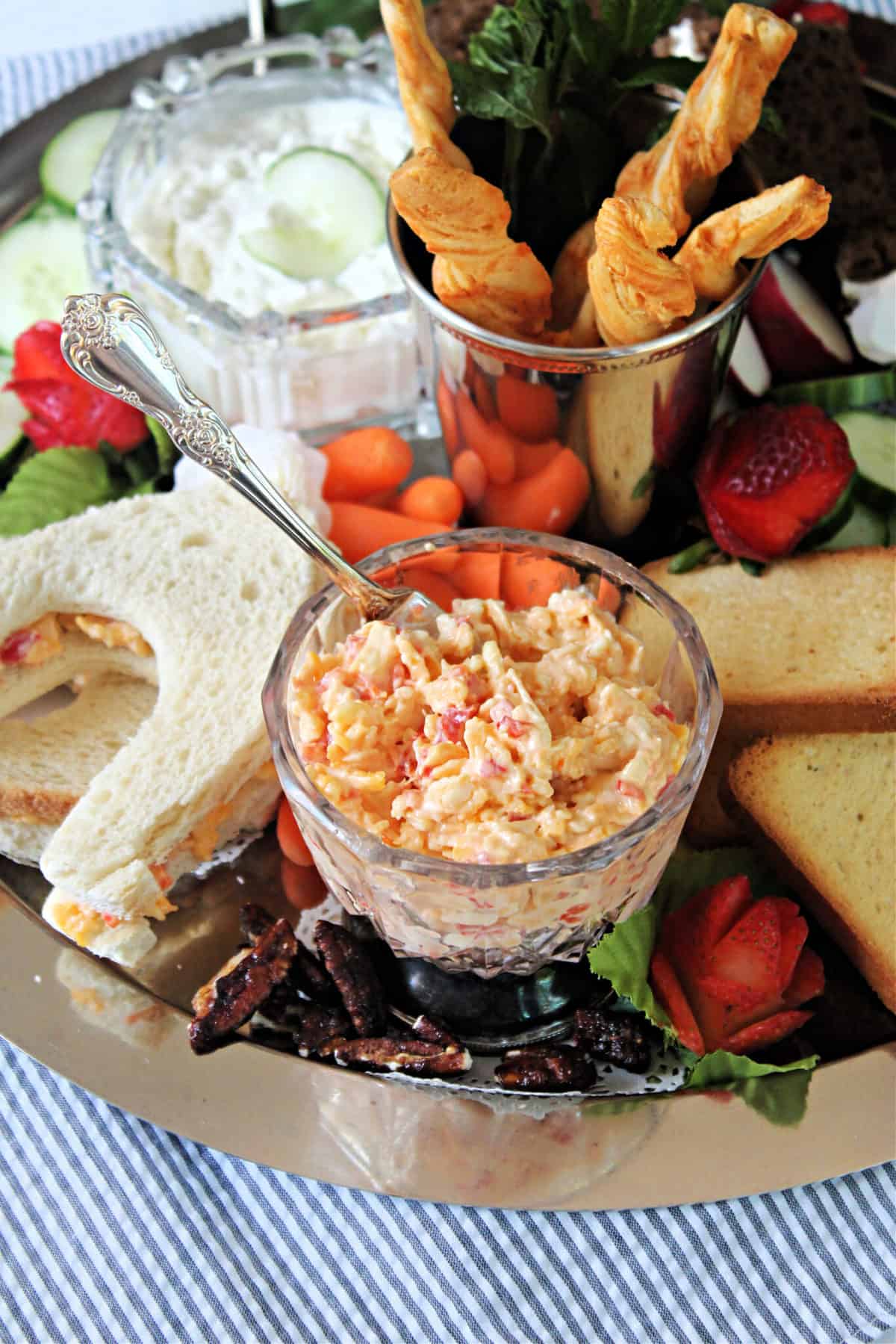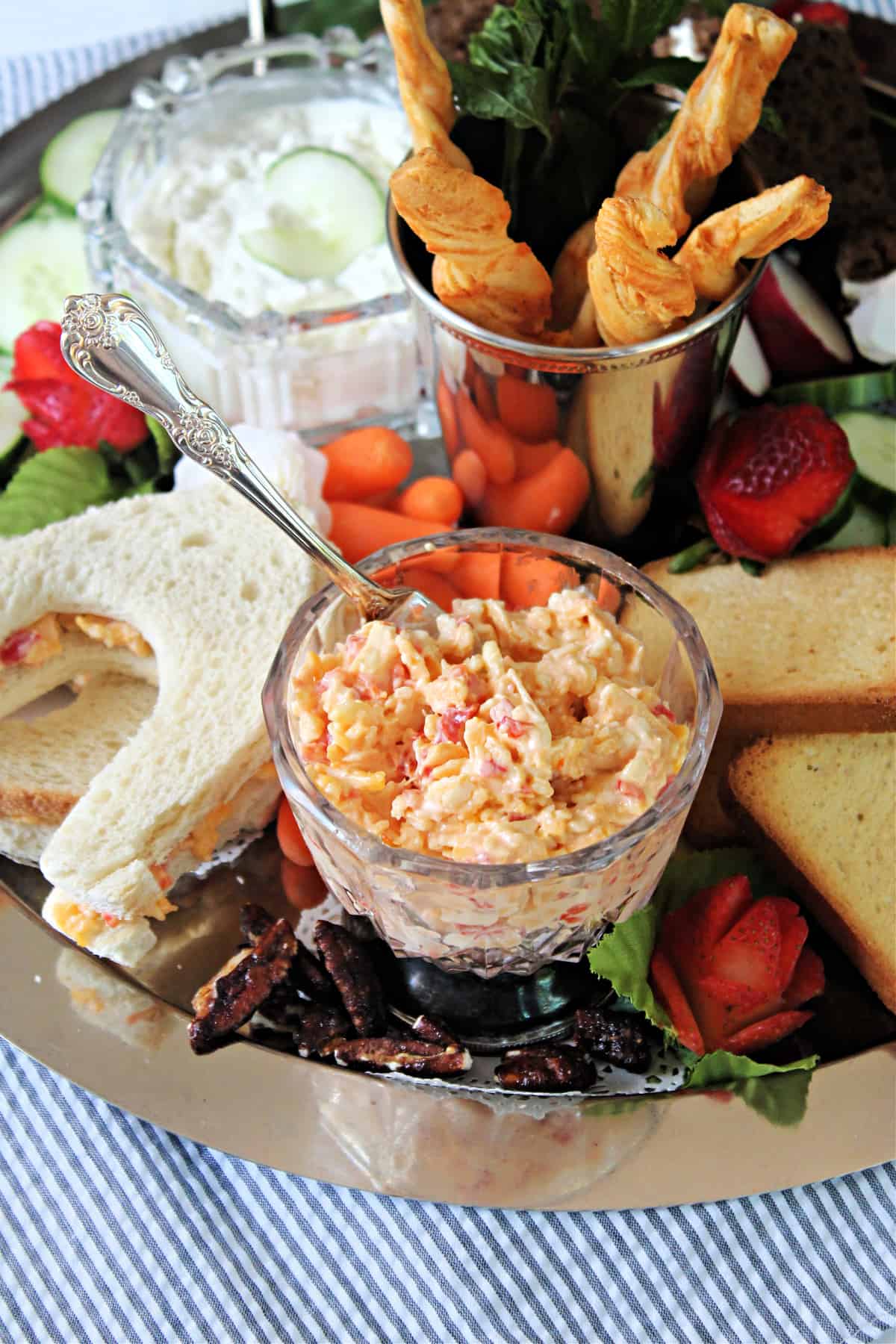 What is it made of?
Pimento cheese's name gives away two of the three essential ingredients in the spread! There are many variations and additional ingredients that can be used. The version I'm sharing in this post includes:
Shredded yellow cheddar
Shredded white cheddar
Mayonnaise
Diced pimentos
Grated sweet onion
Worcestershire sauce
Sea salt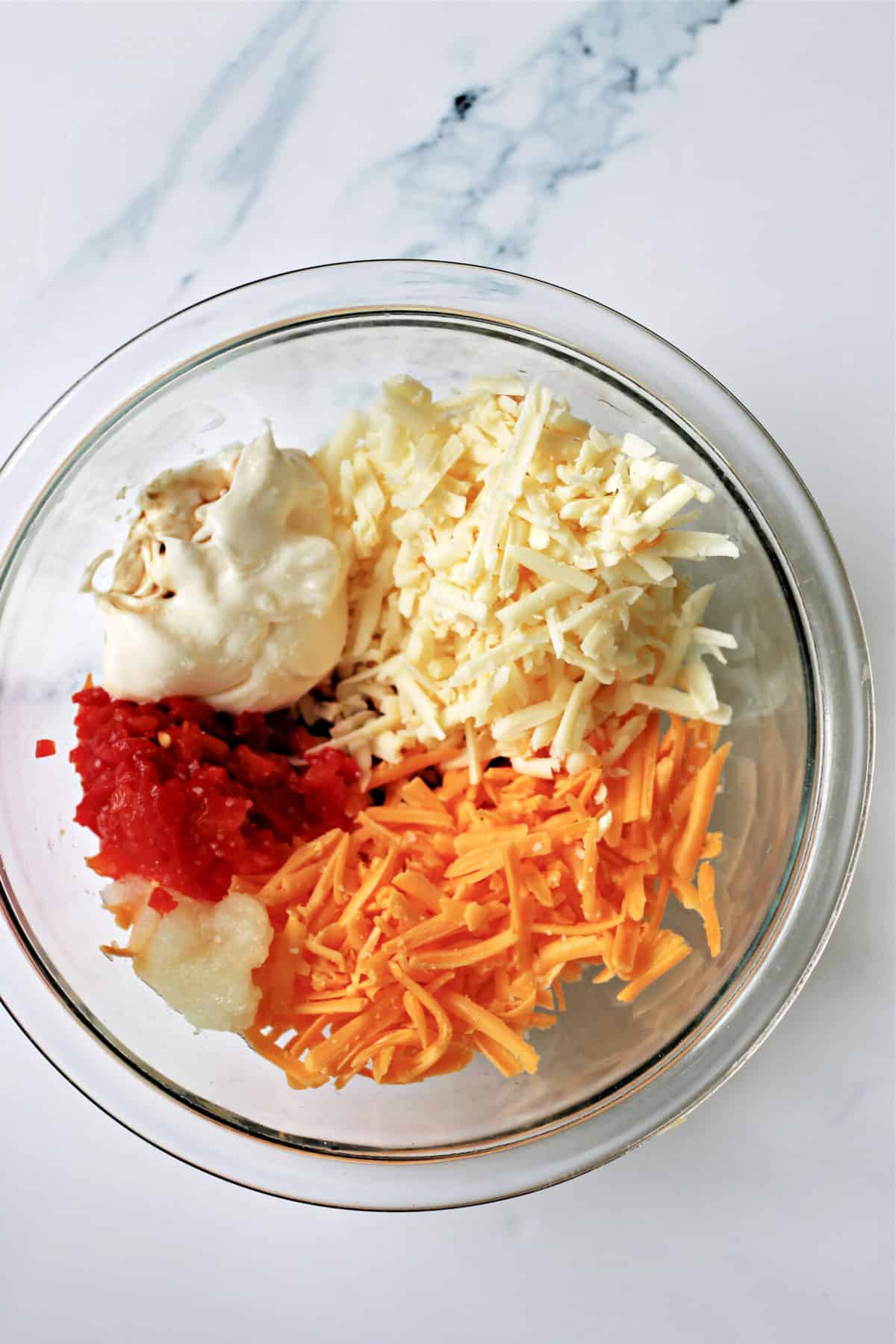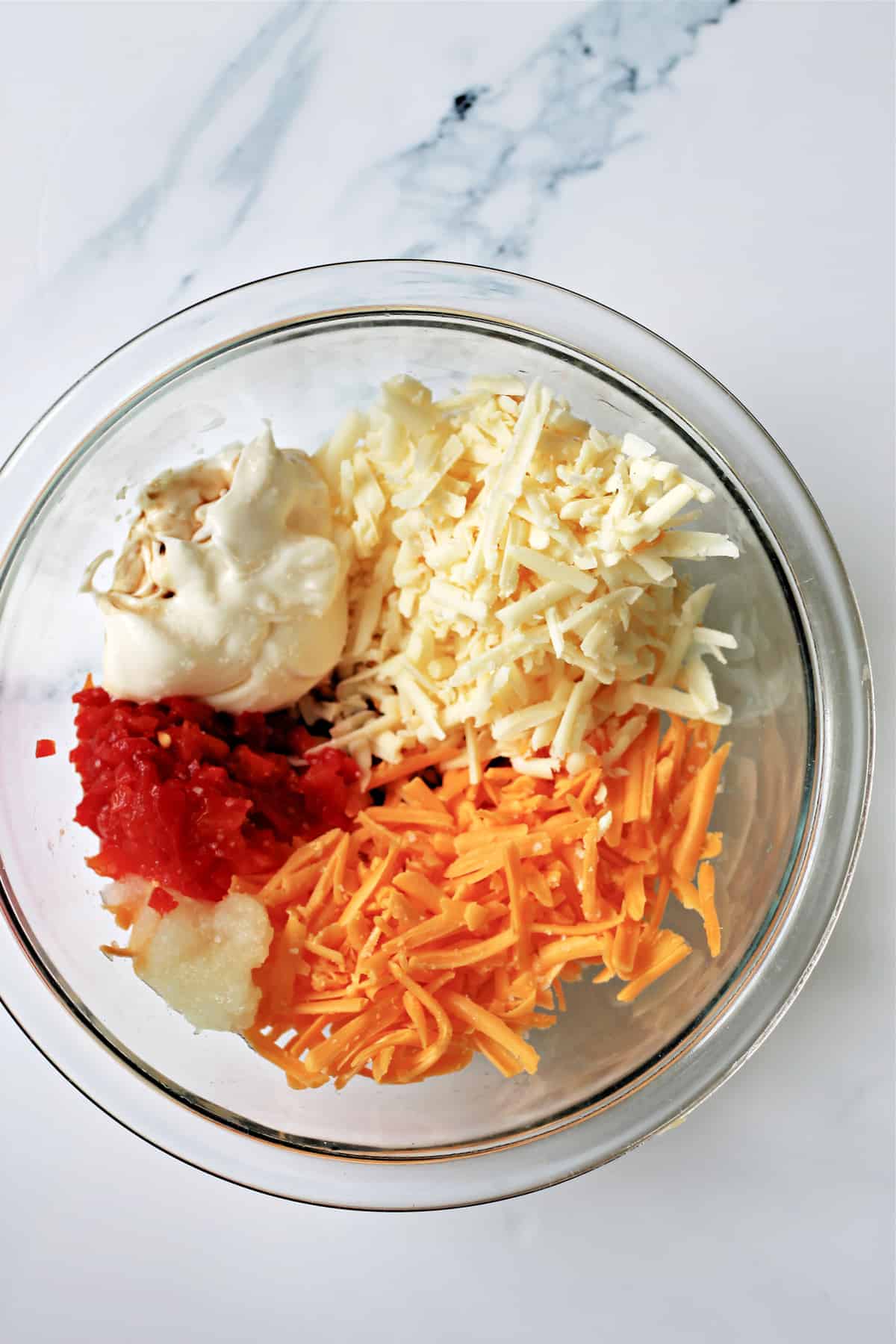 I have seen lots of versions of pimento cheese, including ones that call for cream cheese, bacon, olives, and a host of other interesting ingredients. Feel free to experiment, but I suggest starting off with the a classic version like this one and going from there!
How to Make It
This spread is incredibly easy to whip up, which makes it an ideal snack to serve for last minute company or make ahead as a simple party appetizer.
In a bowl, combine the cheeses, mayonnaise, diced pimentos, grated sweet onion, Worcestershire sauce and a sprinkle of sea salt. (If you like a little kick you can also add a dash of cayenne pepper.) Stir it all together and refrigerate to let the mixture chill and allow the flavors to marry, about 2 hours.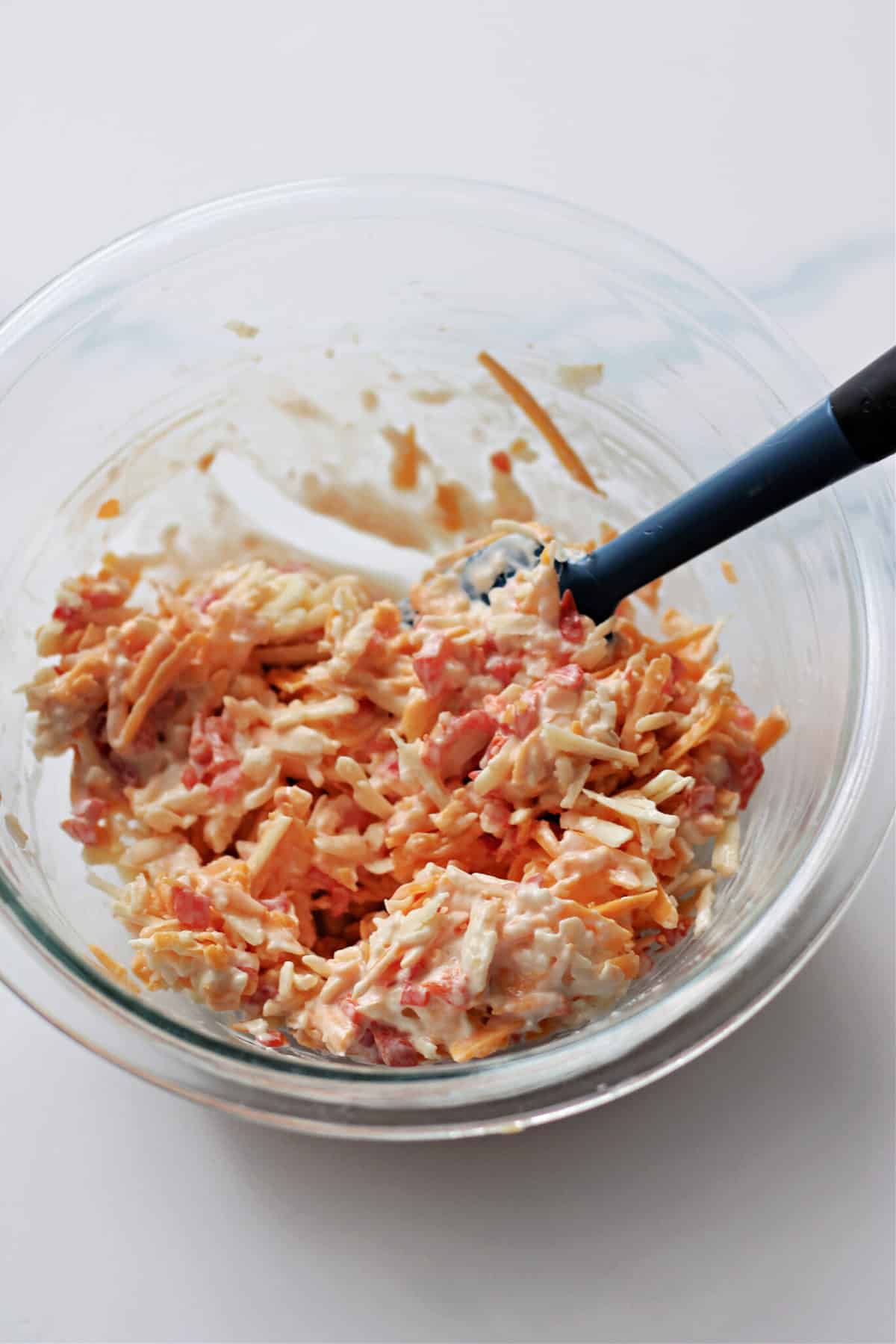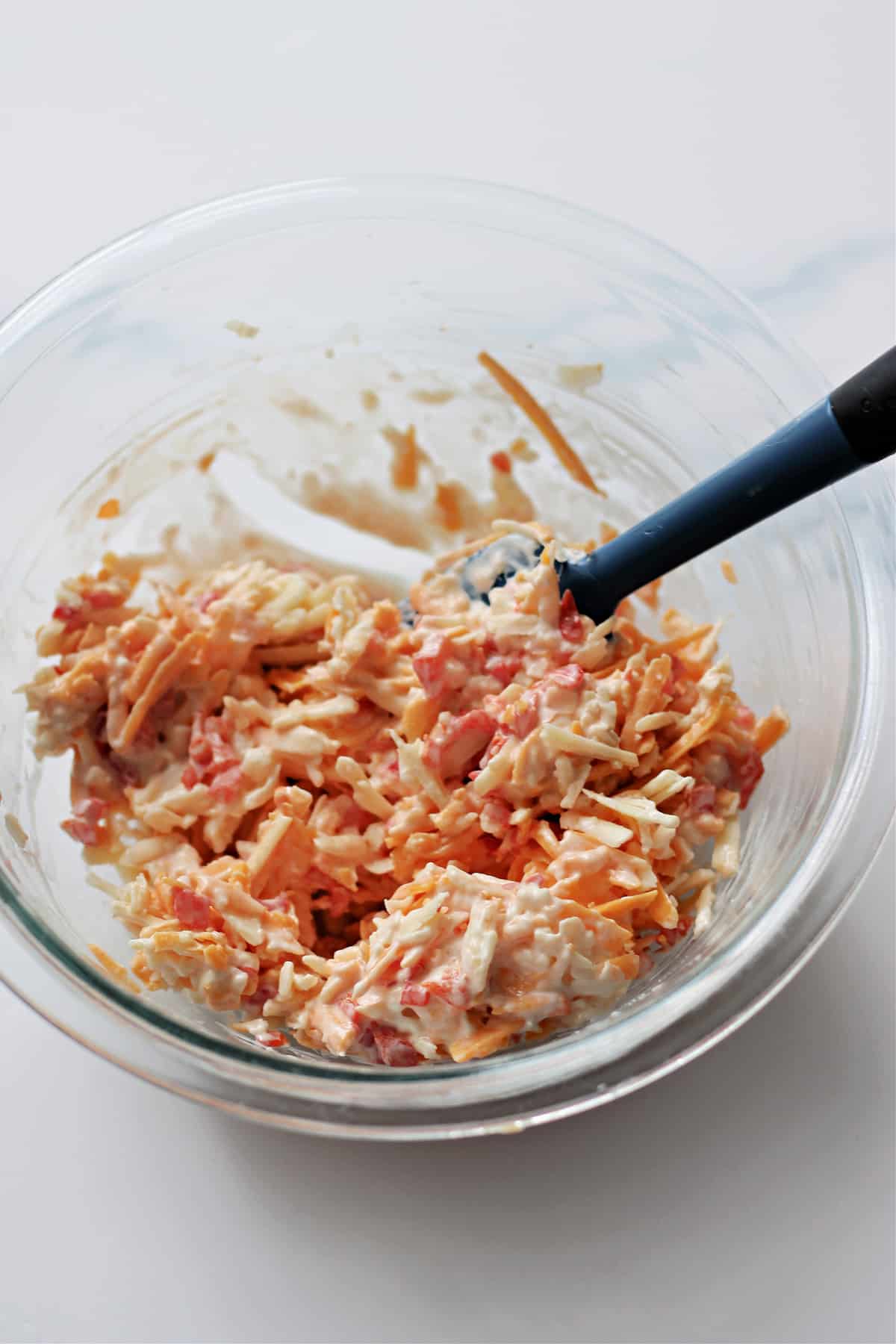 Some people prefer the cheese to be finely grated, and some prefer a chunkier texture. To make it a smoother spread, you can prepare it by pulsing the ingredients together in a food processor until just combined.
Can I use pre-shredded cheese?
If you're going for authentic pimento cheese, the answer is no.
Here's the thing: Pre-shredded cheeses contain additives that help keep the shreds from forming one giant cheese glob in the package, so the taste and texture isn't exactly the same as cheese that has been grated on the block.
To make shredding cheese a bit easier, I recommend placing it in the freezer for about 30 minutes before shredding to help firm it up before you get to grating. Better yet, let your appliances do all the work! Many food processors come with a shredding disc that makes easy work of shredding everything from veggies to cheeses. You can also buy a shredding attachment for your stand mixer that makes grating a snap and can be easily stored when not in use.
How do you eat and serve it?
Typically, you'll find pimento cheese served in one of two ways: As a spread or as a sandwich.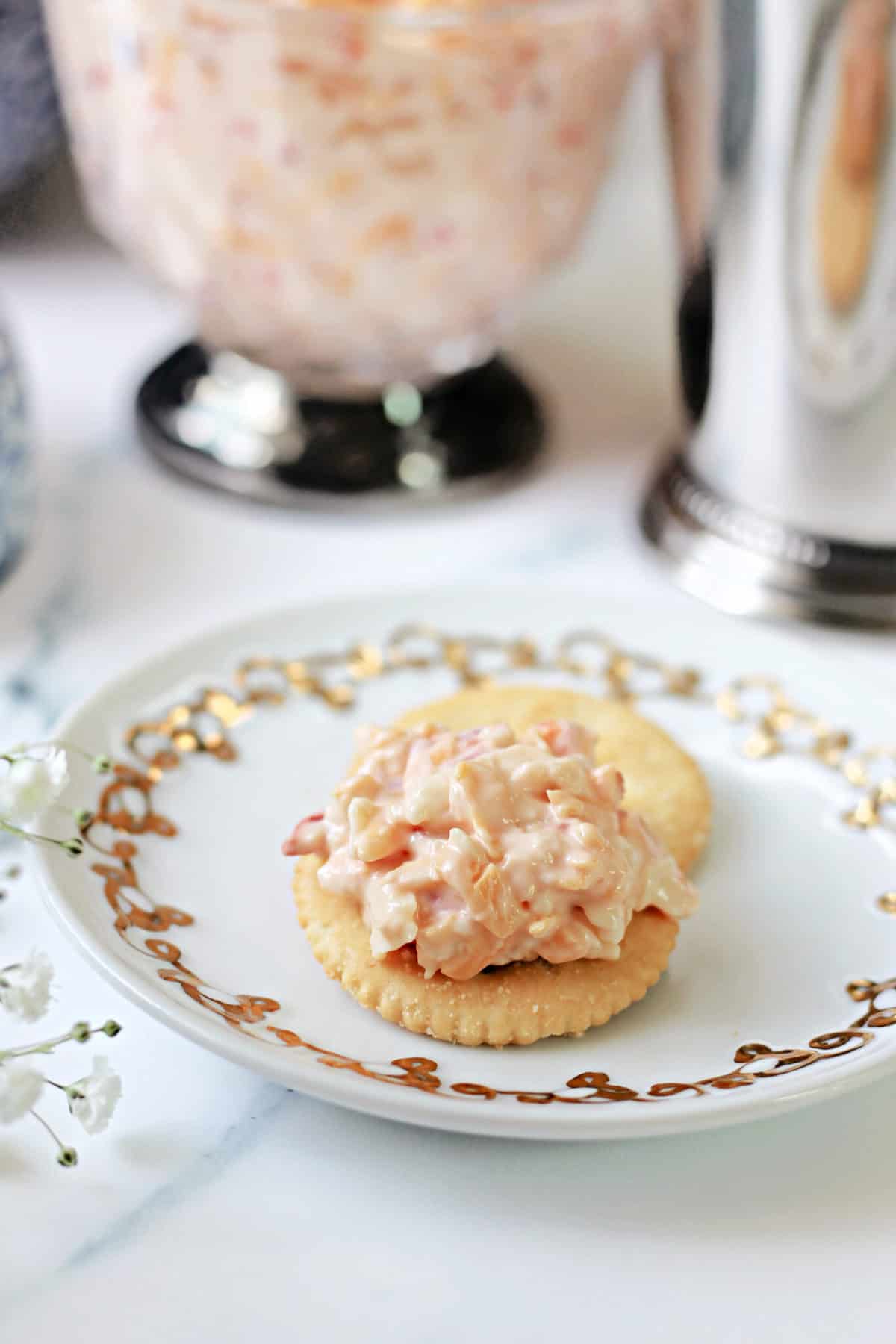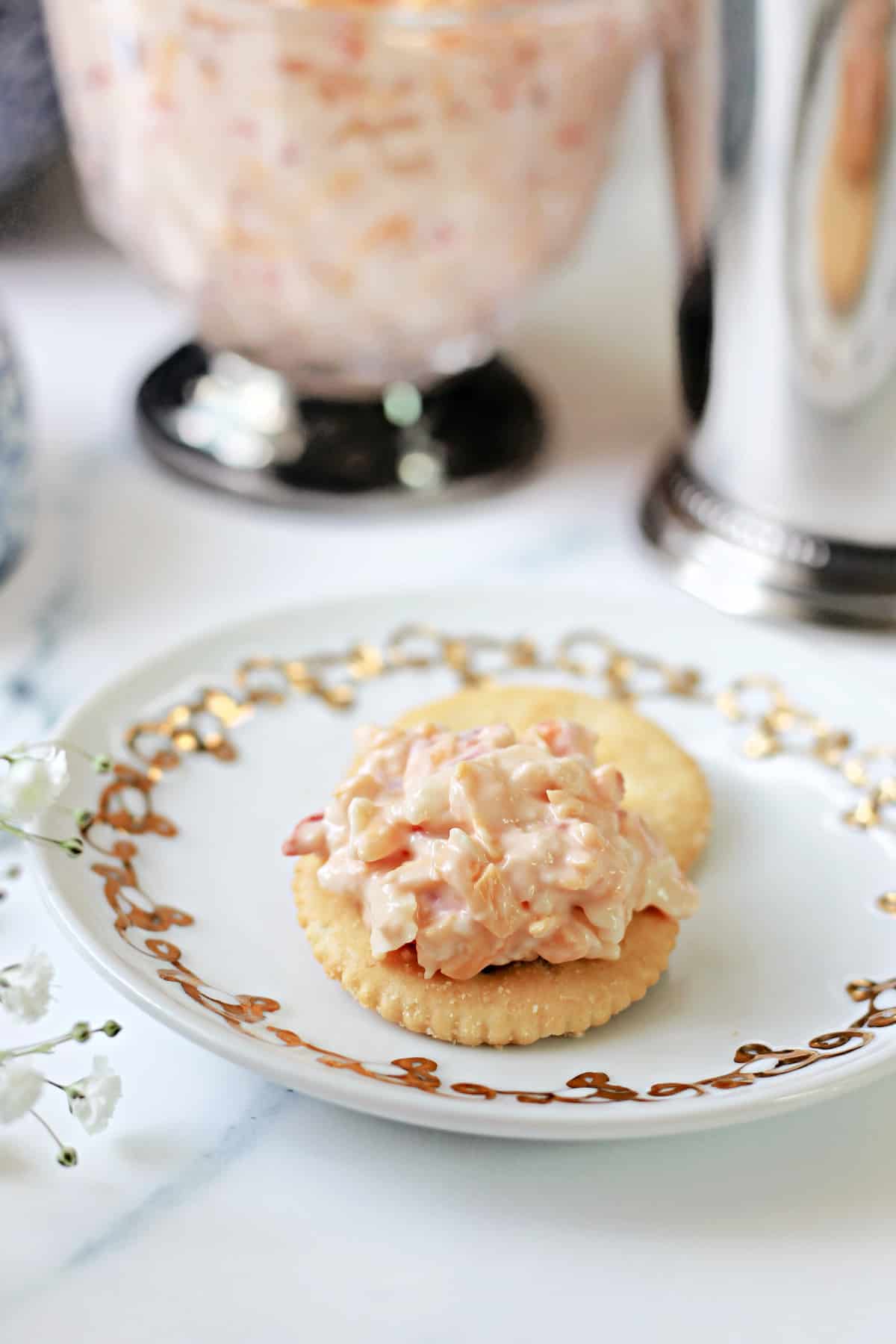 For serving as a spread, try:
Buttery crackers (like Ritz)
Water crackers
Toast points
Pretzels
Raw vegetables
In sandwich form, pimento cheese is usually served on white bread. I'm not sure if this is blasphemous or not, but I would even consider turning it into a grilled cheese or panini!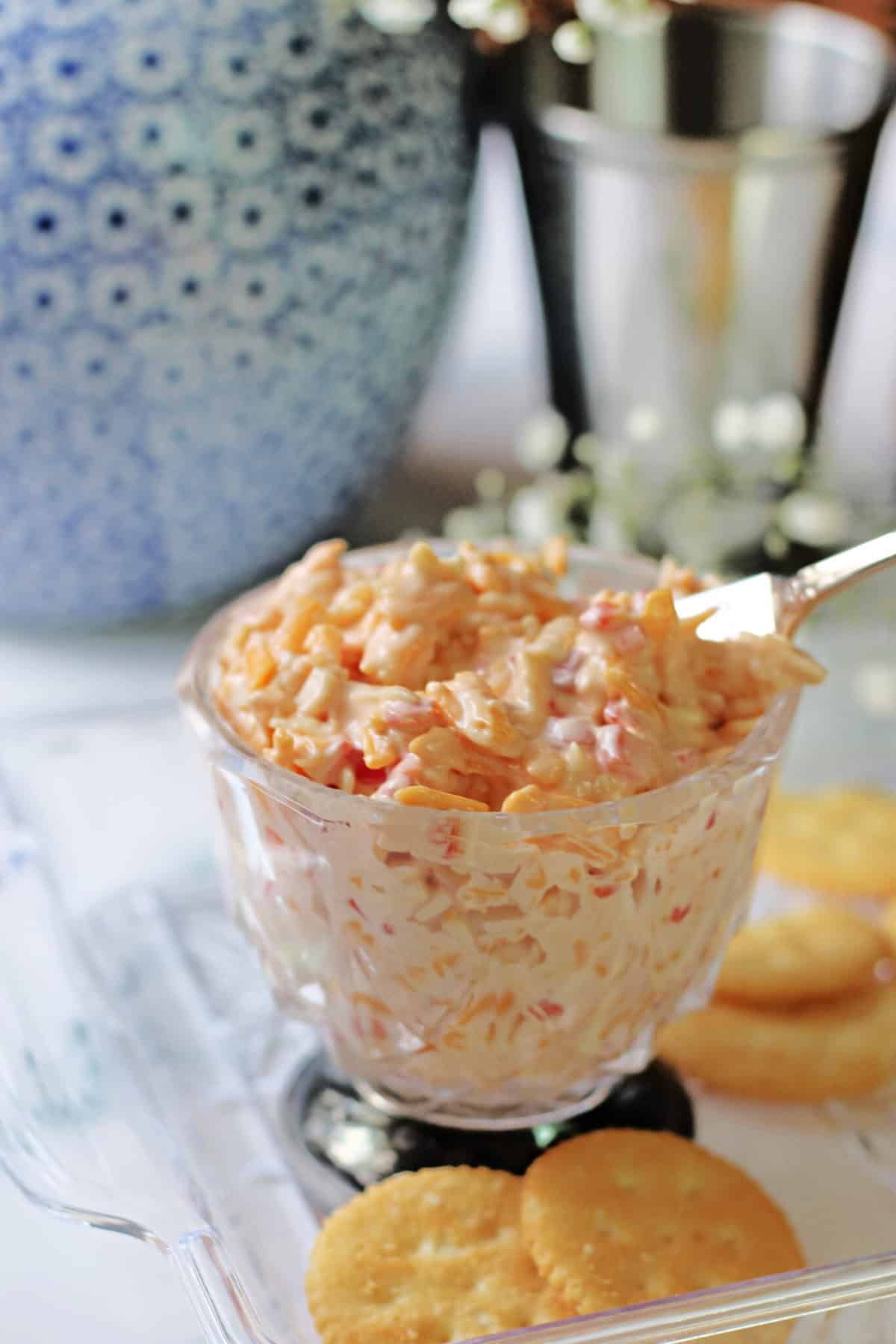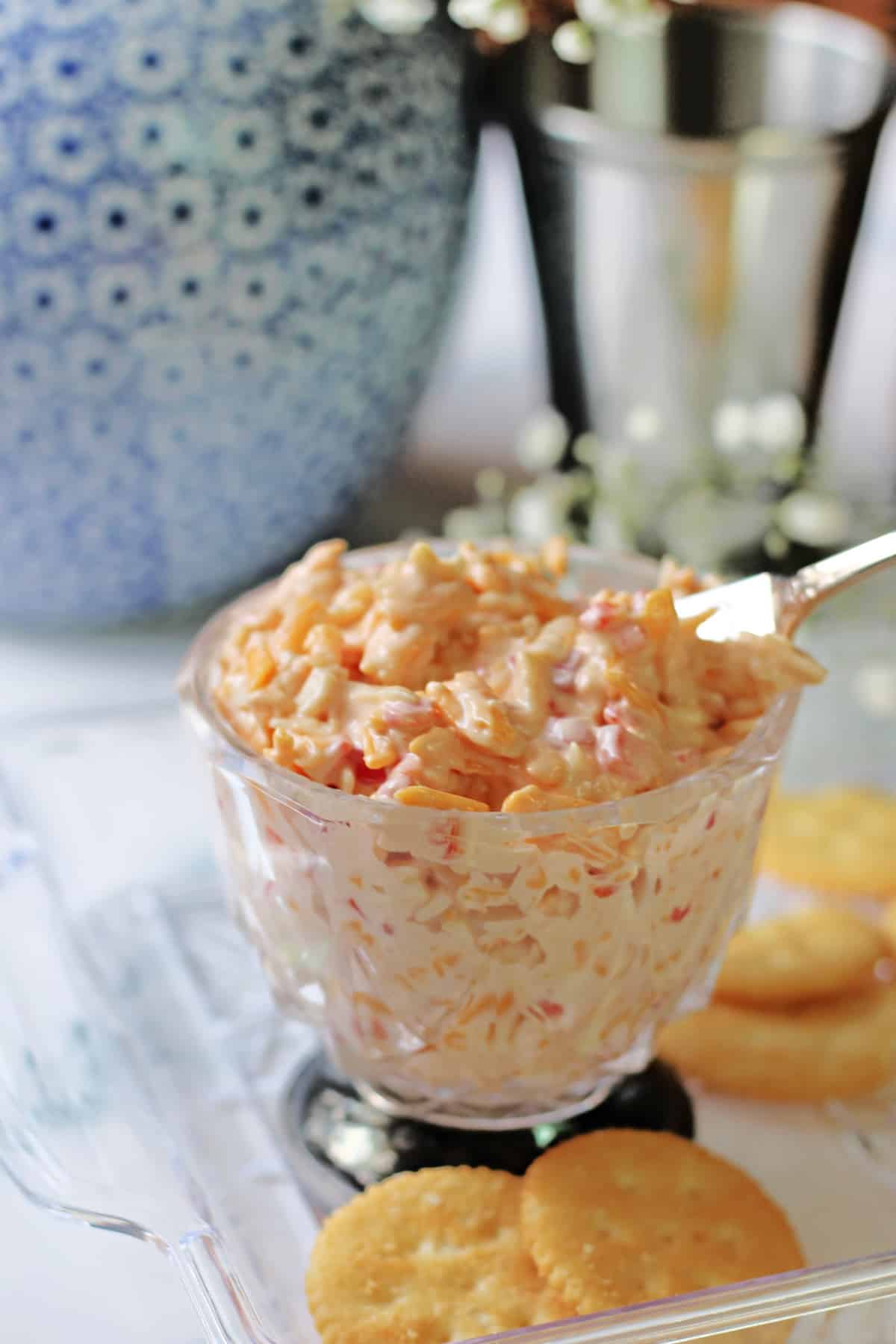 How long does it last?
Homemade pimento cheese can keep for up to two weeks when stored in an airtight container in the refrigerator. However, I'd be surprised if you're able to keep it around that long!
Recipes for Kentucky Derby
Did you find this recipe while looking for things to serve at your Kentucky Derby party? Well, don't stop at Pimento Cheese! Check out my other Derby-appropriate offerings: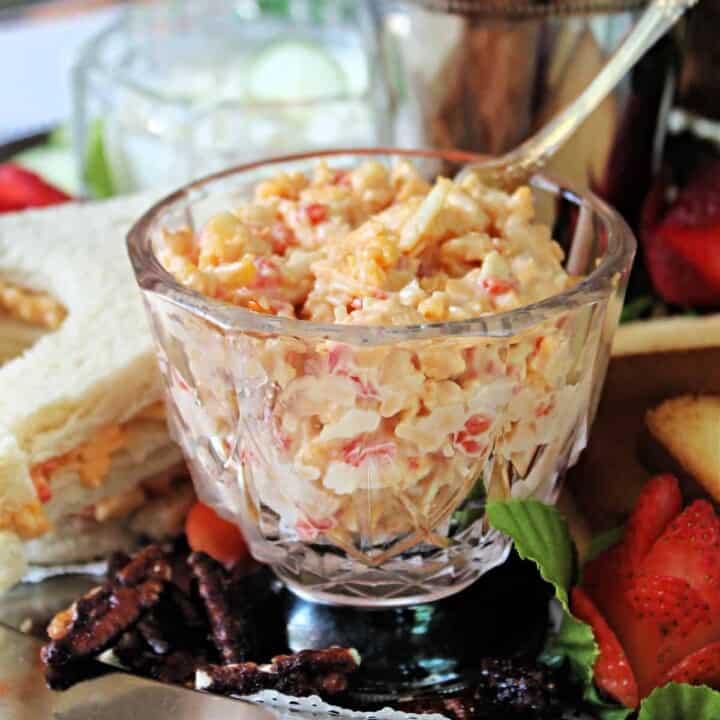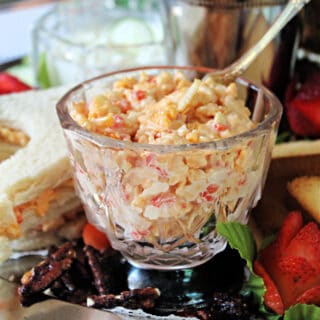 Pimento Cheese
Pimento Cheese! This Southern staple is a must at picnics, holidays and special occasions like The Masters and The Kentucky Derby.
Ingredients
¾

cups

sharp yellow cheddar

grated

¾

cups

white cheddar

grated

¼

cup

mayonnaise

1

tablespoon

grated sweet onion

½

teaspoon

Worcestershire sauce

¼

teaspoon

sea salt

2

ounces

jarred diced pimentos

drained
Instructions
Place all ingredients in a medium bowl. Stir until fully combined.

Cover and refrigerate for 2 hours or until chilled.

Serve with crackers or raw vegetables.
Notes
This recipe can easily be doubled for a larger group.
Store in an airtight container in the refrigerator for up to 2 weeks.