Cubanelle peppers make the perfect vessel for stuffing with savory filling! Packed with flavorful, Italian-inspired sausage and rice mixture and baked until tender, these peppers will become a favorite.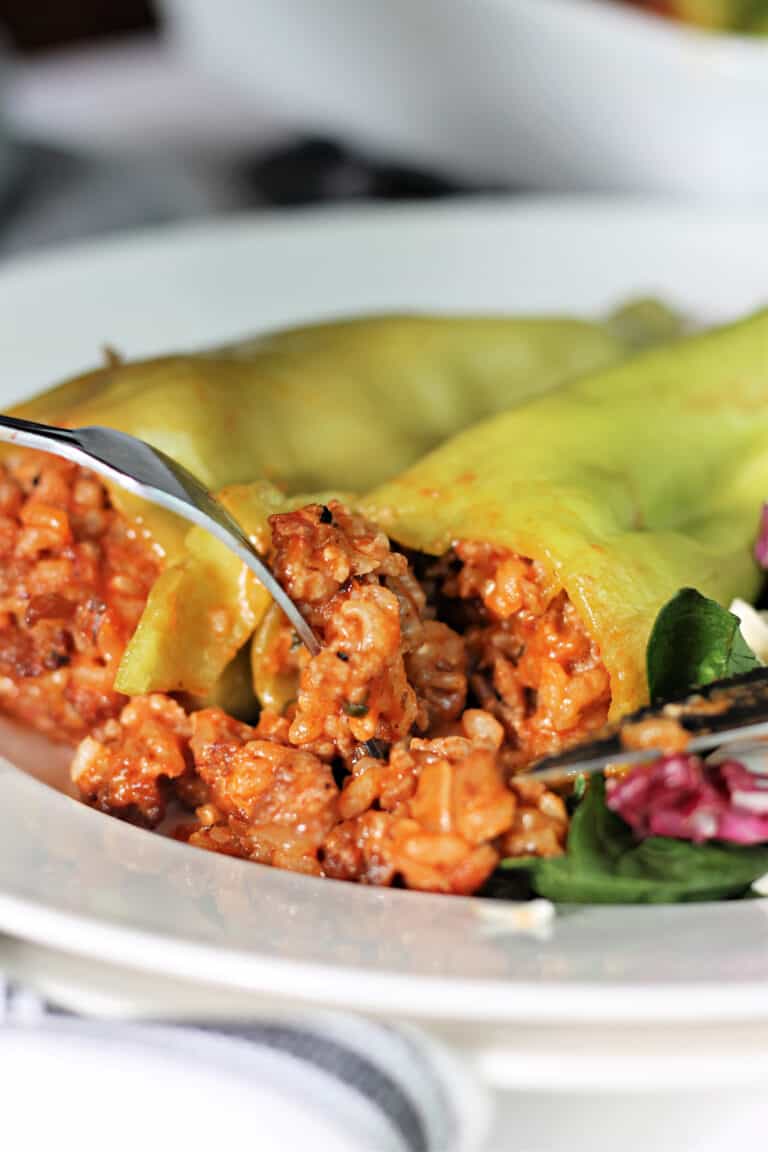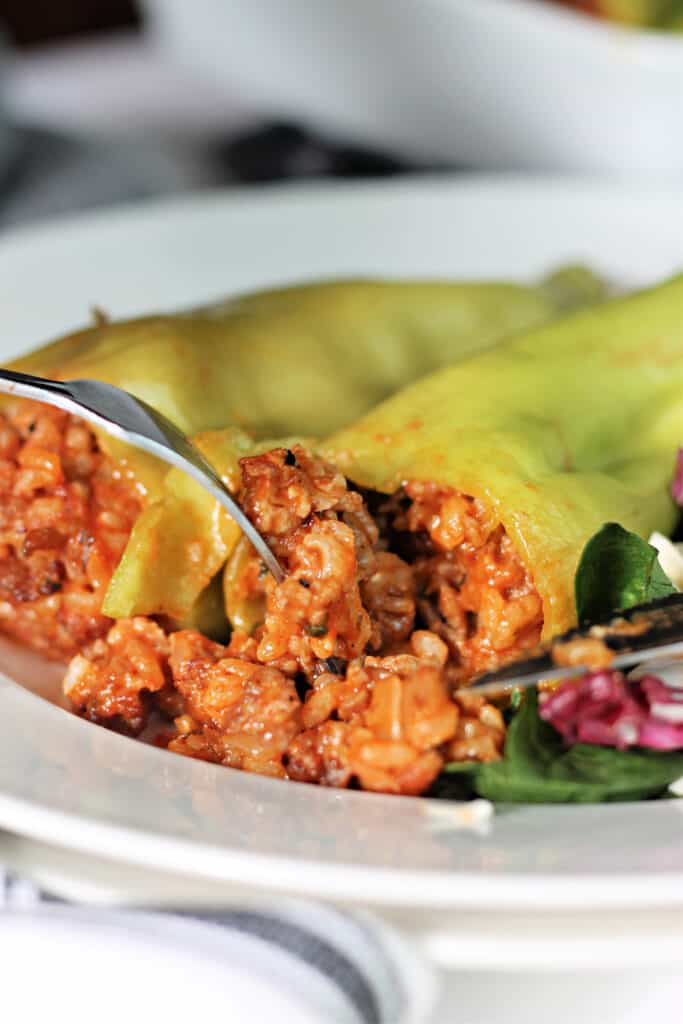 Note: This recipe was originally posted on August 11, 2011 and updated on January 5, 2022.
This post may contain affiliate links, which means that, at no extra cost to you, I may earn a small commission if you click a link and purchase an item I've recommended. Thanks for your support in running this blog!
These Italian Stuffed Cubanelle Peppers are the real deal when it comes to flavor! Packed with Italian sausage, rice, herbs and more, don't be surprised if these become a favorite in the weekly rotation.
The first time I laid eyes on cubanelle peppers, I remember thinking they looked fake; like shiny, plastic vegetables for a kid's Fisher Price kitchen set. I was so intrigued by their size, shape and color that I knew I had to buy them and experiment with them in my (real) kitchen!
Looking for more stuffed pepper recipes? Check out my Asian Inspired Stuffed Peppers, Mediterranean Turkey Stuffed Peppers and Baked Chiles Rellenos (Stuffed Poblanos)!
This recipe is naturally gluten-free and can be made vegetarian or vegan. (See Variations & Substitutions section below.)
Jump to:
What are Cubanelle Peppers?
Cubanelle peppers, sometimes known as Italian Frying Peppers or Cuban peppers, are a variety of sweet pepper popular in both Latin American & European cuisines. They have a long, sometimes twisted shape and can be found in shades from bright yellow-green to red when allowed to fully ripen.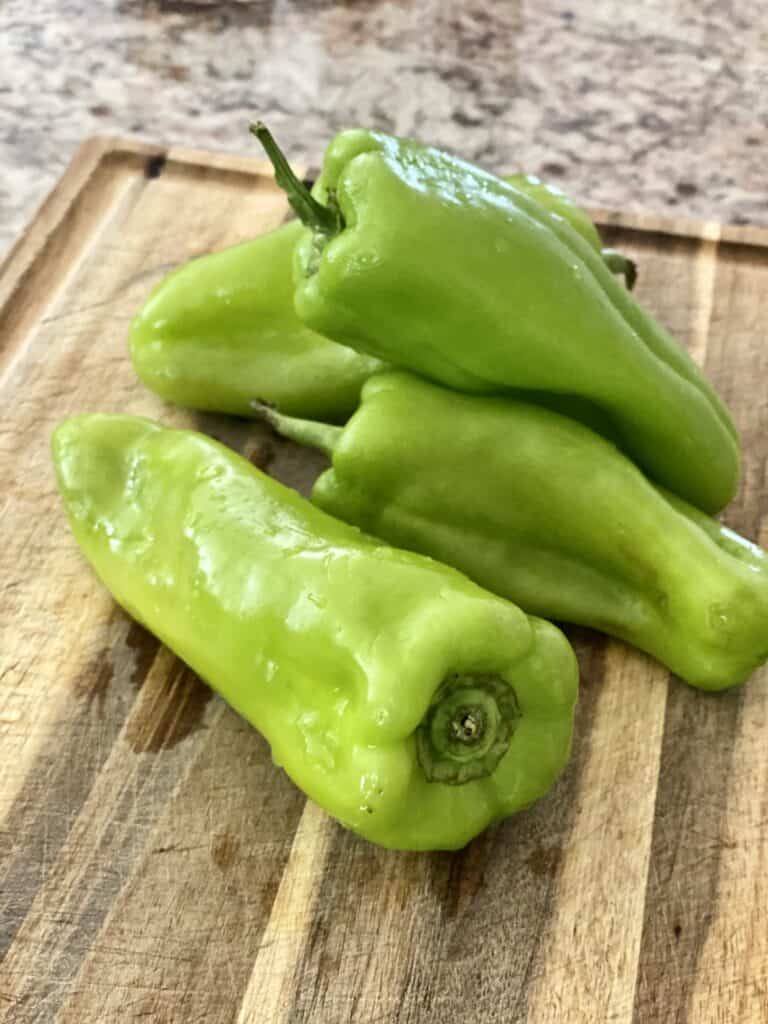 Their thin skin makes them a good option for quick-cooking meals. Mild in flavor, they're often found in sofritos, the aromatic base for many Mediterranean, Latin American, Spanish and Portuguese recipes.
Whole, fresh Cubanelle peppers will last for weeks in the refrigerator. Cooked peppers should be stored in an airtight container and used within a few days.
Ingredients
The star of this recipe is, you guessed it, cubanelle peppers! But the flavorful filling ingredients are really what make it pop. A few notes about the ingredients used here:
Ground Italian Pork Sausage. This is a classic ingredient and an easy way to add lots of flavor, but if you don't eat pork or would like to turn this into a vegetarian recipe, you can substitute with your favorite type of ground sausage; anything from chicken to tofu crumbles.
Marinara sauce. I used to make this recipe with canned, crushed tomatoes, but I recently tried it with jarred marinara sauce that I happened to have leftover in the refrigerator and it worked well, so feel free to use whichever you prefer!
Vegetable or chicken stock. Either of these will work fine. Use vegetable stock to make a vegetarian stuffed pepper or chicken stock for a classic version.
Rice. Have leftover rice in the fridge? This filling is a great way to use it up! Both brown rice and white rice work well here. I used frozen rice because I always have some in the freezer. Uncooked rice is also an option, but you may need to bake the stuffed peppers a bit longer in order to let the rice fully cook through. Other grains such as farro or quinoa would work as a good substitute.
Mozzarella cheese. I add cheese to just about everything, but feel free to omit it in order to make these vegan or vegetarian.
Instructions
Making these Stuffed Cubanelle Peppers can be broken down into 4 easy steps: Prepping the peppers, making the filling, stuffing the peppers and baking the final dish. Here's how I do it:
Prep your Cubanelle peppers by slicing off the tops. Using a sharp knife or your fingers, remove the seeds and membranes from the pepper. Set them aside until you're ready to fill them.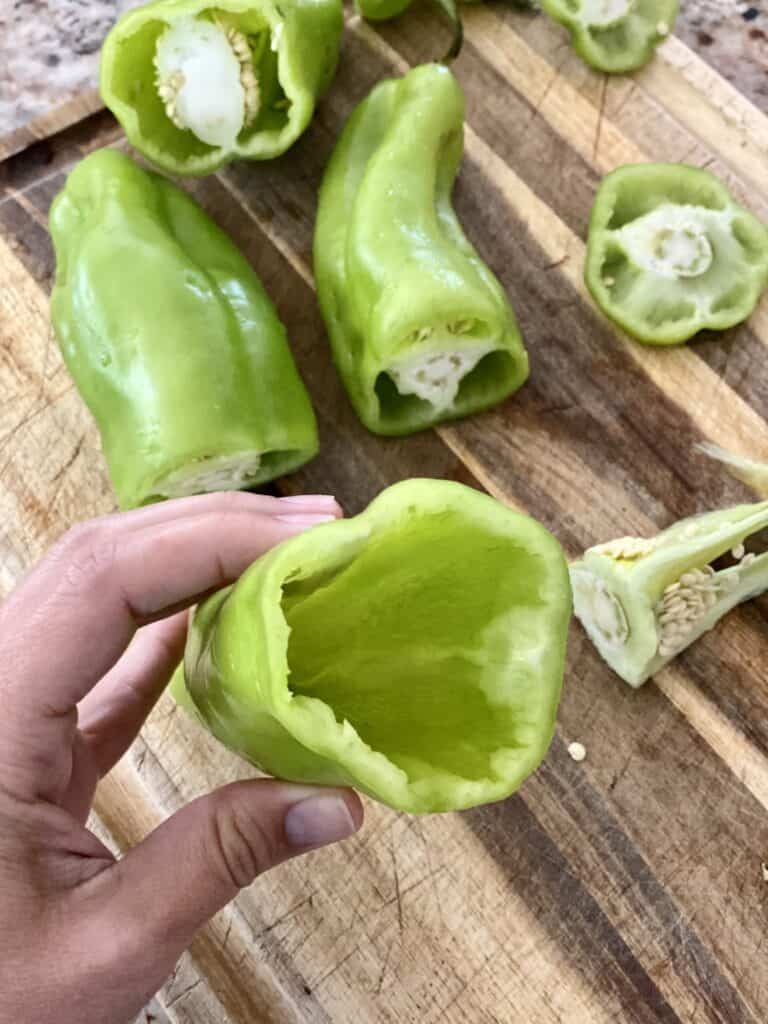 Make the filling by browning up the sausage with the onions and garlic. Add the marinara sauce or crushed tomatoes and the stock. Let the mixture simmer until it thickens a bit and the liquid is somewhat reduced. (If you are using uncooked rice, then add it after the broth and allow it to simmer in the liquid.)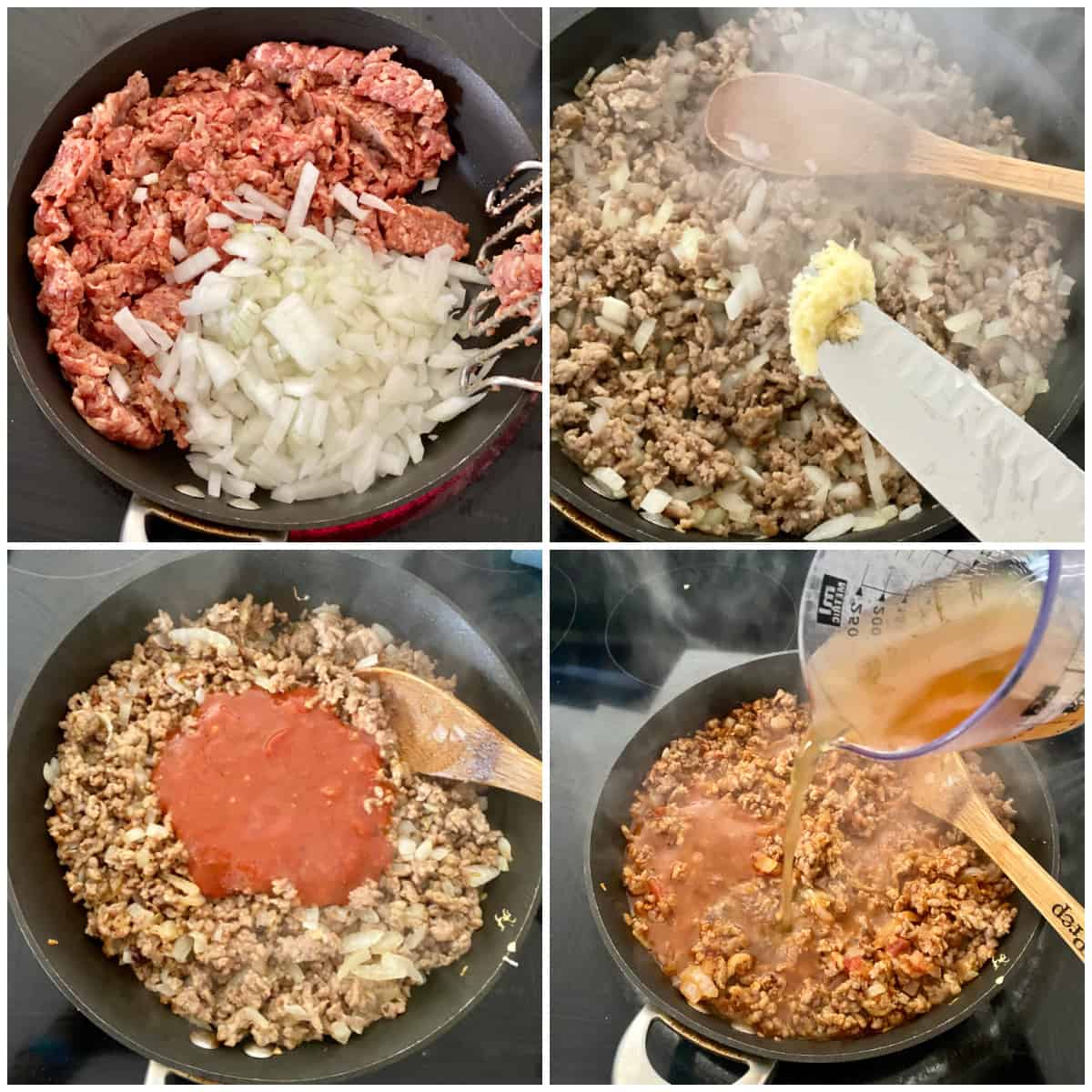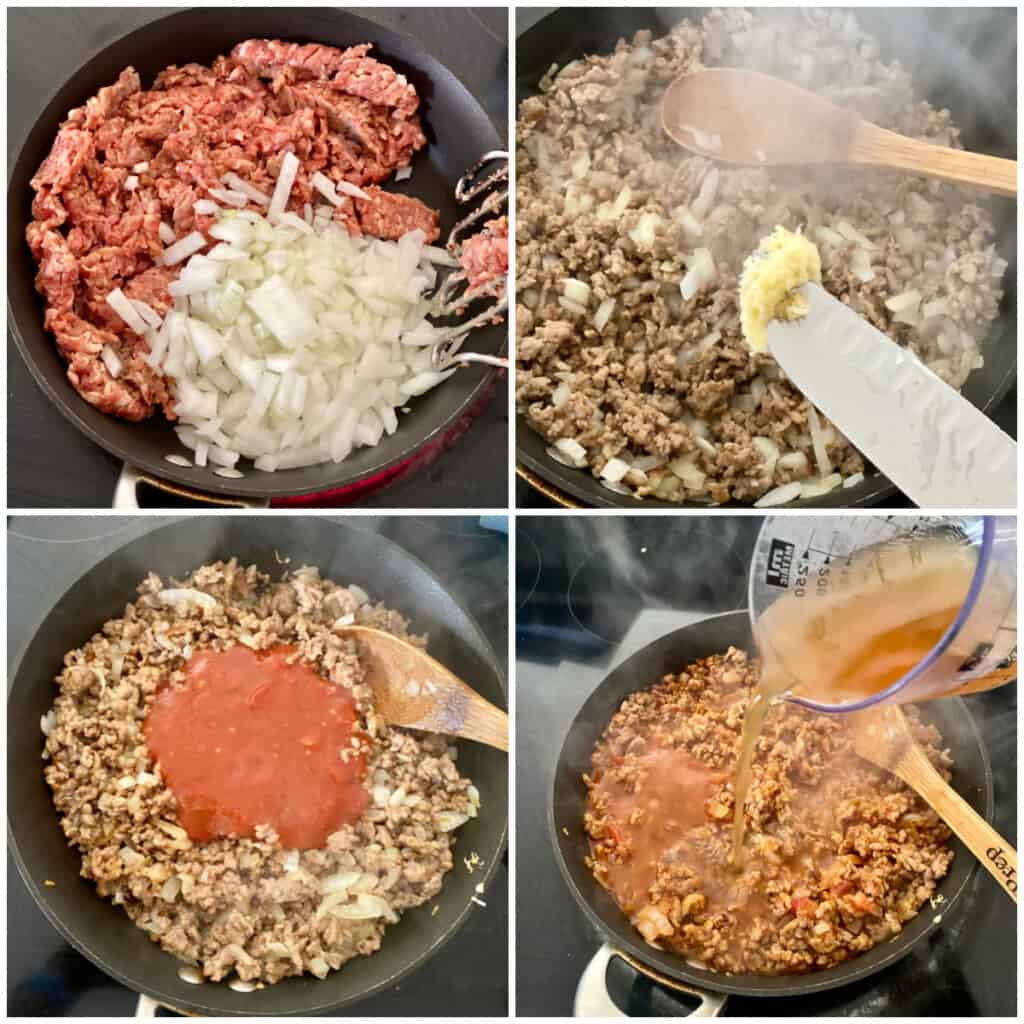 Next, add the fresh herbs, rice and cheese. Mix it until fully combined. This mixture can be used for regular stuffed bell peppers, too.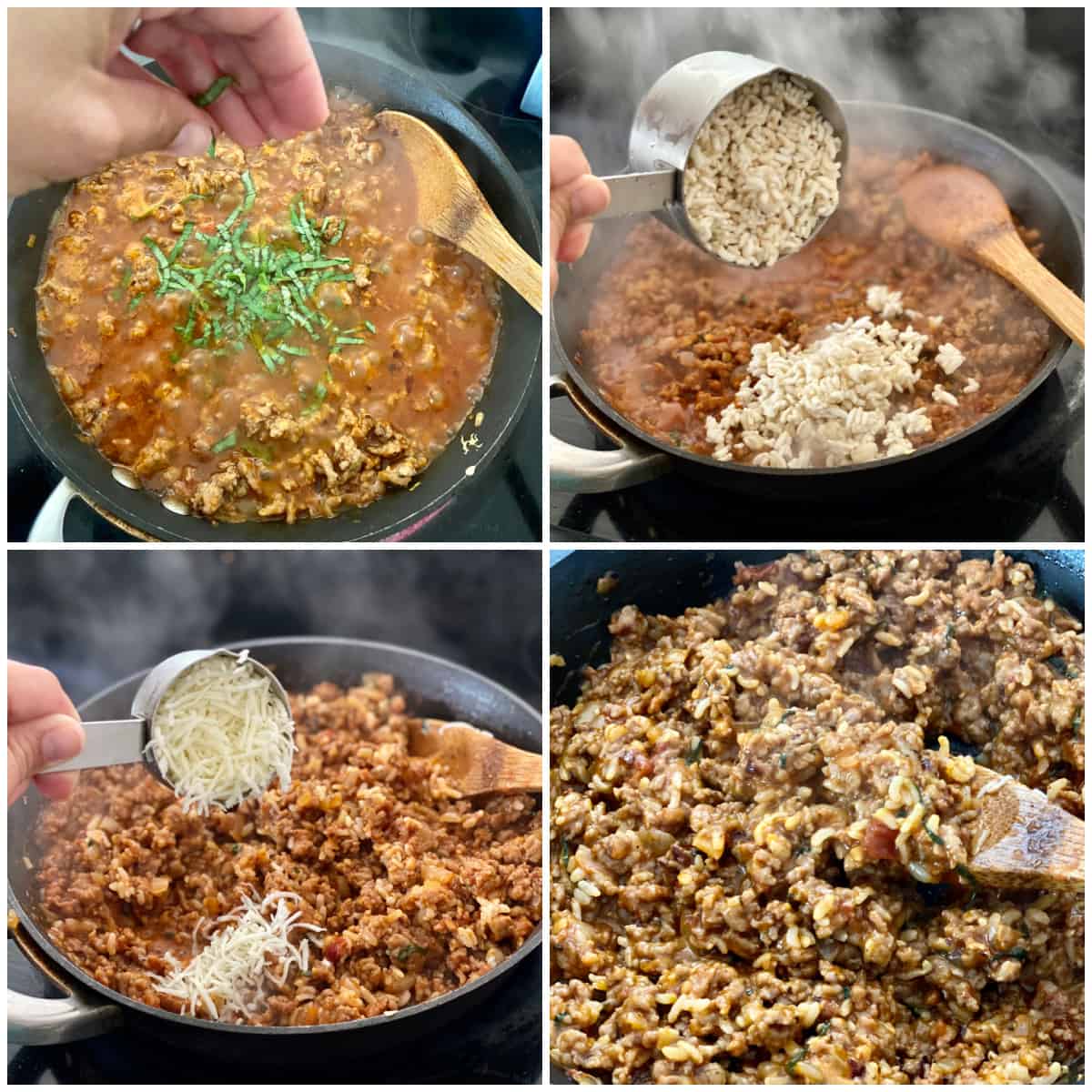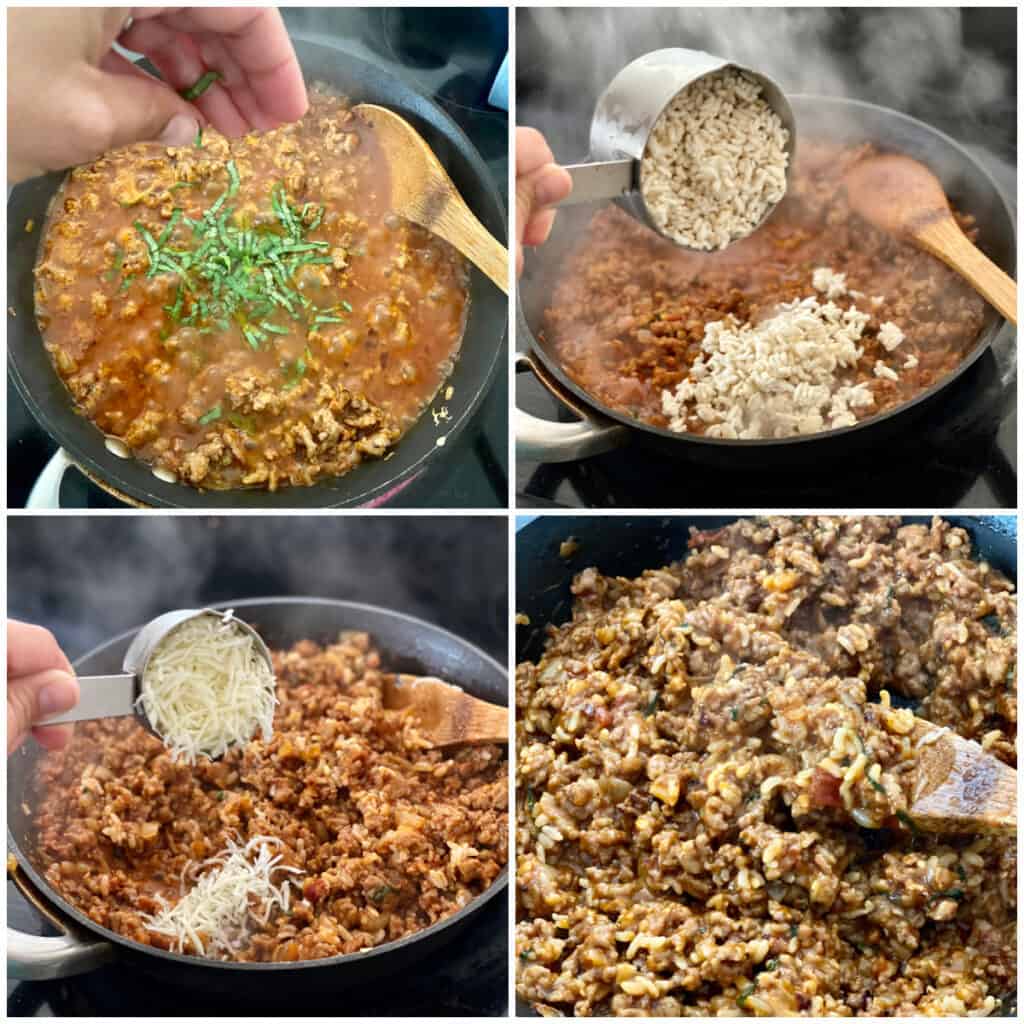 Once the filling is made, it's time to stuff the Cubanelles. Using a spoon or a mini cookie scoop (one of my favorite kitchen tools!), carefully fill each pepper all the way to the top. It's ok to pack in the mixture a bit.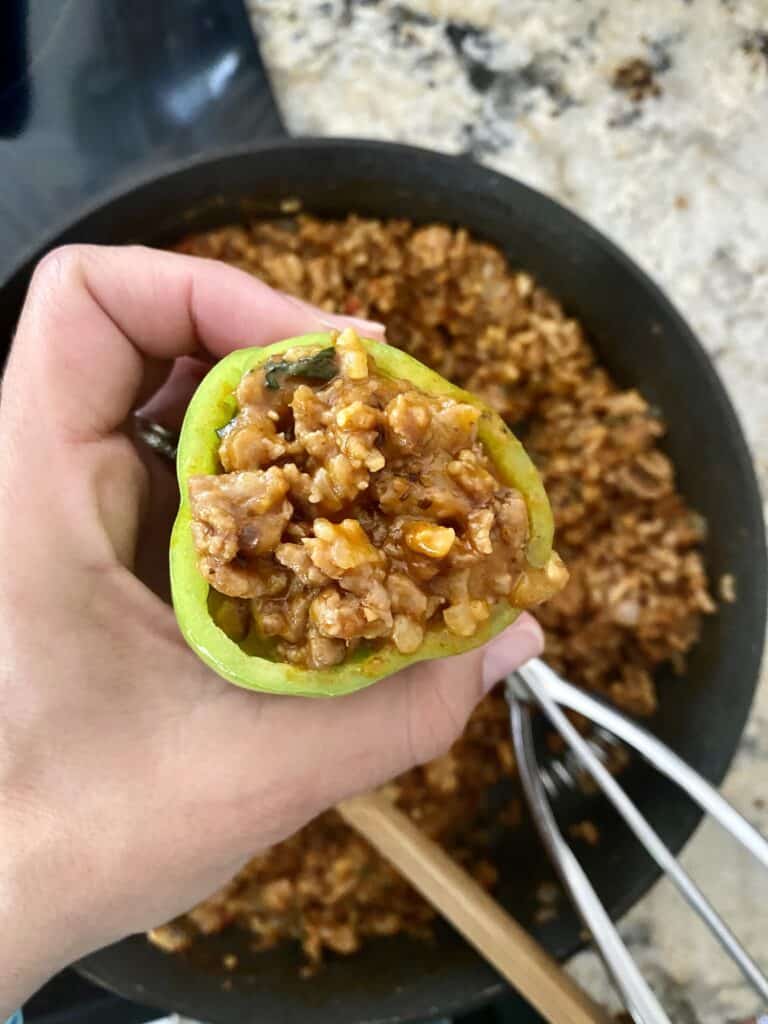 Place the stuffed Cubanelle peppers in a baking dish and pour in the remaining ¼ cup of stock (this will help to steam and soften the peppers while they bake). Cover the dish tightly in foil and place in a preheated 400 degree oven. Depending on the thickness of the peppers, it should take about 45-50 minutes for the them to become tender.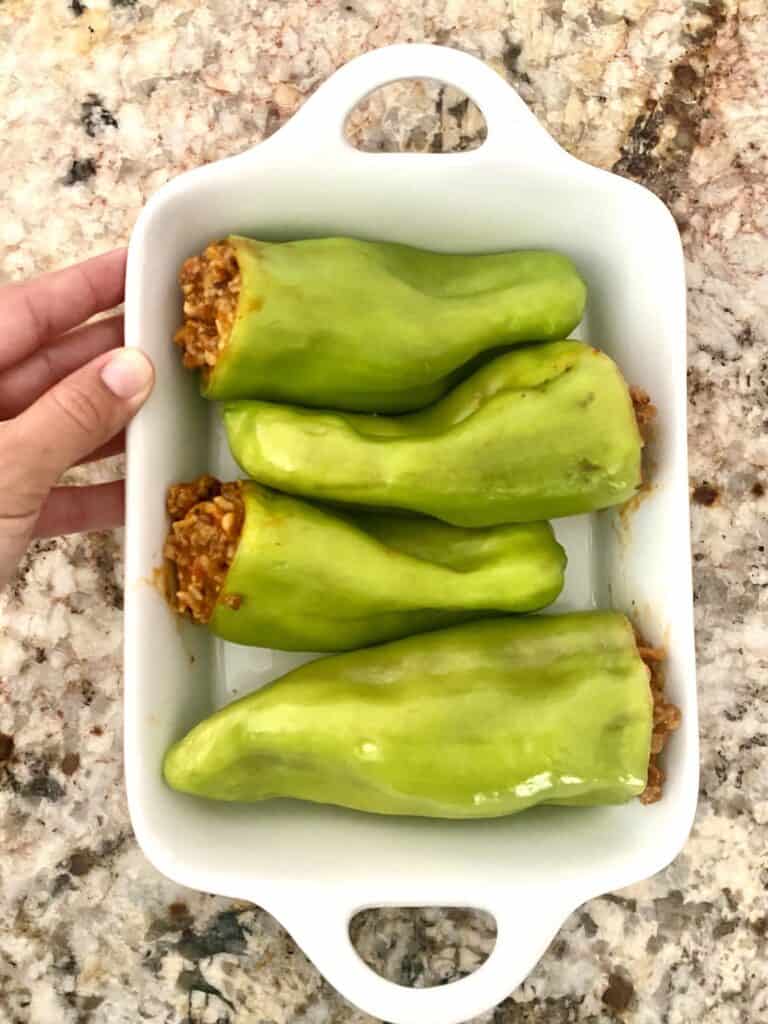 FAQs
Are Cubanelle peppers hot?
Cubanelles are considered mild or low heat peppers. On the Scoville Scale of measuring the spiciness of peppers, Cubanelles measure 1,000 SHU. For reference, however, a regular bell pepper measures 0 SHU and a mild pepperoncini (banana pepper) measures 900 SHU.
What is similar to Cubanelle peppers?
Anaheim Chiles are said to be similar to Cubanelles and make a good replacement, though they offer a little more heat. Otherwise, sweet bell peppers make a decent substitute.
What are Cubanelle peppers used for?
The long, hollow shape and thin skin of Cubanelle peppers makes them ideal for stuffing! They can also be sliced and used as you would bell peppers, for sautéing, frying or roasting and adding to just about anything.
Can Stuffed Cubanelle Peppers be made ahead?
Yes! These stuffed Cubanelles are a perfect make-ahead meal. You can either prep the filling and store in an airtight container in the refrigerator a day or two before and then prep and fill the peppers just before cooking, or go ahead and stuff the Cubanelles with the filling, place them in a well-wrapped baking dish and keep refrigerated until you're ready to bake them.
What makes a good Cubanelle pepper substitute?
If you can't find Cubanelle peppers in your local grocery store or farmers market, you can simply use sweet bell peppers, Anaheim peppers or Poblano peppers if you don't mind a little heat.
Variations & Substitutions
Try a different variation on these stuffed cubanelle peppers:
Use ground beef or turkey in place of ground sausage.
Try chicken sausage in place of pork sausage.
Use quinoa or farro in place of rice.
Diet-Specific Substitutions:
Vegan or Vegetarian: Use a plant-based sausage substitute or plant-based ground in place of sausage. Swap vegan cheese substitute for regular cheese, or omit cheese.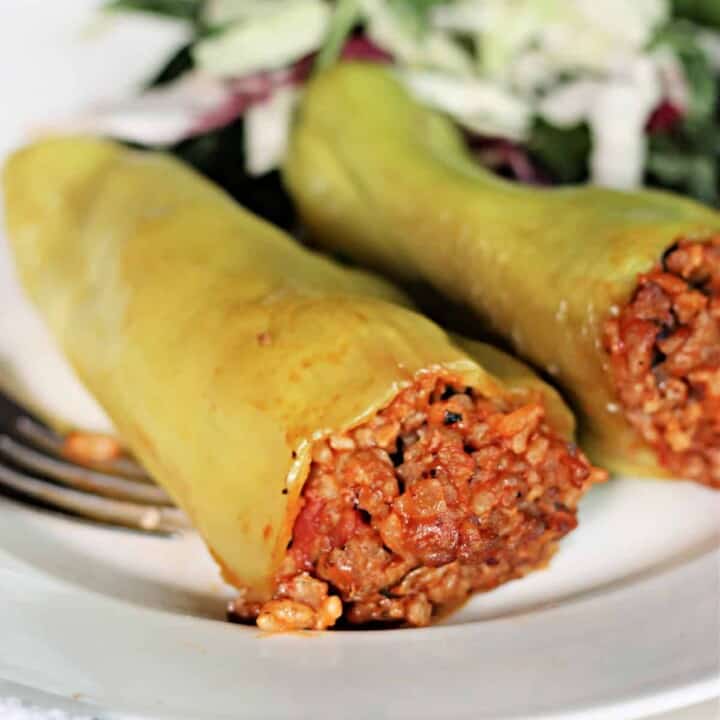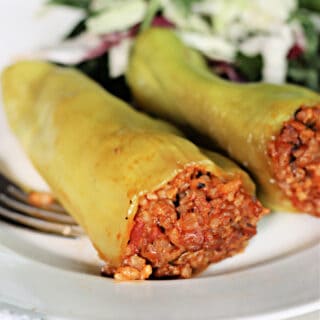 Italian Stuffed Cubanelle Peppers
Cubanelle peppers make the perfect vessel for stuffing with savory filling! Packed with flavorful, Italian-inspired sausage and rice mixture and baked until tender, these peppers will become a favorite.
Ingredients
4

cubanelle peppers

topped & seeded

1

pound

ground Italian pork sausage

see notes

1

small yellow onion

diced

4

garlic cloves

minced or grated

1¼

cups

marinara sauce or crushed tomatoes

1

cup

vegetable or chicken stock

divided

¼

cup

chopped fresh basil

1

cup

pre-cooked rice

see notes

¼

cup

grated mozzarella cheese

¼

teaspoon

cayenne pepper

salt to taste
Instructions
Preheat the oven to 400°F. Prepare a baking dish by lightly spraying with oil. Set aside.

Place sausage in a large skillet over medium-high heat. Using a wooden spoon or potato masher (my favorite tool for this task), break up the sausage and allow it to start browning.

Add the chopped onion to the pan and cook until the sausage is no longer pink and the onion begins to soften, about 4-6 minutes. Stir in grated or minced garlic and cook for another minute.

Add marinara sauce (or crushed tomatoes) and ¾ cup vegetable or chicken stock; stir to combine. Bring to a bubble and allow to simmer for about 5 minutes or until the liquid has reduced and thickened a bit.

Stir in rice until fully combined. Mix in mozzarella cheese and cayenne pepper. Taste and season with salt if needed.

Using a small cookie scoop or a spoon, fill each pepper to the top. You may have extra filling depending on the size of your peppers. See notes in post for other uses.

Place each pepper carefully on its side in prepared baking dish. Pour remaining ¼ cup stock in the dish -- this will help steam and soften the peppers as they cook. Cover tightly with foil and bake for 40-45 minutes or until peppers are tender.
Notes
To prep peppers: Slice off the tops, then using a knife or your fingers, remove the seeds and core and discard. Peppers may also be cut long ways and served as "boats" if prefered.
This recipe calls for bulk Italian-style ground pork sausage, but you can use any type - ground chicken sausage or even tofu "sausage" crumbles would work! Feel free to use your preferred type of sausage and experiment with different types and flavors. 
Both canned crushed tomatoes or jarred marinara sauce will work for this recipe. It's a nice way to use up leftover marinara. 
Leftover or frozen rice is a great shortcut and ensures that the rice will be fully cooked when the peppers are done, but I have seen similar versions of this using uncooked rice. If you do use uncooked rice, add it right before you pour in the tomatoes and stock and proceed with the recipe as directed. Bake for an additional 10 minutes or until the rice is tender. 
This recipe can be made with other grains as well -- quinoa, farro,
Omit cayenne pepper if you prefer a milder version.