Pineapple Pico de Gallo! Need a fresh, tropical touch to your meal? Sweet pineapple shines in this easy pico de gallo recipe that makes extra flavorful topping for tacos, fish or chicken, or as a perfect complement to crunchy tortilla chips!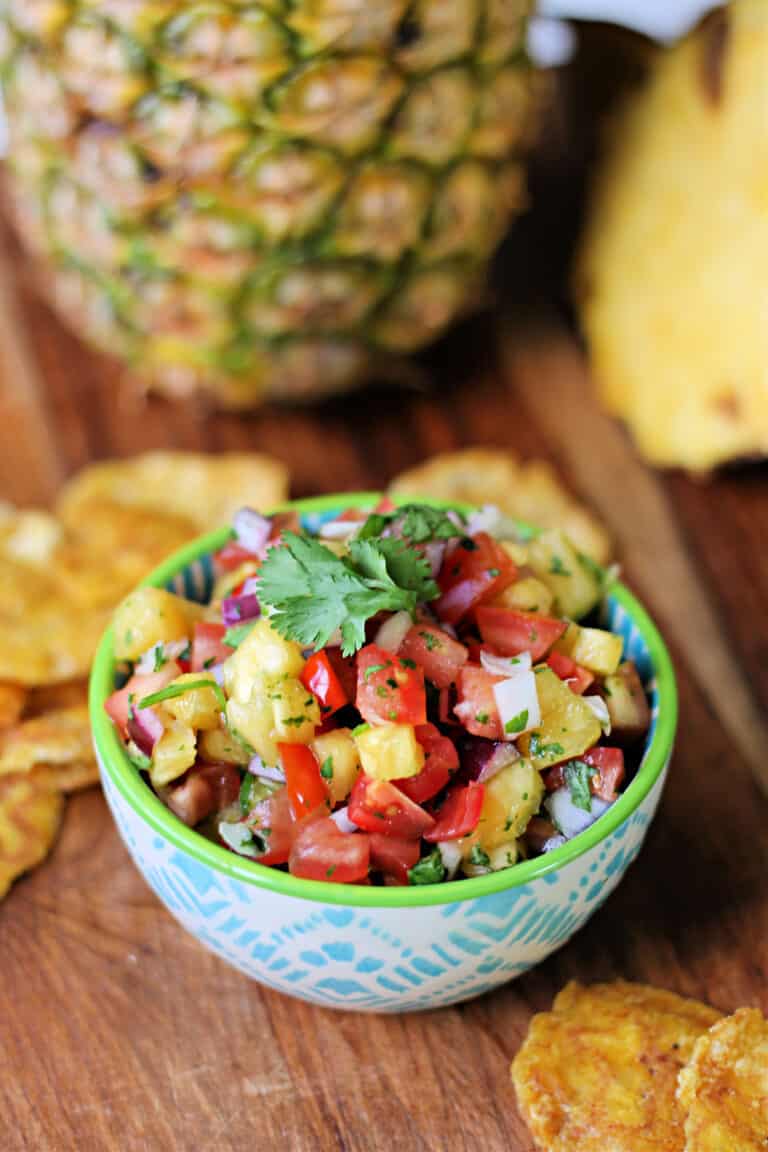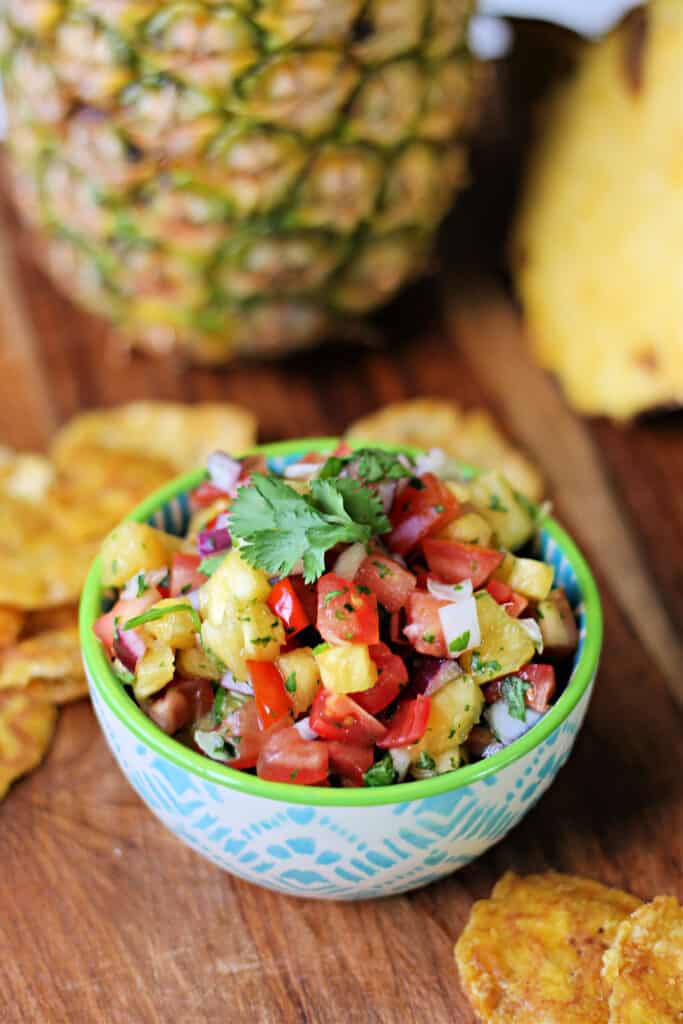 Note: This post was originally published on May 17, 2011 and updated on June 21, 2021.
There is something so deliciously refreshing about pico de gallo! It is the perfect thing to serve up on a hot summer day with some tortilla or plantain chips, or atop your favorite grilled foods.
This Pineapple Pico de Gallo adds a tropical twist with the addition of fresh pineapple that adds a touch of sweetness to this simple appetizer or condiment that is easy to gobble up by the bowlful.
Ingredients
Classic pico de gallo is made up of just a handful of fresh ingredients:
Tomatoes. I like to use a firm variety like Roma tomatoes or hot house tomatoes for recipes that require tomatoes to be diced. This video shows how to easily cut the tomatoes.
Onion. White onion is typically used in pico de gallo, but you can really use whatever type you prefer.
Cilantro. This herb provides a delicious, traditional flavor that is found in many Mexican dishes. If you happen to be among the cilantro-haters of the world that think it tastes like soap, simply omit!
Lime Juice. Fresh-squeezed lime juice gives a nice acidity to the mix.
Salt. Salt not only helps to flavor the pico de gallo, but also helps to draw out water from the ingredients. If you want to prevent the mixture from getting watery, sprinkle salt on the tomatoes and let sit for 10-15 minutes, then drain and add them to the rest of the ingredients.
Pineapple. This is the star of the show for this pico de gallo recipe! I love the sweet, fresh pop of flavor it lends to the mixture and think it is a great contrast to salty tortilla chips or savory tacos! Fresh pineapples work best here (see tips for how to pick out a ripe pineapple here), but in a pinch, canned pineapple will work, too.
Directions
Making your own pineapple pico de gallo at home is as easy as chopping and dropping the ingredients into a bowl and giving them a toss to combine!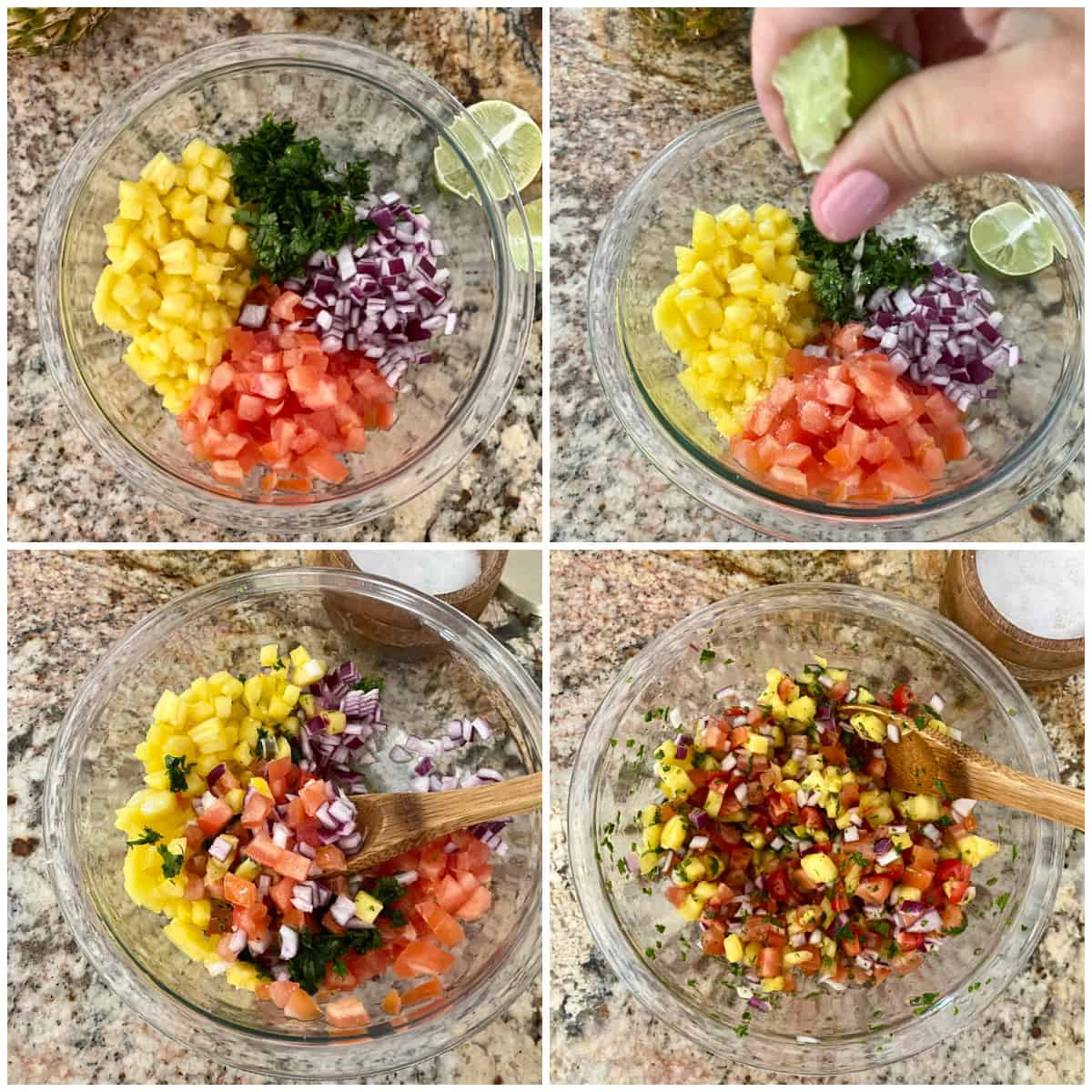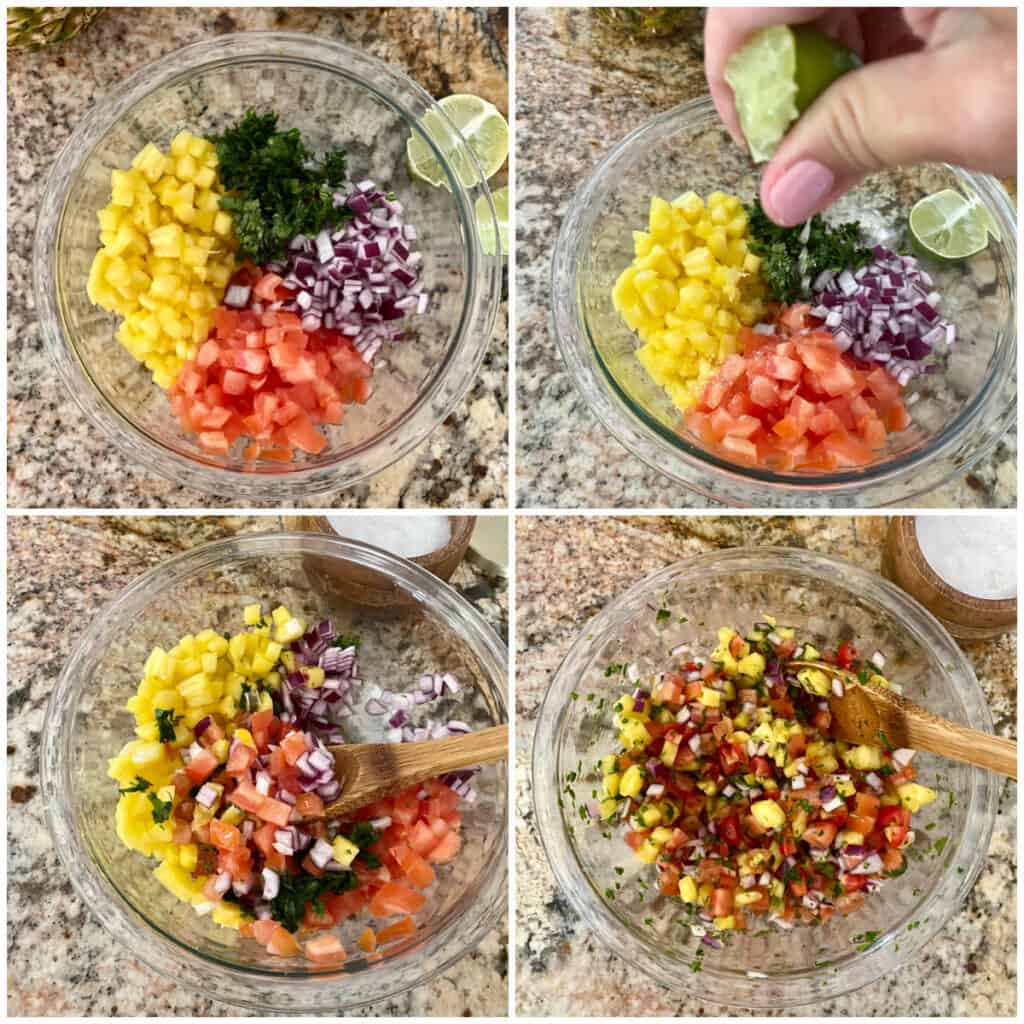 Add all of the chopped ingredients to a medium bowl.
Sprinkle with salt and squeeze fresh lime juice over the top.
Toss to fully combine the ingredients.
Cover and refrigerate to chill.
Allowing the mixture to sit in the refrigerator to chill will allow the flavors to marry beautifully, but if you can't wait that long, feel free to enjoy it immediately!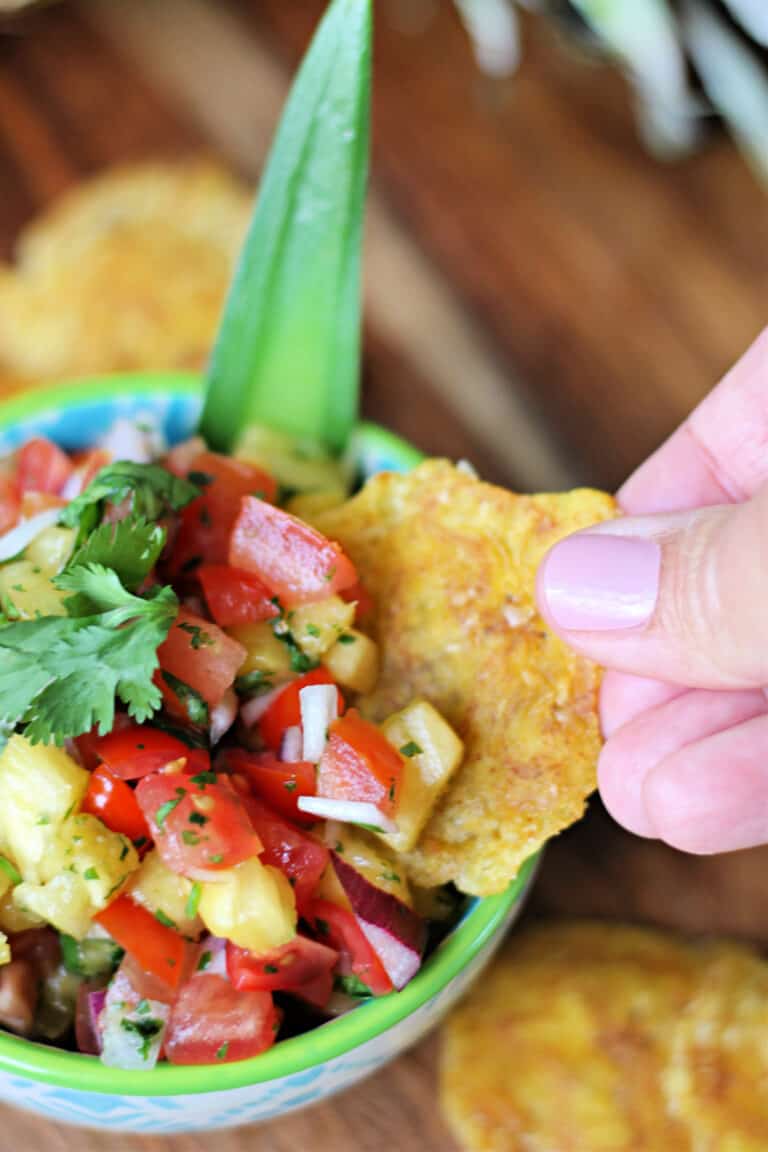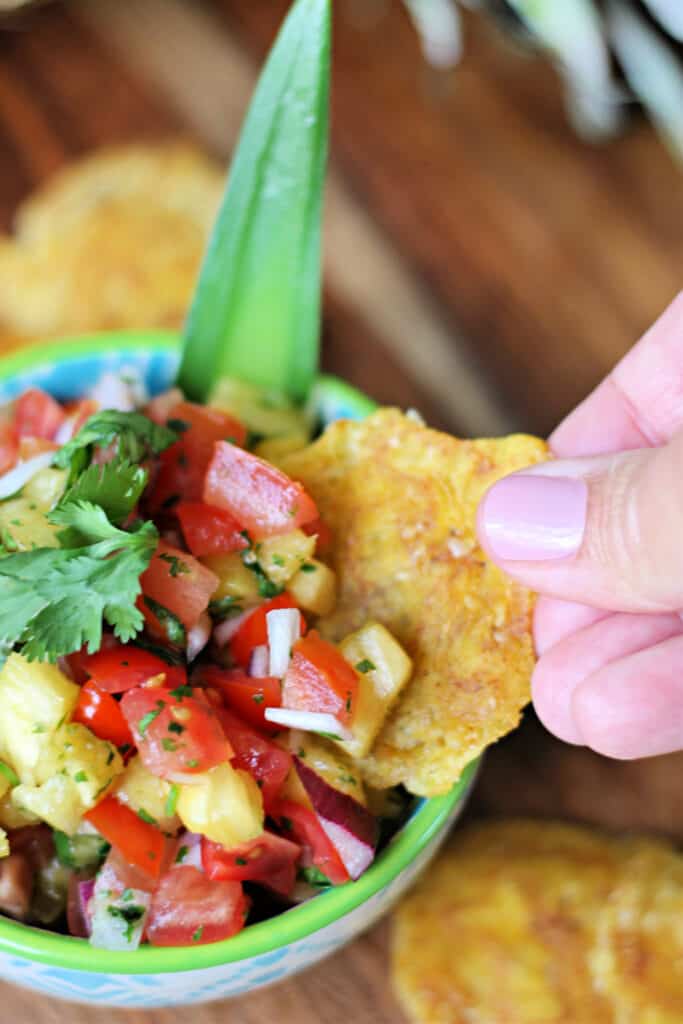 FAQ's
What is pico de gallo?
Pico de gallo, also called salsa fresca or salsa cruda, is a condiment commonly used in Mexican cuisine. Traditionally, it is made from fresh chopped tomato, onion, salt, lime juice, and cilantro. It can also include peppers like serrano or jalapeno.
How do you pronounce pico de gallo?
With a literal translation of "beak of the rooster", the pronunciation of this tasty dish is "peek-oh de guy-oh".
What is the difference between salsa & pico de gallo?
While salsa and pico de gallo often contain the same or very similar ingredients, the main difference is that salsa is typically a bit more liquidy (sometimes even blended) while pico de gallo is chunkier. Additionally, some types of salsa are cooked or contain cooked ingredients, while the ingredients in pico de gallo are always raw and fresh.
Can I use another type of fruit?
Sure! Use firm, ripe fruits such as mango, kiwi, watermelon, strawberry or peach to mix up the flavors if you can't get your hands on fresh pineapple.
Is pico de gallo spicy?
This version of pico de gallo contains no spicy elements, but if you like a little heat, feel free to add a tablespoon or two of chopped jalapeno or serrano peppers.
How long does pico de gallo last in the fridge?
Stored in an airtight container, pico de gallo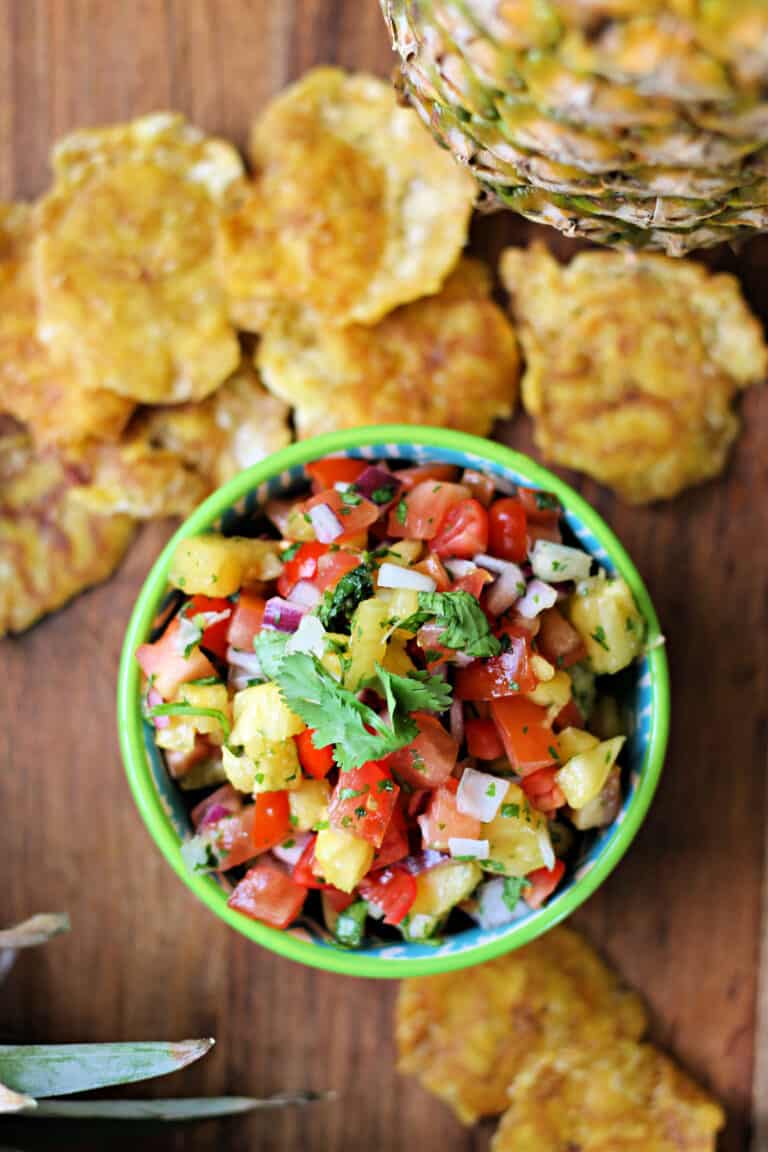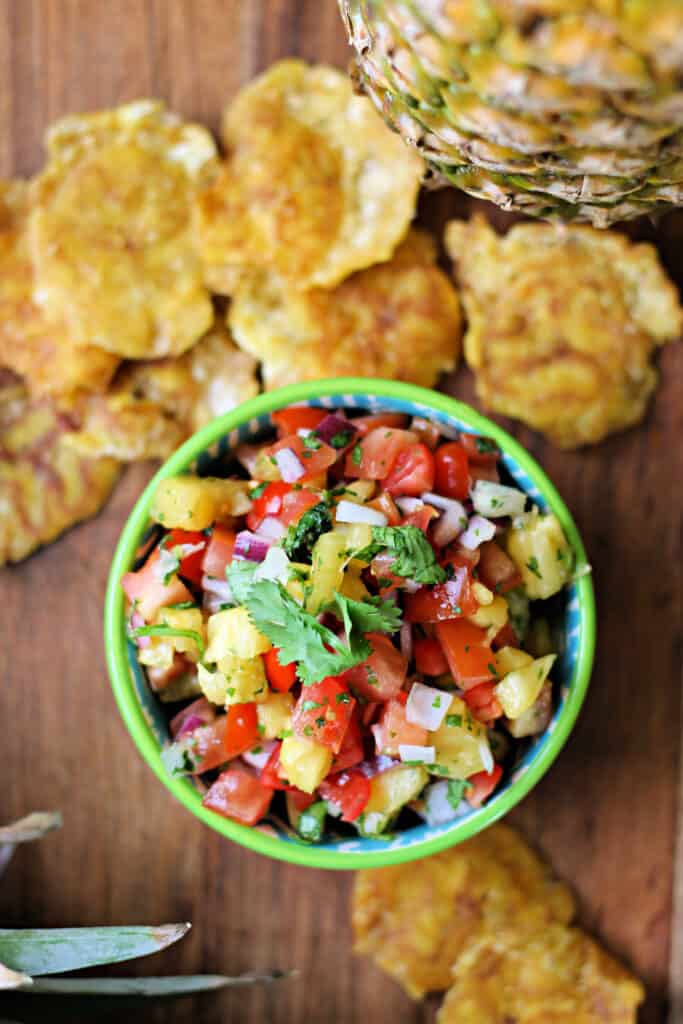 Other Salsa Recipes
If you liked this fresh salsa recipe, give these others a try as well!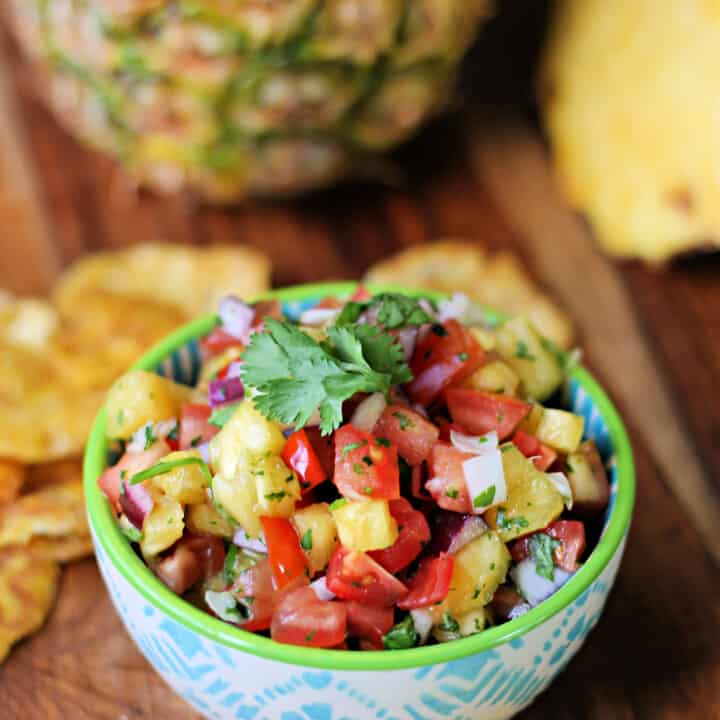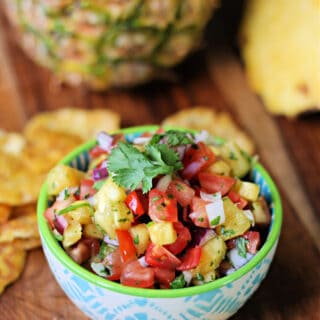 Pineapple Pico de Gallo
Sweet pineapple shines in this easy pico de gallo recipe that makes extra flavorful topping for tacos, fish or chicken, or as a perfect complement to crunchy tortilla chips!
Ingredients
3

Roma tomatoes

seeded and diced

1

cup

pineapple

diced

¼

cup

onion (white or red)

diced

¼

cup

fresh cilantro

chopped

1

tablespoon

fresh lime juice

½

teaspoon

sea salt
Instructions
Place diced tomatoes, pineapple, onion, and cilantro in a medium bowl.

Add lime juice and sprinkle with sea salt. Toss to combine.

Cover and refrigerate to chill and allow the flavors to marry, or eat immediately if you're impatient and can't wait!