Maraschino Cherry Cookies! Speckled with bright bits of maraschino cherries, it's hard to stop at just one of these soft drop cookies! With their light pink hue and luxe chocolate coating, these cookies make a festive addition to any cookie platter.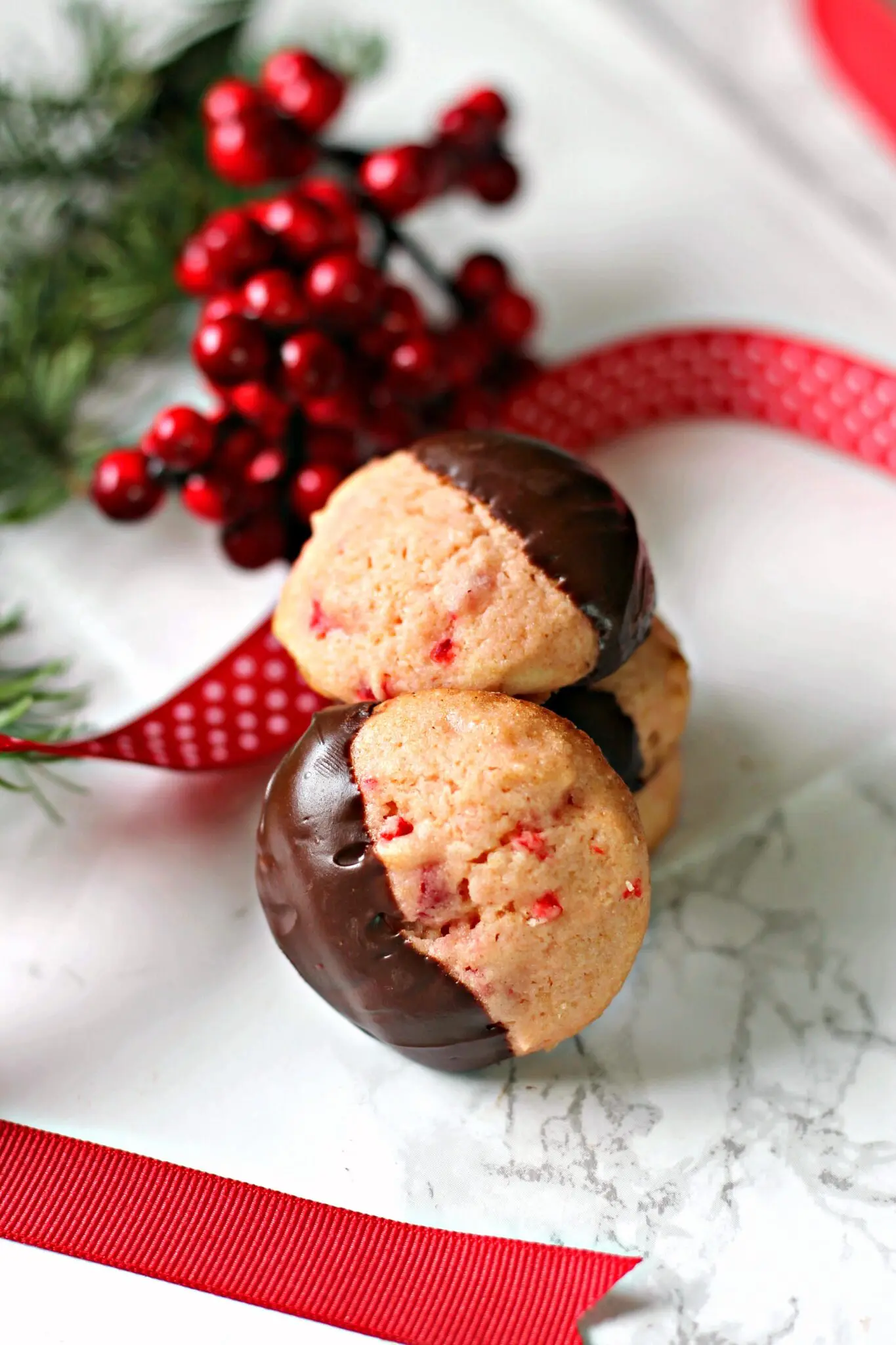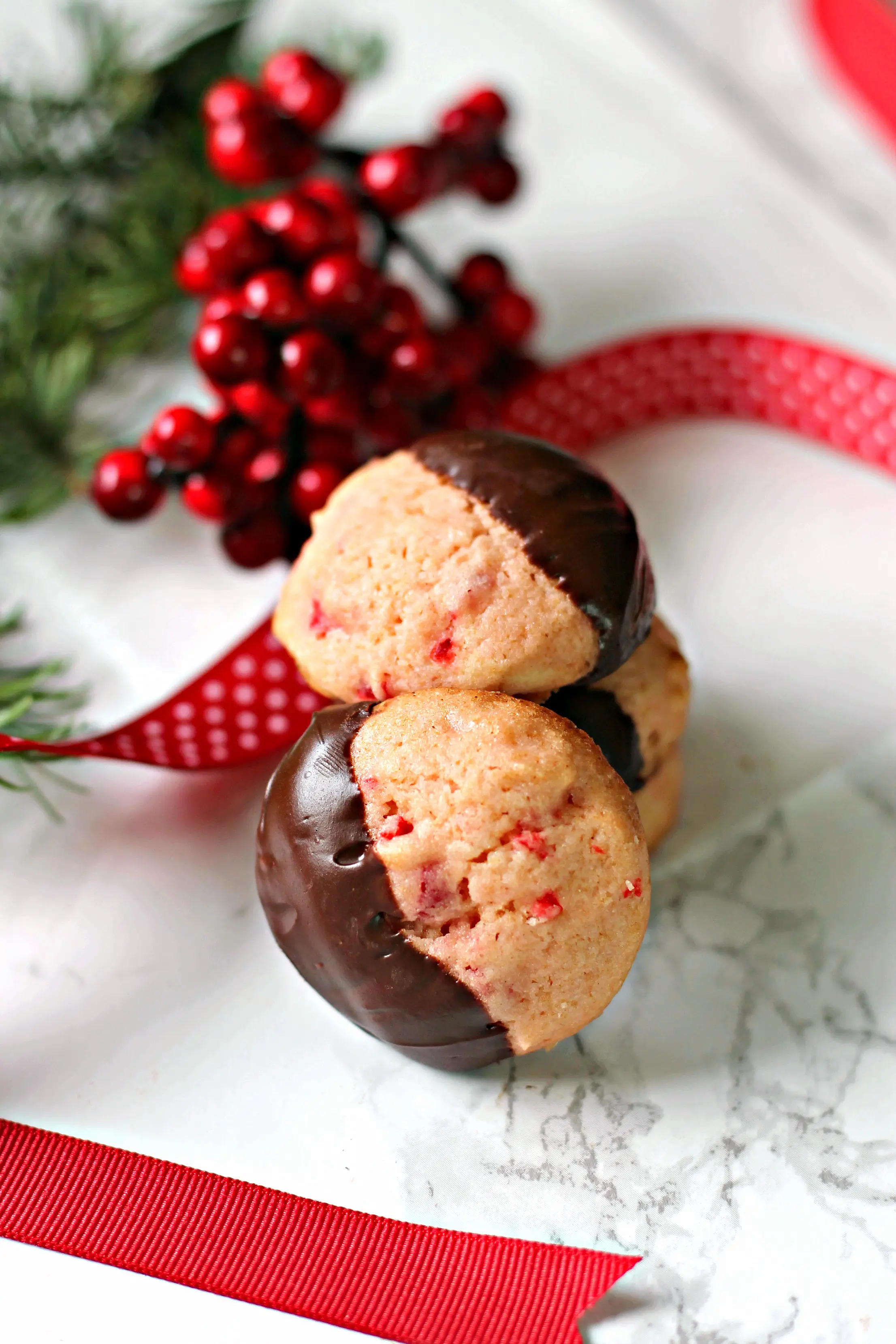 Disclosure: This post may contain affiliate links, which means that, at no extra cost to you, I may earn a small commission if you click a link and purchase an item I've recommended. Thanks for your support in running this blog!
If you're looking for a Christmas cookie recipe that's a little outside the box -- no peppermint, no holiday spices and no festive sprinkles -- these chocolate dipped Maraschino Cherry Cookies are worth a try! Soft, cakey vanilla drop cookies studded with sweet maraschino cherries are baked, then dipped in chocolate for a holiday-worthy appearance. 
Package them up for gift-giving, serve them on a holiday cookie platter or keep them all for yourself, just make sure you bake these at least once during the holiday season!
Jump to:
What are Maraschino Cherries?
Maraschino cherries are those bright red cherries that normally come jarred in a sweet syrup. They're often used in cocktails, baking or as the finishing touch for everything from cakes to ice cream sundaes.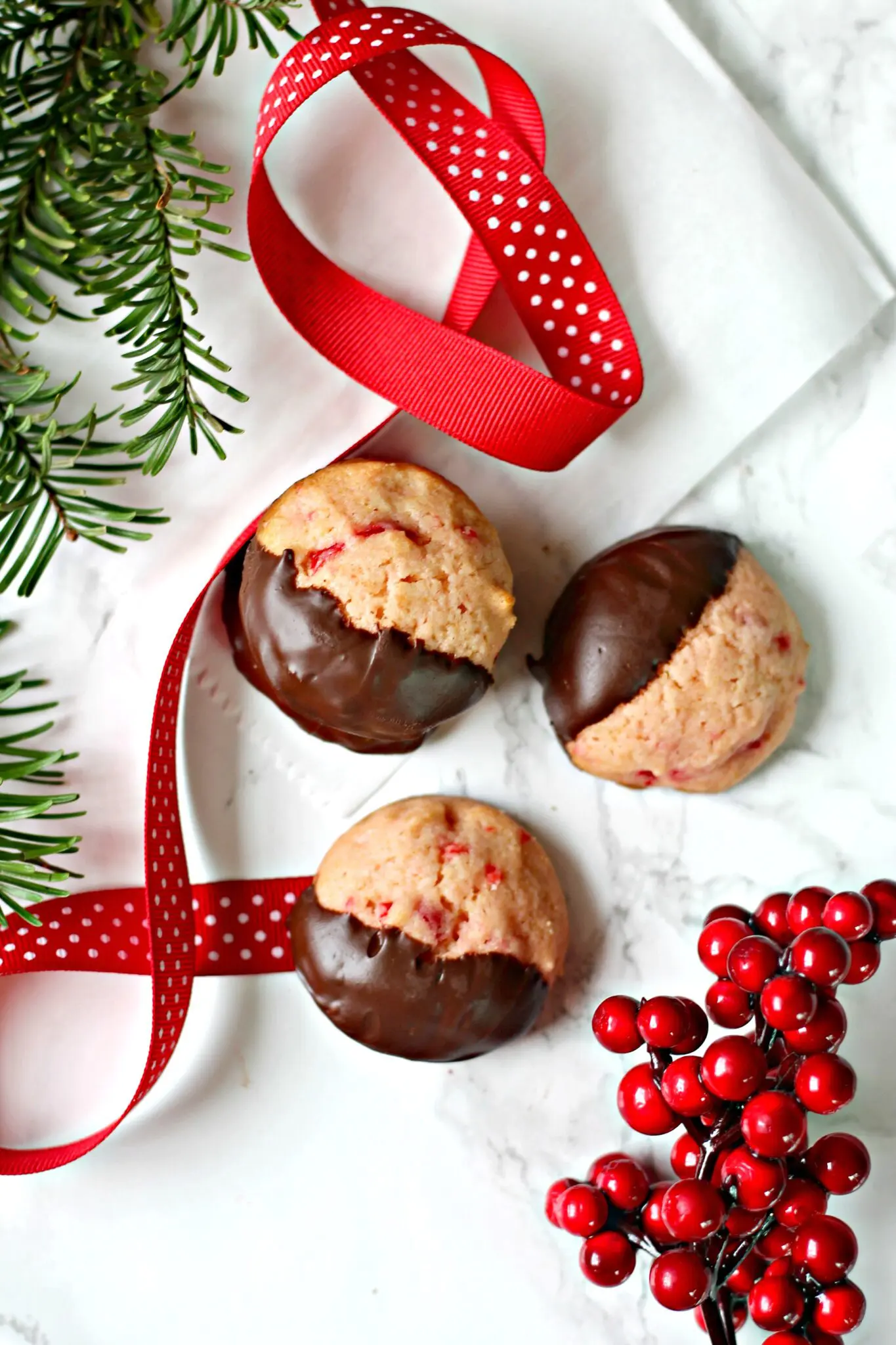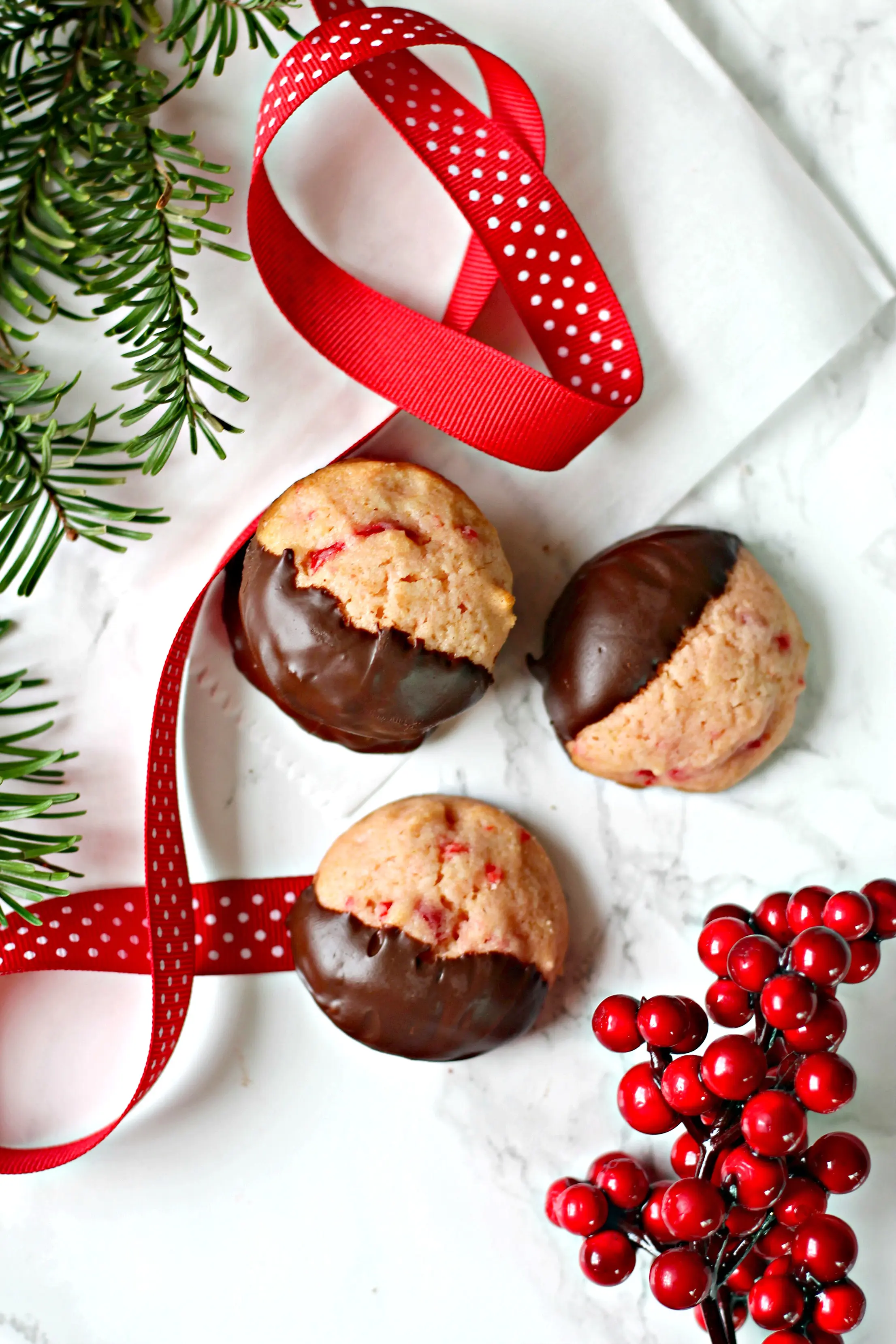 Ingredients Needed
One of the things I love about these cookies is that, aside from the cherries themselves, they're made with very simple, super common ingredients that you will most likely have in your pantry and refrigerator, especially around this time of year! Here are the things you'll need:
Sugar
Butter
Egg
Vanilla extract
Flour
Baking powder
Salt
Maraschino cherries (see below for alternatives)
Melted dark chocolate chips or semi-sweet chocolate chips
Can I Use Another Kind of Cherry?
I don't see why not! If you're not a fan of, or can't find, traditional maraschino cherries, you can use other preserved cherries such as Amarena cherries (which are so very delicious) or Luxardo cherries. I don't recommend using fresh cherries since fresh fruit can contain a lot of moisture and change the texture of your cookies.
If all the artificial colors and flavors of traditional maraschino are your main concern, there are some brands, such as Tillen Farms, that make them with all-natural ingredients.
How to Make Drop Cookies
These Maraschino cherry cookies are a fantastic choice for beginning bakers because they're a simple drop cookie recipe. That means that you simply combine the ingredients, drop the cookie dough onto baking pans, and bake!
There is no chilling time required for this particular recipe, which also makes them ideal for last-minute baking.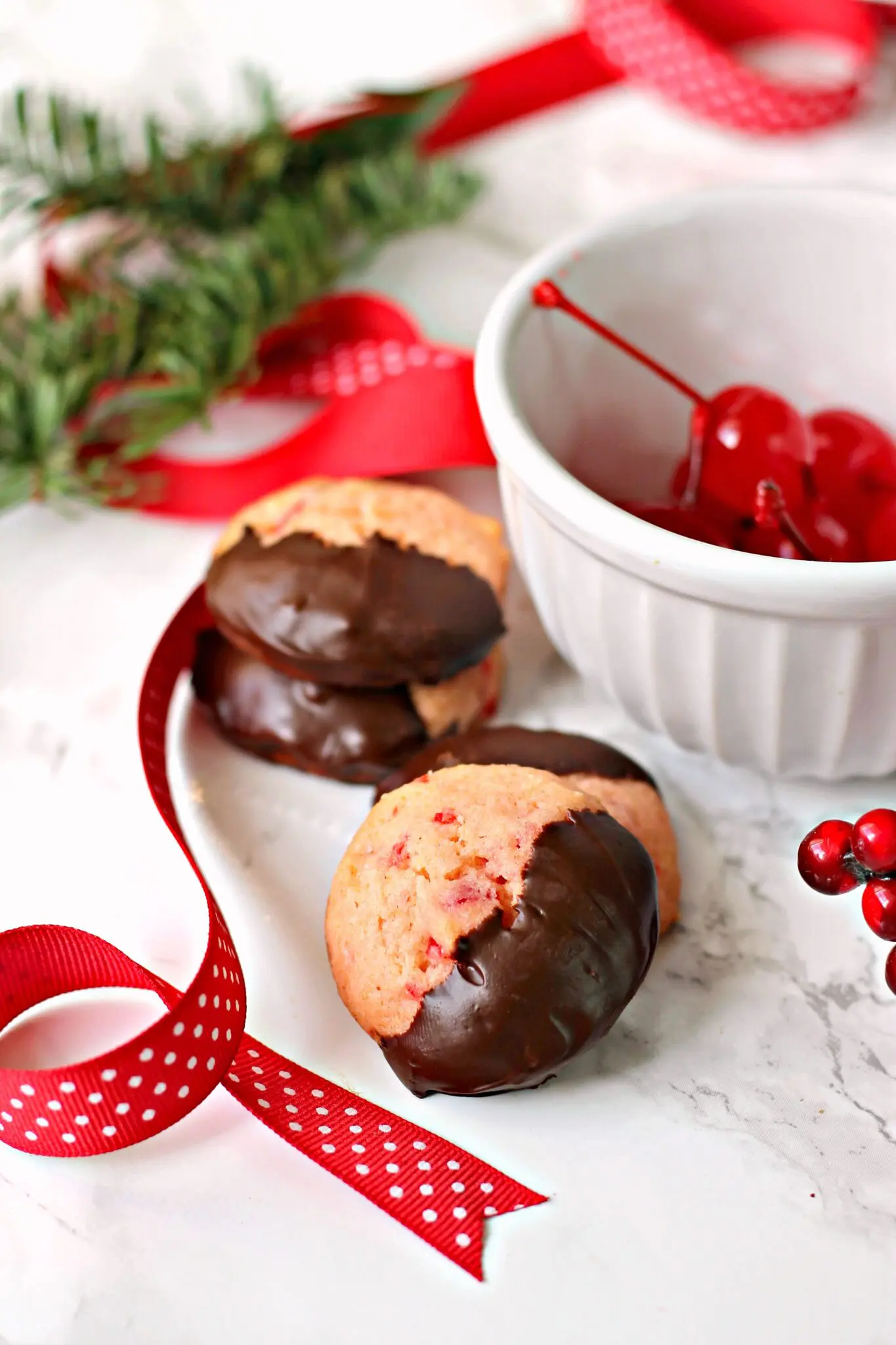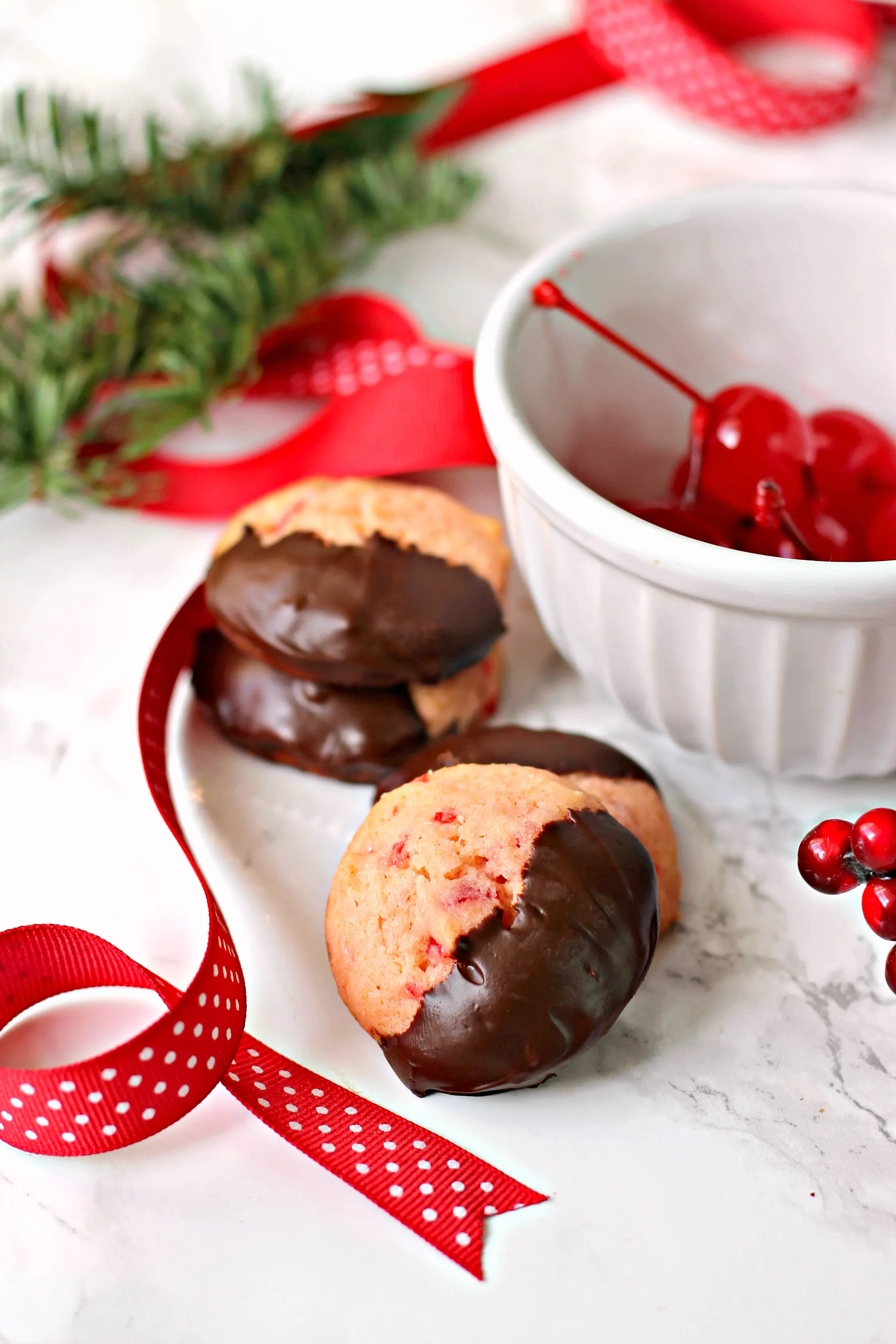 Here are a few tips for drop cookie success:
Use ingredients that are room temperature. This will help everything combine quickly and evenly for a better overall end product.
Cream together the butter and sugar until light and fluffy. Creaming the butter and sugar properly helps the sugar dissolve into the butter and can also aid in lighter, airier baked goods. You'll know the butter and sugar are properly creamed together when the mixture turns pale yellow.
Whisk or sift dry ingredients together. To be honest, I rarely ever sift, but I think using a whisk can have a similar effect, breaking up any little clumps of flour or baking powder and helping the mixture to combine evenly.
Try not to overmix your dough as this can lead to tough, heavy or gummy cookies.
Use a cookie scoop (one of my favorite kitchen tools!) to portion out your dough, if possible. This will ensure that each cookie dough mound is the same size, which helps all the cookies bake at the same rate.
Use parchment paper or a silicone baking mat (another favorite in my kitchen) to line your baking pan. This will make for easy cookie removal and will also allow for an easy place to let the chocolate set once you've dipped the cookies.
Make sure to leave sufficient space between your cookies on the baking sheet so that they don't spread into one another as they bake. Two to three inches is a safe bet for most types of cookies.
Try not to overbake cookies. Keep an eye on the first batch as all ovens are calibrated differently and some ovens may heat unevenly. I always err on the side of caution the first time I bake a recipe and check on it a minute or two before the recommended bake time is up.
If the cookies are too soft to move when they're finished baking, allow them to cool for a few minutes directly on the baking pan before moving them to the a cooling rack. Cookies will harden as they cool.
Tips for Dipping Cookies in Chocolate
Once your cookies are baked and ready, it's time to give them a dunk in some melted chocolate for the finishing touch. Here are a few things I've learned that help make the dipping process easier:
Melt chocolate gently. Use a double-boiler method or simply heat the chocolate in a small bowl in the microwave, but only heat it about 15-30 seconds at a time, stopping to stir in between. It's best to let the residual heat do most of the melting as chocolate can scorch and harden.
If the chocolate you use is too thick for dipping, add a small amount (¼ teaspoon at a time) of coconut oil or vegetable shortening. This will loosen up the mixture and make dipping easier. Be careful not too add too much as it will make the chocolate liquidy and it may not set.
Make sure your cookies are fully cooled before dipping.
I've made these cookies and dipped half the cookie as pictured in the photos, but have also made them and simply dipped the bottoms. Both ways work!
Have a baking pan lined with parchment paper or a silicone baking mat ready and close by for easy transfer once the cookies are dipped. The cookies will be easy to remove from these surfaces one the chocolate is set. (You can also refrigerate the cookies to speed up the process.)
Give these cookies a try and let me know what you think! Tag me at @thekitchenprep on Instagram and Facebook and show off your finished product!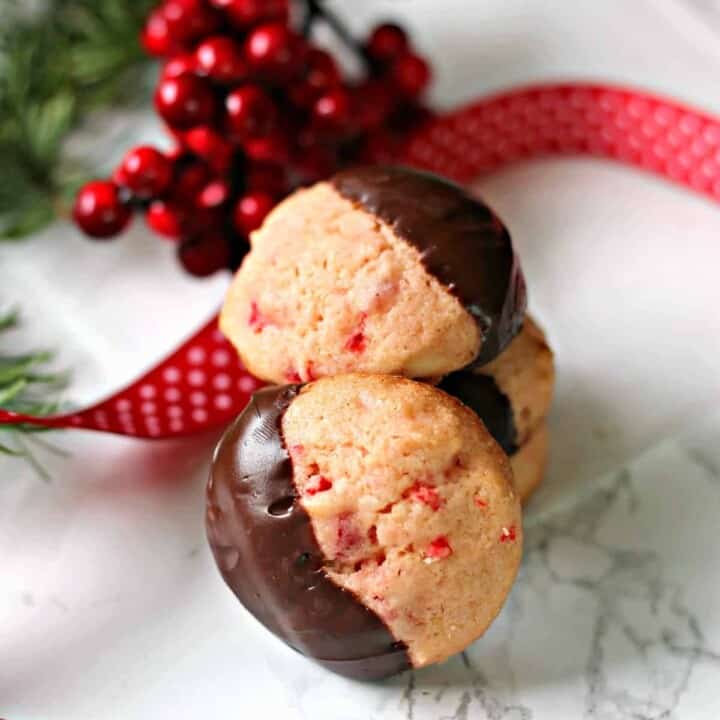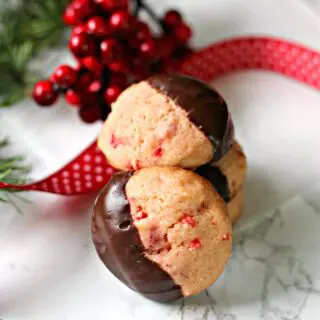 Chocolate Dipped Maraschino Cherry Cookies
Adapted from Land O Lakes Recipe Collection Holiday Cookies Magazine
Ingredients
½

cup

sugar

½

cup

butter (1 stick)

softened

1

egg

½

teaspoon

vanilla

1 ½

cups

all-purpose flour

1

teaspoon

baking powder

Pinch

of salt

½

cup

chopped maraschino cherries

½

cup

dark or semi-sweet chocolate chips

melted
Instructions
Preheat oven to 350 degrees. Line a baking sheet with parchment paper or a silicone baking mat. Set aside.

Cream together butter and sugar in the bowl of a stand mixer until light and fluffy.

Add egg and vanilla. Scrape down the sides of the bowl and mix again until well-combined.

Slowly add flour, baking powder and salt, mixing at low speed until just incorporated. Stir in cherries until well distributed throughout the dough-- if you mix too much your cookies will be completely pink.

With a cookie scoop or a tablespoon measure, scoop dough and drop onto prepared baking pan leaving about 1 ½ to 2 inches between cookies. Bake for about 9 to 11 minutes or until cookies are set and edges just begin to brown.

Remove from oven and cool completely.

When ready to dip, prepare a baking pan with a piece of parchment or silicone baking mat. Dip each cookie half way into chocolate, allowing excess to drip off. Place on prepared baking pan and allow chocolate to set -- you can do this even quicker by placing it in the fridge or freezer for a few minutes.

When chocolate is set, they're ready to package!