Duchess Potatoes! This elegant potato side dish is both beautiful and flavorful! A perfect companion for a steak dinner or special entree.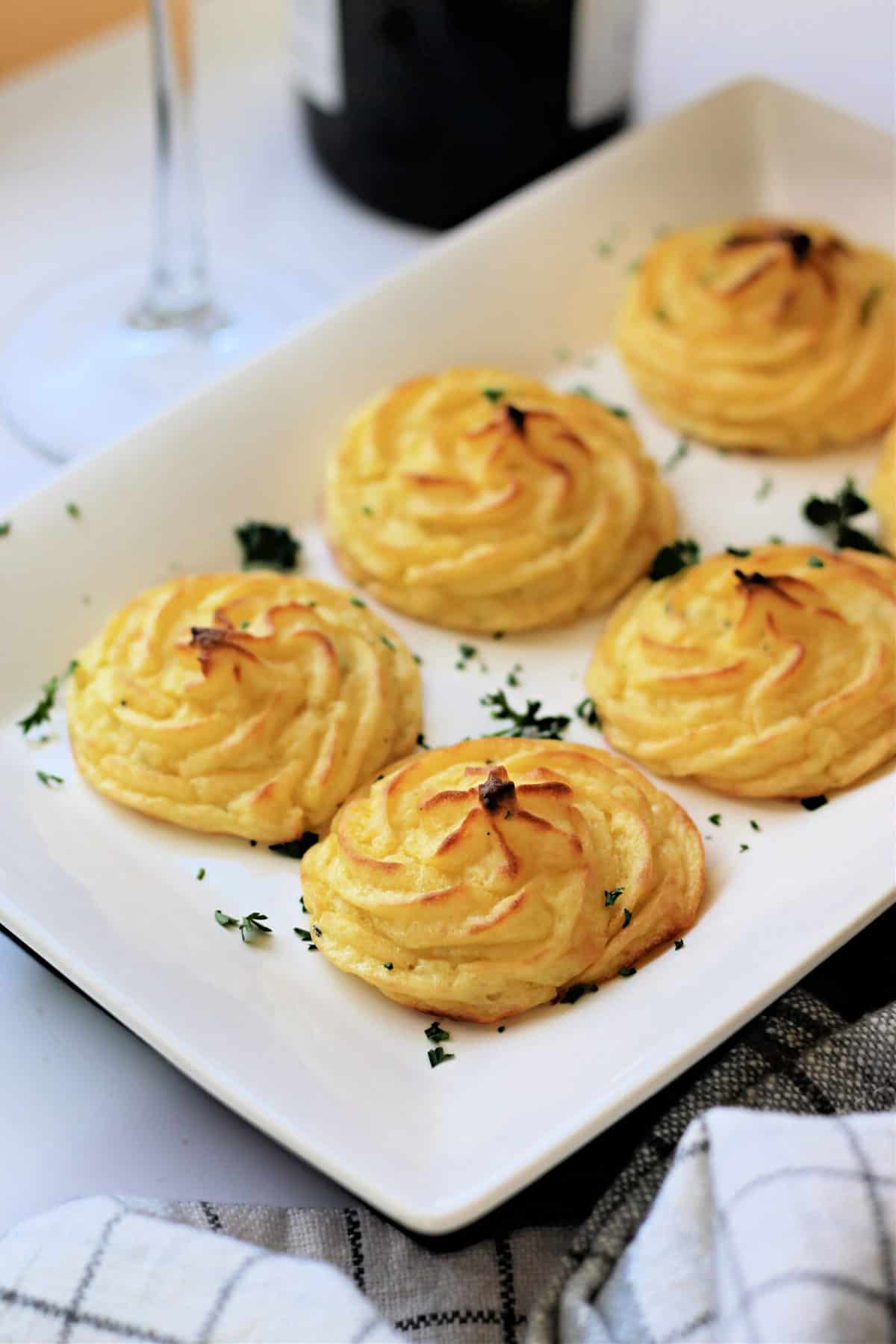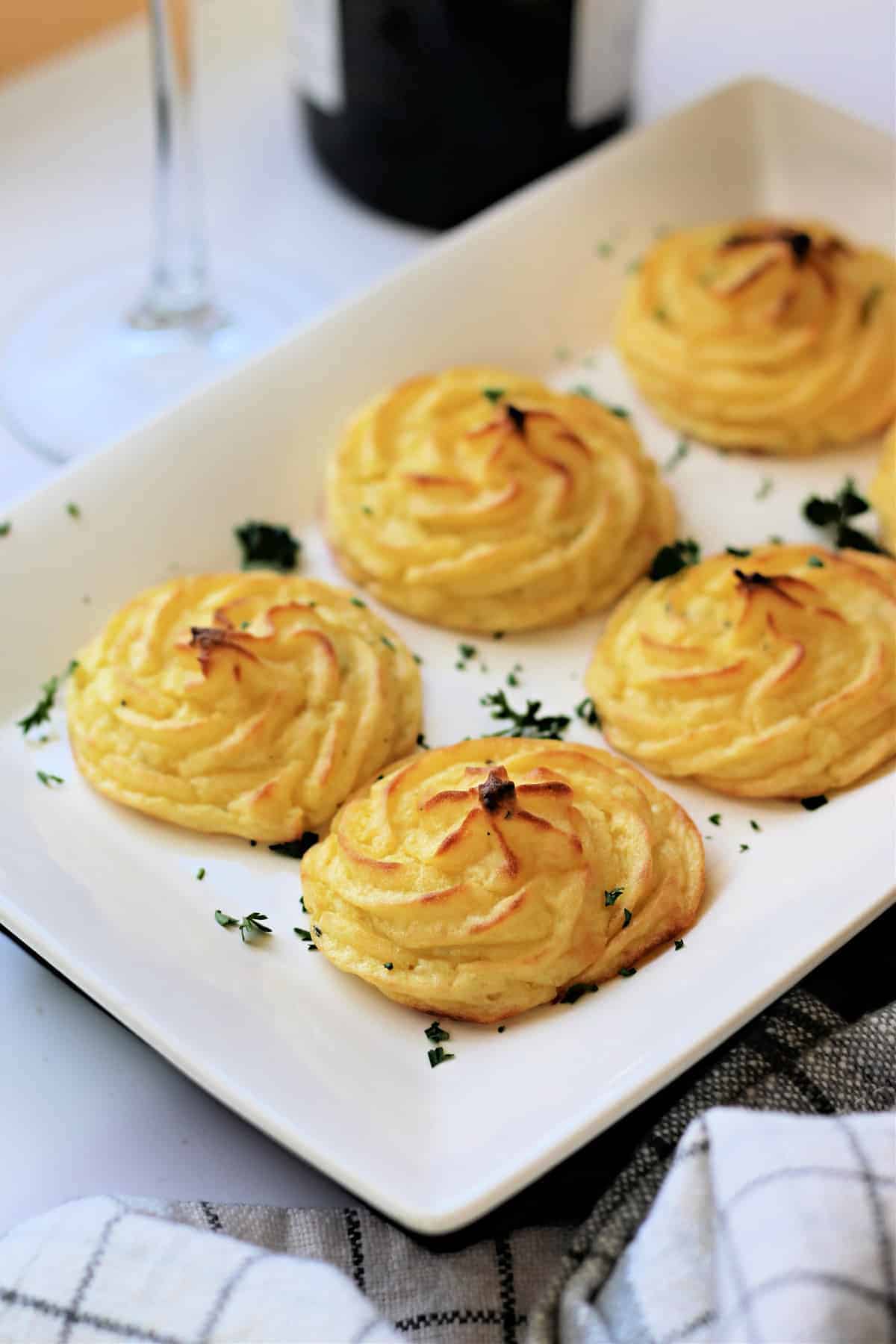 This post may contain affiliate links, which means that, at no extra cost to you, I may earn a small commission if you click a link and purchase an item I've recommended. Thanks for your support in running this blog!
Potatoes are one of the best side dishes for so many types of meals: steak dinners, roasted chicken, vegetarian mains, you name it! Although they're quite delicious in just about every form, sometimes it's nice to give them an elegant upgrade. Duchess Potatoes are just the recipe you need when you want to elevate your 'tater game.
This recipe is naturally gluten-free and vegetarian.
Jump to:
What are Duchess Potatoes?
Duchess potatoes are soft, mashed potatoes that are piped into decorative swirls and baked until golden brown. As they bake, they remain creamy on the inside and lightly crisped on the outside for a mouthwatering bite that is similar to the filling of a twice-baked potato. Due to the addition of egg yolks (which help give them structure) and other ingredients such as butter, and in this recipe Boursin cheese, these pretty potato mounds are rich and decadent -- a perfect addition to a fancy dinner.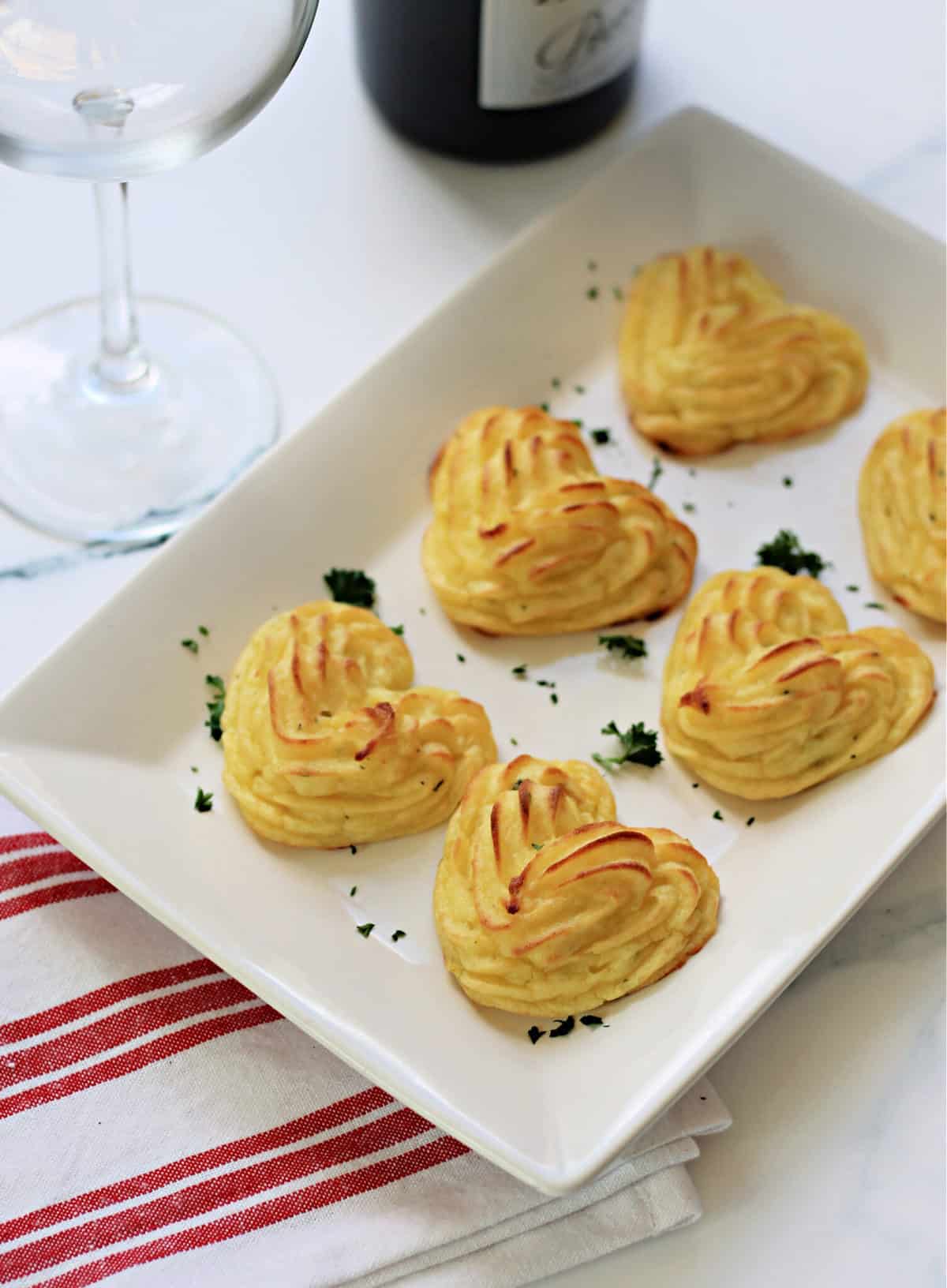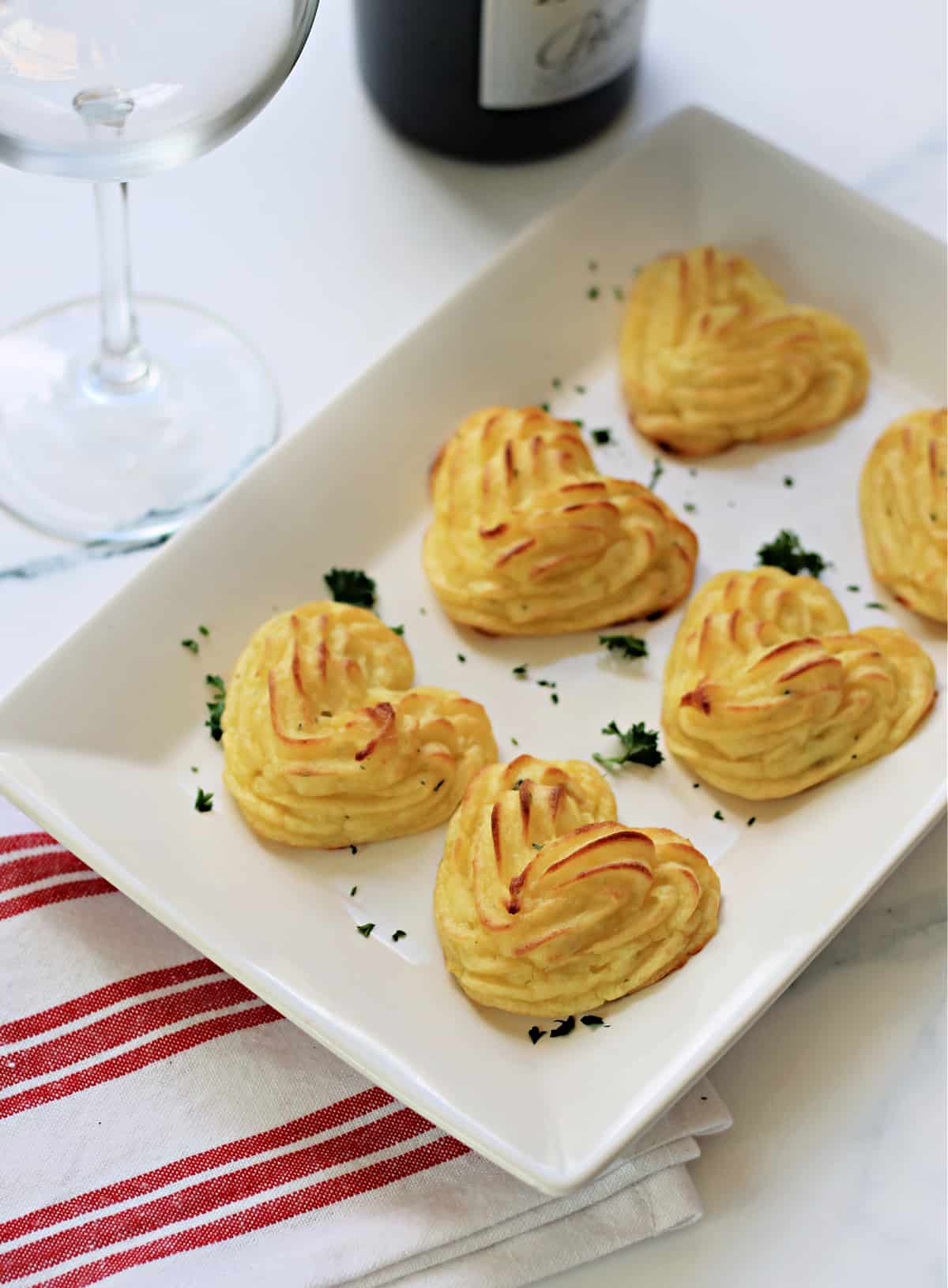 Ingredients
Directions
Don't let the elaborate look fool you, these potatoes aren't terribly difficult to make! They take a few steps, but they're fairly easy. Here's how I do it: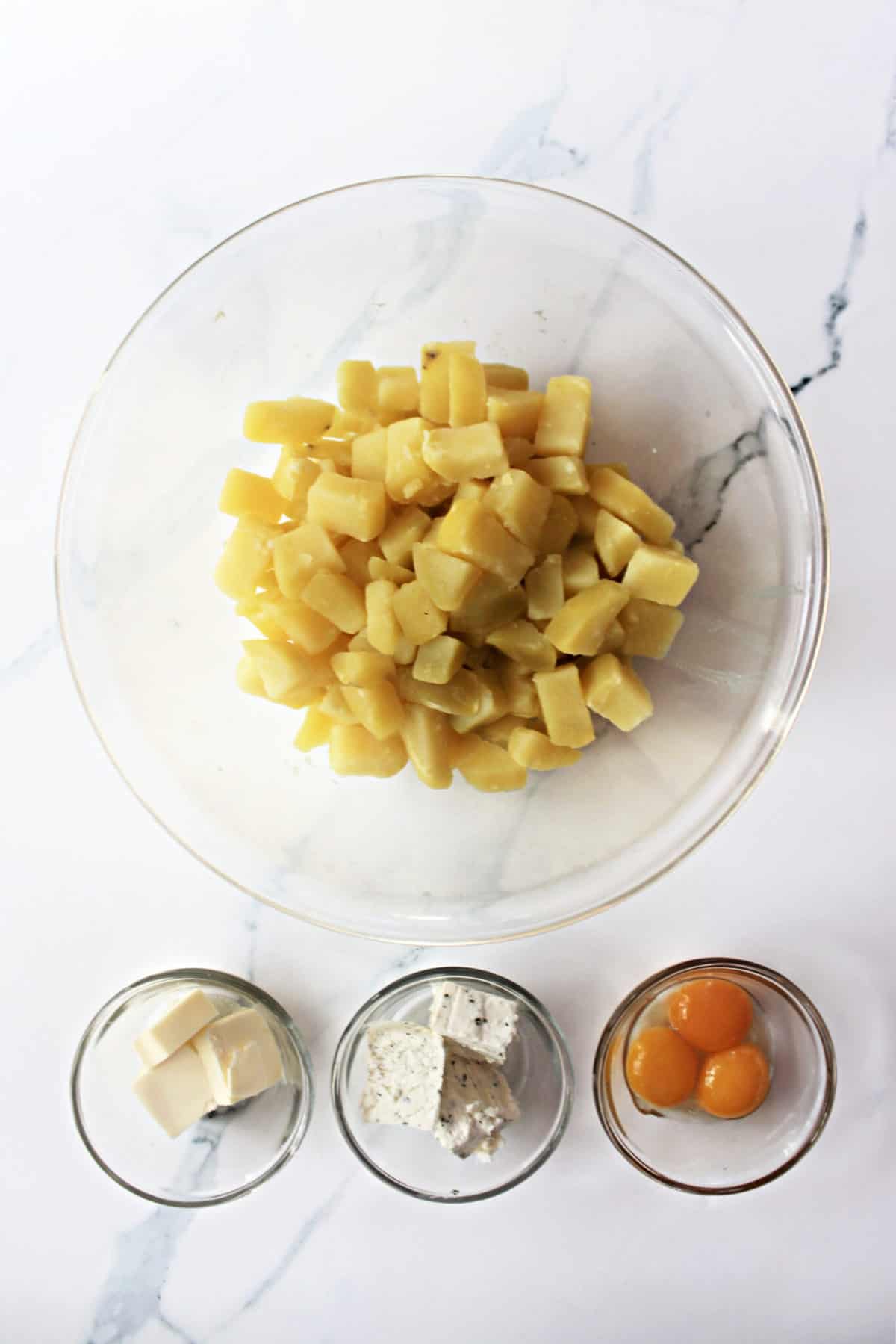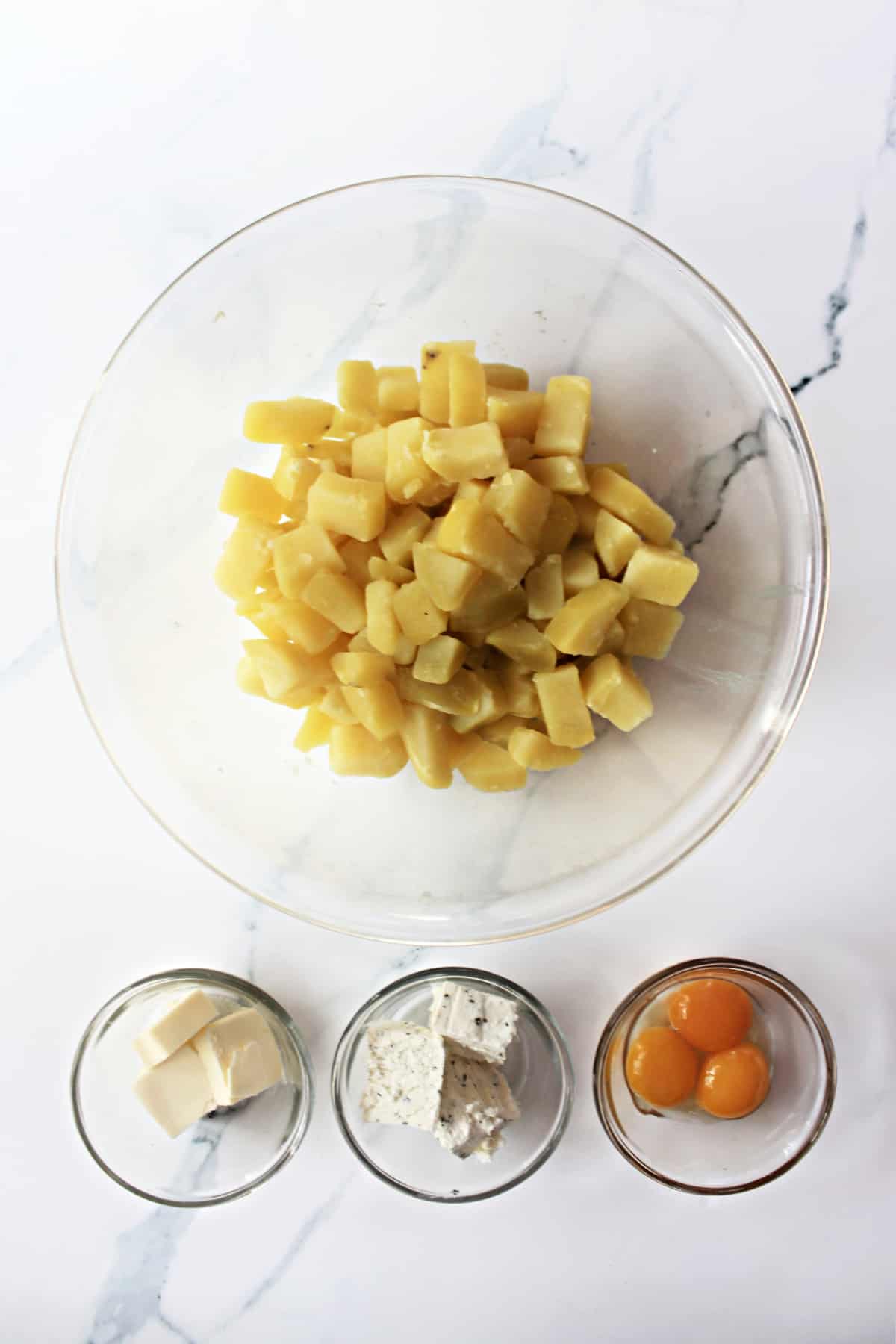 Duchess potatoes start off the same way as mashed potatoes -- peel the potatoes, cube them, and boil until tender. Then drain the potatoes and let them sit for a few minutes to dry out and cool down.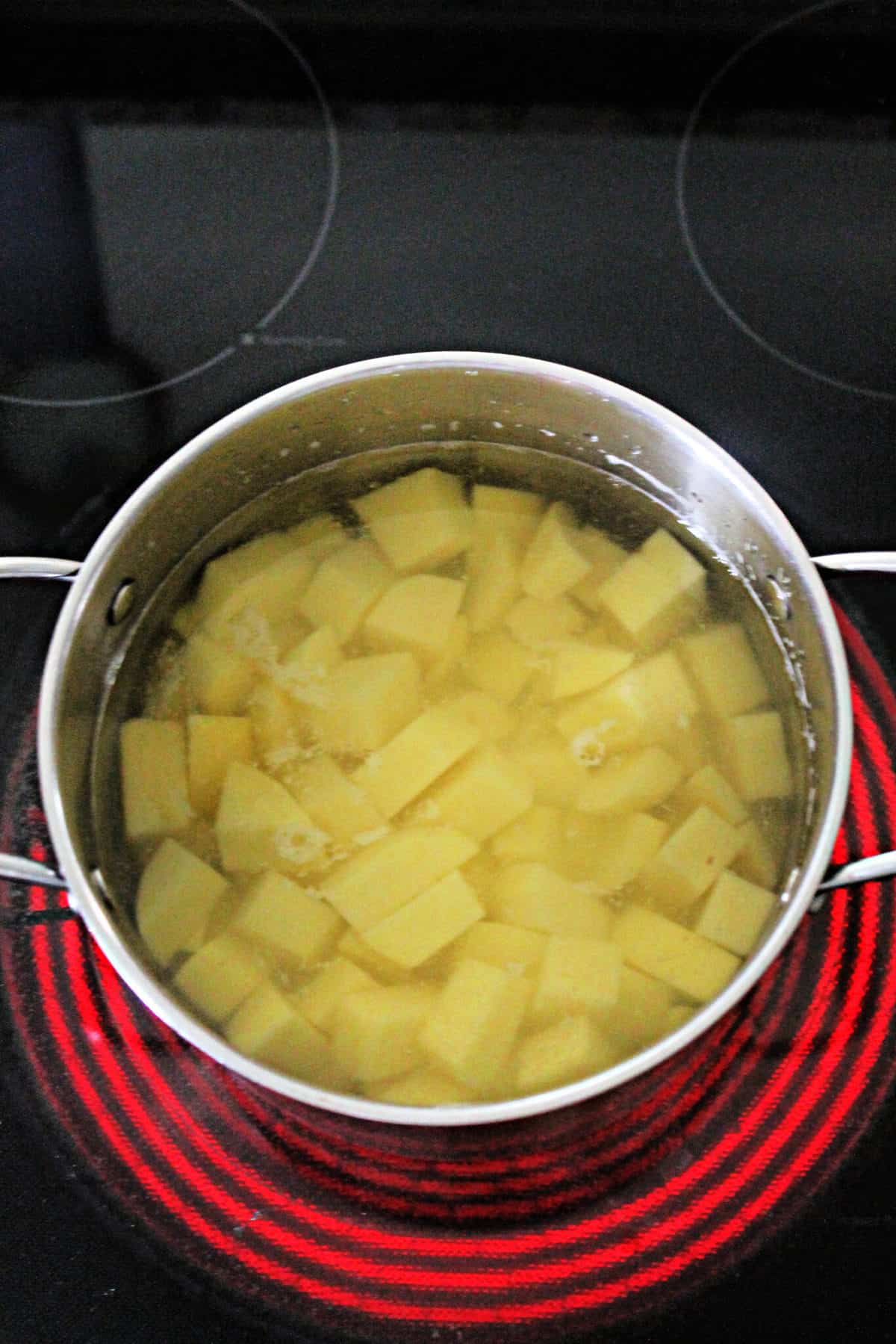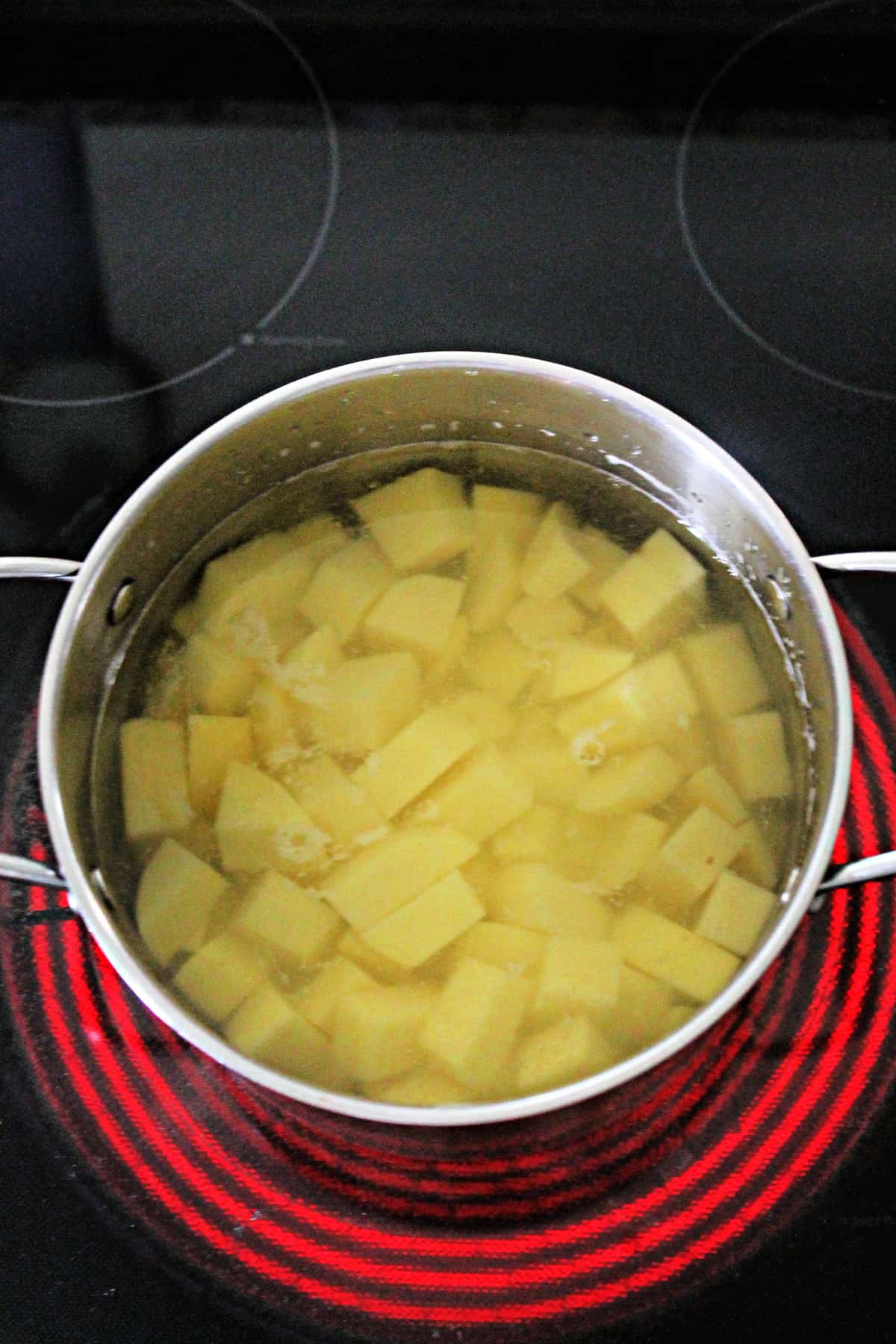 Next, the cooked potatoes are mashed with the rest of the ingredients -- eggs, butter, cheese, etc. -- until smooth, and scooped into a piping bag with a decorative tip. The mashed potatoes are piped into swirly mounds, just like the frosting on a cupcake, or into desired shapes, then brushed with butter and baked until lightly golden on the outside.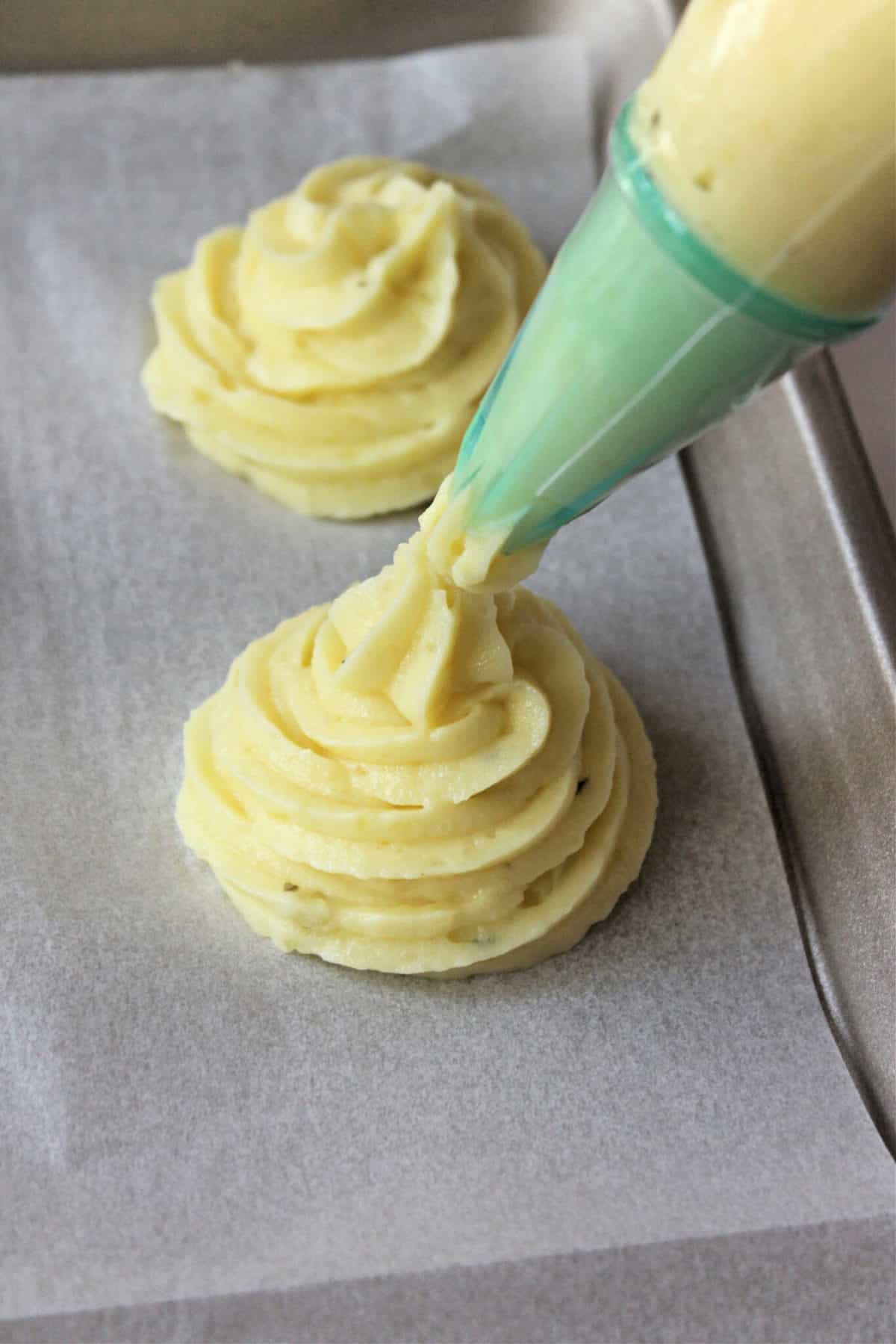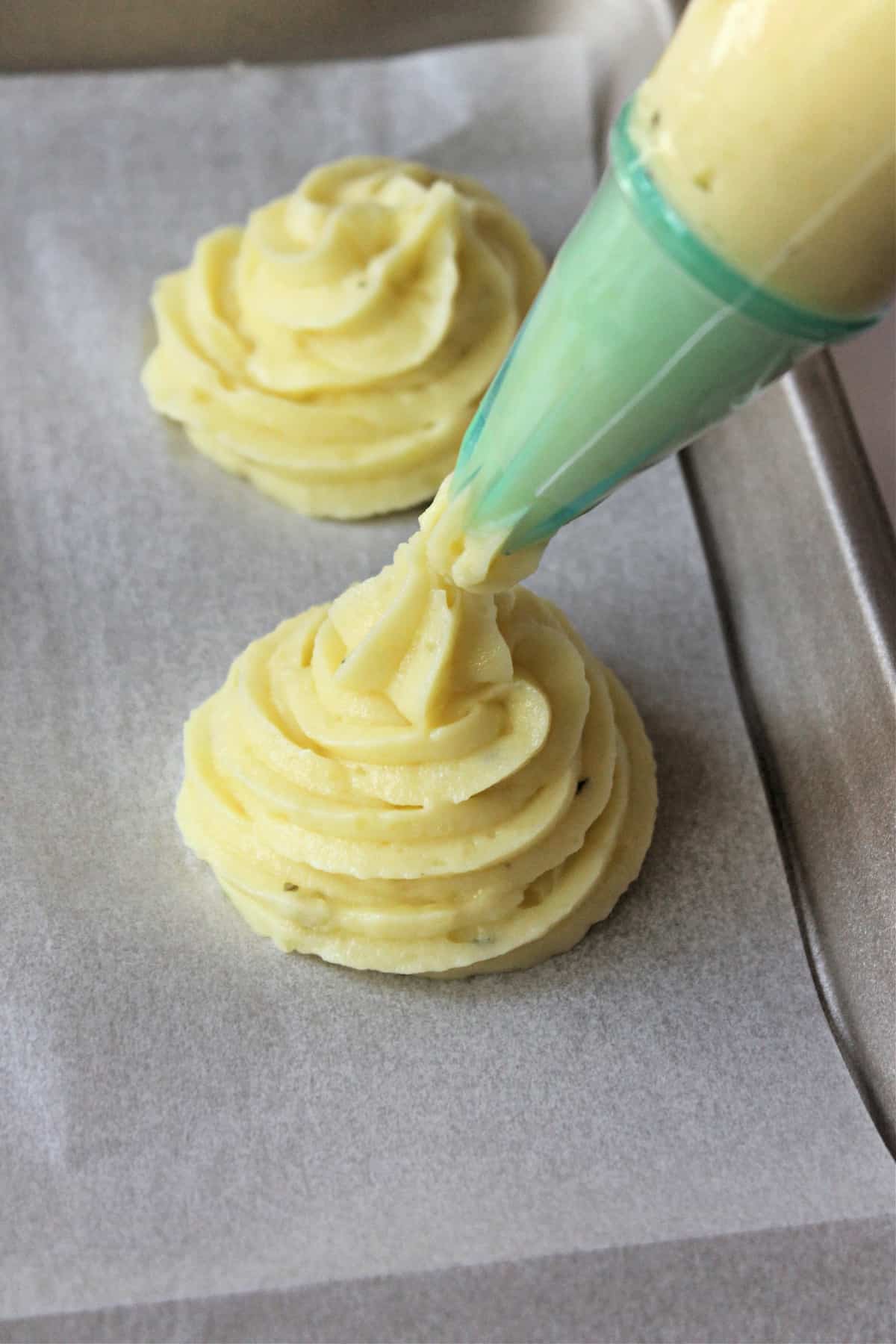 That's it! The results are impressive, but the preparation isn't terribly difficult!
FAQ's
What type of potatoes should I use?
For this recipe, I used Yukon gold potatoes -- they're creamy and buttery in texture with a pretty yellow hue and moderate starch content. However, Russet potatoes are a good alternative with their high starch content and fluffy texture when mashed or whipped. 
What if I don't have a piping bag?
No piping bag? No problem. You can either use a zip top bag with the tip snipped to pipe the potato mixture into mounds, or simply spoon mounds onto a parchment-lined baking sheet, then use the tines of a fork to create decorative ridges. (This is what makes them look pretty when they brown in the oven.)
Can Duchess potatoes be made ahead?
One of the best things about these potatoes is that they can be prepped ahead. Follow the directions as noted, then pipe the potato mixture onto a parchment-lined baking pan. (Hold off on brushing them with butter until you're ready to bake them.) Carefully cover the pan with a piece of plastic wrap and refrigerate overnight. When you're ready to bake them, remove them from the refrigerator and brush them with melted butter and bake as directed. 
Tips for Duchess Potatoes
There are a few things that will help make these potatoes perfect: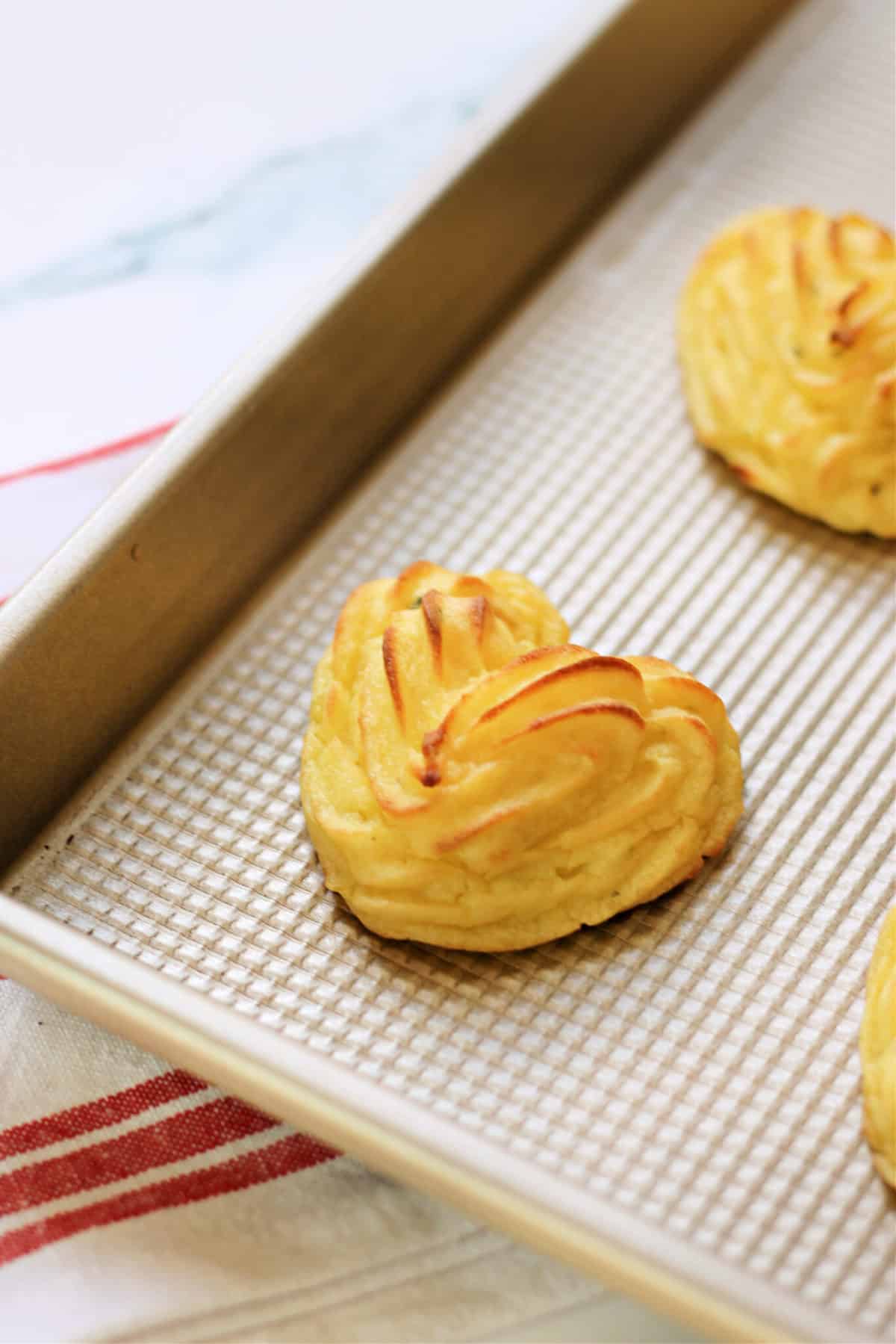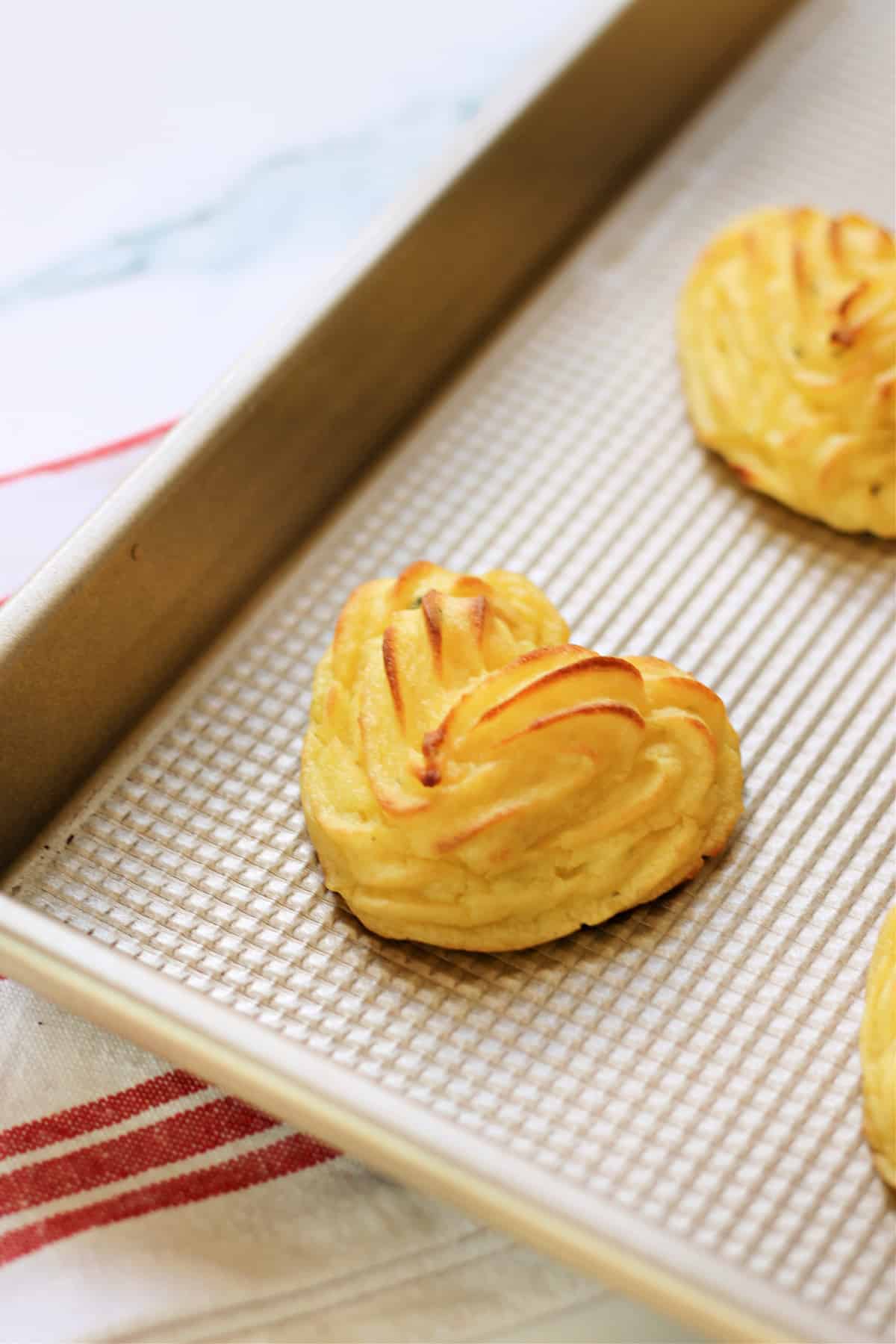 Variations & Substitutions
This recipe made some scrumptious potatoes, but there are other variations that would be just as good too!
More Potato Side Dishes
If Duchess Potatoes aren't your thing, fear not! I've got several potato side dishes that are absolutely delicious and easy to make: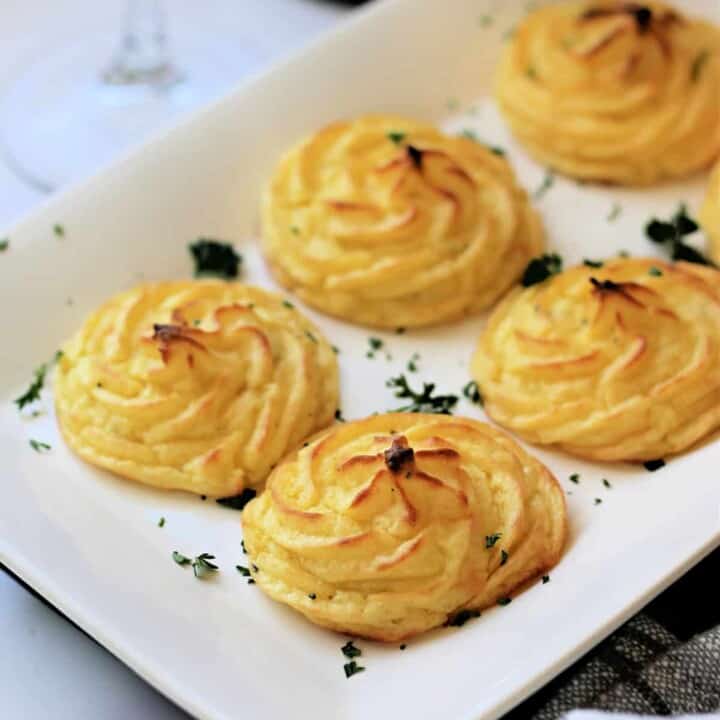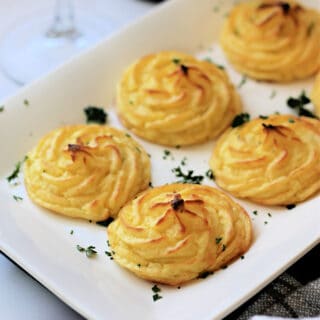 Duchess Potatoes
Duchess Potatoes! This elegant potato side dish is both beautiful and flavorful! A perfect companion for a steak dinner or special entrée.
Ingredients
2

pounds

yellow potatoes (or potatoes of your choice)

peeled & chopped

5

tablespoons

butter

divided

2½

ounces

Boursin garlic & herb cheese

(half of a package of Boursin cheese)

3

egg yolks

¼

cup

whole milk
Instructions
Fill a large pot with generously salted water. Place potatoes in pot and bring to a boil over medium-high heat for about 12-15 minutes or until the potatoes are fork tender. Drain and let potatoes cool and dry out for about 15 minutes.

Preheat the oven to 425 degrees and line a large baking pan with parchment paper. Set aside.

Place the cooked potatoes in a large bowl; add 3 tablespoons of butter, Boursin and egg yolks (I found that mine didn't need salt, but season to taste.) Mash or mix until mostly smooth, then add milk and mix until everything is smooth and fully combined.

Scoop the potato mixture into a large piping bag fitted with an open star tip. Pipe the mixture onto the lined baking pan into desired decorative swirls.

Melt remaining 2 tablespoons of butter and gently brush over piped potato mounds, careful not to flatten the swirls.

Bake for 20 minutes or until golden brown. Serve warm, garnished with fresh herbs if desired.
Notes
Variations:
Cheesy Duchess Potatoes. Try using different cheeses such as Parmesan or Grana Padano in your potato mash to give the potatoes a cheesy twist. 
Herbed Duchess Potatoes. Finely chop some herbs and add them to the potato mixture for a fragrant punch! Rosemary, parsley, and chives are all great options.
Roasted Garlic Duchess Potatoes. Sweet, deeply roasted garlic turns into a paste that can be added to mashed potatoes or to the potato mixture here for an aromatic take on the recipe.
Duchess Potato Casserole. Instead of piping individual mounds, pipe the mixture into a baking dish for a casserole-style presentation. (You can also use the mixture on top of a dish like shepherd's pie instead of using plain mashed potatoes.) If you don't feel like messing with a piping bag, you can simply spread the potato mixture into a greased casserole dish, create swirls using the back of a spoon or the tines of a fork, and bake at 425 degrees for 30-40 minutes.