If you're a tea drinker -- and even if you're not -- I've got a fun, St. Patrick's Day-inspired tea latte that you must try: The Dublin Fog! Inspired by a "London Fog", this version is an Irish twist that is just as enjoyable and perfect for chilly March mornings.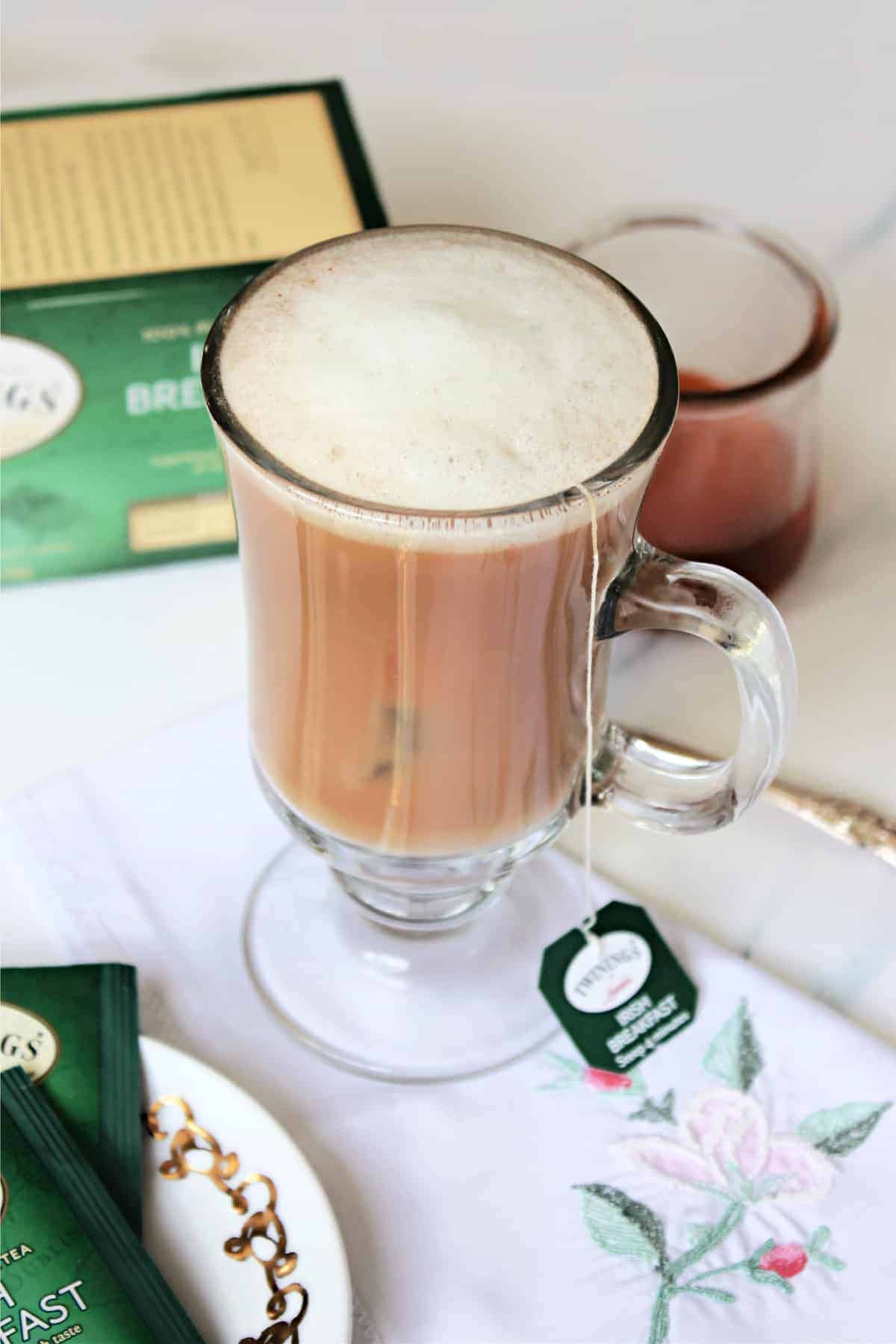 This post may contain affiliate links, which means that, at no extra cost to you, I may earn a small commission if you click a link and purchase an item I've recommended. Thanks for your support in running this blog!
Inspired by the "London Fog", my "Dublin Fog" is a comforting tea latte made with Irish Breakfast Tea, vanilla syrup and frothed milk.
It's the perfect drink to cozy up with on a cold day or a great addition to an Irish-inspired breakfast for St. Patrick's Day!
Looking for more coffeehouse-style drinks? Try your hand at my Coconut Mocha Latte, Fluffernutter Latte, or Graham Cracker Latte!
This recipe is naturally vegetarian and gluten-free and can be made vegan by using a plant-based milk instead of regular.
Jump to: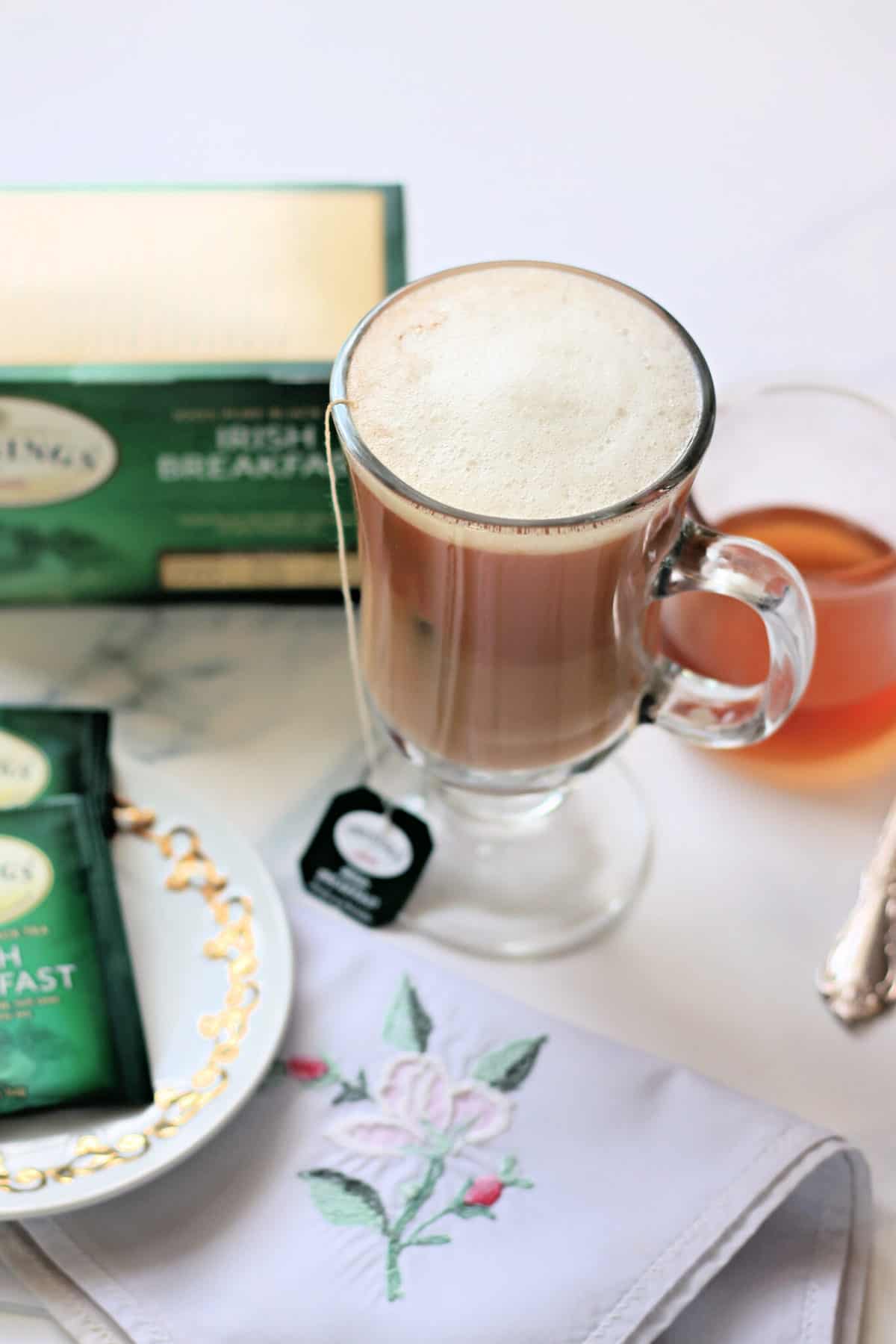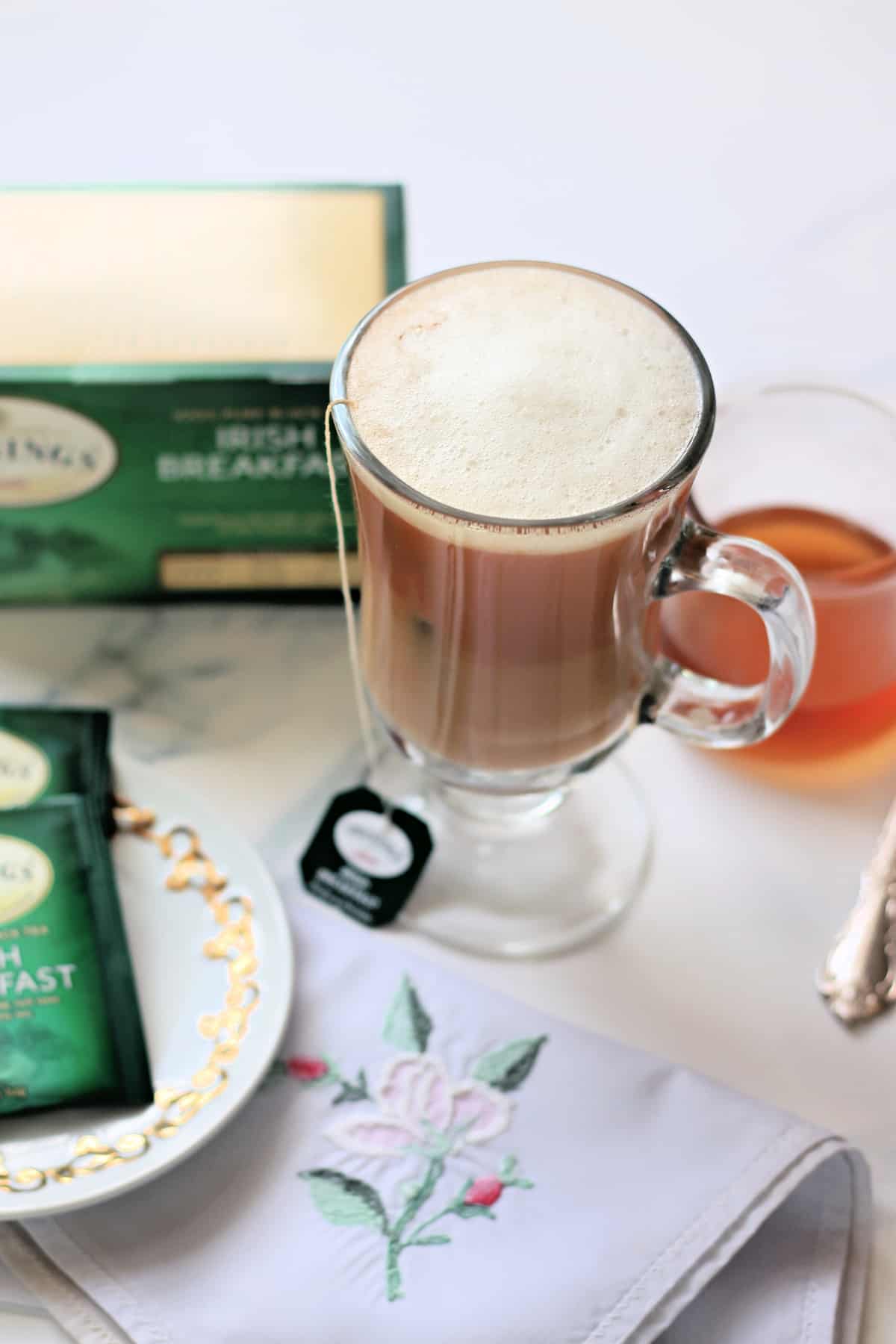 London Fog Drink
Have you ever heard of a London Fog? This tea latte is made with Earl Grey tea, steamed milk and vanilla syrup. It's what I order when I'm not in the mood for coffee of chai, my normal go-to's, and it's very easy to make at home, too! A London Fog is a fantastic beverage for any time, whether as a part of your morning ritual or as an afternoon pick-me-up.
In the spirit of all things Irish and St. Patrick's Day, I created a spin on the London Fog that I've dubbed The Dublin Fog! Made with Irish Breakfast tea, steamed or frothed milk and vanilla syrup, it's an easy adaptation that you'll love.
What is Irish Breakfast Tea?
Irish Breakfast Tea is a blend of several black teas, typically a combination of Assam teas and Ceylon teas. This tea is dark in color and robust in flavor with a malty aroma. While some prefer to drink this tea black with honey or sugar, Irish Breakfast tea is often served with milk due to its strength.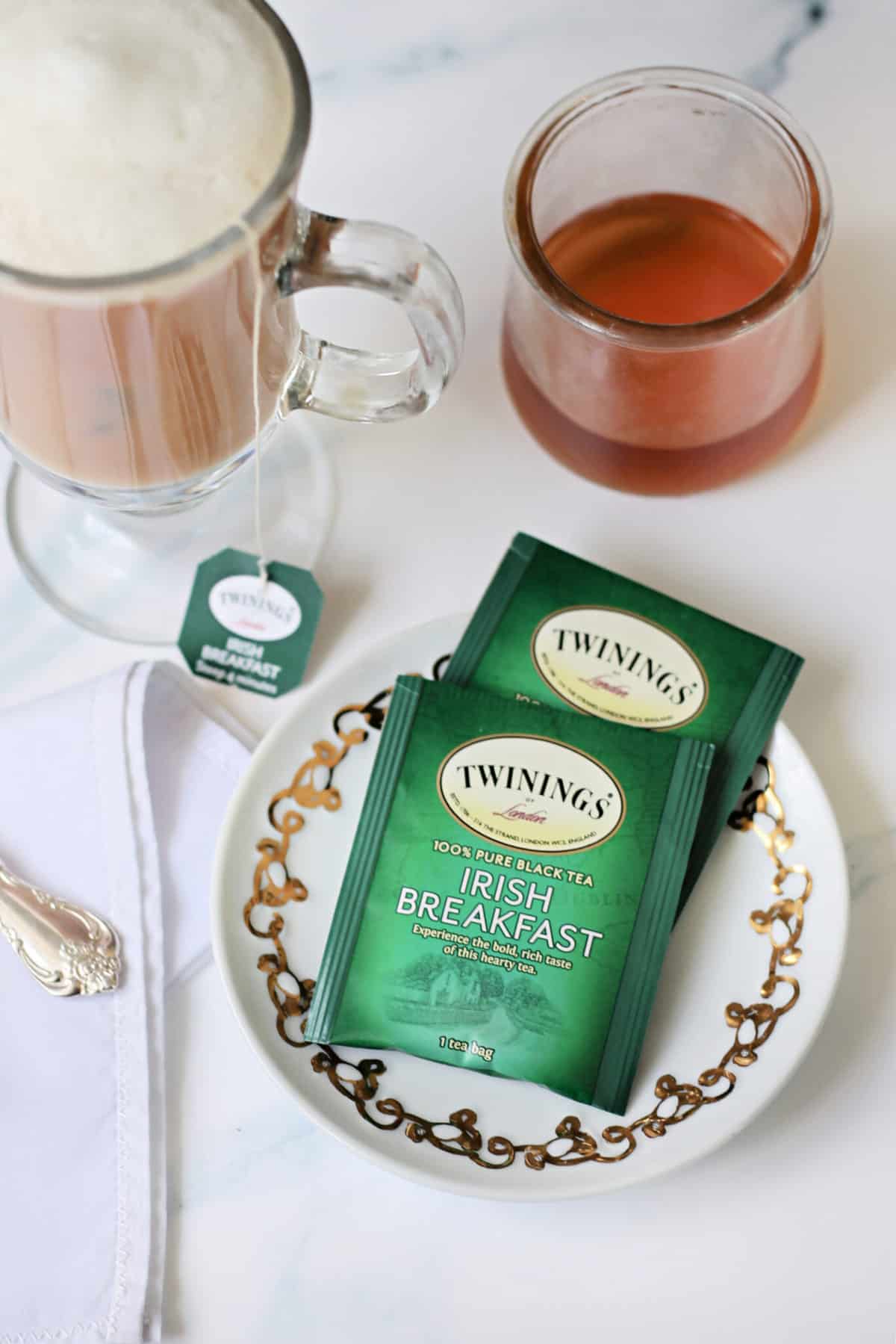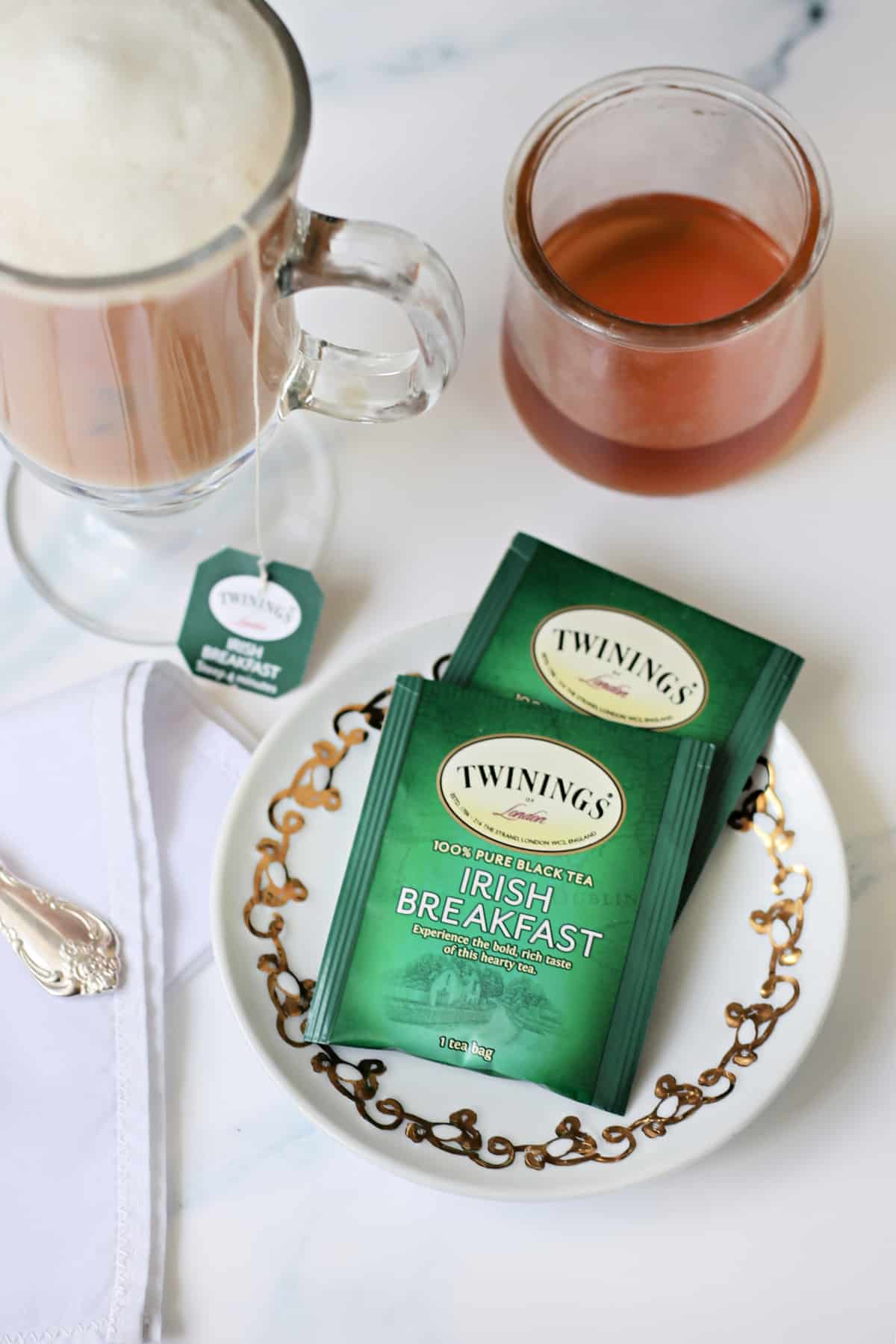 To make Irish Breakfast Tea, simply bring water to a boil (I love my electric kettle for this task and for my morning pour over coffee), and pour the water into a teacup with an individual tea bag. For loose leaf tea, use a rounded teaspoon per serving in a mesh tea infuser or tea ball. Steep for 4 minutes, then add warmed milk and sugar if desired.
How to Steam Milk
To be completely honest, I never knew there was a difference between steamed milk and frothed milk, but coffee and tea connoisseurs (and I'm sure baristas around the globe) will know that the two are not interchangeable.
According to various online references, steamed milk is much "heavier" than frothed milk. Steamed milk is produced when milk comes into contact with the steam wand on an espresso machine. When the milk is exposed to direct contact with the steam, the fats break down and create "microfoam" or tiny microbubbles that come from the milk expanding. The dense, silky milk that is produced as a result of steaming is what you'll often find in legitimate espresso drinks.
Technically, this is what you want when you create a latte. But unless you have a fancy espresso machine (which I do not), there are other ways to create coffeehouse-style lattes at home that will taste just as good even if they're not properly made.
How To Froth Milk
Now that we know that steamed milk is not the same as frothed milk, let's delve a little deeper into what exactly frothed milk entails.
Foamed or frothed milk is created when milk is agitated using a frother, whisk, French press to create tiny, airy bubbles. This is the light, cloud-like foam that you see on top of espresso drinks like cappuccinos and lattes.
Frothed milk is "dryer" (less heavy and wet) than steamed milk, which helps it hold its shape, sit atop another liquid and serve as the canvas for latte art. 
To froth milk for the Dublin Fog, I use a handheld frother. Here's how I do it: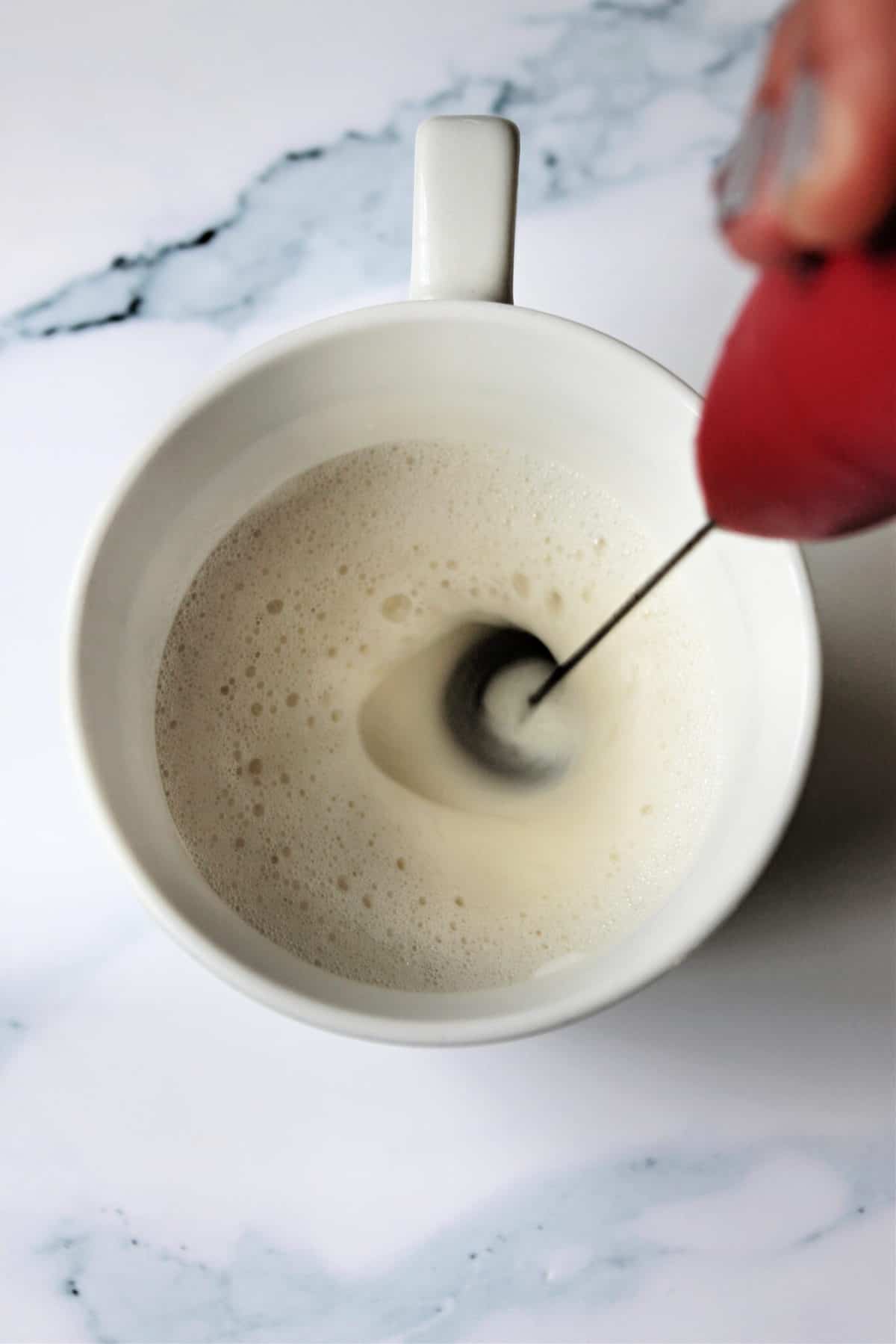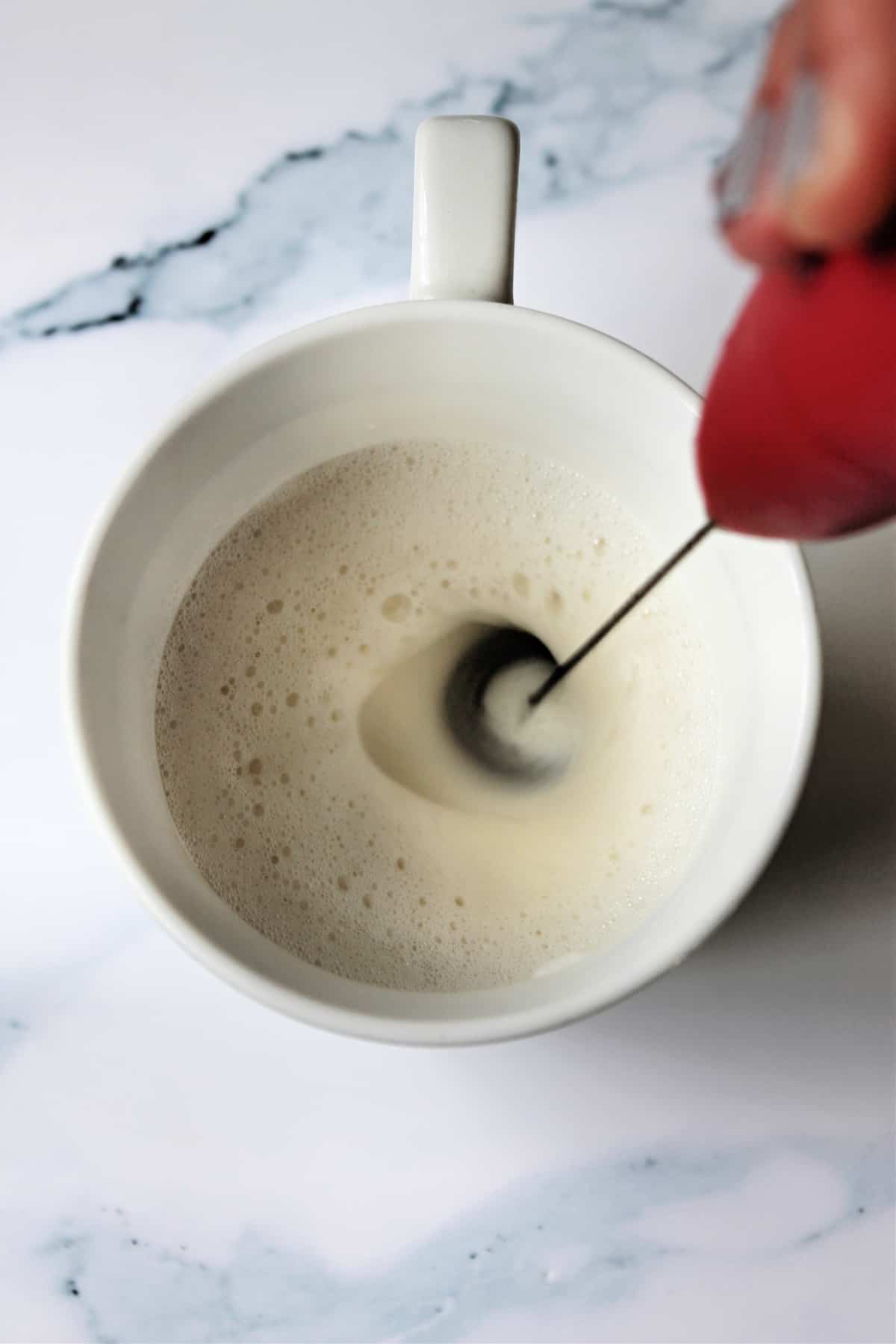 Heat milk in a microwaveable mug or measuring cup. Don't bring it to a boil, just heat until scalding (150°F) -- it'll be steaming and have small bubbles around the outside. (You can do this on the stovetop if you prefer.)
Immerse the wand of the frother into the milk and press the button to turn it on. The milk will begin to spin and get some air bubbles.
Carefully lift the frother and tilt to create the airy foam. Depending on the kind of milk you use (whole milk or full fat oat milk work best), you may be able to get the volume of the milk to double! Froth until you've got your desired amount of airiness.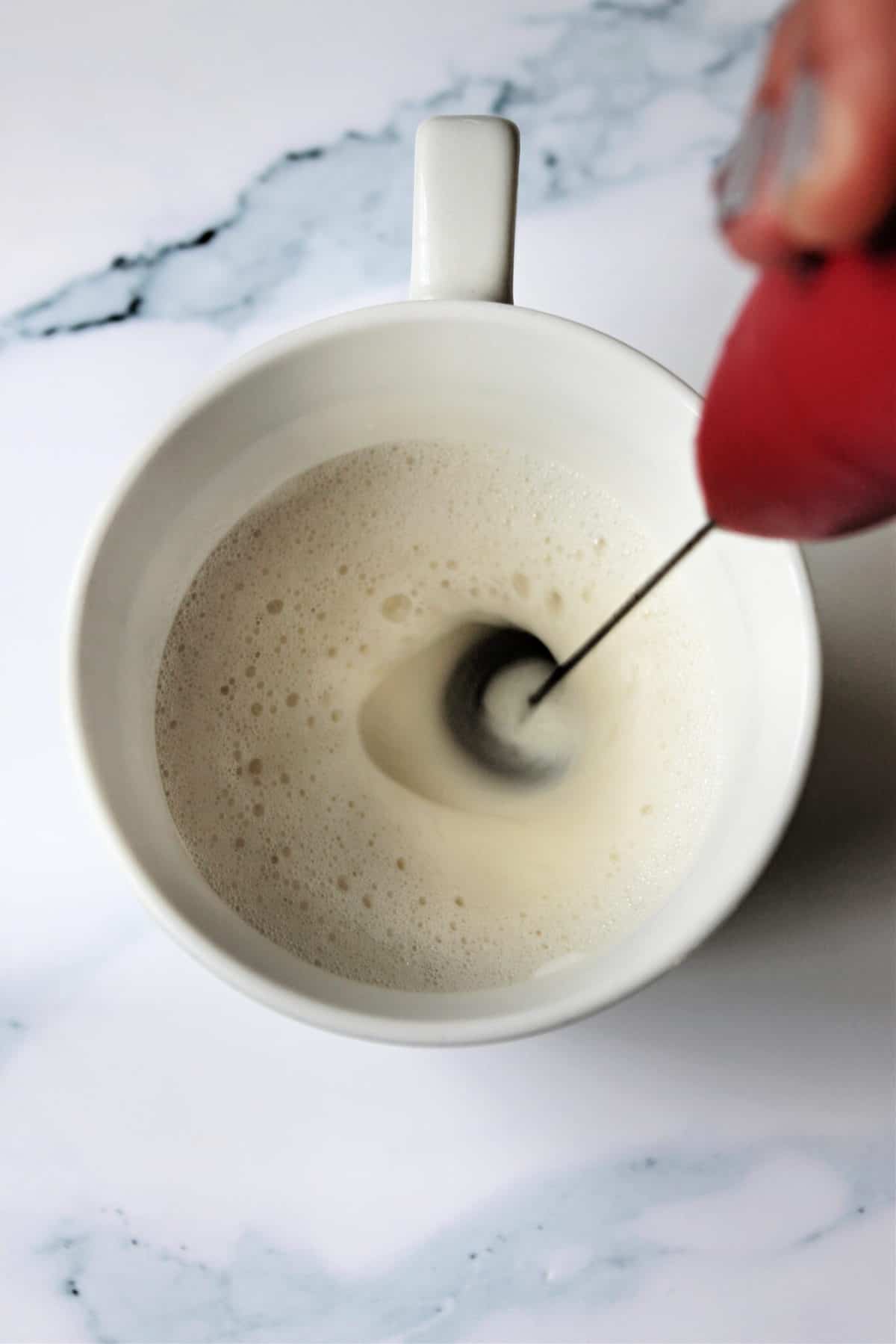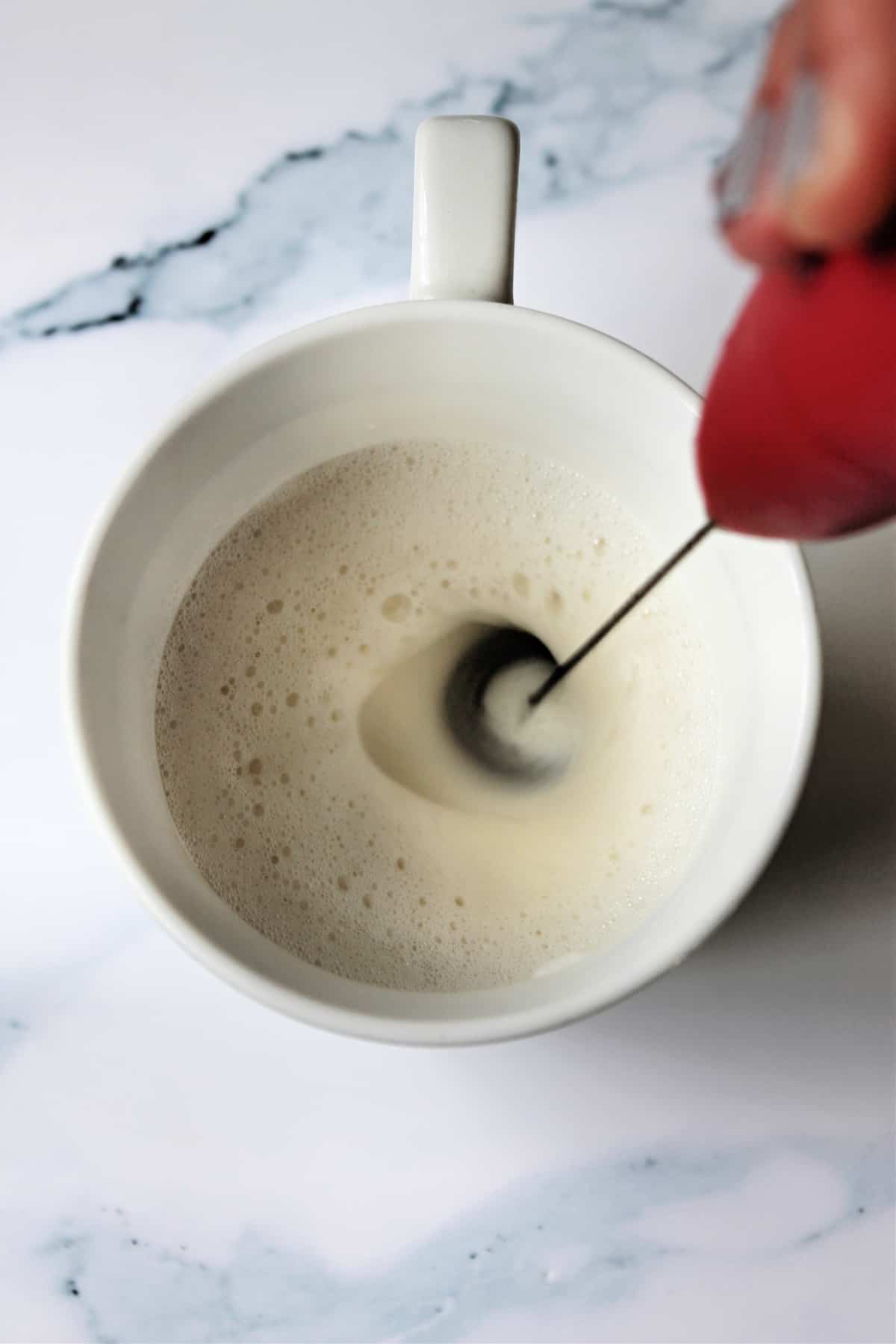 Pour the milk into your tea or coffee and spoon the remaining froth onto the top. Step back and admire your handiwork!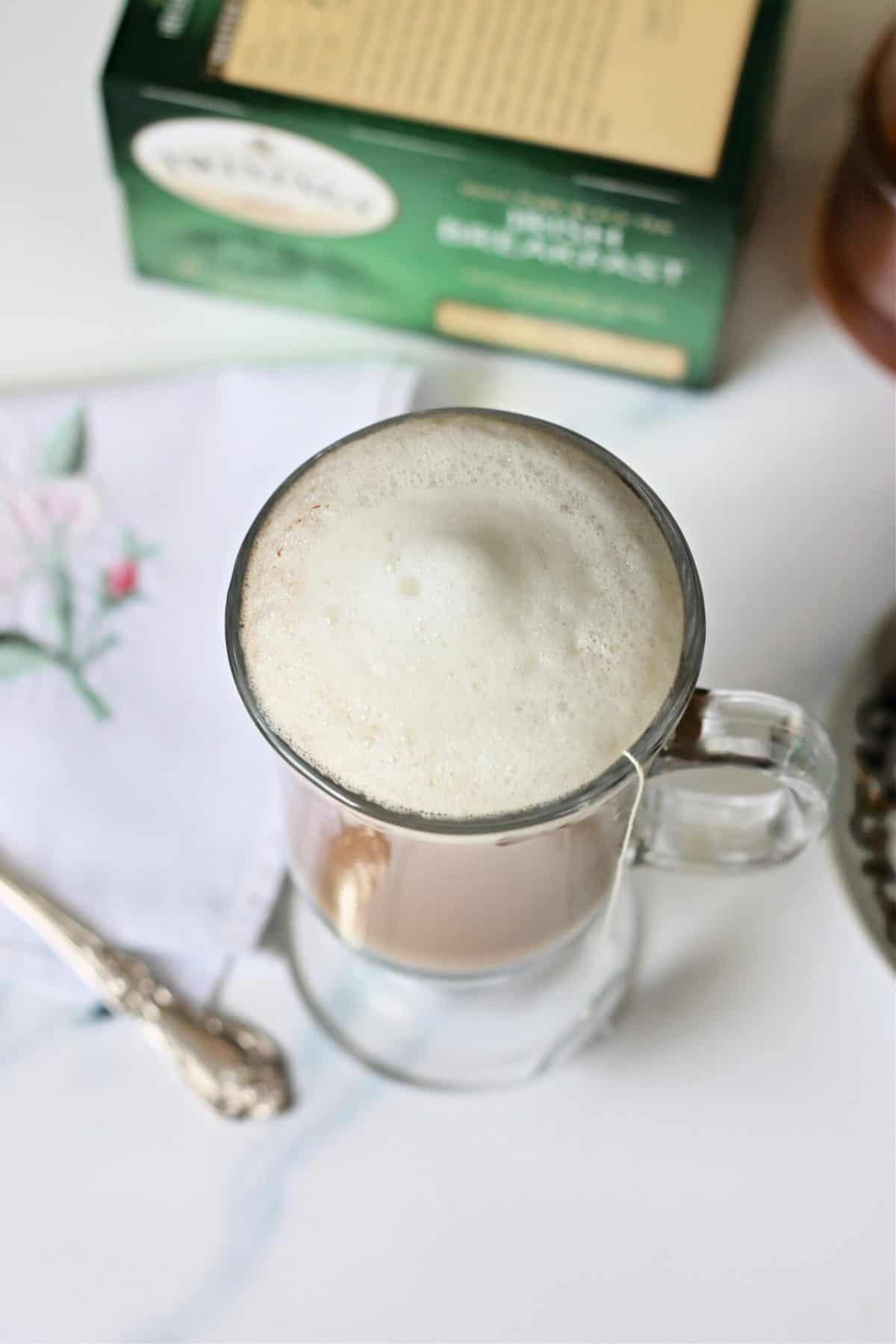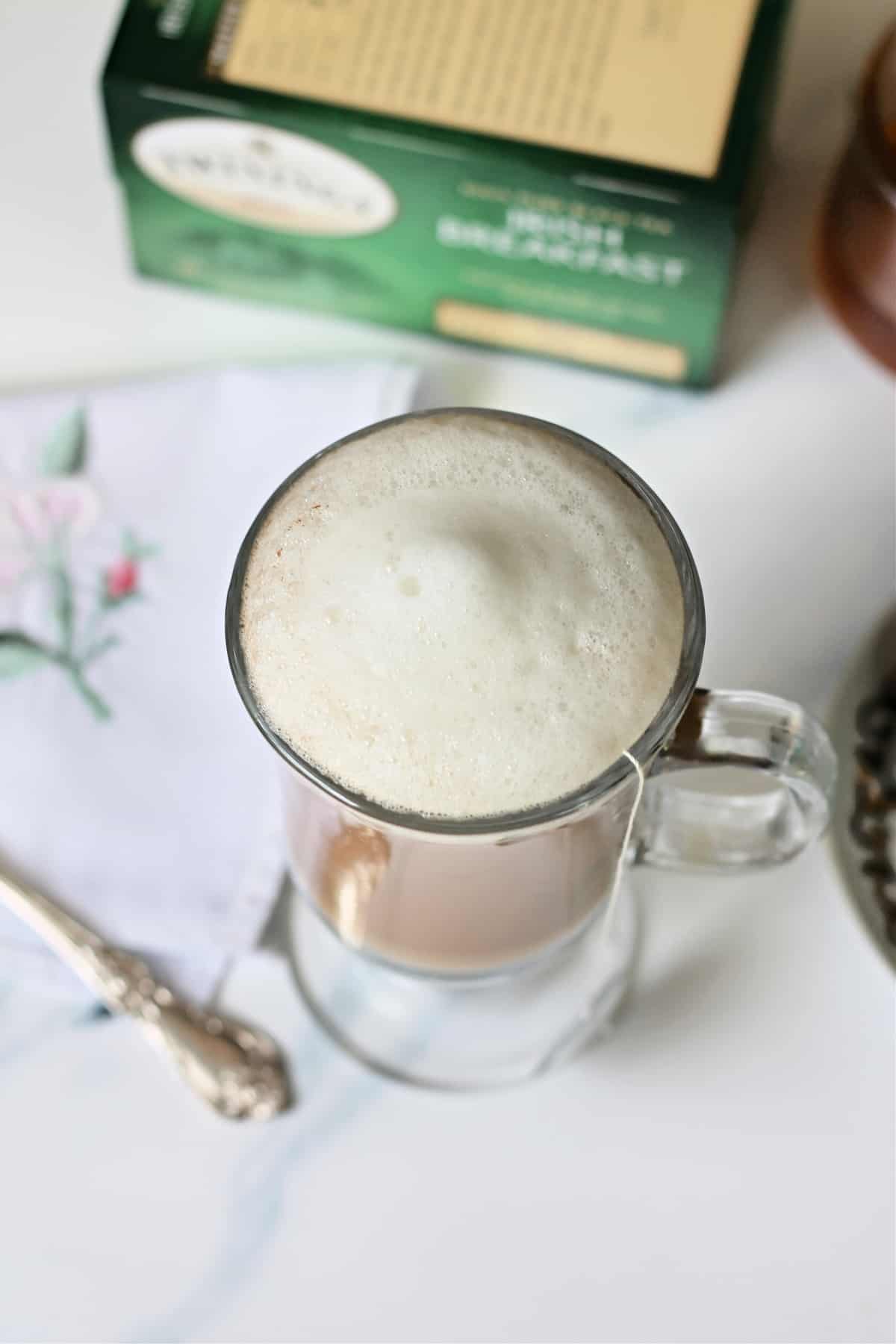 This article shares eight different ways to create your own milk froth at home, both with and without any additional tools! So, don't be discouraged if you don't have a frother or special equipment -- you can still top your tea latte with frothy foam!
Homemade Vanilla Syrup
As I mentioned, the Dublin Fog latte is flavored with vanilla syrup, which gives it a wonderful sweetness and aromatic quality.
There are many vanilla syrups on the market that can be used for cocktails, desserts, tea and coffee, but it's also very easy to make your own!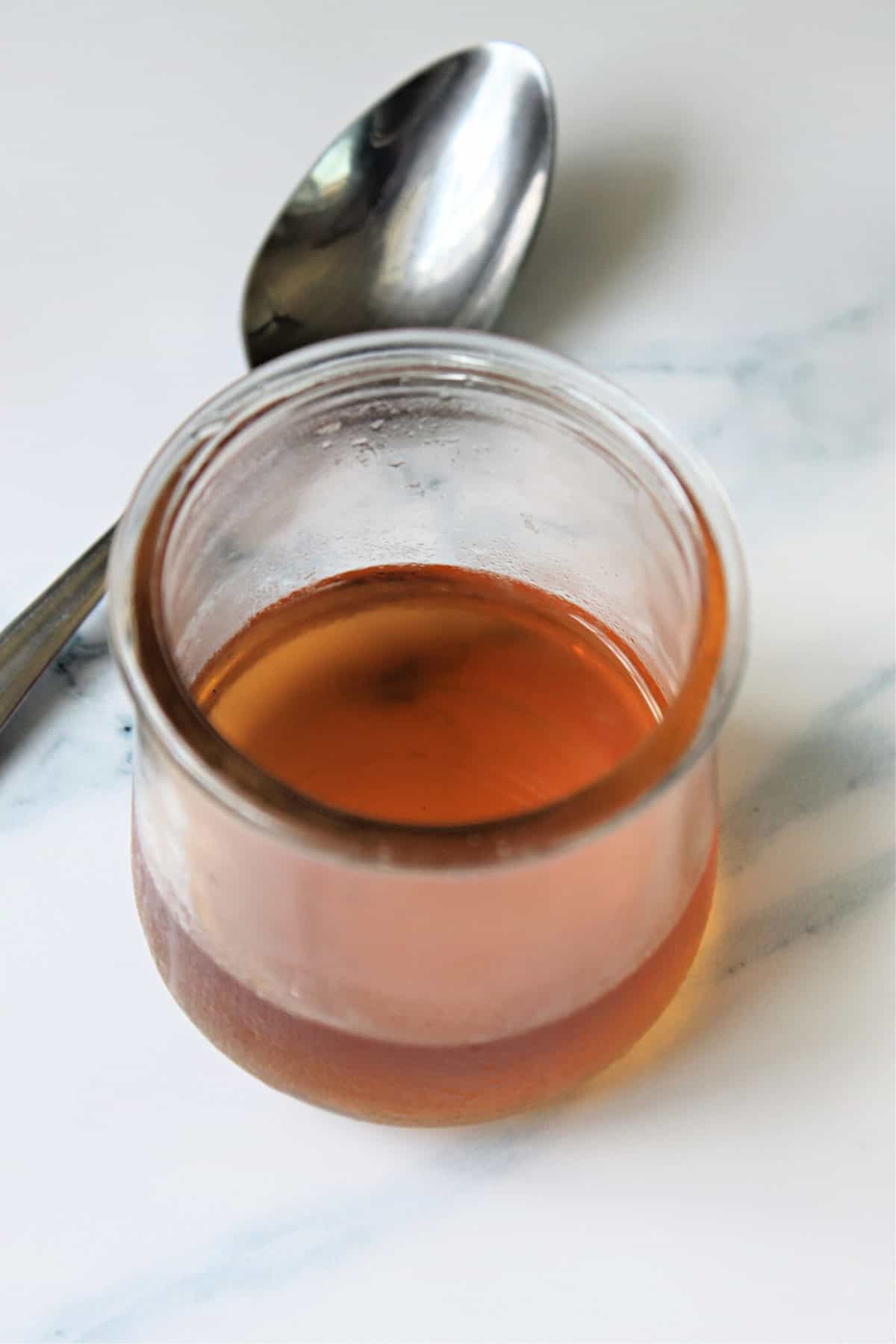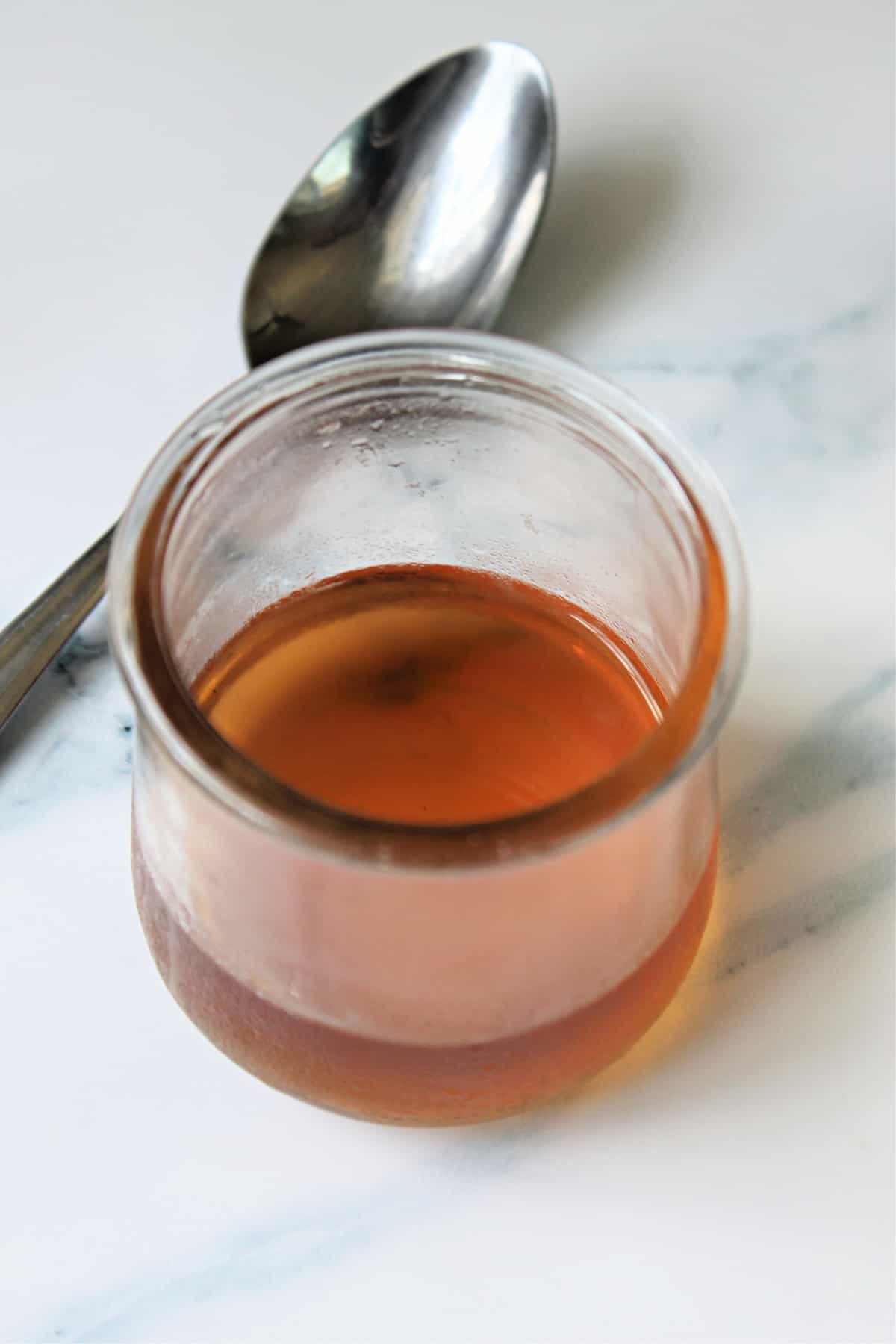 If you can get your hands on a vanilla bean (they're pricy but make everything so delicious!), you can make homemade vanilla syrup using the following steps:
Using a sharp knife, split the vanilla bean down the center. This will expose those tiny little seeds that impart the vanilla flavor.
Combine equal parts water and sugar in a small saucepan.
Toss in the vanilla bean and bring the mixture to a boil over medium-high heat. Boil for about a minute or two, just until the sugar is completely dissolved.
Remove the pan from heat and allow the vanilla bean to steep for 15-20 minutes. The longer you allow it to steep, the stronger the vanilla flavor.
Remove the vanilla bean and discard. Pour the syrup into an airtight container and keep, refrigerated, for up to 1 week.
If you aren't able to purchase a vanilla bean, you can use a good quality vanilla extract in its place. Simply stir in a tablespoon of vanilla extract to the simple syrup once the sugar has dissolved (off the heat).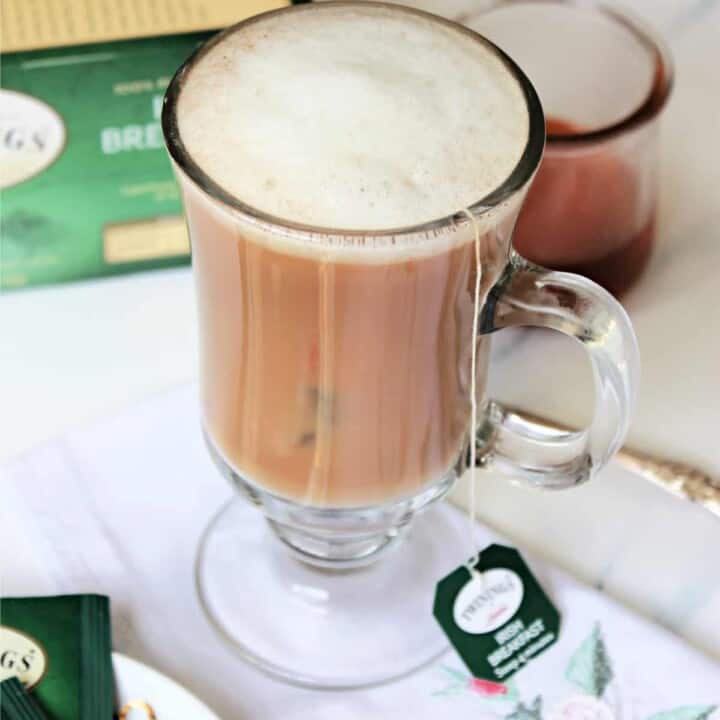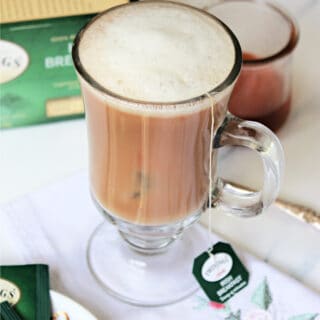 Dublin Fog Tea Latte
An Irish twist on the classic tea latte, the London Fog, this warm and satisfying beverage will make you feel like you're enjoying a coffeehouse treat at home.
Ingredients
¾

cups

boiling water

1

Irish Breakfast Tea bag

¼

cup

milk of choice

full fat is best

1

teaspoon

vanilla syrup

or more if you prefer a sweeter flavor
Instructions
Place teabag in a cup. Pour water over teabag and allow to steep for 4 minutes.

Meanwhile, heat milk in a microwaveable cup for about 45 seconds or until steaming. Remove from microwave and, using a handheld frother (see note below), whip until the milk is doubled in volume and frothy.

Remove the teabag from the cup and stir in vanilla syrup.

Pour frothed milk into tea, scooping out the froth onto top. Enjoy hot.
Notes
Tips:
If you do not have a handheld frother, you can use one of the eight methods from this article to create foamy milk.
To make vegan, use plant-based milk instead of regular.