This shop has been compensated by Inmar Intelligence and its advertiser. All opinions are mine alone. #GrillingWithMazola
Grilled Greek Shrimp Pitas! Plump, marinated grilled shrimp are tucked into a pita pocket stuffed with bright, fresh vegetables in this mouthwatering handheld meal that is perfect for the summertime!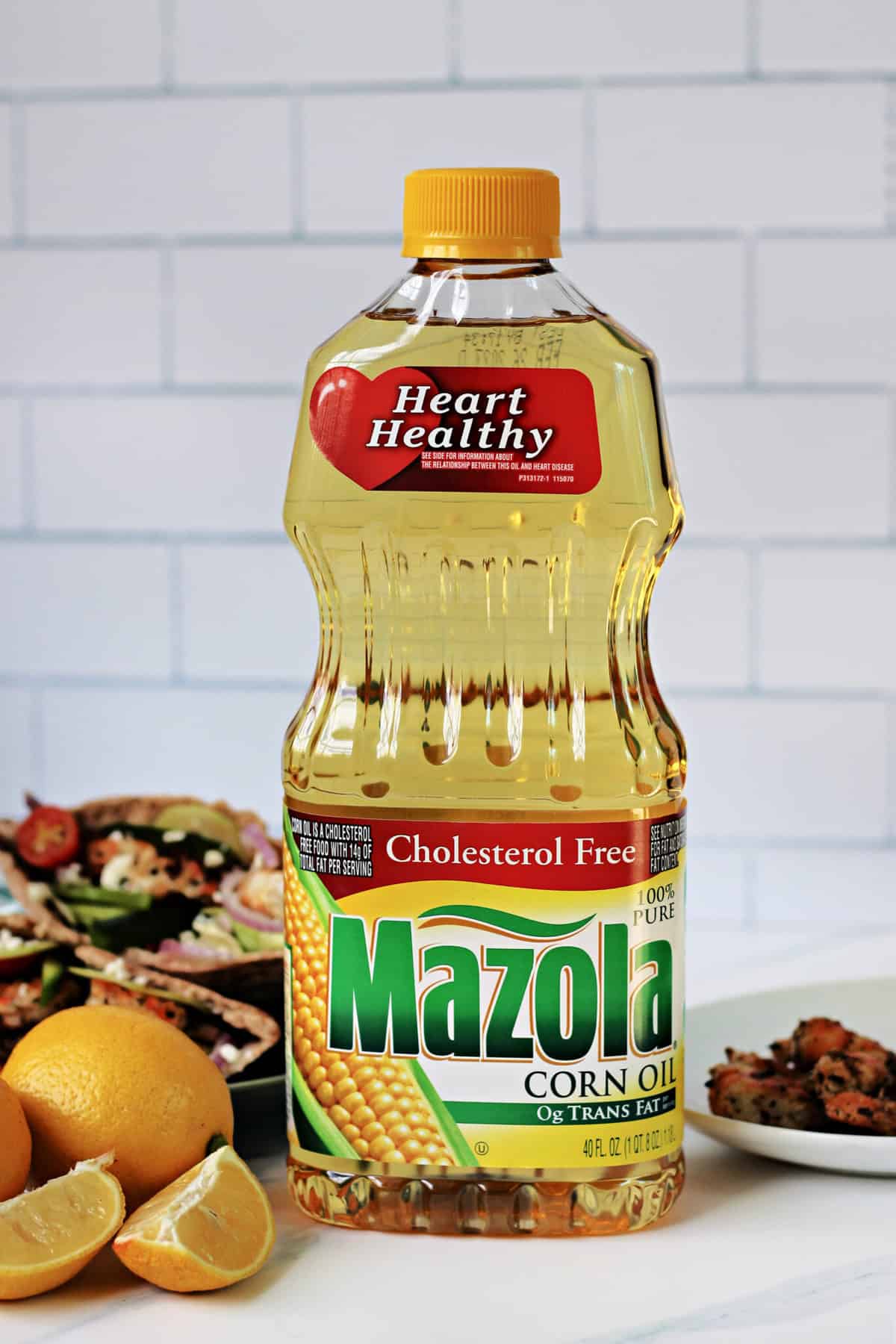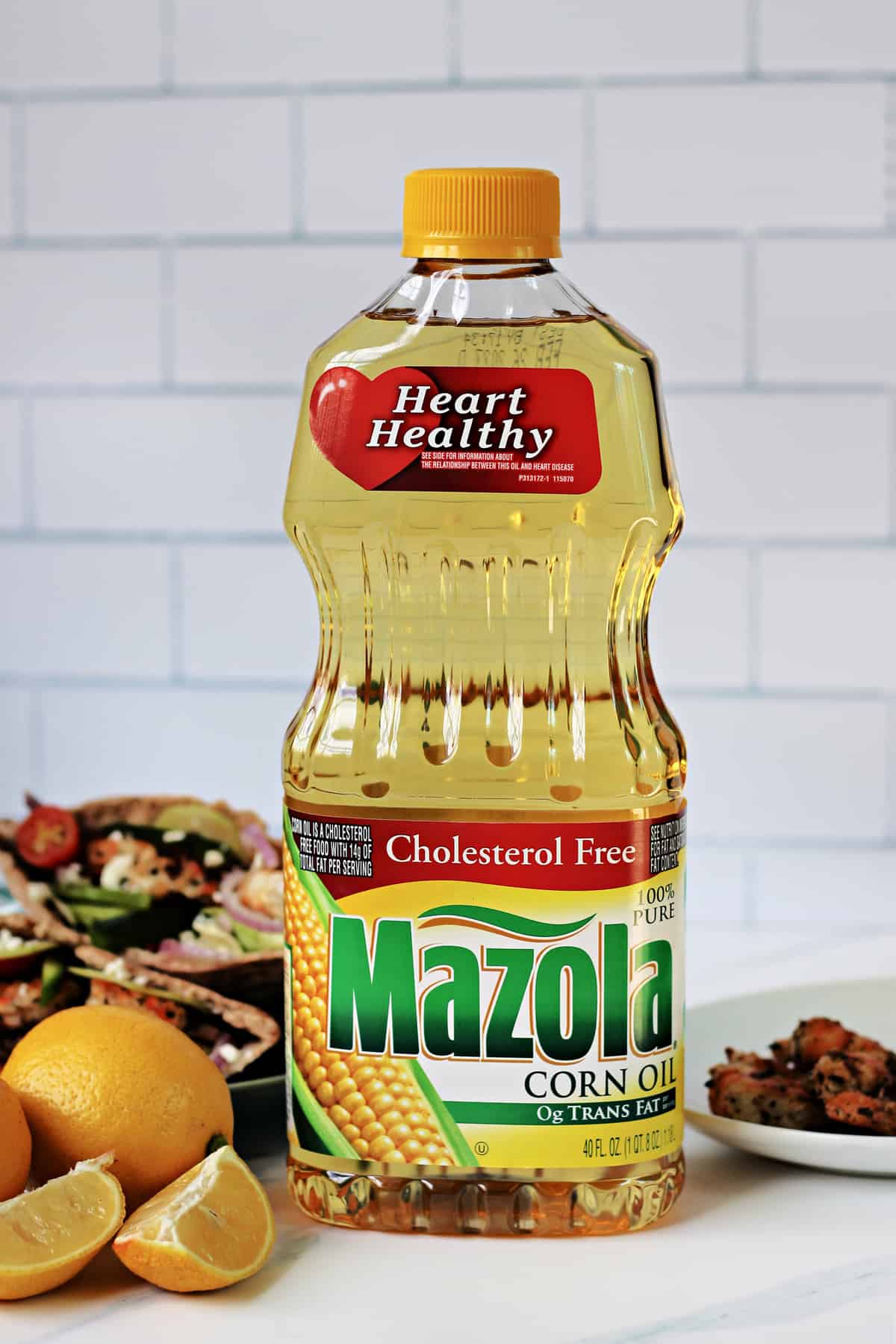 A clinical study showed Mazola® Corn Oil reduces cholesterol 2x more than extra virgin olive oil. To learn more about this claim, visit MAZOLA.com.
Summer is just around the corner, and that means it's time to fire up the grill! While grilling may bring to mind thoughts of heavier foods like hot dogs, hamburgers and steaks, there are lots of lighter options that are great on the grill.
My Grilled Greek Shrimp Pitas are a great example of veggie-packed, heart-healthy* fare that is both flavorful and fun! Plump and juicy shrimp are marinated for a short time in a deliciously herb-infused marinade made with Mazola® Corn Oil, then grilled to perfection on either an outdoor grill or on a grill pan for that taste of summer! Stuffed full of fresh, crunchy veggies and served with store-bought tzatziki sauce, every bite will make you feel like you're on a Mediterranean summer holiday.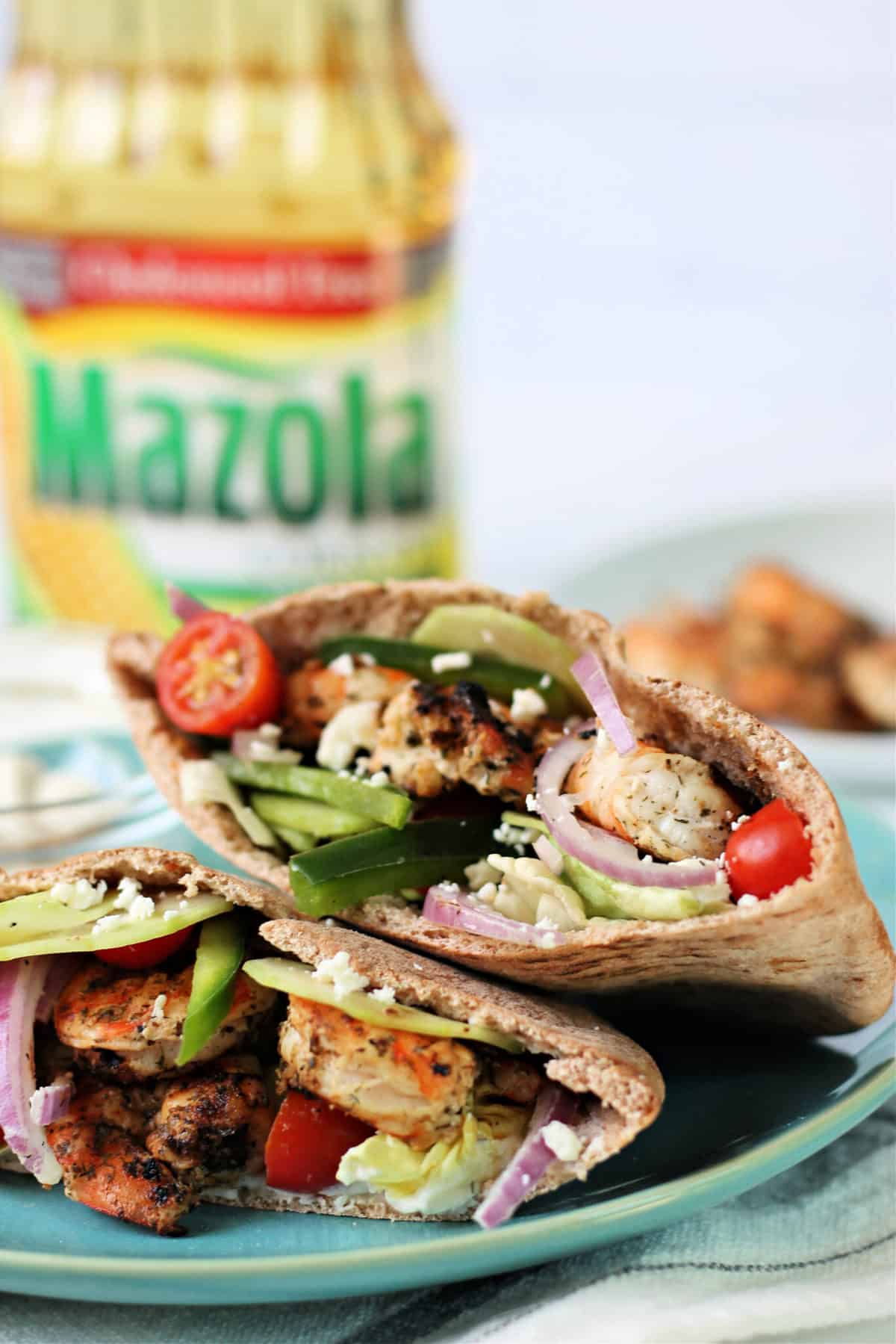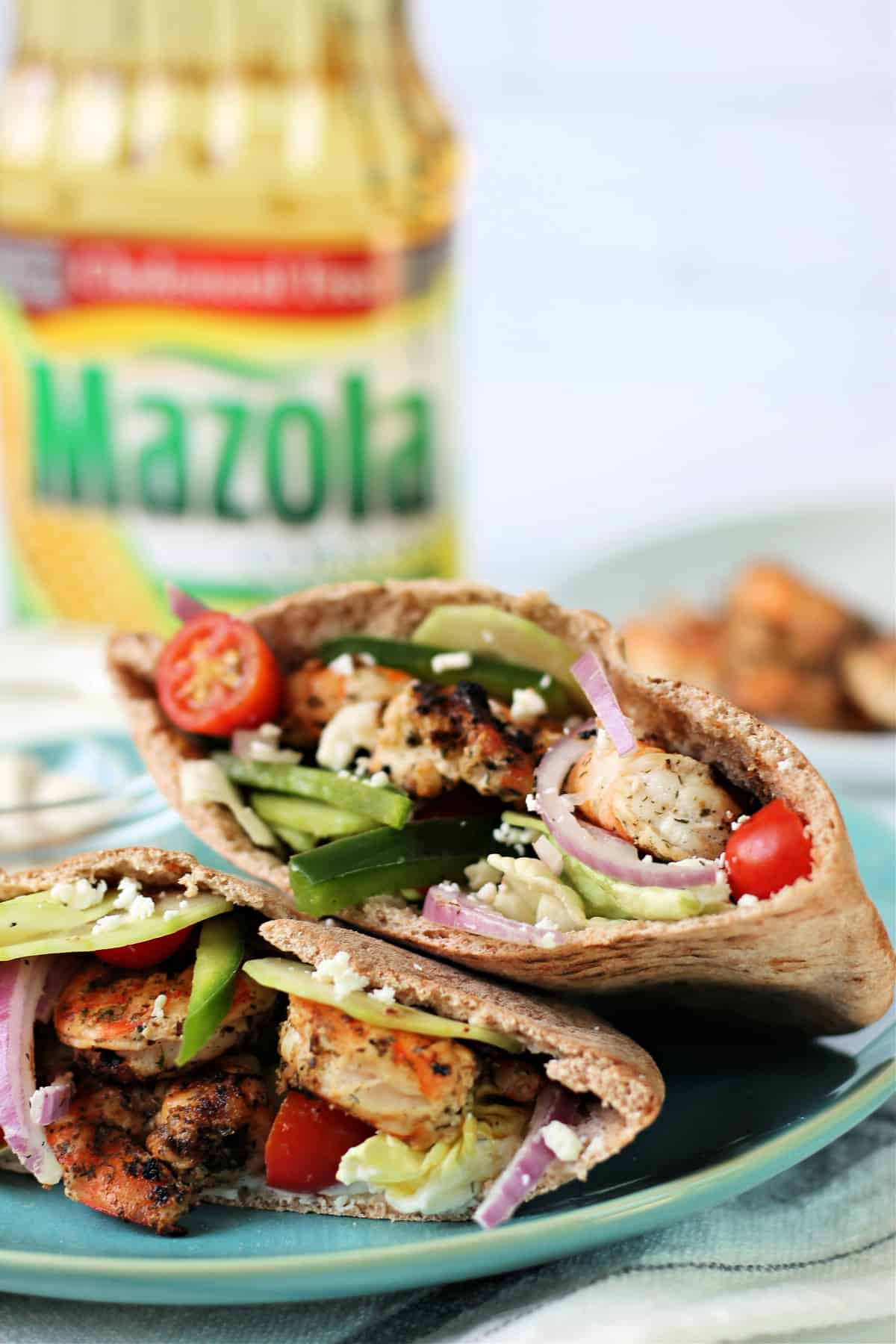 Ingredients
The ingredients for this recipe are fairly simple. You'll need:
Mazola® Corn Oil
Lemon juice
Dried Mint
Dried Oregano
Dried Dill
Garlic
Sea Salt
Shrimp
While wheat pita bread
Fresh vegetables -- I recommend tomatoes, cucumbers, green bell peppers, red onions and butter lettuce or mixed greens!
Optional: Store-bought tzatziki sauce
Grilled Shrimp Marinade
The key to making this recipe extremely flavorful is the shrimp marinade! Mazola® Corn Oil is a great option for grilling marinades because it has a neutral taste that allows the flavors of your dish to stand out, as well as a high smoke point of 450°F, which allows you to cook your foods without negatively affecting its flavor. (Many oils do not have as high of a smoke point.)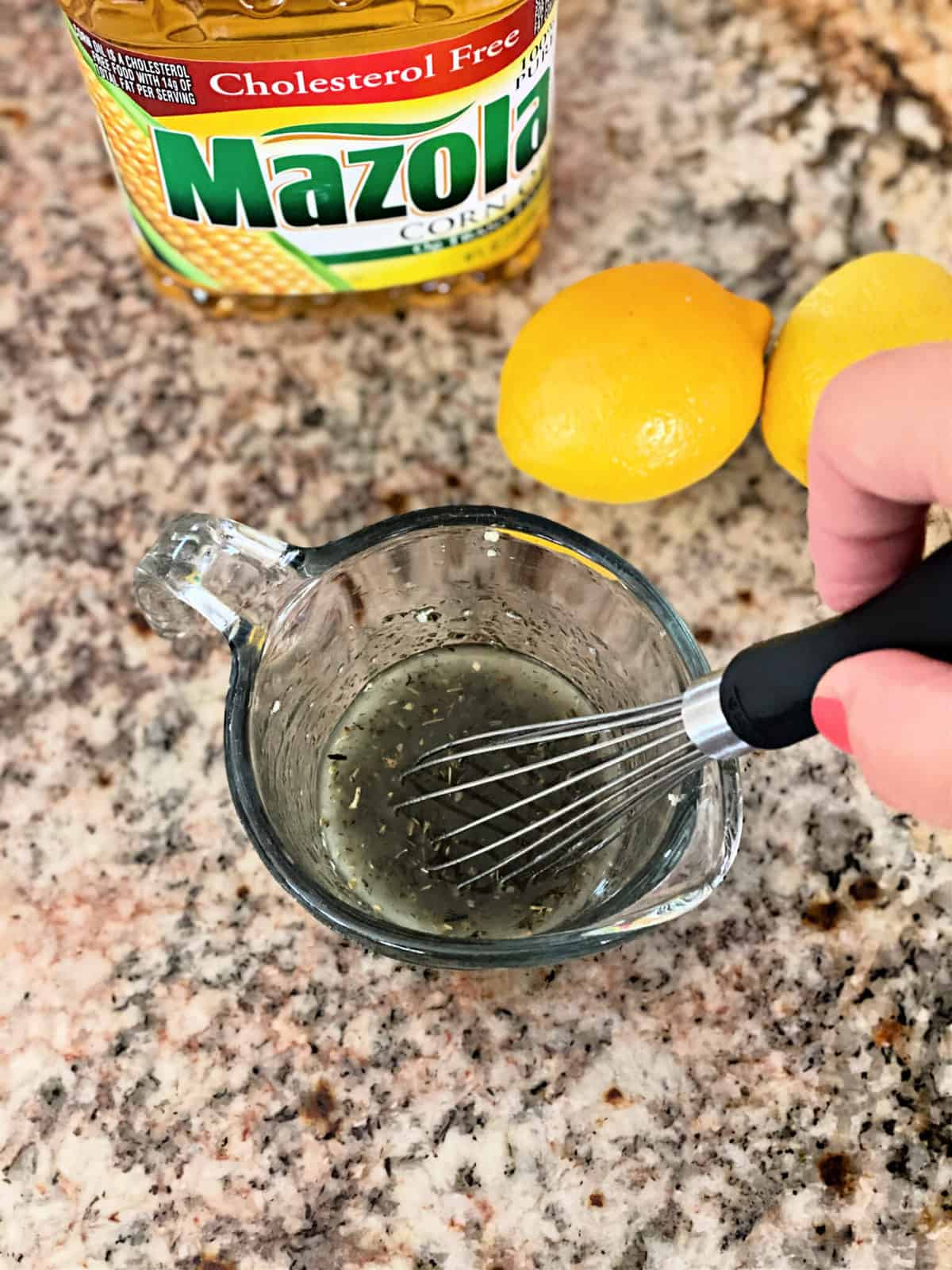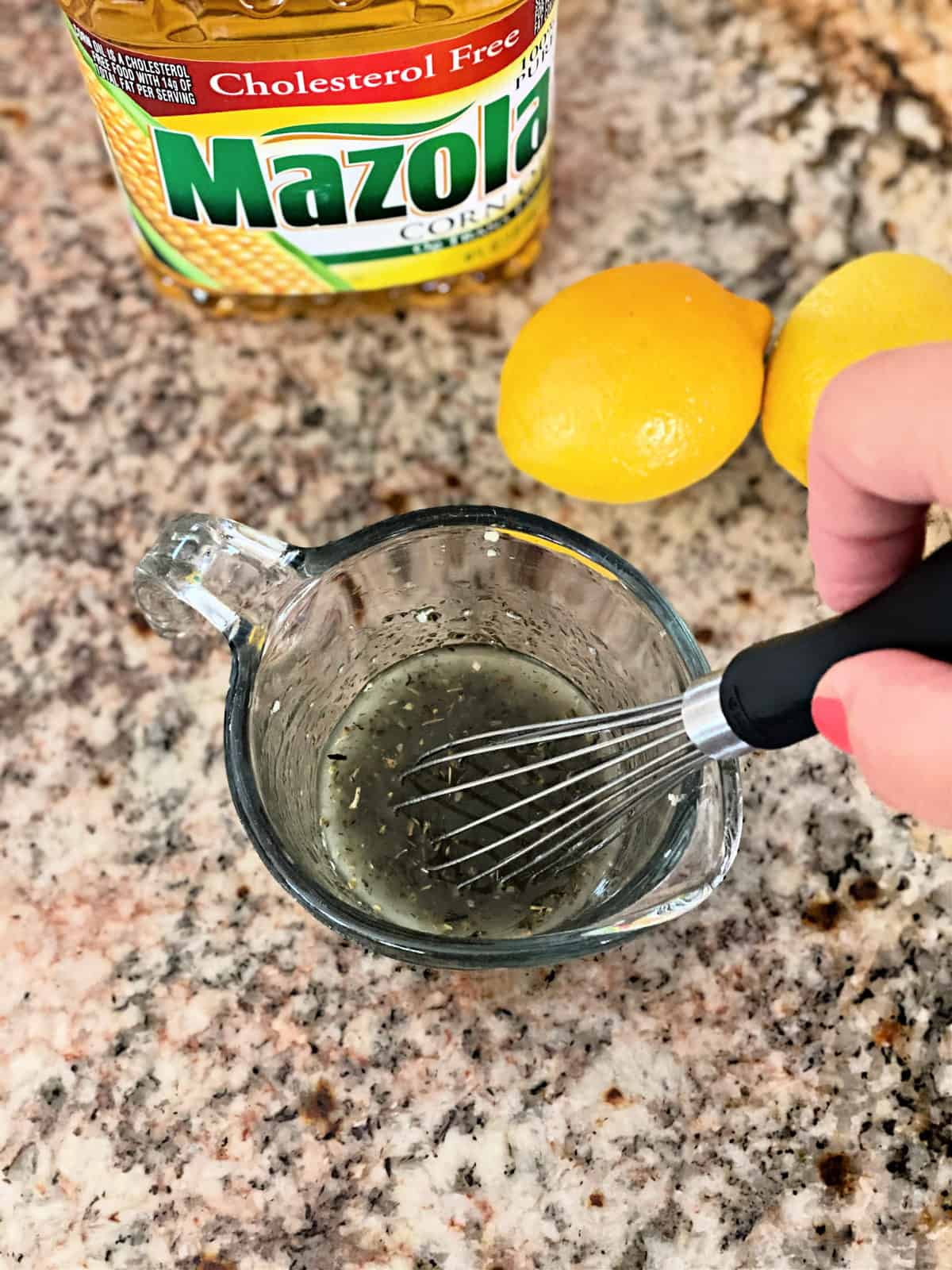 This Greek-inspired shrimp marinade is so easy to make, and is actually perfect for use with just about any protein. Simply combine Mazola® Corn Oil with dried herbs (I used mint, oregano and dill, but you can play around with flavors and use others such as marjoram and basil), fresh lemon juice, grated or minced garlic and sea salt and whisk together until fully combined, then pour over the shrimp in a bowl or into a zip-top plastic bag to marinate!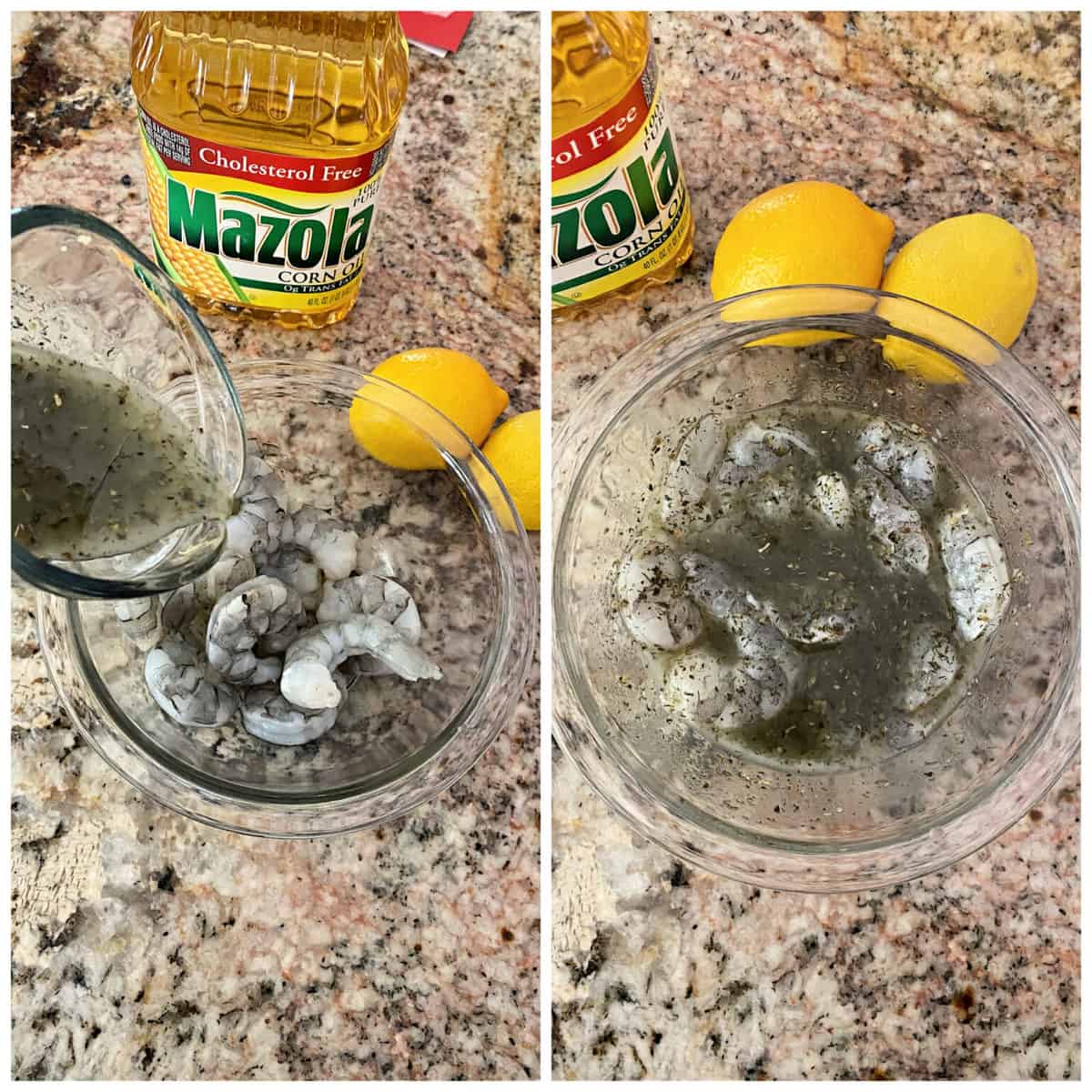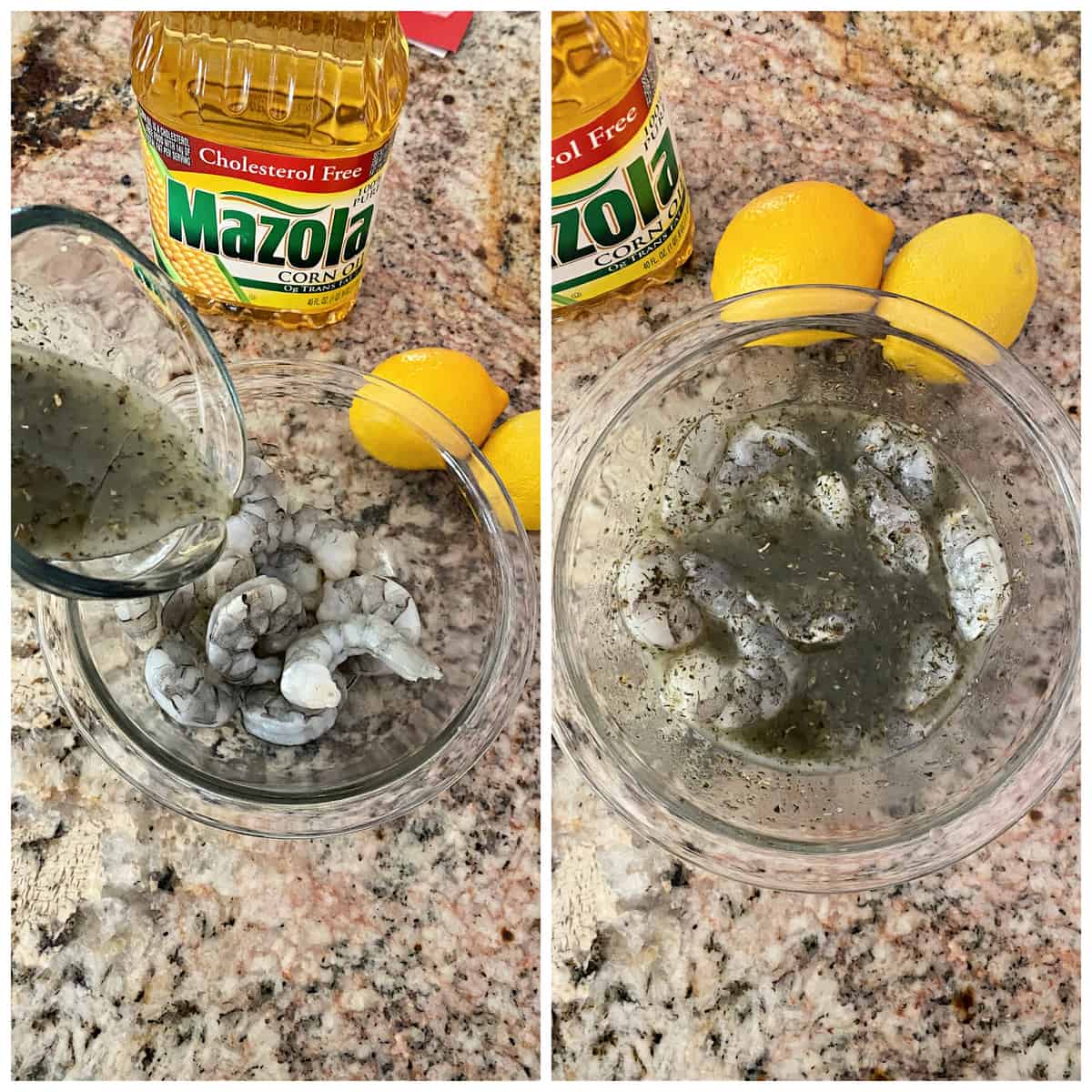 The shrimp does not have to marinate for very long -- 15 minutes is all it takes to let it soak up some of those delicious flavors! In fact, I recommend keeping the marinating time under 1 hour to ensure that the lemon juice does not begin to "cook" the shrimp. (This is actually how ceviche is made!)
Not a fan of shrimp? You can use this same marinade for chicken, fish, beef or even vegetables! Make sure to discard any remaining marinade that has been in contact with raw meat or fish.
How To Grill Shrimp
Shrimp is a great protein for grilling because it cooks so quickly! First, you'll want to prep your shrimp depending on how you'll be using it.
I often buy frozen, raw, peeled, deveined shrimp to have on hand for easy, quick-cooking meals such as stir-fry or tacos during the week. It's easy to thaw in the refrigerator overnight or by running under water in the sink for a few minutes. I remove the tails then cook on the stovetop, in the oven or on the grill.
You can also purchase fresh peeled, deveined shrimp or easily do the work yourself! Depending on how the shrimp comes, you'll need to peel, devein and remove the tail. This video shows how to do it!
Once the shrimp is marinated or seasoned, place it on a hot grill and cook for about 3-4 minutes per side, then flip and cook until opaque. Shrimp can be place directly on a grill pan, but may fall through the grates of a regular outdoor grill. To fix this problem, simply skewer shrimp onto a metal kabob skewer or soaked bamboo skewers, or use a grill basket.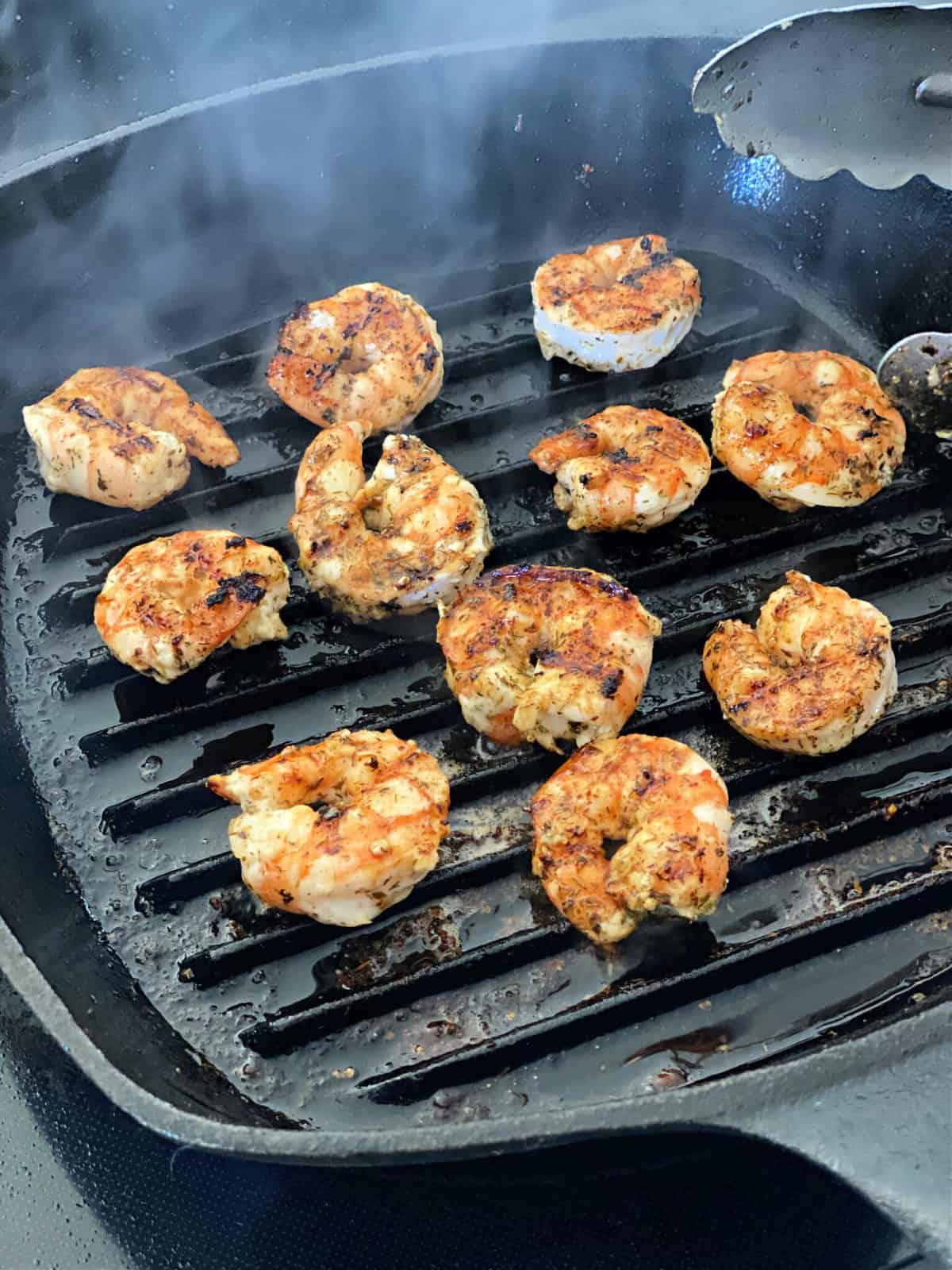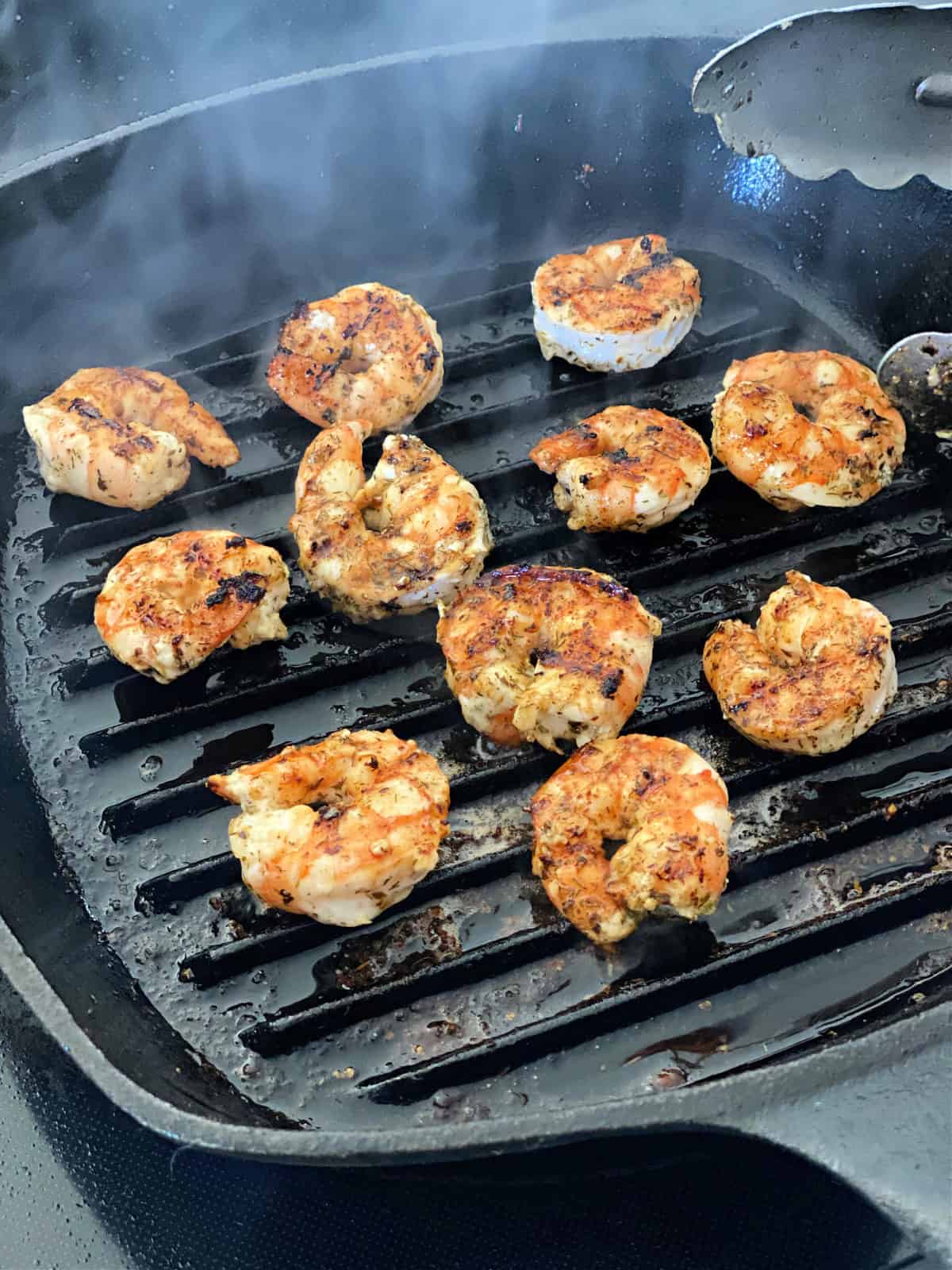 The doneness temperature for shrimp is 120ºF, which doesn't take very long to achieve, so keep an eye on them while they're on the grill to avoid overcooked or rubbery shrimp!
Other Grilled Shrimp Recipes
These marinated grilled shrimp pitas are absolutely delicious, but don't stop there! Fire up the grill this summer and give these other recipes a try: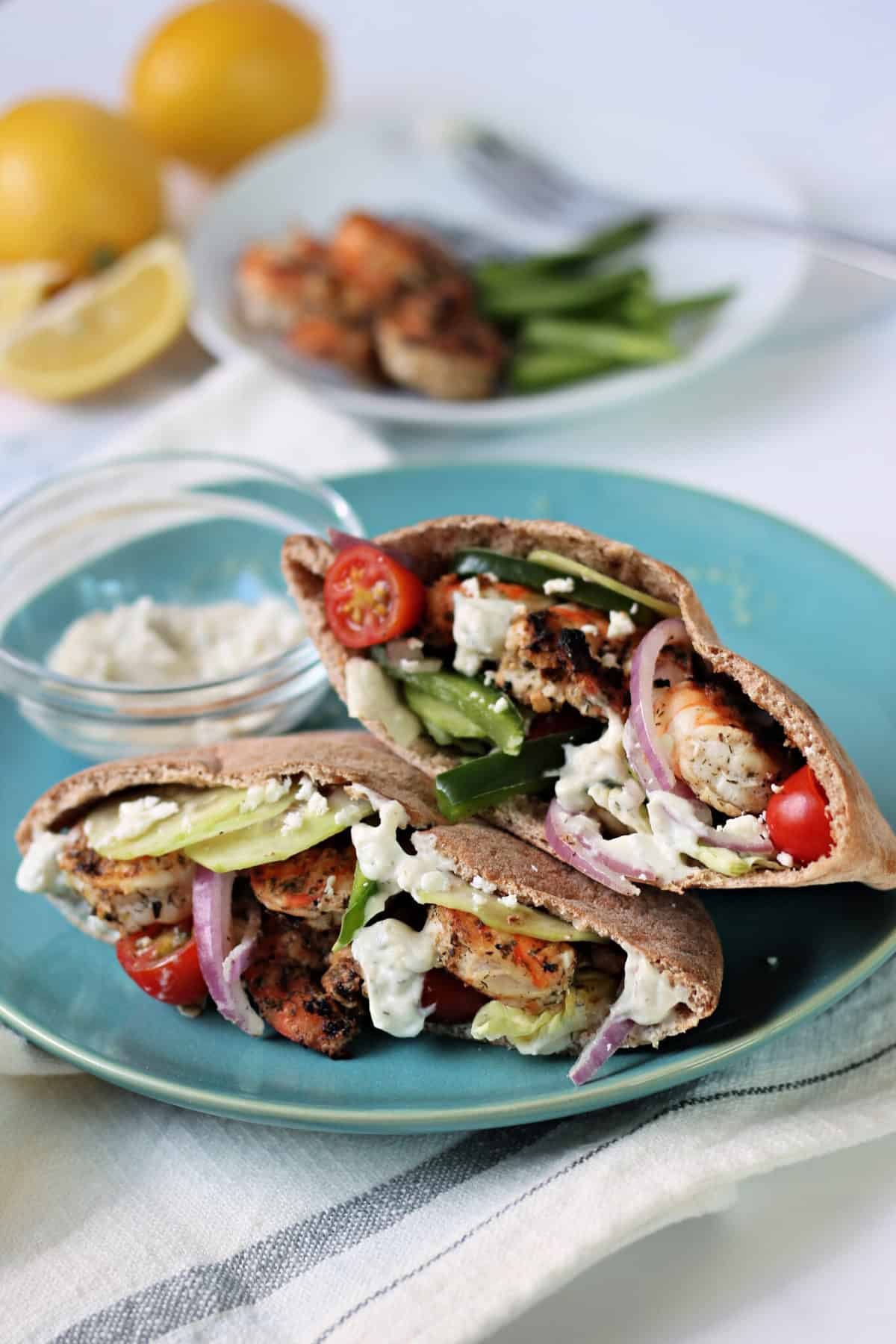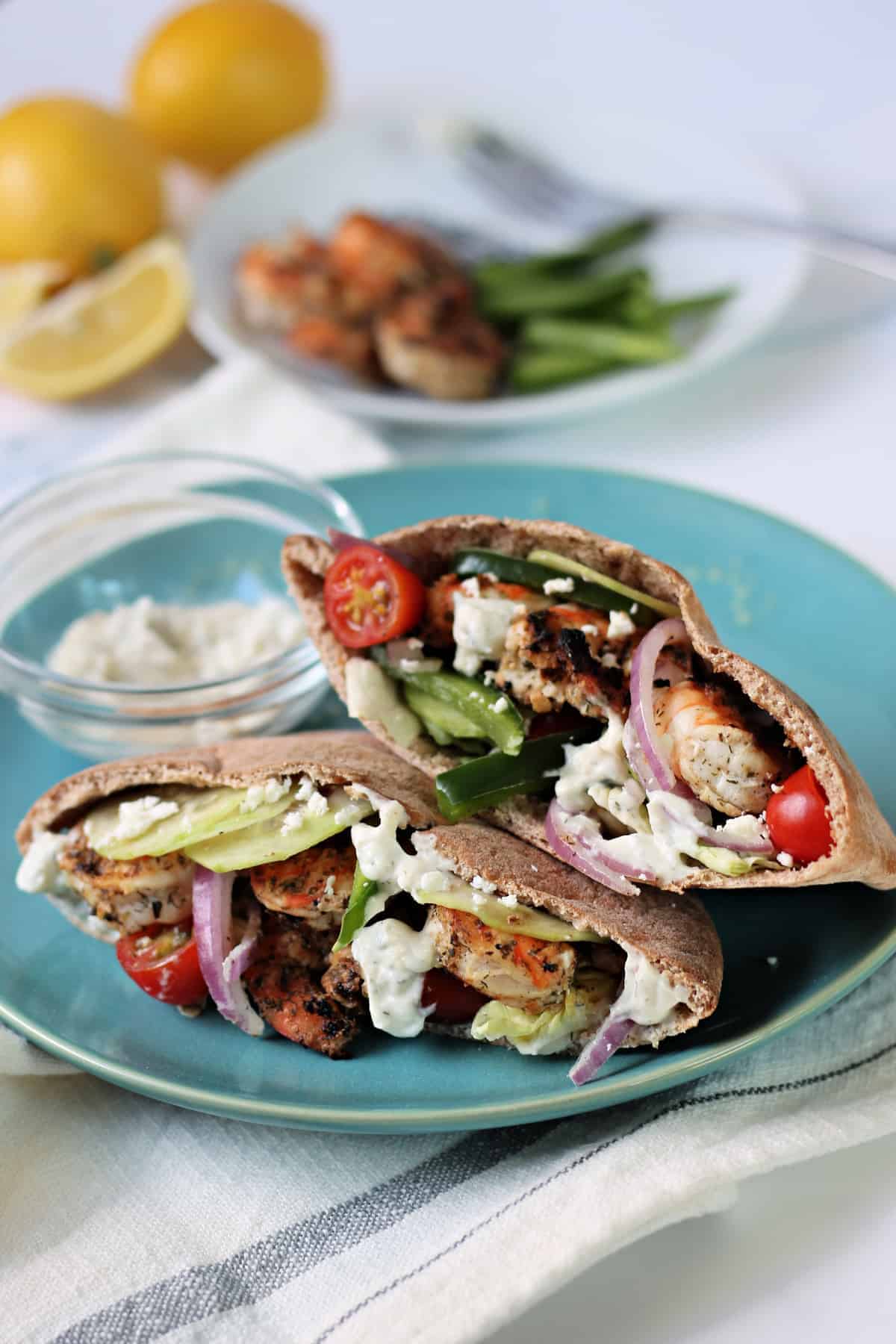 DISCLAIMER *very limited and preliminary scientific evidence suggests that eating about 1 tablespoon (16 grams) of Corn Oil daily may reduce the risk of heart disease due to the unsaturated fat content in Corn Oil. FDA concludes that there is little scientific evidence supporting this claim. To achieve this possible benefit, Corn Oil is to replace a similar amount of saturated fat and not increase the total number of calories you eat in a day. One serving of this product contains 14 grams of Corn Oil.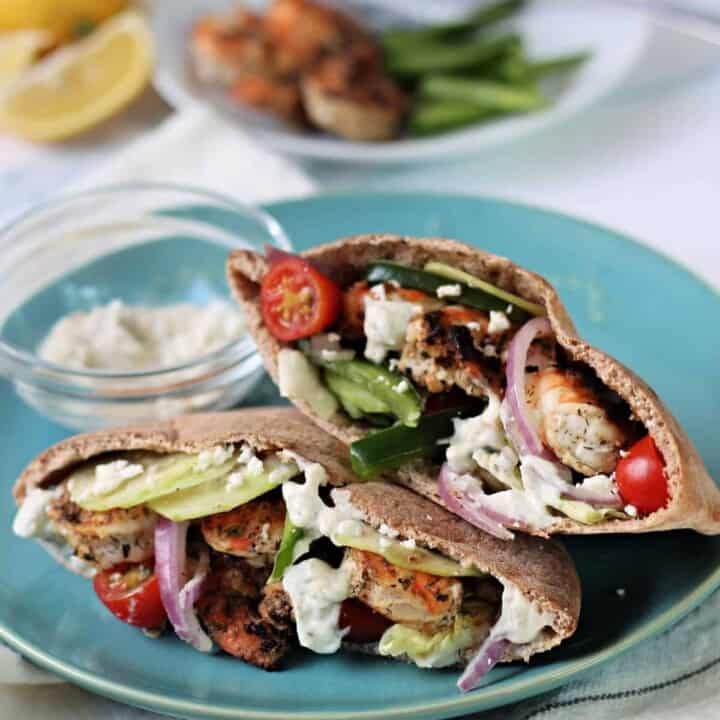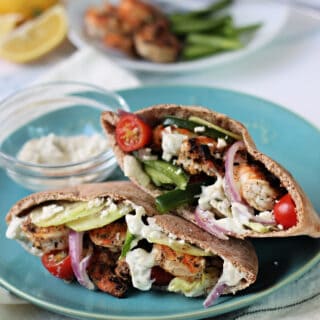 Greek Grilled Shrimp Pitas
Plump, marinated grilled shrimp are tucked into a pita pocket stuffed with bright, fresh vegetables in this mouthwatering handheld meal that is perfect for the summertime! 
Ingredients
For Shrimp Marinade
¼

cup

Mazola® Corn Oil

1

lemon

juiced

½

teaspoon

dried oregano

½

teaspoon

dried mint

½

teaspoon

dill weed

2

cloves

garlic

minced or grated

½

teaspoon

sea salt

½

pound

shrimp

peeled and deveined, tails removed
For Pita
2

whole wheat pitas

¼

cup

cucumber

sliced

¼

cup

tomato

sliced

¼

cup

green bell pepper

sliced into strips

½

cup

butter lettuce or mixed greens

¼

cup

store-bought tzatziki sauce

divided
Instructions
Make Shrimp Marinade
In a small bowl, whisk together oil, lemon juice, oregano, mint, dill weed, garlic and sea salt until fully combined.

Place prepared shrimp in bowl and toss to coat. Cover with plastic wrap and refrigerate for 15 minutes.
Grill Shrimp
Meanwhile, heat grill or grill pan. When the shrimp is done marinating, place the shrimp onto the grill and cook for 3-4 minutes. Flip and cook for another 2-3 minutes or until opaque and cooked through. Remove from grill and set aside.
Assemble Pitas
Cut pitas in half and spread 2 tablespoons of store-bought tzatziki sauce inside each piece. Fill the pitas with sliced cucumber, tomato, green bell pepper and divide grilled shrimp between pitas.