Alabama Crimson Tide game day recipes and cocktails! These appetizers, sweet treats & drinks are perfect for an Alabama Tailgate!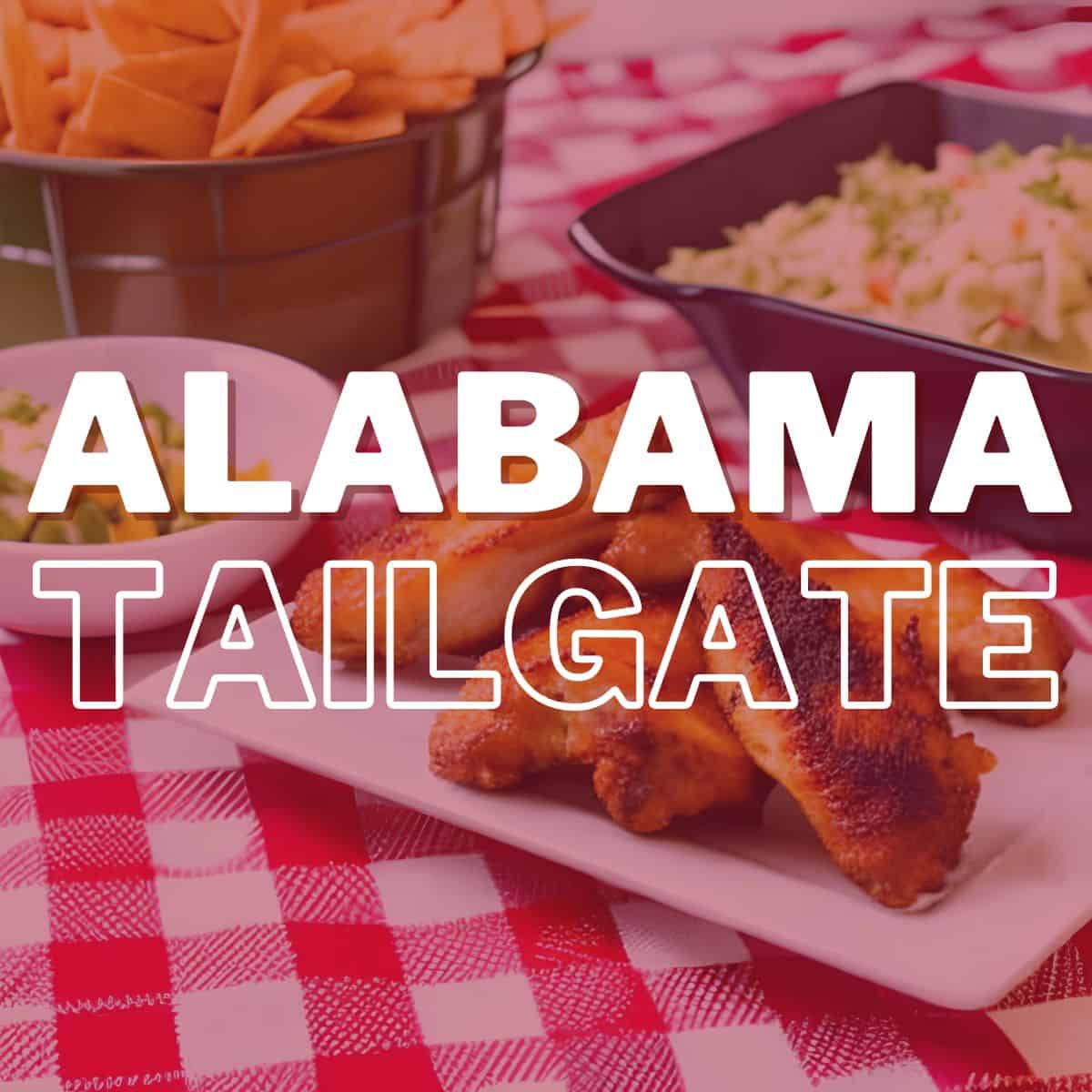 Years ago, I decided to put together a tailgate series called "Tailgate Thursday". In that series, I shared facts about each of the football teams in the SEC Conference as well as themed cocktails, appetizers and desserts for each tailgate.
As they became a bit outdated over the past decade, I have updated my Tailgate Thursday posts and am sharing tailgating recipes from other bloggers and football fans in team-themed round ups that will make planning your tailgate party a breeze!
Jump to:

Whether you are a fan of each team highlighted or simply enjoy football season, I hope you'll find some recipes to share with family and friends at your tailgate or game day watch parties!
I'm kicking off Tailgate Thursday by featuring the Alabama Crimson Tide!
Alabama Football Facts
A few facts about this powerhouse team:
Location: The University of Alabama is located in Tuscaloosa, Alabama, a place oozing with Southern hospitality and plenty of down home cookin'.
Stadium: Bryant-Denny Stadium
Alabama Mascot: Big Al, the elephant
Team Colors: Crimson, Gray & White
Saying: "Roll Tide"
Marching Band: The Million Dollar Band
Fight Song: "Yea Alabama"
Alabama Tailgate Food
Whether you're cheering or jeering for Alabama, you won't be able to help yourself when it comes to the tailgate eats!
On our tailgate menu for an Alabama game day features:
Cocktails: Alabama Yellow Hammer & Alabama Slammer
Appetizers: "Alabama Fire Crackers" & Alabama White Sauce BBQ Wings
Desserts: Alabama themed Red Velvet Whoopie Pies & Southern Chocolate Mayo Cake
Game Day Essentials
When you're going all in on team spirit, you want to have the best team-themed items at your tailgate! I've curated some of my favorite Crimson Tide tailgate supplies to make your spot stand out!
Looking to elevate your tailgate in a more neutral way? Check out my Game Day Shop where I share my tailgating must-haves!
More Themed Tailgate Recipes
Can't stomach tailgate recipes that don't support your team? No problem!
Search for your favorite team in the rest of my Tailgate Thursday posts:
Mississippi State Bulldogs
Missouri Tigers
Texas A&M Aggies
Vanderbilt Commodores
Don't forget to tag me and the recipe authors and show off your game day tailgate spread!