Arkansas Razorbacks game day recipes and cocktails! These appetizers, sweet treats & drinks are perfect for a Razorbacks Tailgate!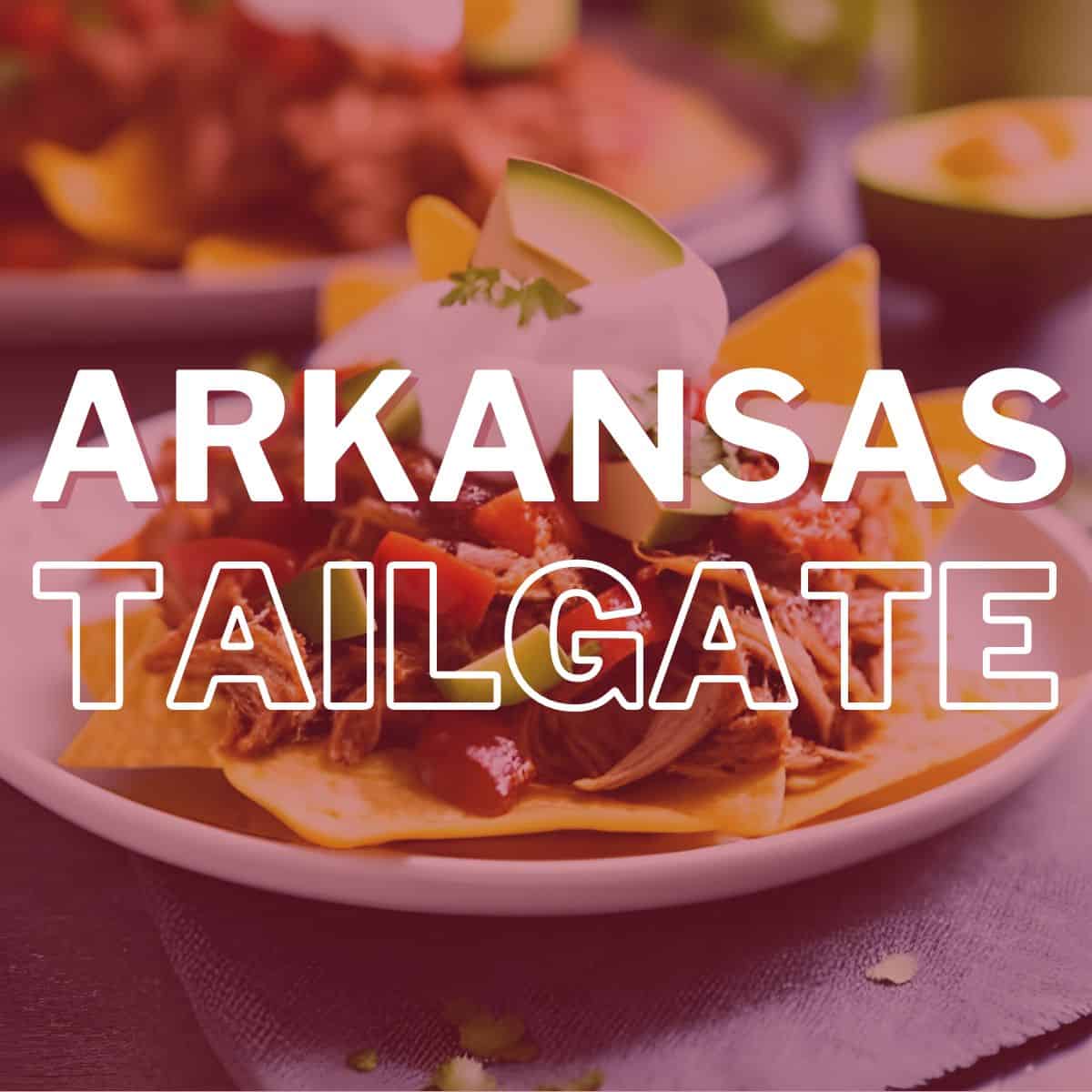 This post may contain affiliate links, which means that, at no extra cost to you, I may earn a small commission if you click a link and purchase an item I've recommended. Thanks for your support in running this blog!
It might sounds strange to dub college football fans "the most polite tailgaters in the SEC", but that was my experience when we were present for a game day in Fayetteville, Arkansas.
Etiquette awards aside, when you're in town for an Arkansas tailgate, you'll also get to experience the classic game day excitement and Hog pride that makes Arkansas fans happy to welcome visitors for a great time.
Arkansas Football Facts
A few facts about the Arkansas Razorbacks:
Arkansas Football Food
If there's one place it's totally ok to "pig out", it's at an Arkansas Tailgate. These Razorback-themed cocktails, appetizers and desserts pay homage to the pig:
Cocktails: Arkansas Razorback Cocktail, Notorious P.I.G.
Appetizers: Razorback Dip, Pig Shots
Desserts: Razorback Chex Mix, Possum Pie
Game Day Essentials
If you're looking to show your Razorback team spirit at the tailgate, you'll want to check out my Arkansas Razorbacks Tailgate Essentials shop page, where I've curated some game day essentials that will make you the talk of the tailgate.
No matter what team you're rooting for, you'll need the fundamentals such as tailgate chairs, tables, grills, speakers and accessories. I've compiled some of the best-rated tailgate essentials in my Football Season shop page, so make sure to check those out as well!
More Themed Tailgate Recipes
Interested in exploring tailgates for the other SEC teams? Take a look at my the other posts in the Tailgate Thursday series:
Don't forget to tag me and the recipe authors and show off your game day tailgate spread!