Ole Miss Rebels game day recipes and cocktails! These appetizers, sweet treats & drinks are perfect for an Ole Miss Tailgate!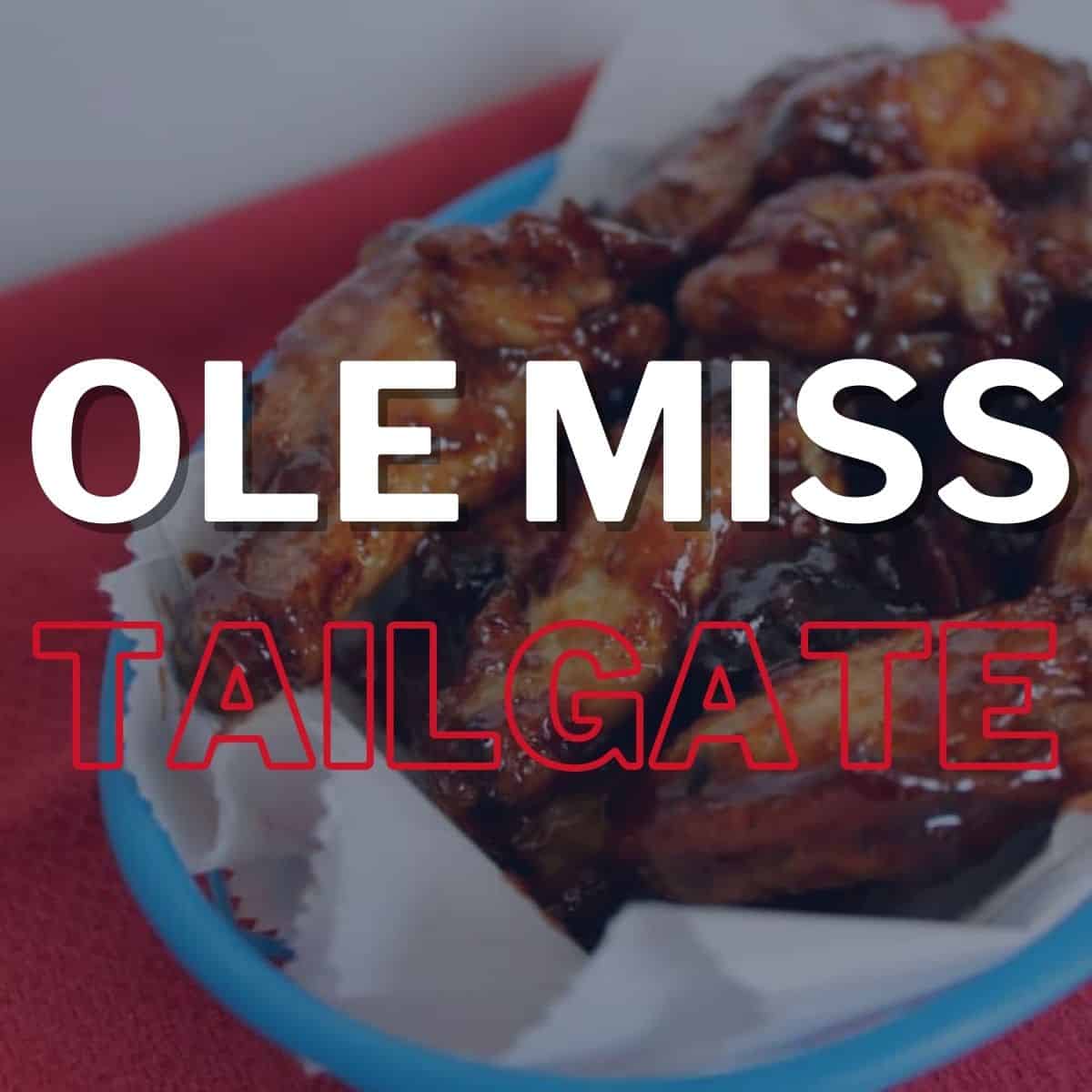 This post may contain affiliate links, which means that, at no extra cost to you, I may earn a small commission if you click a link and purchase an item I've recommended. Thanks for your support in running this blog!
If you're ready for some Rebel Football, you've come to the right place.
At Ole Miss, you'll find all the game day happenings taking place at The Grove, where fans dress in their game day best and enjoy good food, drinks and camaraderie as only Rebels fans know how! It's the most elegant tailgate on... well... this side of the Mississippi!
Don't let the fanciness fool you, Ole Miss fans know how to have fun! Ready to get in on the Rebel action? Check out my Ole Miss Rebels recipe round up and ensure that your game day setup is up to snuff!
Jump to:
Ole Miss Football Facts
Let's get to know a little more about the Ole Miss:
Ole Miss Tailgate Food
Southern classics and nods to the rich heritage of the state about at an Ole Miss tailgate! From slow cooked staples to sweet and creamy dips, the recipes I've found to round out a Rebels-themed menu mirror the warmth, hospitality, and culinary traditions of the Mississippi!
Our tailgate menu for an Ole Miss game day day features:
Cocktails: Vanilla Bean Cherry Rum Punch, Mississippi Punch
Appetizers: Crock Pot Mississippi Chicken Sliders, Mississippi Sin Dip
Desserts: Pecan Praline Dip, Mississippi Mud Dip
Game Day Essentials
You're going to need some Rebel Red and Navy blue if you want to make your tailgate stand out! Check out the Ole Miss Rebels tailgate shop page that I've curated with some of the best game day essentials.
Looking to elevate your tailgate in a more neutral way? Check out my Football Season Tailgate Essentials Shop where I share my tailgating must-haves!
More Themed Tailgate Recipes
Search for your favorite SEC team in the rest of my Tailgate Thursday posts:
Mississippi State Bulldogs
Texas A&M Aggies
Don't forget to tag me and the recipe authors and show off your game day tailgate spread!