Auburn Tigers game day recipes and cocktails! These appetizers, sweet treats & drinks are perfect for a Tigers Tailgate!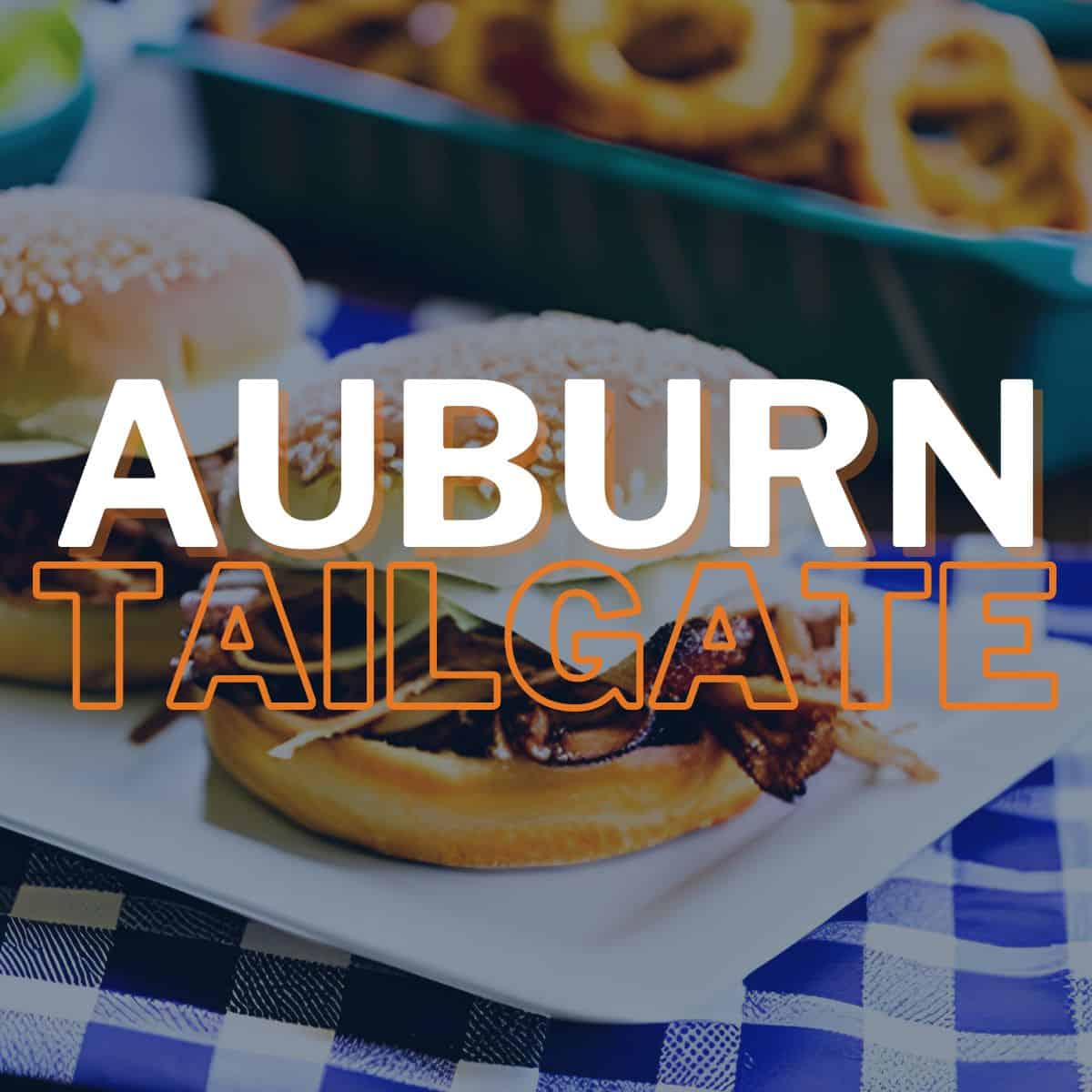 This post may contain affiliate links, which means that, at no extra cost to you, I may earn a small commission if you click a link and purchase an item I've recommended. Thanks for your support in running this blog!
When it comes to tailgating, I may be partial to Orange and Blue as a Gator alum, but today, I'm adjusting the hues and talking all things Auburn Tigers!
Tailgating in the South is sacred, and you'll know this as soon as you step foot in an Auburn Tailgate! Copious amounts of good food, drinks and Tigers pride make these tailgates some of the best around.
Let's pounce right in and get to some delicious food and drink ideas for a Tigers Tailgate!
Jump to:
Auburn Tigers Football Facts
Before we get to the food, here are a few facts about the Auburn Tigers:
Auburn Tigers Football Food
The only thing more imporantant than getting that "W" for Auburn tailgaters is making sure everyone is fed and happy at the tailgate! These Auburn tailgate recipes are inspired by team colors and Alabama favorites.
Cocktails: Auburn "War Eagle" Rum Punch, Tea Time Blueberry Bourbon Cocktail
Appetizers: Pulled Pork Pastry Puffs, Tater Tot Appetizer Cups
Desserts: Cookies & Cream Football Cheese Ball, Orange & Blueberry Bread
Game Day Essentials
A proper Auburn tailgate needs to be decked out in Burnt Orange and Navy Blue, and I've got you covered with all things team spirit in my Auburn Tailgating Essentials Shop! Take a peek and load up on tailgating gear and more.
No matter what team you're rooting for, you'll need the fundamentals such as tailgate chairs, tables, grills, speakers and accessories. I've compiled some of the best-rated tailgate essentials in my Football Season shop page, so make sure to check those out as well!
More Themed Tailgate Recipes
Interested in exploring tailgates for the other SEC teams? Take a look at my the other posts in the Tailgate Thursday series:
Mississippi State Bulldogs
Don't forget to tag me and the recipe authors and show off your game day tailgate spread!