Vegetarian Mushroom & Goat Cheese Meatballs! These delectable, meatless bites make a fantastic appetizer for cocktail parties as a complement to merlot wine, or are a great way to add plant-based goodness to a weekday meal.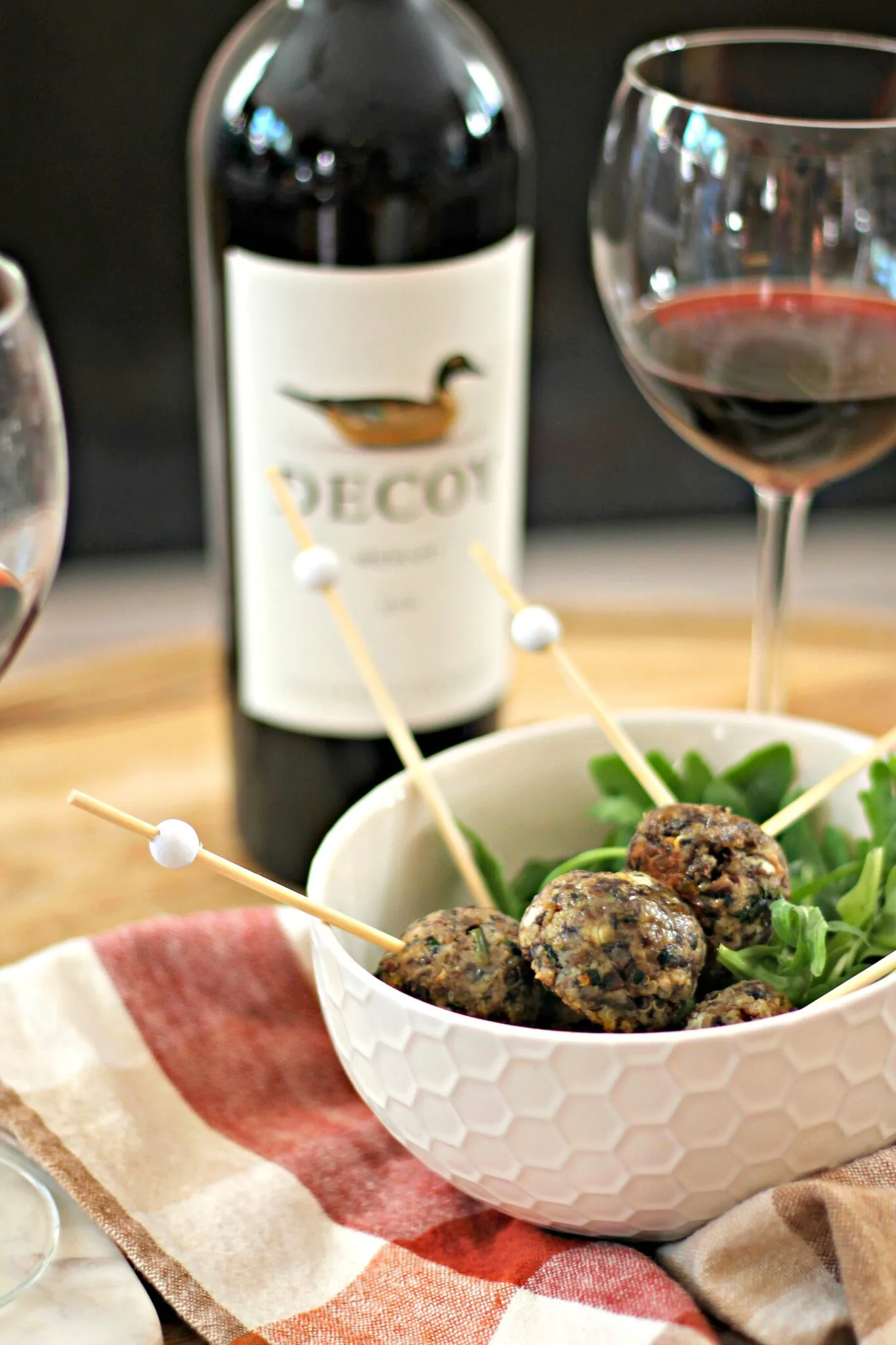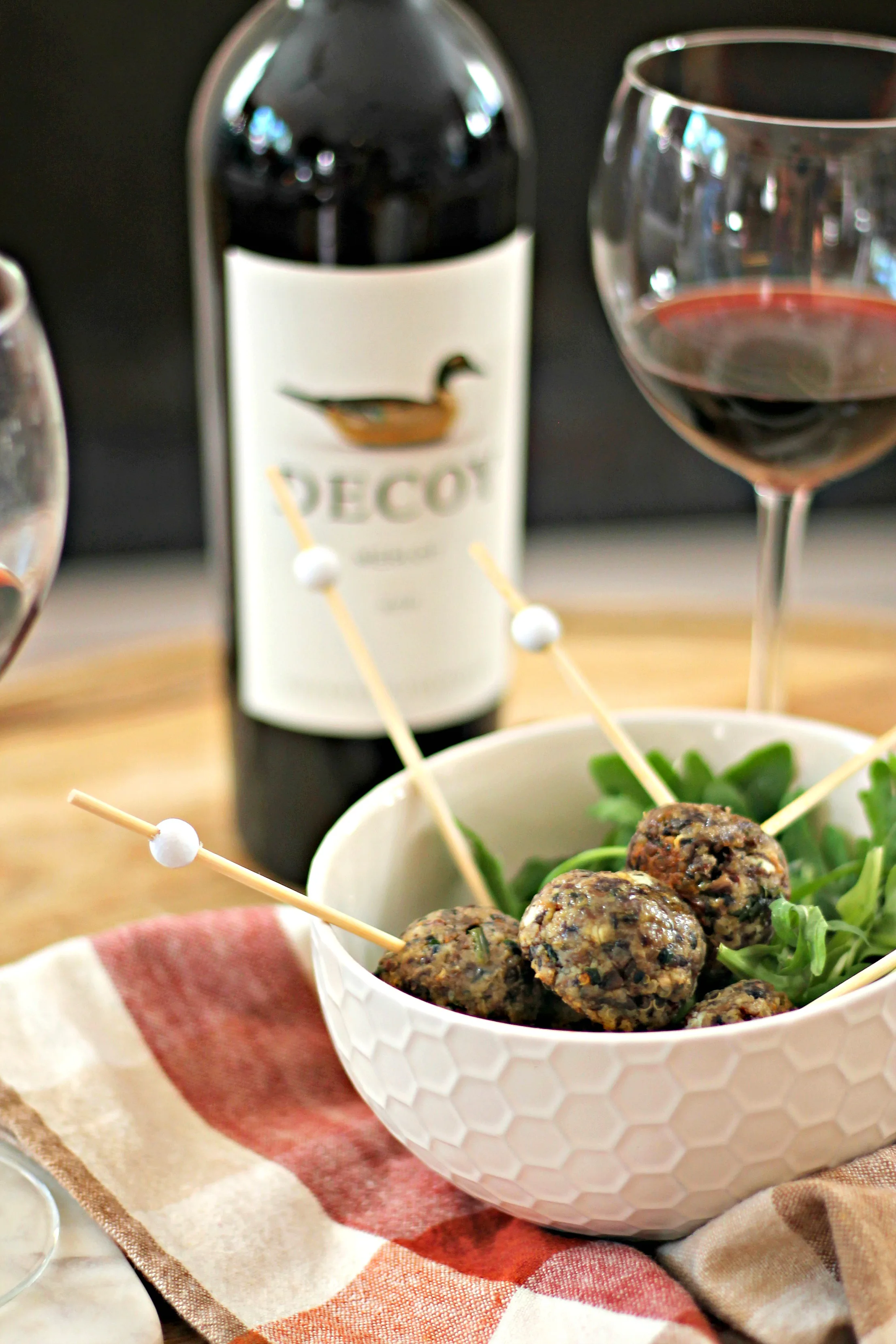 Thank you Decoy for sponsoring this post.
Did you know that October is "Merlot Month"? This lush, yet approachable, wine may not be the first you think of when you're looking for a tasty pour, but winemakers around the globe are encouraging wine lovers to "celebrate the grape" this October! Whether you're enjoying a glass of merlot with a relaxing dinner at home or adding it to the lineup for holiday cocktail hours, it's worth picking up a few bottles and appreciating this easy-to-drink wine.
Decoy Wine
Decoy Wine has been producing quality, affordable Sonoma County wines since 1985! An important member of the popular Duckhorn Wines portfolio, Decoy has done an amazing job of establishing its own following in their 35 years of producing "everyday wines for the well-informed."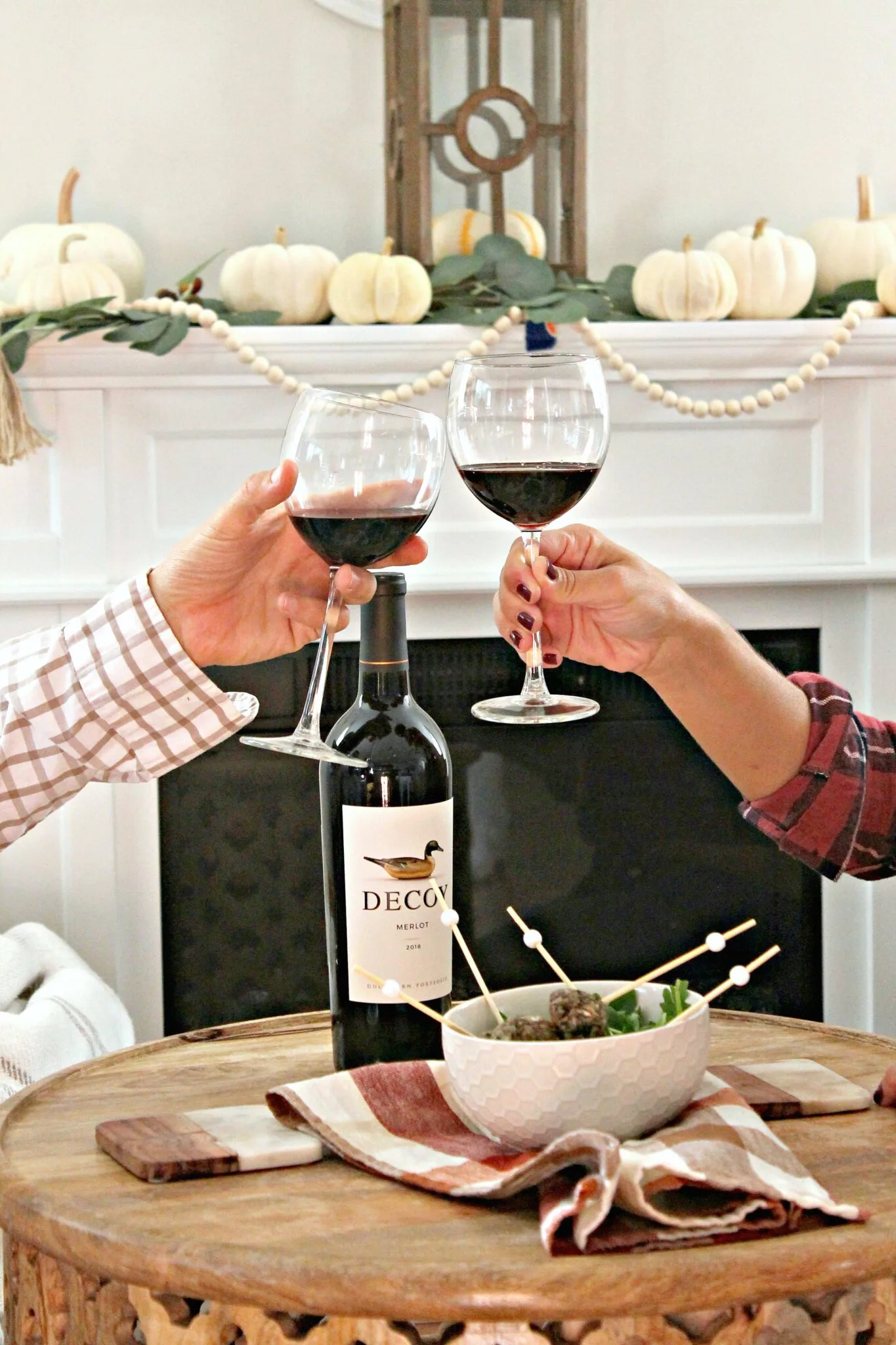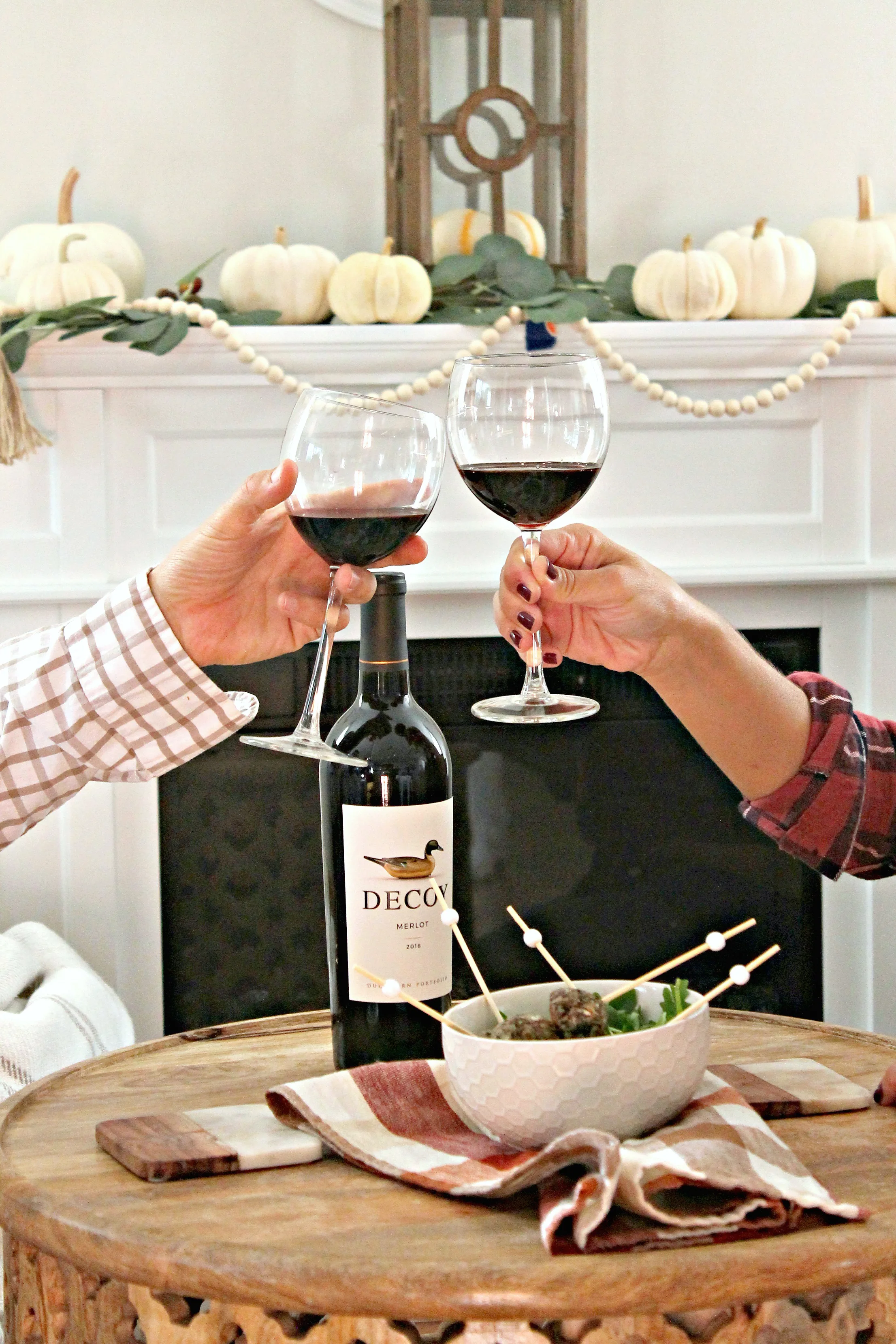 What began as a single red blend under the Decoy name has now expanded to include five distinctive red wines including Cabernet Sauvignon, Merlot, Zinfandel, and Pinot Noir, as well as two white wines -- Chardonnay and Sauvignon Blanc.
Merlot Flavor Profile
Merlot is back. Not that it ever really left... merlot wine has always been a very enticing, delicious pick for easy drinking. In fact, it's my husband's favorite type of wine! After a little hiatus from popular culture, it seems that more and more folks are hopping back on the merlot bandwagon and, after a sip, it's not hard to see why.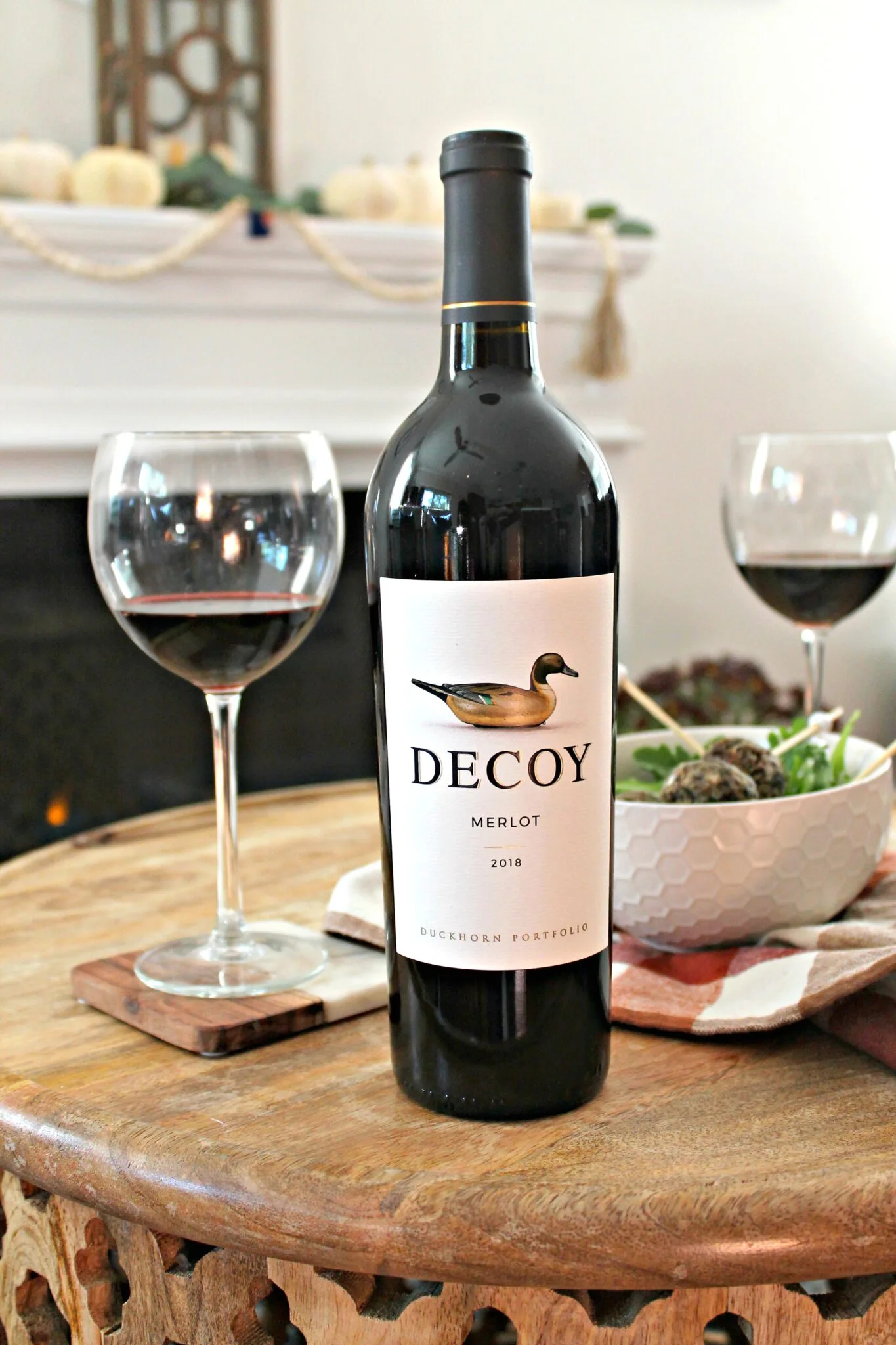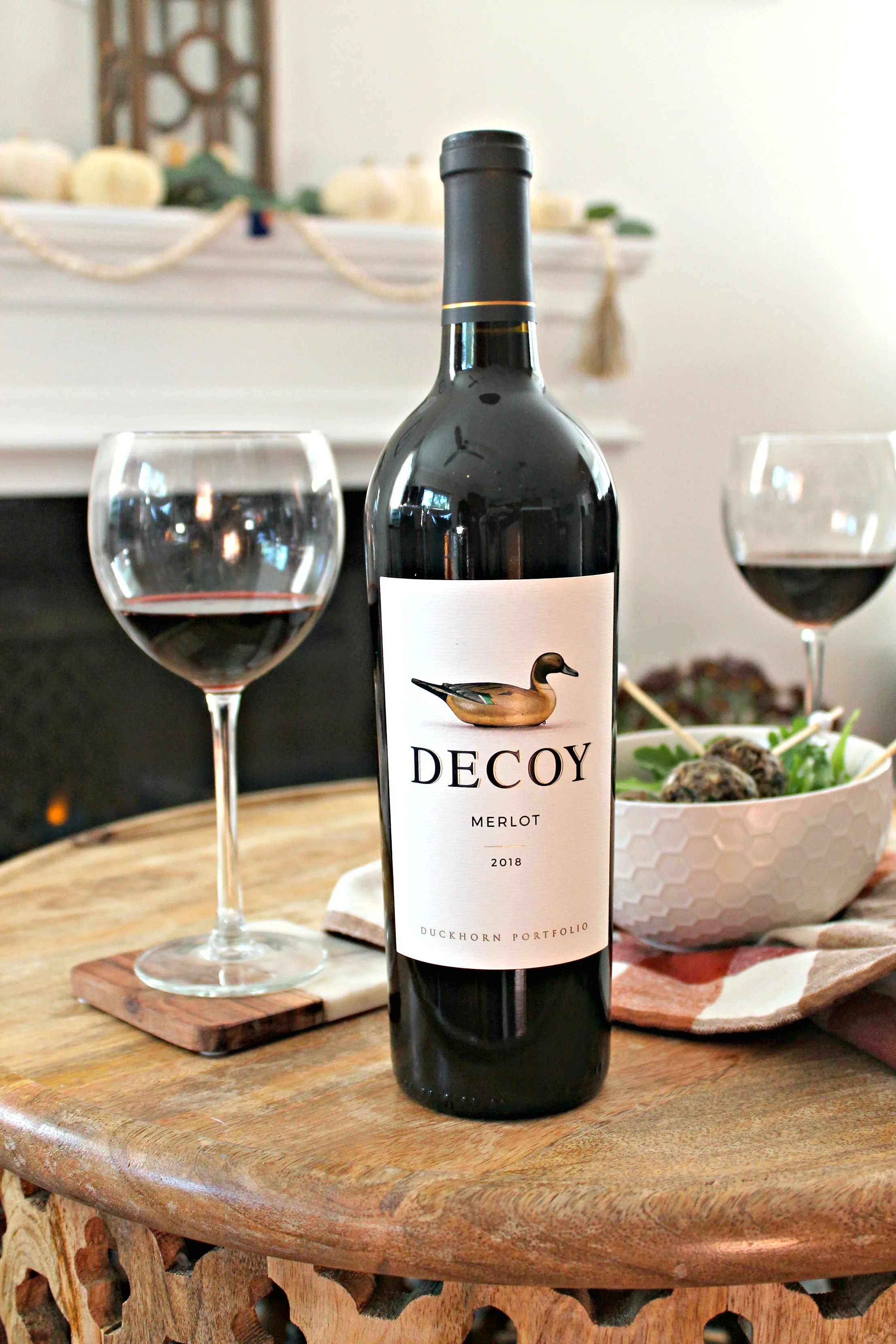 With lush and appealing notes of dark berries like black cherry and blueberry, deep plum notes and dark chocolate undertones, it's easy to "fall" for merlot, especially during this time of year! Featuring a balanced acidity, silky tannins and concentrated fruity finish, it's a perfect choice for anytime you're craving a delectable drink.
Merlot Food Pairings
When paired properly, food and wine can strike a harmonious balance that brings out the best elements of both!
In general, you'll often find red wines paired with meats, and merlot is no different. Hearty, robust dishes like beef bourguignon, spiced duck, roasted turkey, lamb and pork are all elevated by the deep, fruity flavors of merlot wine. It's a great wine to consider for Thanksgiving and the holidays, especially if you're serving up "meat and potatoes" style dishes that could use some brightening.
While meat may be the obvious pairing pick, don't discount the veggies! Merlot makes a fantastic complement to heartier vegetables like eggplant, zucchini, tomatoes and tomato sauces, and mushrooms.
In the cheese department, your best bets are medium-intensity cheeses such as gouda, cheddar, camembert and even goat and sheep's milk cheeses.
Vegetarian Mushroom & Goat Cheese Meatballs
Now that we know a little more about merlot and the pairings that go best with its flavor profile, let's get cooking with a recipe that complements the wine! My Vegetarian Mushroom & Goat Cheese Meatballs are an excellent choice when you're looking for something to serve alongside merlot throughout the holiday season and beyond.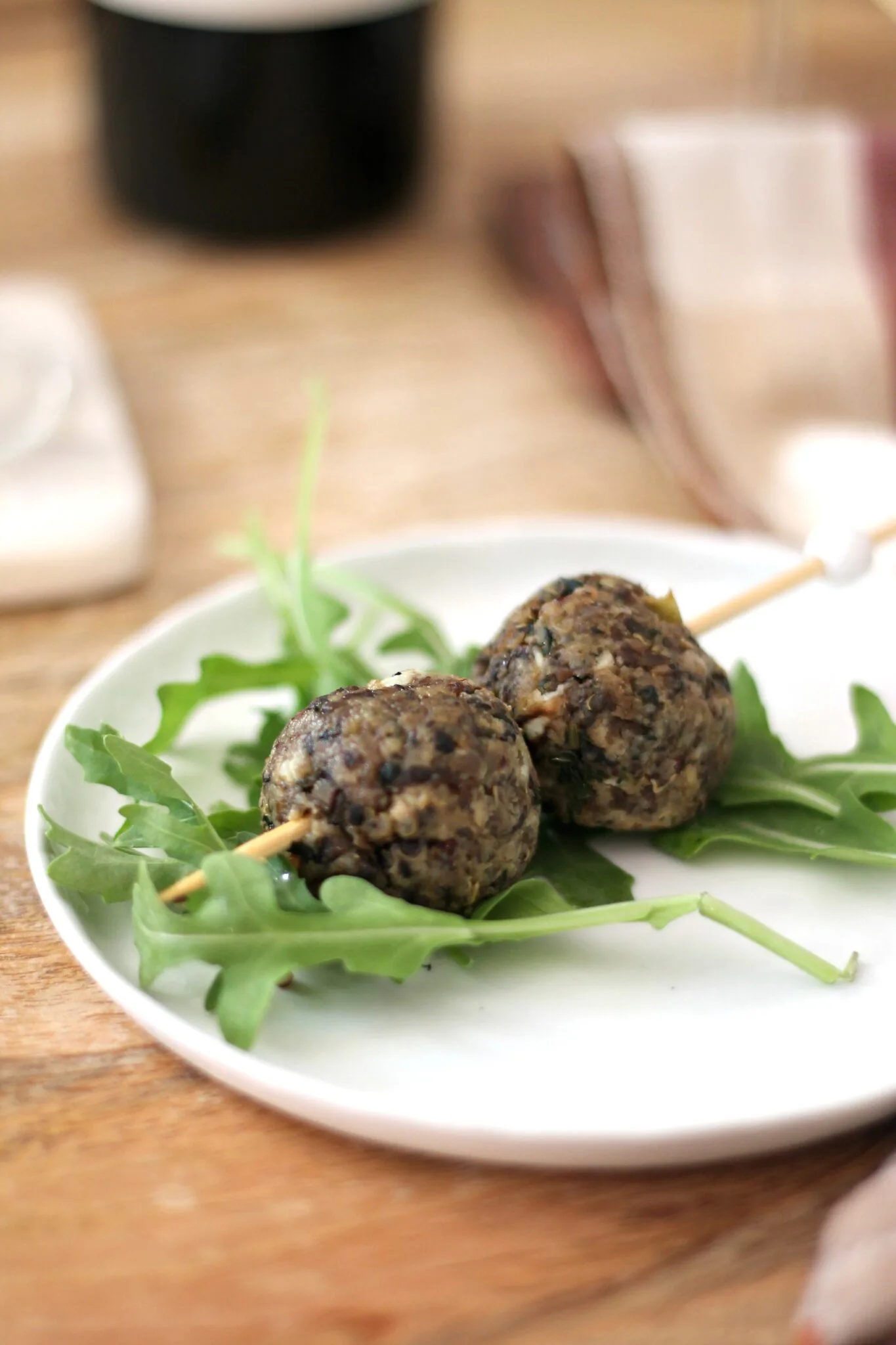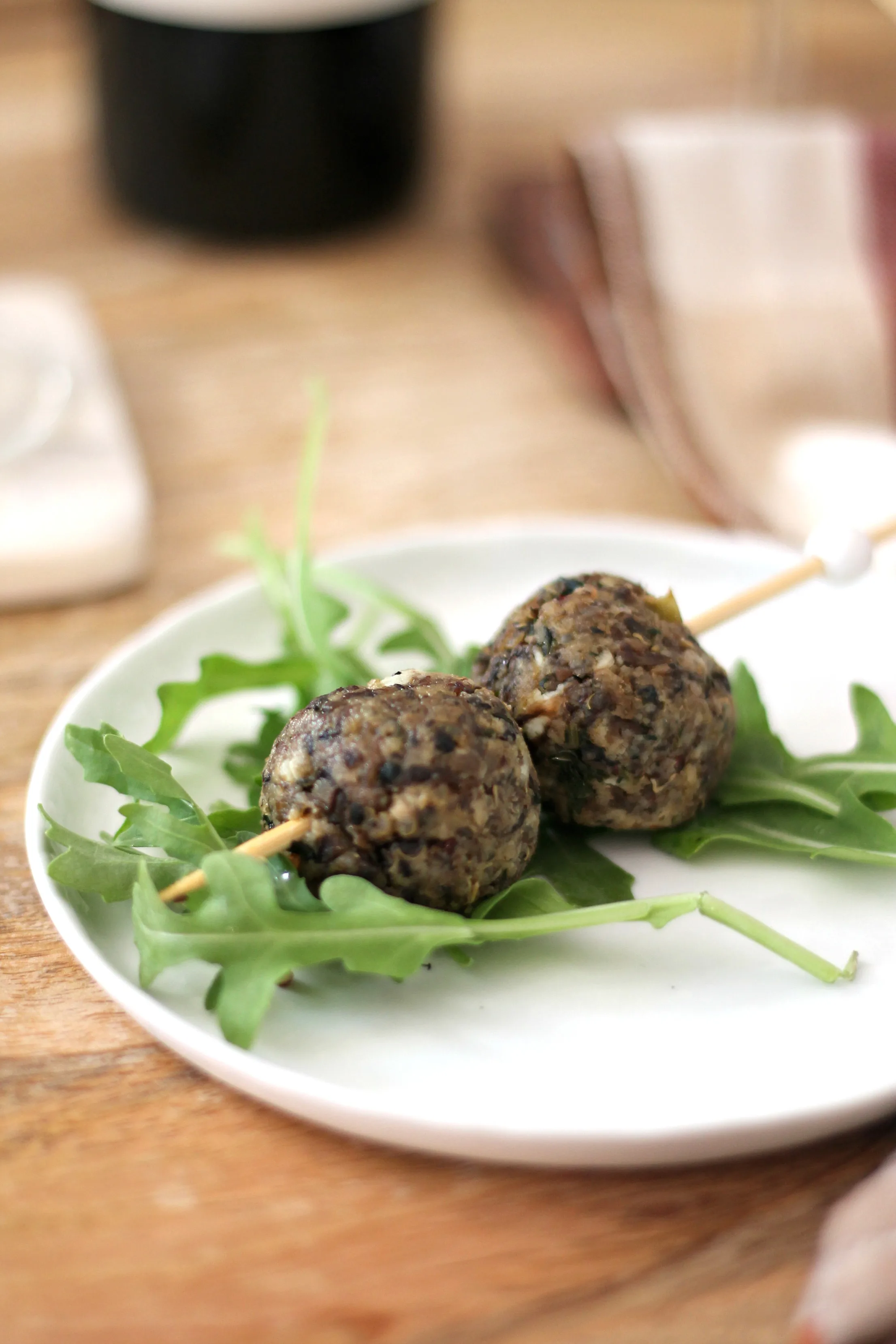 Made with just a handful of ingredients, you'll be surprised at the satisfying "meaty" texture created with earthy mushrooms and quinoa! These meatless "meatballs" are great for serving as a cocktail appetizer or can be used as a vegetarian replacement for classic spaghetti and meatballs. Goat cheese adds a tangy punch to these savory bites!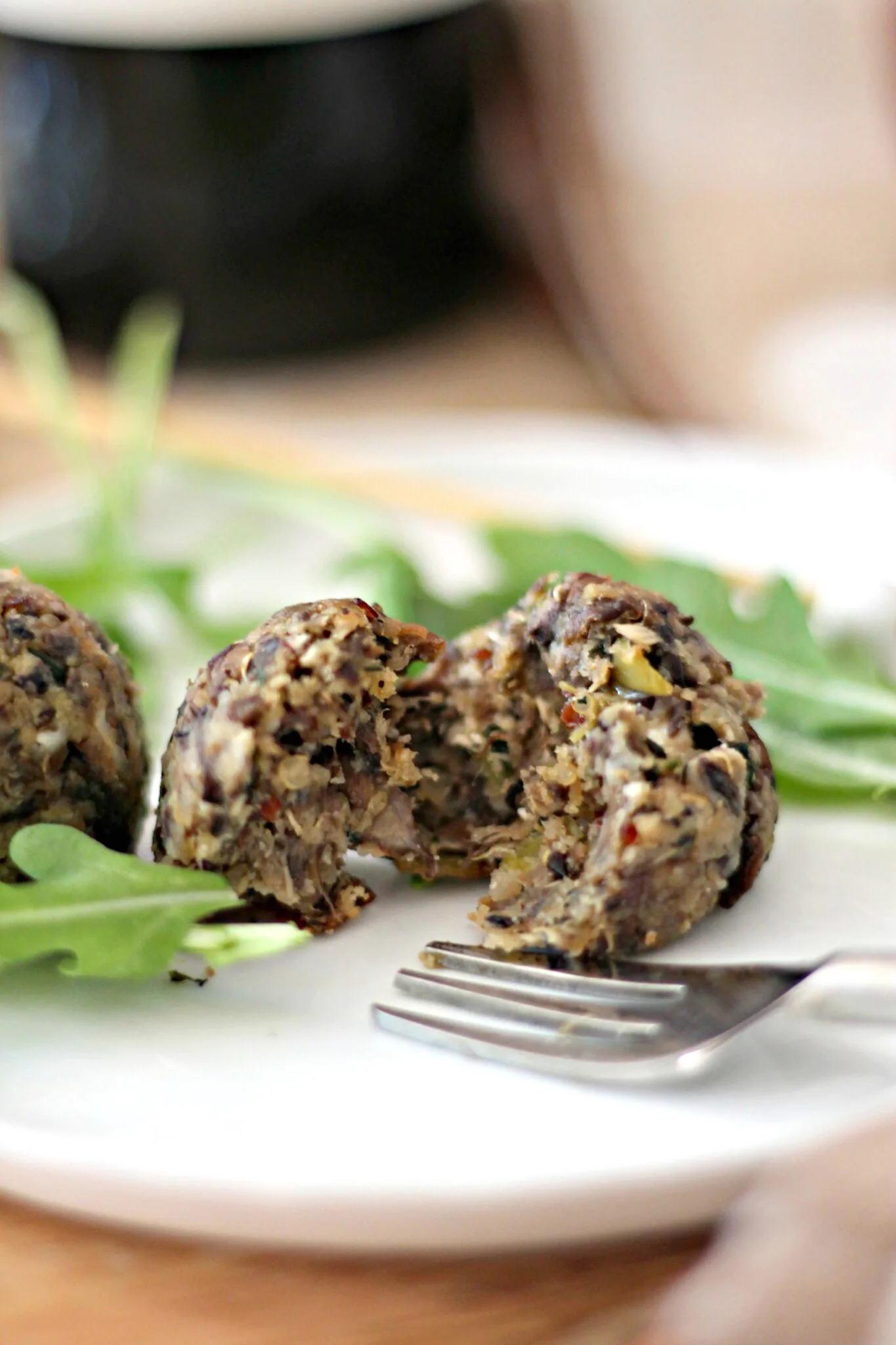 Will you be celebrating "Merlot Month"? Snap a pic of yourself enjoying this delicious wine and check out the hashtag #MerlotMe to see how others are celebrating all month long!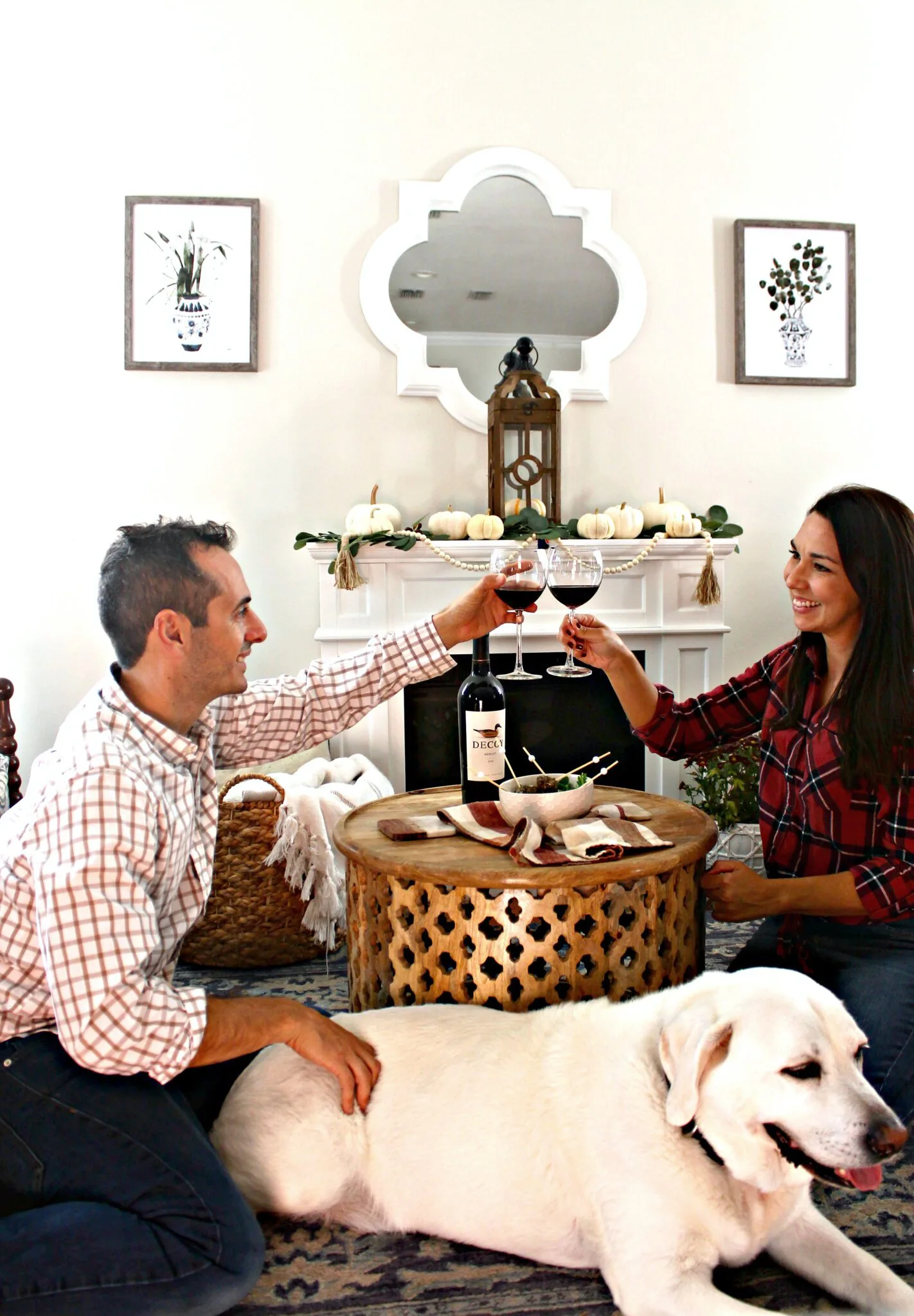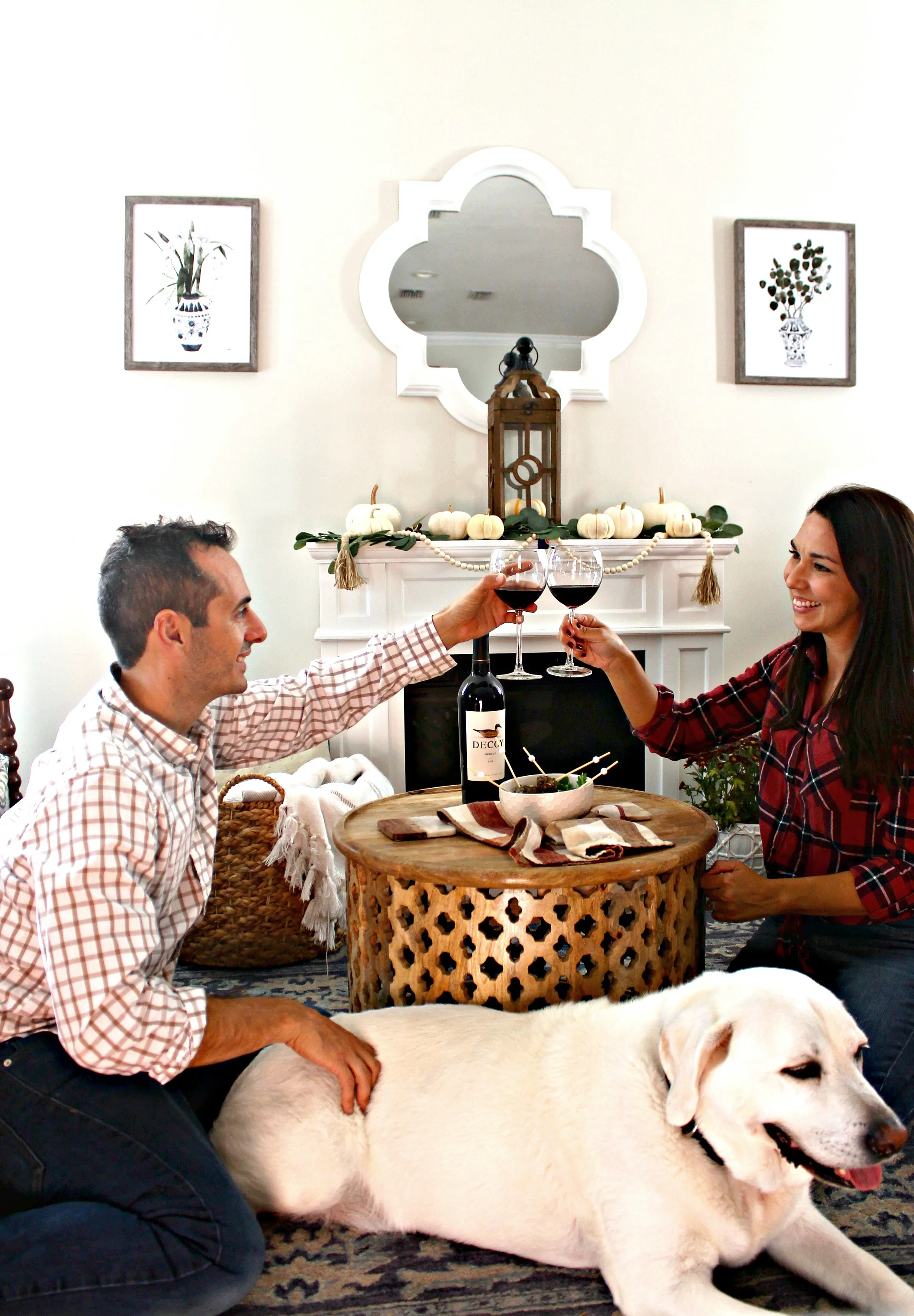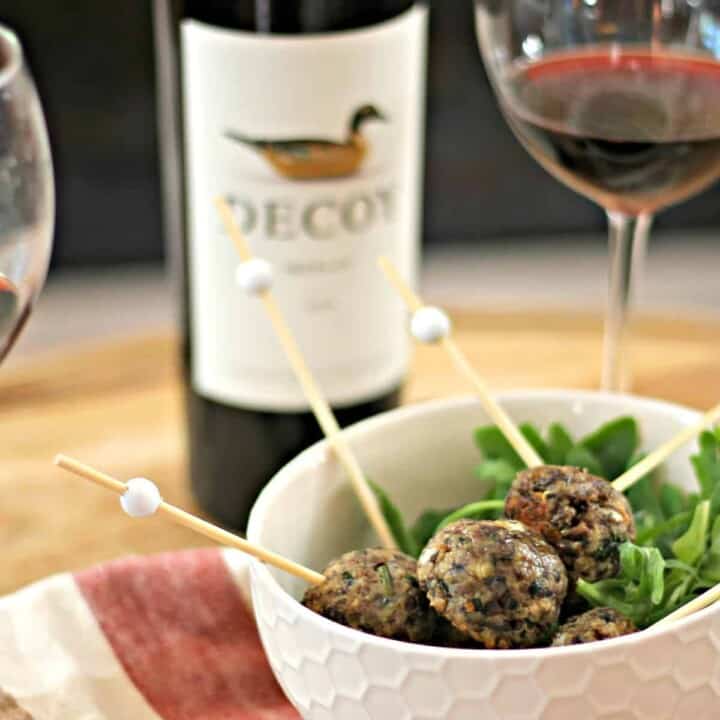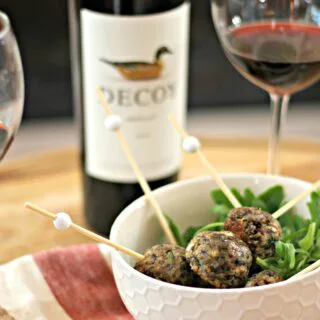 Vegetarian Mushroom & Goat Cheese Meatballs
These savory meatless "meatballs" are perfect for adding a meatless appetizer option for cocktail parties and holidays!
Equipment
Skillet

Food processor or blender

Baking pan
Ingredients
1

tablespoon

olive oil

plus extra for spraying or coating

10

ounce

container of sliced baby bella mushrooms

¼

teaspoon

garlic powder

¼

teaspoon

sea salt

1

cup

cooked quinoa

see notes

¼

cup

breadcrumbs

¼

cup

goat cheese crumbles
Instructions
Preheat the oven to 400 degrees. Line a baking pan with foil and lightly spray with non-stick spray or rub with olive oil. Set aside.

Heat about a tablespoon of olive oil in a large skillet over medium high heat. Add mushrooms and cook for about 5-6 minutes or until they begin to release their liquid.

Sprinkle with garlic powder and sea salt, and continue to cook for another 3-4 minutes until they're golden brown. Add cooked (or frozen) quinoa and toss to combine. Cook for another minute or two. If the pan starts to dry out, add 1-2 tablespoons of water. Remove from heat and cool slightly.

Transfer the mixture to the bowl of a food processor or blender. Pulse until the mixture is ground into a uniform paste.

Scoop the mixture into a medium sized bowl. Add the breadcrumbs and crumbled goat cheese and mix until fully combined. The mixture should be able to hold its shape when rolled into a ball.

Using a cookie scoop or a heaping tablespoon measure, scoop the mixture out and roll into balls. Place on prepared baking pan.

Spray or rub the meatballs with a little olive oil and bake for about 15 minutes or until heated through and lightly browned. Serve hot.
Notes
I used a frozen, seasoned quinoa & kale blend to make my meatballs and added to the mushrooms to cook it through. You may also use pre-cooked, homemade quinoa, but you may want to add a bit of extra seasoning if desired.
Fresh chopped spinach or kale would also make a nice addition to this recipe. Finely chop about ½ cup of spinach or kale and add to the mixture at the same time as the quinoa.