Pumpkin Chili Cheese Dip! This fun fall appetizer will really knock everyone's socks off, especially when you serve it up in a gorgeous little gourd. It's meaty and creamy with a spicy kick and makes an excellent snack while you carve out Jack!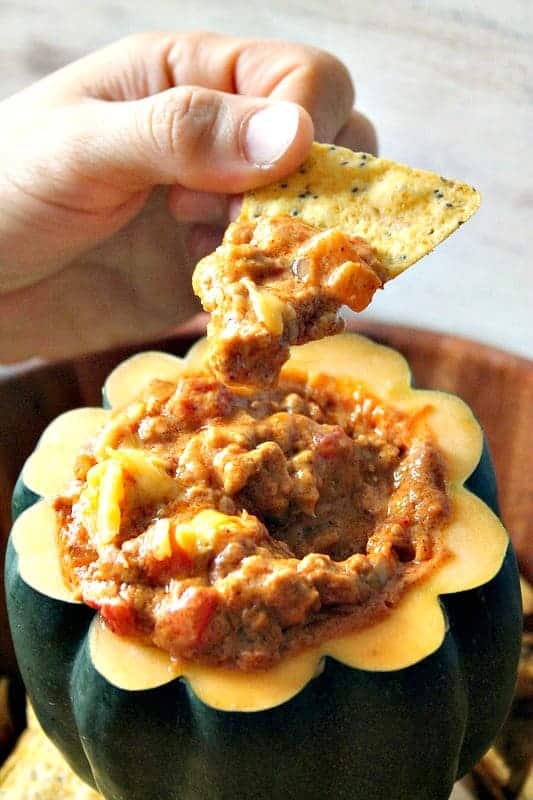 Disclosure: This post may contain affiliate links. As an RewardStyle affiliate I earn from qualifying purchases at no additional cost to you.
Are you tired of pumpkin yet? (If you're here, odds are you're a pumpkin-lover who just can't get enough!) Today, I'm sharing a simple yet show-stopping pumpkin recipe for fall snacking -- Pumpkin Chili Cheese Dip!
Truth be told, this recipe has been on the blog for quite some time, but it got buried in the archives and forgotten. It's the perfect time of year to dust off the cobwebs and whip up a tasty appetizer... especially one that is served in a festive gourd!
Easy Fall Appetizer
This easy dip makes a great fall appetizer for so many occasions -- game day snacking, fall festivities, Halloween party appetizers and more! All you need is a handful of ingredients:
Olive oil
Onion
Ground meat or meat substitute
Chili seasoning mix
Canned diced tomatoes
Pumpkin puree
Cream cheese
Cheddar cheese
Preparing this chili cheese dip is simple. In a skillet, sauté chopped onion in a bit of olive oil until just softened. Add in ground meat (I originally used turkey, but beef or plant-based ground would work here, too) and sprinkle with seasoning, then cook until the meat is no longer pink. When you add the diced tomatoes, make sure to scrape up the brown bits at the bottom of the pan -- not only does this help clean the pan, but those bits add extra flavor!
Lastly, stir in the pumpkin puree, cream cheese and cheddar cheese. This is what will give the dip its irresistible, creamy, cheesy texture!
For extra festive flair, I like to serve this dip in a small hollowed out pumpkin or squash with corn chips or tortilla chips, but you can also serve it in a regular bowl or even in a skillet -- it'll still be a hit. This mixture is perfect for pouring over nachos or walking tacos, scooping over grilled hot dogs for a fall version of a chili cheese dog, adding over potato skins or french fries or serving up with macaroni and cheese for the ultimate chili mac!
Homemade Chili Seasoning
There are a variety of chili seasonings on the market that are ideal for quick and easy cooking, but making your own homemade chili seasoning is a great option, too, especially if you know you'll be cooking lots of chili throughout the cooler weather months!
Typically, chili seasoning contains the following herbs and spices: chili pepper, paprika, cumin, onion, garlic, cayenne, salt and pepper. Some chili seasoning blends contain unique additions such as cocoa powder, cinnamon or ground coffee to give them their own distinct flavor -- it all depends on what you enjoy!
Making your own seasoning blends are a great way to control ingredients such as sodium, spice levels and even gluten or dairy that can sometimes be added in store-bought versions. I encourage you to play around in your spice cabinet and create your own signature blend that appeals to your taste buds! Here are two simple recipes to get you started:
Vegetarian Chili Cheese Dip
When I created this recipe back in 2014, I occasionally ate poultry, so I used ground turkey in the recipe. These days, I still make many of the recipes I shared before switching to a pescatarian diet, but I give them a vegetarian twist.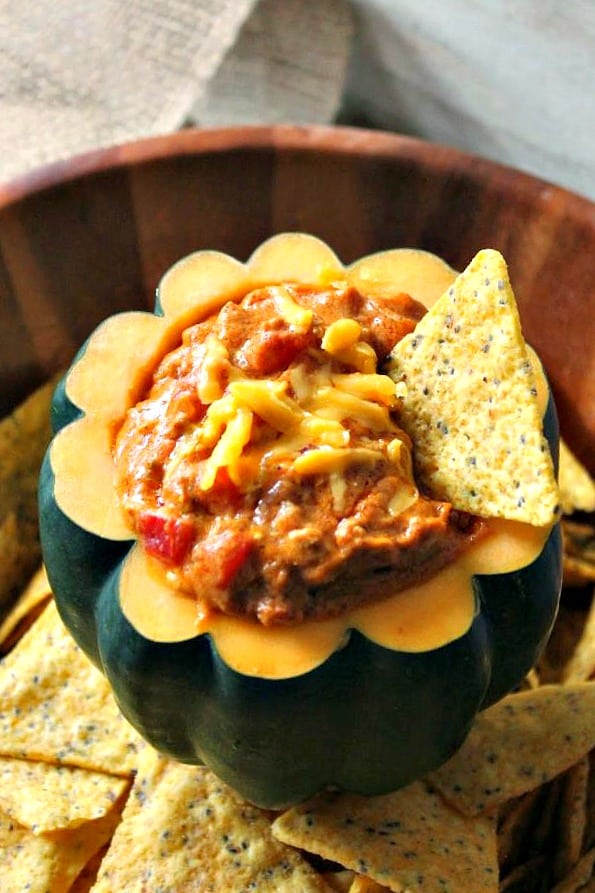 There are several options for making this recipe vegetarian or even vegan-friendly:
Use a store-bought vegetarian meat substitute! There are tons of plant-based grounds on the market these days, and most of them cook up exactly like ground turkey or beef. Do some taste-testing and take your pick!
Substitute meat with a hearty veggie like chopped mushrooms! I'd use two 10-ounce containers of sliced baby bella or white button mushrooms for this recipe. Roughly chop the mushrooms and sauté them as you would the meat, allowing any excess liquid to cook out before adding the remaining ingredients.
Try a hearty grain like farro or use beans instead! The chewy texture of farro is a great substitute for meat -- I even have a recipe for Vegetarian Farro & Lentil Chili that most meat-lovers enjoy!
Use your favorite dairy free cream cheese and shredded cheese alternative in place of the regular stuff.
Other Appetizers Using Pumpkin
If chili cheese dip isn't your thing, don't worry -- I've got you covered! Check out these other pumpkin-packed appetizer recipes to enjoy throughout the fall season:
Savory Pumpkin-Cheddar Rugelach: Tender, flaky dough is filled with a savory pumpkin and cheese filling, rolled and baked to perfection.
Orca Bean, Kale & Pumpkin Crostini: Crispy bread slices are slathered with a creamy pumpkin & ricotta concoction and topped with savory sautéed onions, garlic and kale confetti.
Homemade Pumpkin Crackers: Crisp and crunchy, these simple crackers make a wonderful addition to a seasonal cheese or charcuterie board.
Pumpkin Chili Cheese Dip
Cheesy with a hint of spice, this Pumpkin Chili Cheese Dip is a fantastic appetizer for fall gatherings and football watching!
Ingredients
1

tablespoon

olive oil

½

a medium onion

chopped

½

pound

turkey meat or preferred meat substitute

2

tablespoons

chili seasoning mix

1

14.5 ounce can petite diced tomatoes

½

cup

canned pureed pumpkin

4

ounces

cream cheese

½

cup

shredded sharp cheddar cheese

plus extra for garnish
Instructions
In a large skillet over medium-high heat, heat olive oil. Add chopped onion and saute until softened, about 4-5 minutes.

Add turkey meat or meat substitute to onion and break up with a wooden spoon (my favorite tool for this job is a potato masher!). Cook until no longer pink.

Sprinkle chili seasoning over top and stir to coat all of mixture. Add diced tomatoes to meat and stir, scraping up any browned bits on the bottom of the skillet.

Stir in pumpkin puree. Add cream cheese and shredded cheddar and stir until the cheeses have melted into the mixture.

Serve in a hollowed out pumpkin with tortilla chips or your favorite dippers.