My 4-Ingredient Guacamole is an amazingly simple appetizer for everything from parties to Taco Tuesday to Cinco de Mayo celebrations! Serve with tortilla chips to dollop onto your favorite foods for an irresistible, creamy upgrade.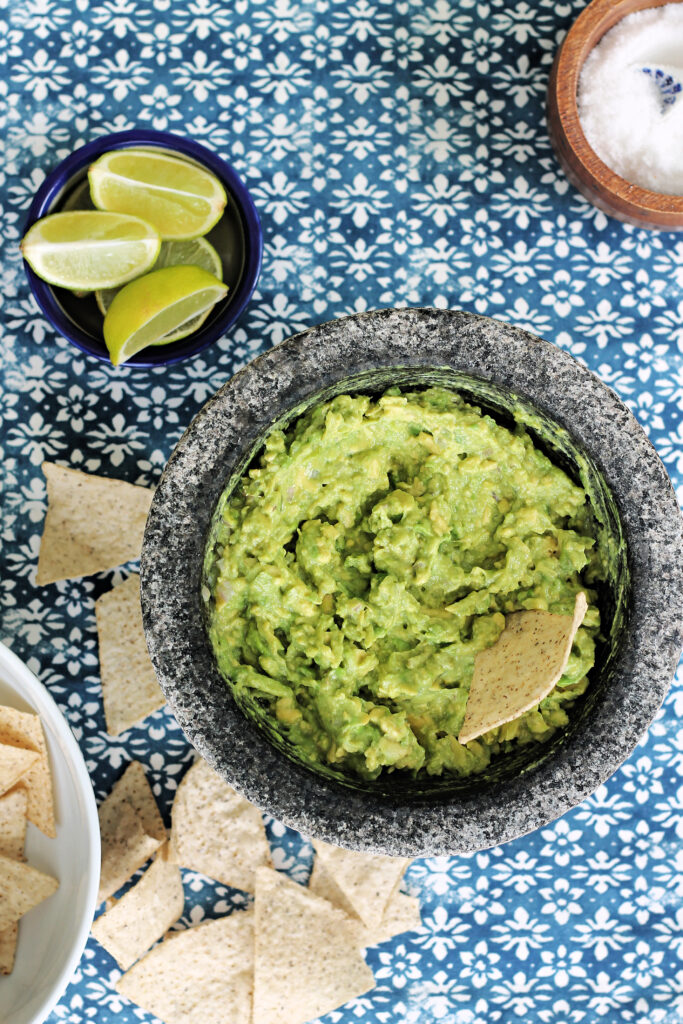 This post may contain affiliate links, which means that, at no extra cost to you, I may earn a small commission if you click a link and purchase an item I've recommended. Thanks for your support in running this blog!
I recently read a funny quote that said, "Don't let anyone treat you like free salsa. You are guacamole, baby. You. Are. Guacamole."
If your love of guacamole runs as deeply as mine does, then not only will that quote resonate, but so will this recipe for 4-ingredient guacamole!
Guacamole doesn't need to be complicated to be delicious, and this simple appetizer is proof. Perfectly ripe avocados are mashed with shallot, lime juice and sea salt for the most incredible, creamy guacamole.
Serve it up with tacos or your Mexican favorites, or straight up as an appetizer with tortilla chips. You really can't go wrong!
Looking for more recipes that go great with guac? Check out my Sweet Corn & Black Bean Fritters, Baked Chiles Rellenos, Portobello Fajita Wraps, and Charred Corn, Zucchini & Tomato Tacos.
This recipe is naturally gluten-free, vegetarian, vegan and dairy-free.
Jump to:
Ingredients
This guacamole is extremely simple, which really lets the avocados shine! Here are the 4 ingredients I use:
Avocados. I love using Hass avocados for guacamole, but I've also used tropical/Florida avocados and they work just as well although they're a little less creamy.
Shallots. I like using shallots when I want an onion flavor without the intensity and bite. Alternatively, you can use chopped red onion that has been soaked in ice water for 10 minutes to tone them down.
Fresh lime juice. Lime juice not only adds a nice acidity that cuts through the richness of the avocado, but also keeps guacamole from browning from oxidation.
Sea salt.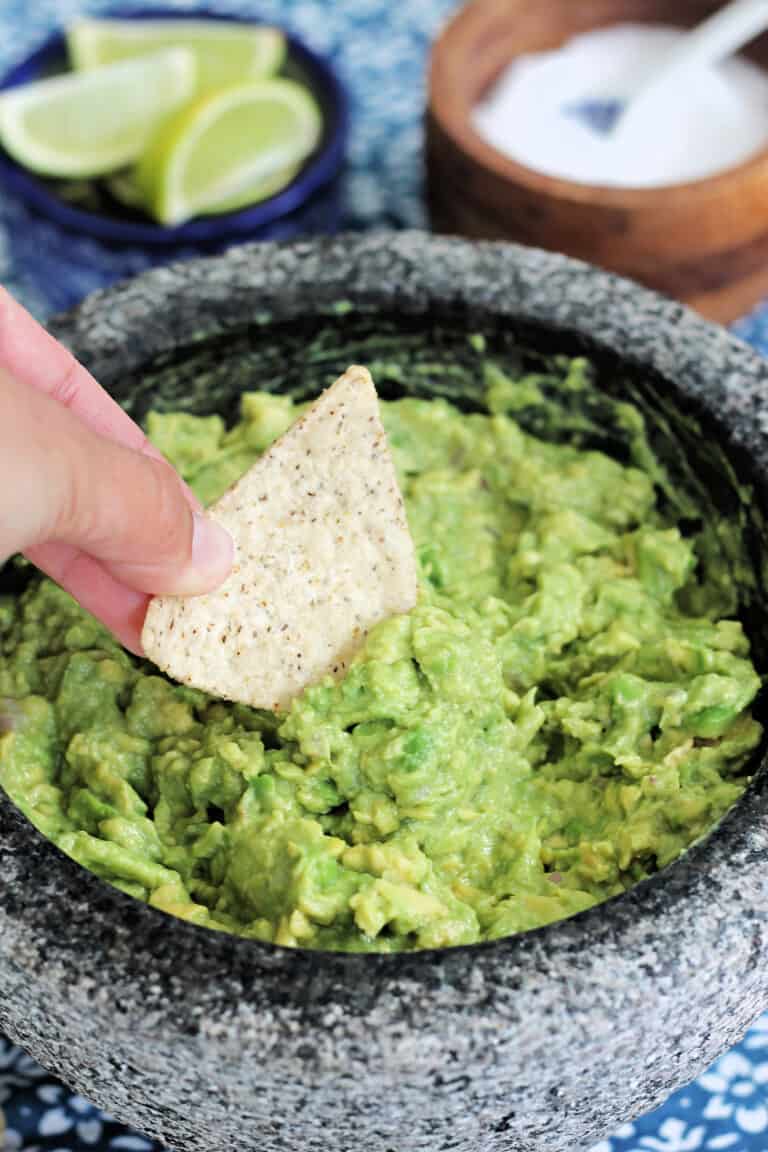 Instructions
Another plus for guacamole? How easy it is to make!
Start by peeling your ripe avocados and placing them in a bowl or a molcajete (stone mortar and pestle, pronounced "mole-kuh-HEH-teh"). I used to think I didn't need one of these because they're heavy, cumbersome and take up a lot of cabinet space... but then I got one and now I don't ever want to make guacamole in any other receptacle.
Add finely chopped shallots (or red onions), fresh lime juice and sea salt to the avocado.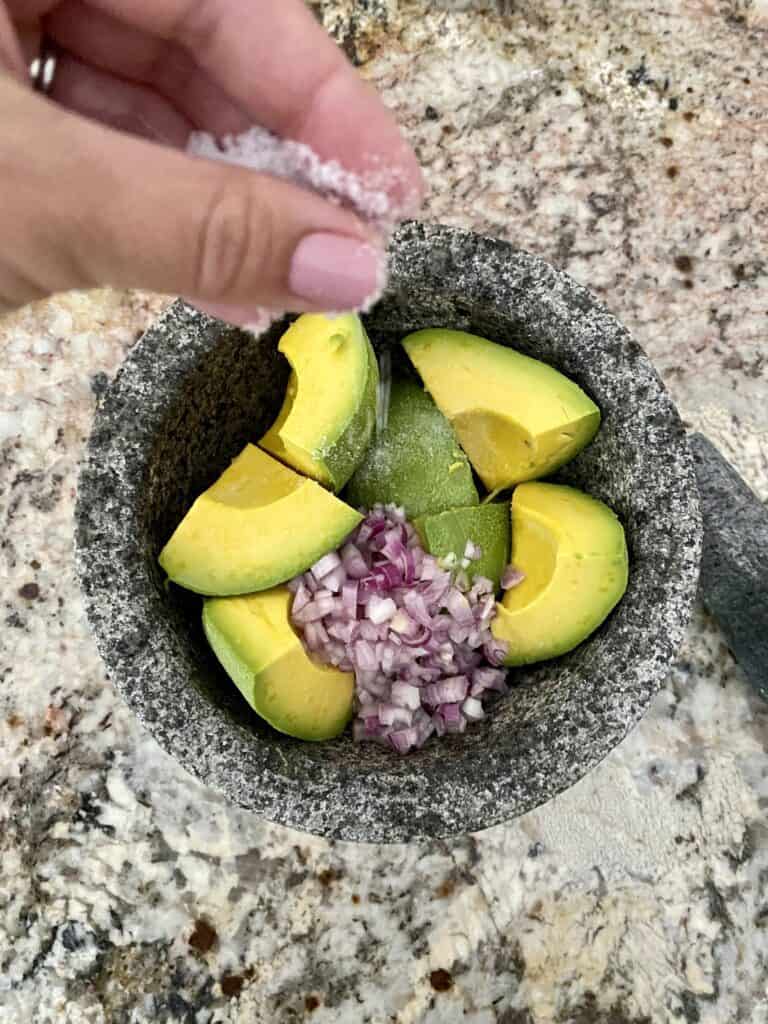 Mash with the pestle (or with a fork) until the avocado is mashed to the desired consistency and the rest of the ingredients are well-distributed. I like my guacamole with a little texture, so I try not to over-mash.
That's all it takes! I told you it doesn't get any easier.
Tip: Molcajetes are typically made of porous, volcanic rock or stone, so it's important to clean it properly in order to maintain it.
Rise out any excess debris with warm water, then use a dry, firm kitchen brush to give it scrub. Do not use any soap as it can be absorbed into the stone and make things taste bad. This article gives some good tips for cleaning your molcajete.
FAQ's
Can guacamole be made ahead?
Yes. Guacamole can be made 1-2 days in advance if necessary, but I would try to serve it as freshly made as possible to help avoid browning.
How do I keep guacamole from turning brown?
Exposure to oxygen is what makes guacamole turn brown, so "sealing" it is the best way to avoid browning. Place your guacamole in a container with an airtight lid, and smooth it into a flat layer. Cover the top with a very thin layer or lime juice or even water. Place a piece of plastic wrap directly on top, lightly pushing down so that it is flush with the guacamole. Place the airtight lid on the container and refrigerate. This should keep the guacamole green for 1-2 days.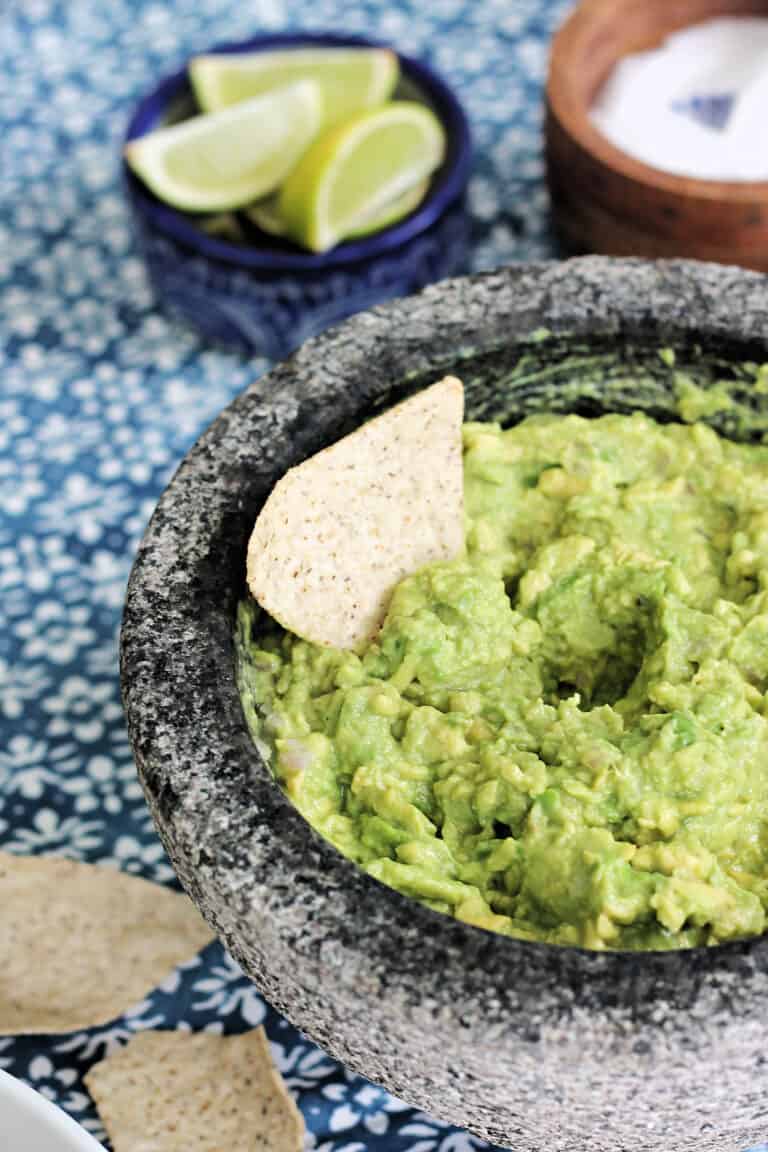 Substitutions & Variations
There are dozens of variations on 4-ingredient guacamole, so go crazy and experiment! Here are some ideas:
Add store-bought pico de gallo. Just add a few tablespoons of the mixed tomato, onion, lime juice and seasoning condiment to the guacamole for instant flavor with minimal work.
Try chopped fresh or pickled jalapeno peppers in your guacamole for a bit of spice.
Mix in some chopped cilantro for a classic Mexican flavor.
Season things easily with a tablespoon of store-bought taco seasoning. (Just omit the extra sea salt so things don't get too salty.)
This recipe is already gluten-free, dairy-free, vegetarian and vegan, so it's safe to serve to just about anyone without making any substitutions!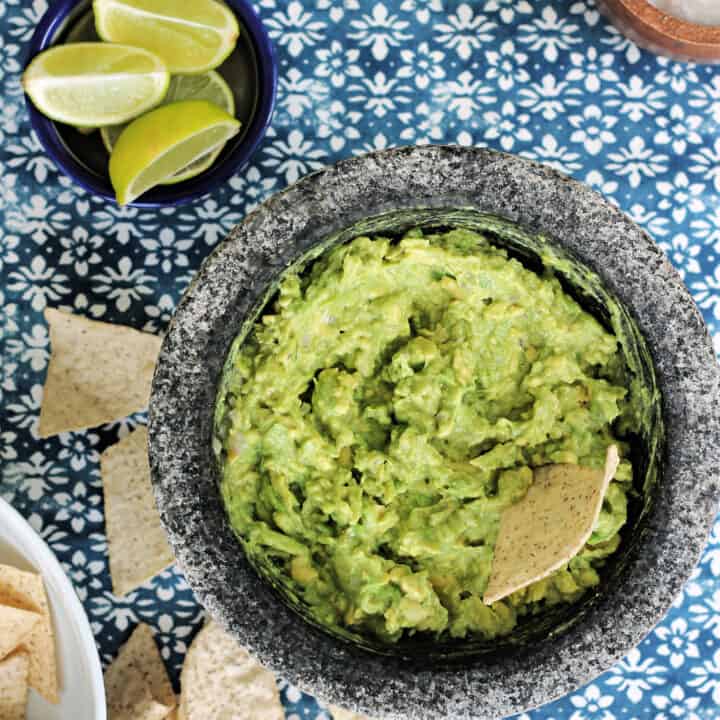 4-Ingredient Guacamole
My 4-Ingredient Guacamole is an amazingly simple appetizer for everything from parties to Taco Tuesday to Cinco de Mayo celebrations! Serve with tortilla chips to dollop onto your favorite foods for an irresistible, creamy upgrade.
Equipment
1 molcajete

or a large bowl
Ingredients
4

medium Hass avocados

or 2 large tropical avocados

2

tablespoons

fresh lime juice

3

tablespoons

finely minced shallot

or red onion

1

teaspoon

sea salt
Instructions
Place all ingredients in a bowl or a molcajete.

Mash the avocado to desired consistency using the pestle or a fork, while mixing the other ingredients in to evenly distribute.
Notes
Variations
Add store-bought pico de gallo. Just add a few tablespoons of the mixed tomato, onion, lime juice and seasoning condiment to the guacamole for instant flavor with minimal work.
Try chopped fresh or pickled jalapeno peppers in your guacamole for a bit of spice.
Mix in some chopped cilantro for a classic Mexican flavor.
Season things easily with a tablespoon of store-bought taco seasoning. (Just omit the extra sea salt so things don't get too salty.)