Hot Spinach & Artichoke Dip! This classic appetizer recipe is ideal for all kinds of snacking situations, from game day to parties to holiday spreads! Rich, creamy and flavorful, this easy, oven-baked spinach dip is a winner.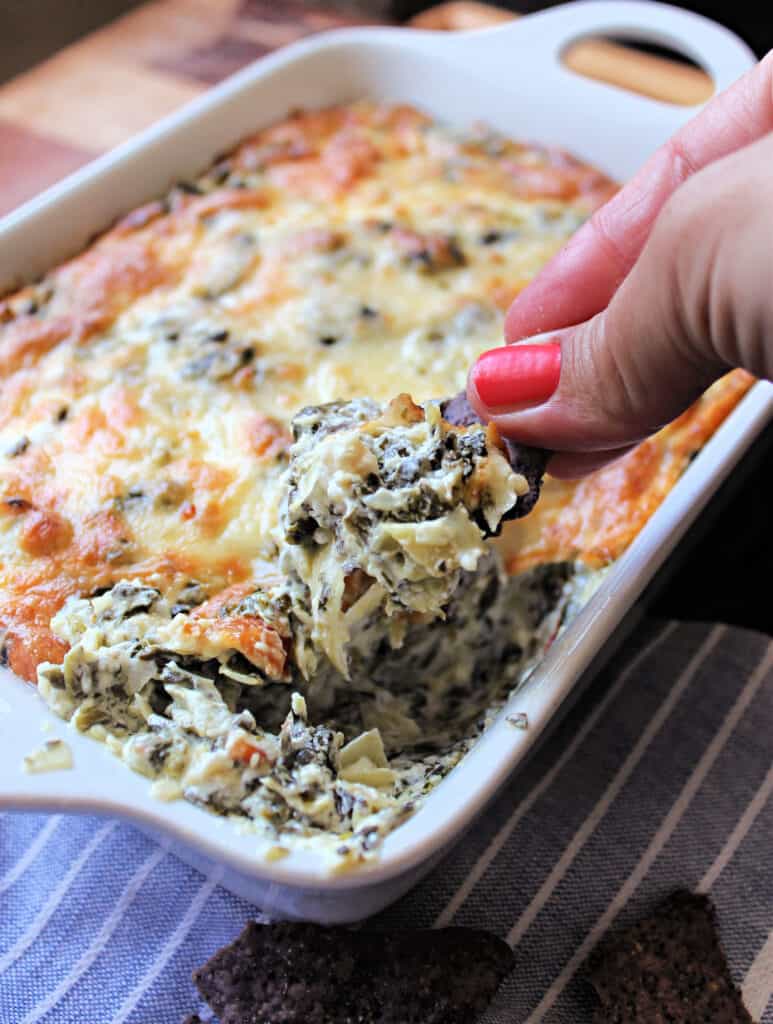 Note: This recipe was originally published on February 6, 2011 and updated on July 7, 2021.
Back when I first posted this recipe in 2011 (it was actually one of the first recipes I ever shared on the blog!), I called it "Last Minute Spinach & Artichoke Dip" because it was one of those things that I made completely on a whim using ingredients I happened to have on hand.
This easy, creamy spinach dip comes together in minutes, then bakes to perfection in the oven until hot and bubbly!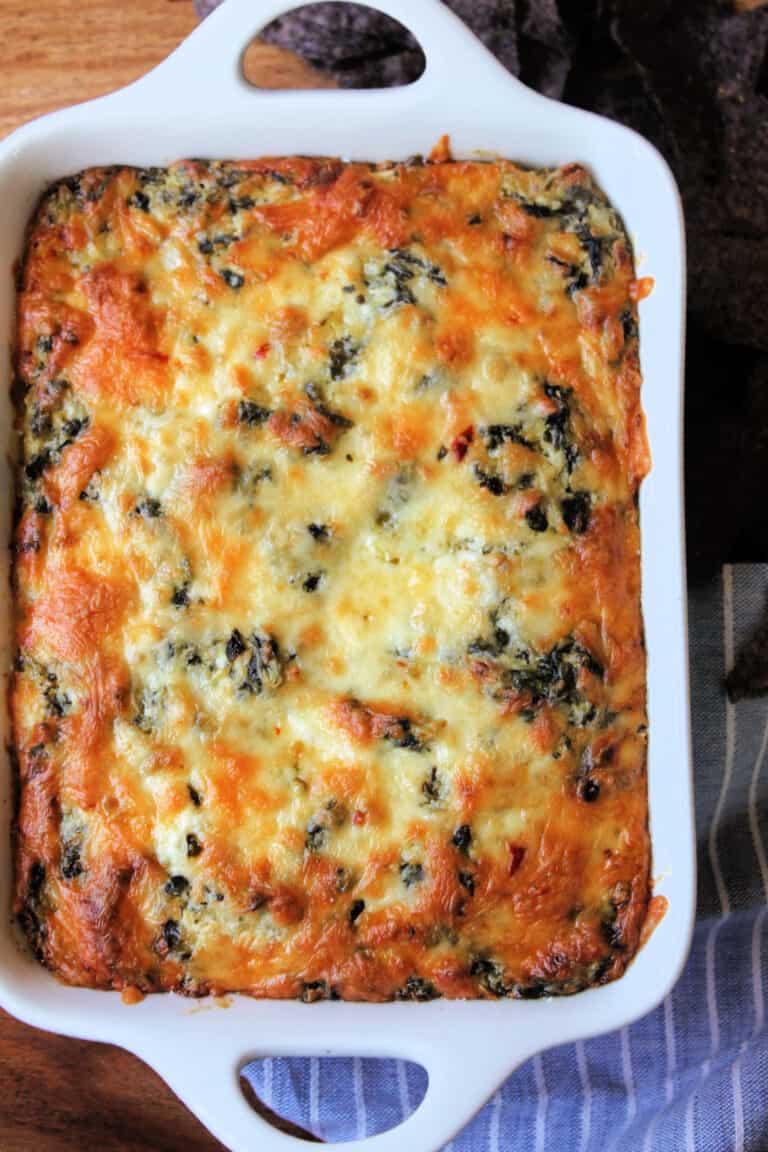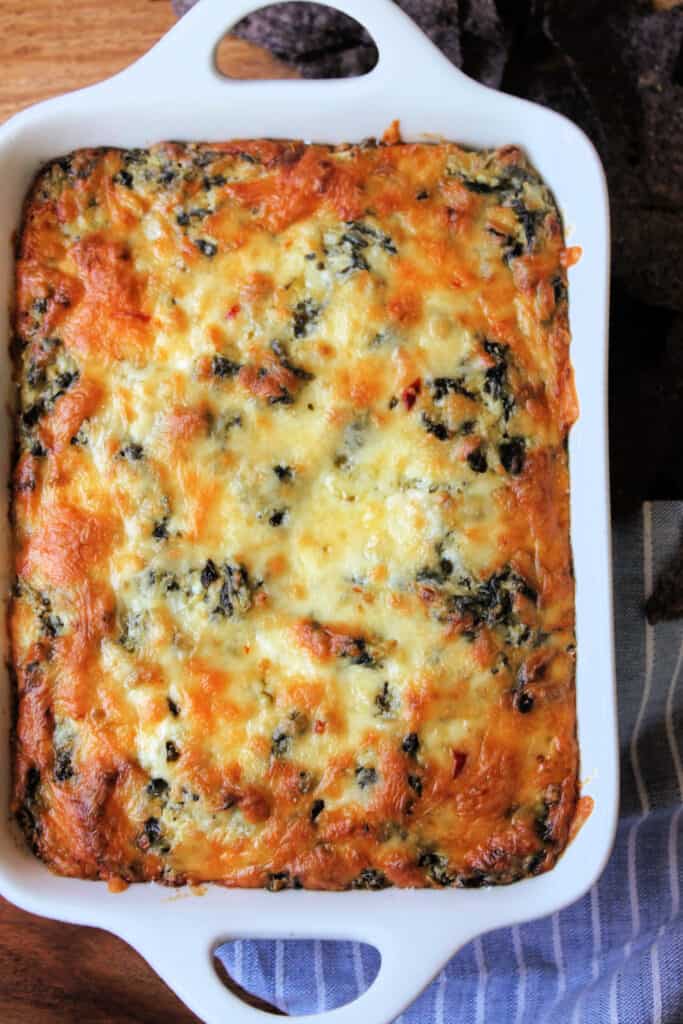 Ingredients
Hot spinach and artichoke dip can be made a variety of ways, but the main ingredients in this one are:
Frozen spinach. I love having frozen spinach in the freezer to add to all kinds of recipes. When using frozen spinach in a dip or casserole, be sure to cook it first and squeeze out any excess liquid (it tends to have a lot) before adding it to the rest of the ingredients as not to water things down. See the FAQ section below to see how to make Spinach and Artichoke Dip using fresh spinach instead of frozen.
Artichoke hearts. I use canned artichoke hearts for this recipe, but I've also used marinated artichoke hearts as well.
Cream cheese. This is a classic base for so many dips and I almost always have a block or two in the fridge. You can use a "light" cream cheese or neufchâtel if you'd like.
Mayonnaise. I know mayonnaise can be a bit polarizing, but it really does wonders in adding a rich, creamy flavor to things like dips and dressings! If you can't stomach the thought, you can use something like Greek yogurt in its place.
Pepper Jack cheese. I really love how pepper jack melts and enjoy the spicy kick, too! If you're sensitive to spice, use a mild cheese like mozzarella, Parmesan or cheddar.
Variations
This recipe is easy to customize to suit your tastes or dietary preferences. Try these variations if you're looking to mix things up a bit!
Crank up the heat by adding a bit of hot sauce or buffalo wing sauce to the mix!
Add browned, chopped bacon to the spinach and artichoke mixture or sprinkle on top.
Add extra flavor by stirring in a few tablespoons of ranch dressing mix.
Make it super cheesy by increasing the amount of cheese in the mixture to 1 cup.
Add your favorite fresh or dried herbs like basil or dill.
Toss in some cooked, shredded chicken or cooked, chopped shrimp for a heartier dip.
Directions
One of my favorite parts of this dip is how easy it is to make! Here's how I do it: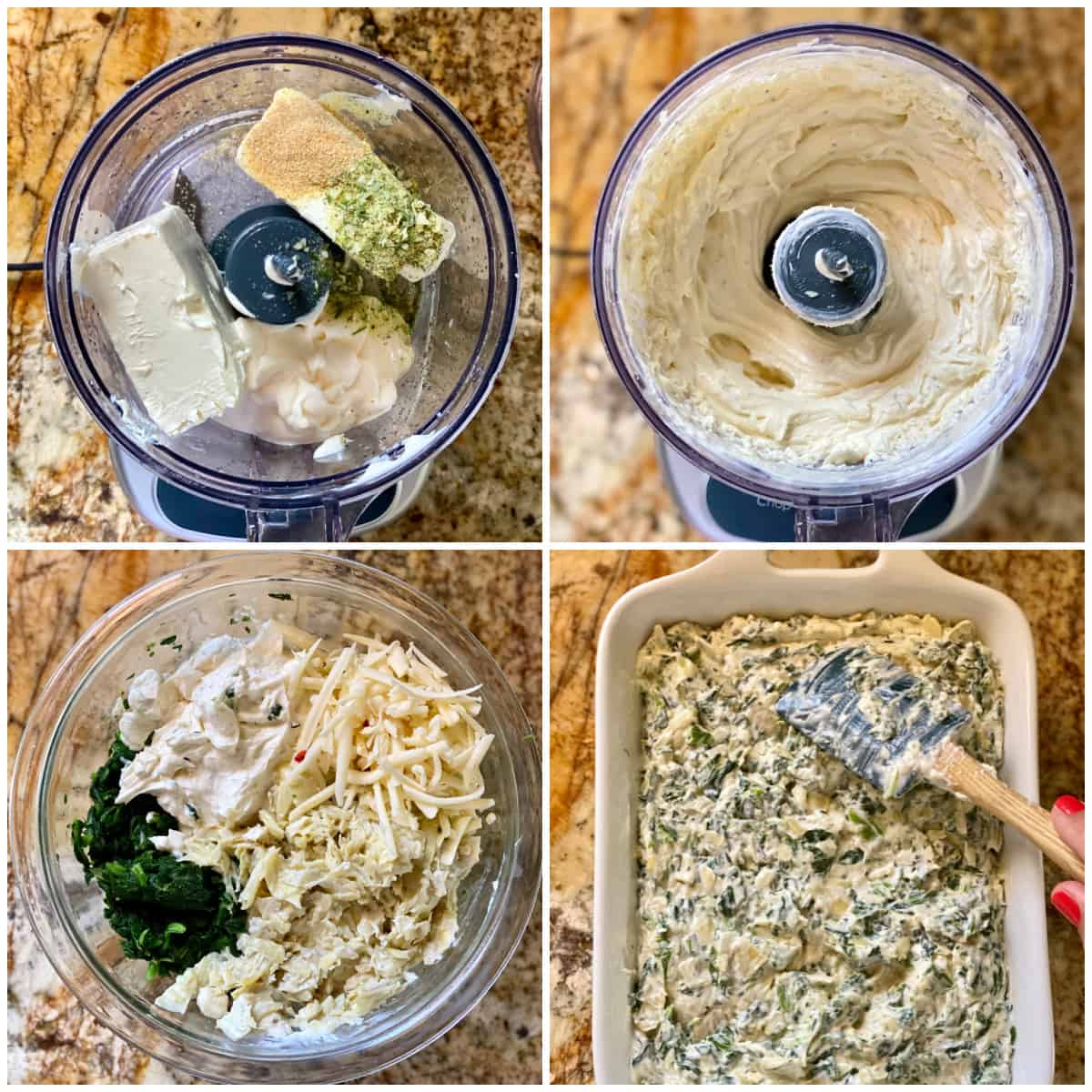 First and foremost, you'll want to cook your frozen spinach and squeeze out any excess liquid. Just place it in a bowl and microwave for a few minutes until it's fully thawed. Once it's cool enough to handle, you can either place the spinach in a clean kitchen towel and ring it out until most of the liquid is removed, or place it in a colander and push down to squeeze out the moisture.
Preheat the oven to 400 degrees.
Place the cream cheese, mayonnaise, garlic powder and onion powder in the bowl of a food processor. Process until the mixture is smooth and well combined.
In a medium bowl, combine the cream cheese mixture with the drained spinach, chopped artichoke hearts, and half of the cheese. Stir until fully combined
Spread the mixture into an oven-safe dish.
Sprinkle with the remaining shredded cheese.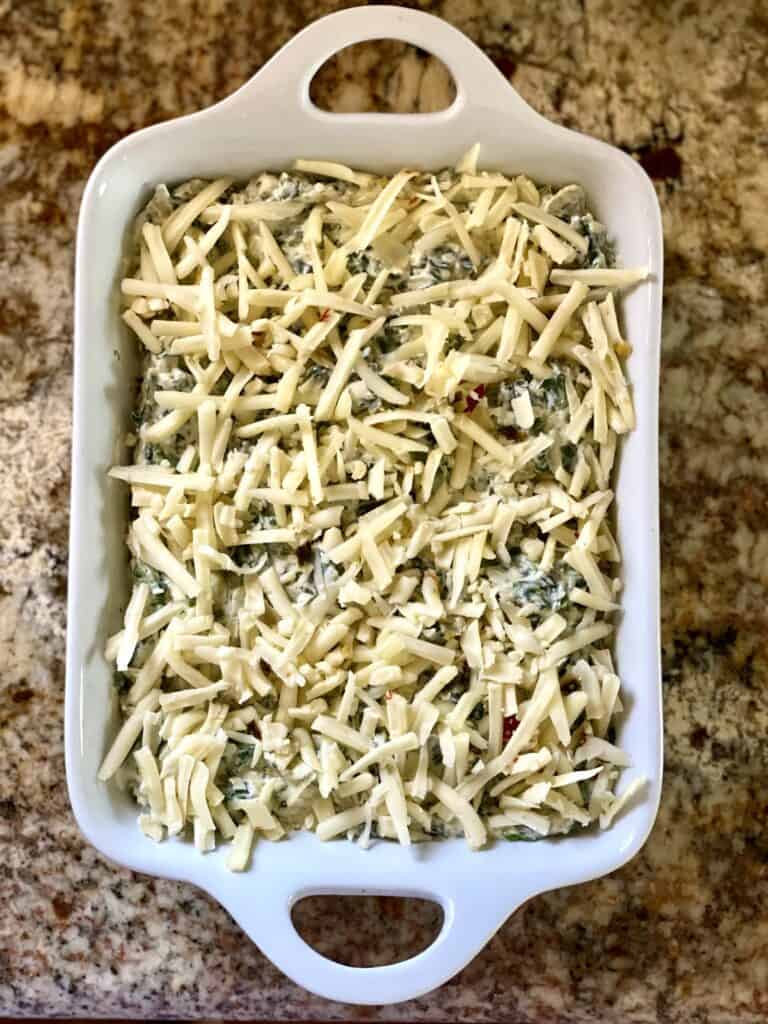 7. Bake for 25-30 minutes or until the top is lightly browned around the edges and the dip is hot and bubbly. I like to turn on the broiler for the last minute or two of baking to help the cheese along.
8. Serve with your favorite dippers. Beware: I have burnt the roof of my mouth on this too many times to count, so let it cool a bit before digging in!
FAQ's
Can I turn this into vegan Spinach & Artichoke dip?
Again, this isn't something I've tried myself, but I think you can swap out the cream cheese, mayonnaise and shredded cheese with your favorite vegan versions of those products and you should get a similar result. (It won't taste exactly the same, obviously, but in theory, it should work!)
Can I use fresh spinach?
I'm pretty sure you can, however, you will need a LOT of fresh spinach to equal 3 cups of frozen spinach because when fresh spinach is cooked, it wilts down a lot. A 10 ounce package of fresh spinach cooks down to about 1 ½ cups after cooking, so take that into consideration if you're thinking of making the swap.
Can I make this without mayonnaise?
Probably! If you're omitting the mayonnaise, I'd use something like Greek yogurt in its place because I think using cream cheese alone would produce a very thick dip.
Can I make this in the slow cooker?
I'll be honest, I haven't tried it, but I think it would work! I'd just make as directed and then scoop it into the slow cooker, cover and cook on low for 2-3 hours or until hot and melted or high for 1 hour.
What do I serve with Spinach & Artichoke Dip?
My favorite spinach and artichoke dip dippers are: Pita chips, tortilla chips, buttery round crackers, or toasted baguette slices.
Can this be made ahead?
Yes! Make the recipe as directed. Spread in a baking dish and top with shredded cheese, then cover and refrigerate until ready to bake.
How long does homemade spinach & artichoke dip keep?
Refrigerated in an airtight container, this should keep 2-3 days.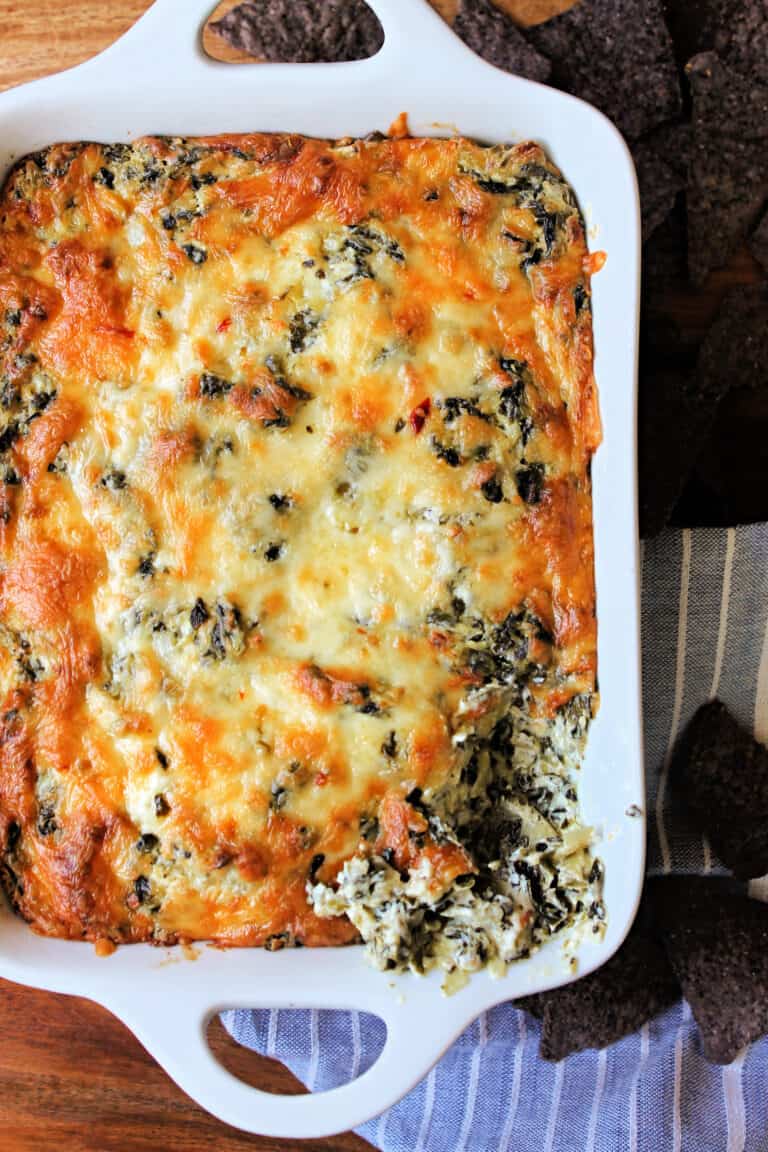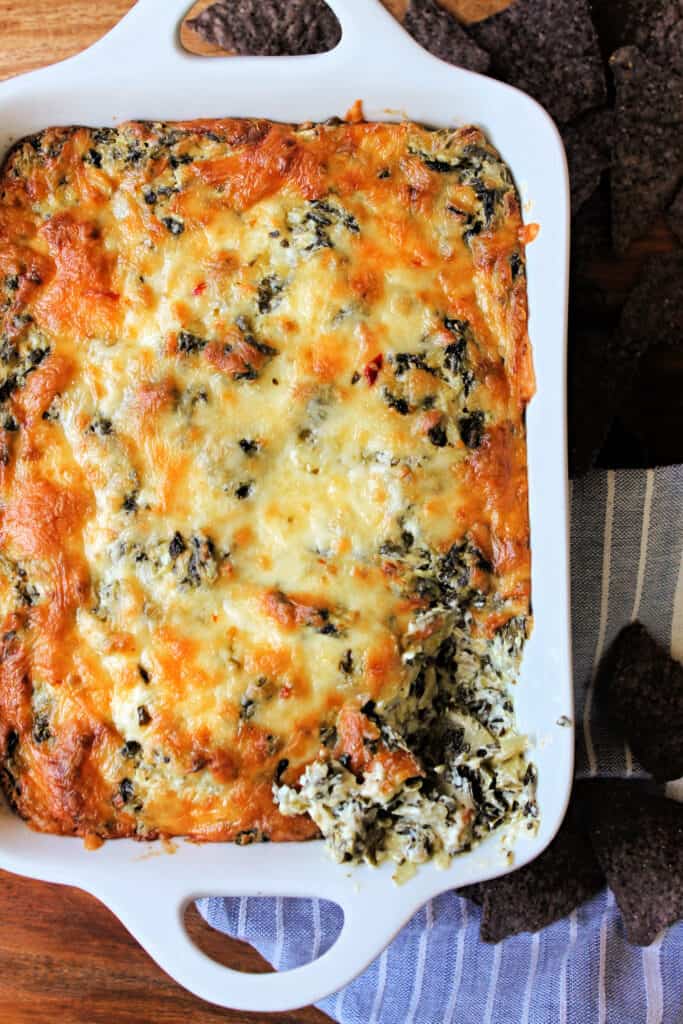 More Hot Dip Recipes
If you're a fan of hot, creamy dips made on the stovetop, in the oven or in the slow cooker, try out some of these mouthwatering recipes!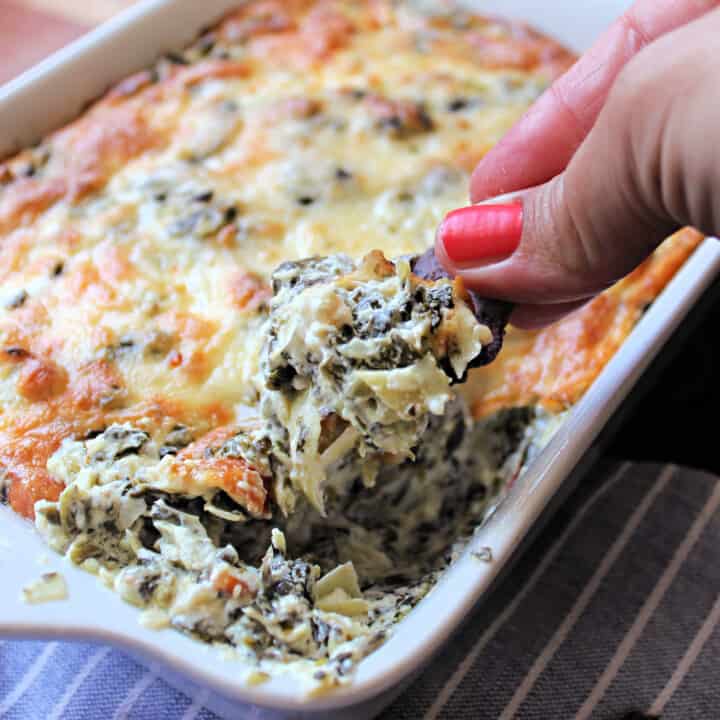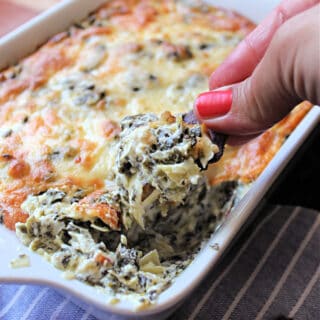 Spinach and Artichoke Dip
Ingredients
3

cups

frozen spinach

thawed & drained of as much liquid as possible

1

(14 ounce)

can artichoke hearts

drained & finely chopped

1

(8 ounce)

block cream cheese

cut into chunks

¼

cup

mayonnaise

½

teaspoon

garlic powder

1

teaspoon

onion salt or onion powder

1

cup

shredded Pepper Jack cheese

or your favorite cheese
Instructions
Preheat oven to 375 degrees.

Place all ingredients in food processor. Pulse until somewhat chopped & ingredients are combined. (Do not puree unless you want a spinach & artichoke smoothie.)

Spoon spinach mixture into an oven proof dish. Top with your choice of shredded cheese.

Bake for 20 minutes or until heated through & cheese on top is melted and bubbly.

Serve hot with tortilla chips.